By Expedia Team, on September 27, 2016
Paris Tourism Guide: The Best Experiences
Paris is the city of love, indulgence, rich history and luxury. It is one of the most popular tourism destinations in the world, known especially for its romantic air. Teaming up with travel bloggers, we've put together this Paris Tourism Guide with tips on navigating the city. Within this guide you will be guided through the design of the city, looking not just at the top things to do in Paris but finding local favourites like restaurants or attractions that give you an authentic low-key Parisien feel.
Our guide will get you started, then let charming Paris lead you down new streets and your own discoveries in the City of Love.
[tabs]
[tab title="Useful Information" icon="entypo-vcard"]
Exchange Rate: 1 Rupee = 0.013 Euros (approximately)
Time Difference: Paris is 4.5hrs behind India Standard Time
[/tab]
[/tabs]
Paris Tourism Guide

Paris Tourism Guide: Places to Visit in Paris
In the 1700s Paris was divided into 20 arrondissements (areas), and in each area there are so many things to do that are guaranteed to satisfy the hungry traveller. In the mid-1800s, Napoleon commissioned Baron Haussmann to completely renovate Paris, and bring air and light to its dark, dingy streets. Now, Paris is a maze of tree-lined avenues and side-streets filled with personality.
There are many things to do in each arrondissement and some sights are intertwined with others. Our guide will take you on a virtual tour of your trip around Paris, listing all of the attractions you should make sure to put on your to do list whilst in Paris. Select an arrondissement (area) below or scroll down to get the full overview.
7th Arrondissement | 4th Arrondissement | 1st Arrondissement 
8th Arrondissement | 18th Arrondissement
Other Places to Visit | Places Outside of Paris | Paris Video Guide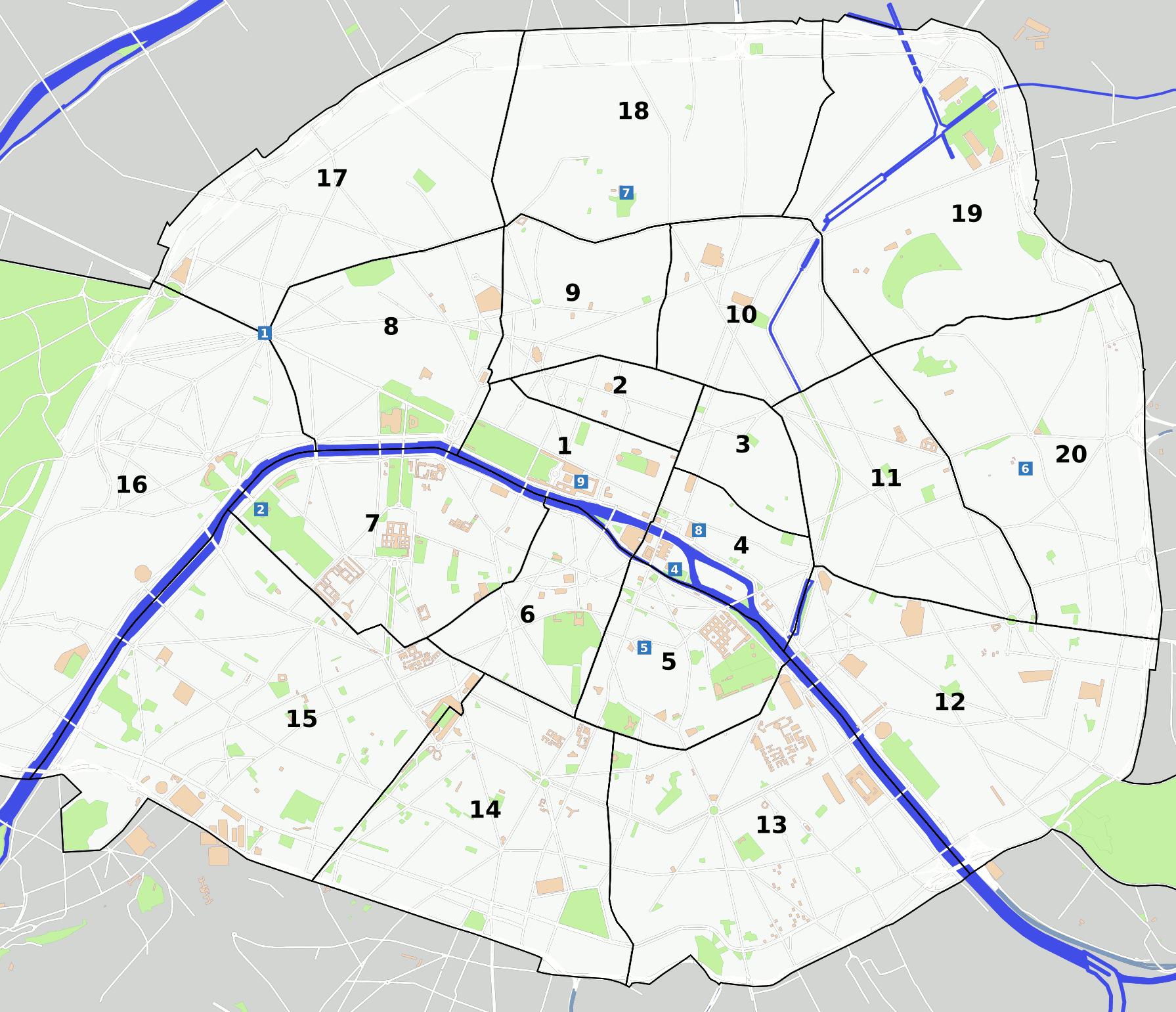 Places to Visit in the 7th Arrondissement, Paris
Eiffel Tower
Champ de Mars, 5 Avenue Anatole France, 75007 Paris, France
When people think of Paris they will immediately picture the Eiffel Tower, this iconic monument has been the centre piece of every Parisian image for over 100 years. When you visit this 300-metre tall monument you will have a chance to ride the lift (or climb the 704 stairs) to the very top and gaze over Paris.
You'll get beautiful views of the monumental Place de Trocadéro, which is actually in the 16th arrondissement, but is right next to the Eiffel Tower. This gigantic structure appears to act as a gateway to the Eiffel Tower and is very reminiscent of ancient Roman buildings. The Champ de Mars (gardens next to the tower) seem to stretch on forever beneath your feet when you're looking down at all the people enjoying their picnics on the fresh green grass (assuming it is Spring/Summer).
The Eiffel Tower is open every day, but times and access may vary; see the table below for more information. We highly recommend getting their as early as possible (before opening times especially in high-season) as the queues for this attraction get very long, very quickly.

Musée d'Orsay
1 Rue de la Légion d'Honneur, 75007 Paris, France
If you are interested in experiencing impressionist or post-impressionist art, then you really must go to the Musée d'Orsay; it is the home of the world's largest collection of this era of art. Some of the most famous paintings at the museum include Monet's Gardens of Giverny and Van Gogh's Self-Portrait, Renoir's Ball at the Moulin de la Galette.  The museum is open from: 9.30am-6pm Tuesday-Wednesday & Friday-Sunday and 9.30am-9.45pm on Thursdays. Entry for children is free and €11 for adults. You can get a combined ticket for the Musée Rodin (see below) for €15 if you plan on visiting them both on the same day.
Musée Rodin
79 Rue de Varenne, 75007 Paris, France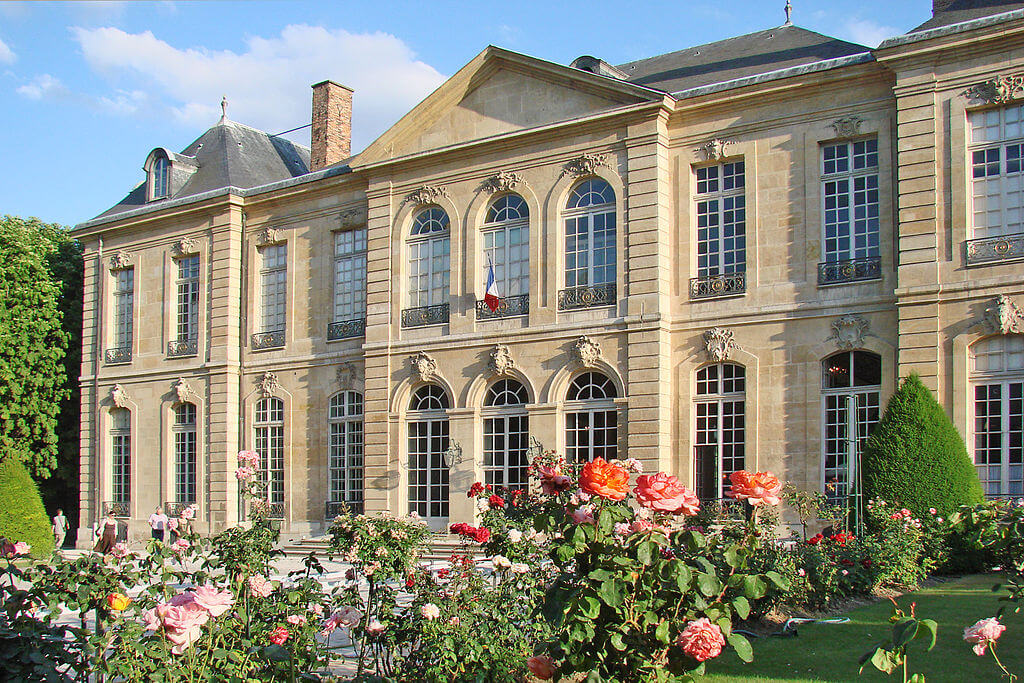 Source: Dalbera
In 1908 Auguste Rodin gave the French state his entire works of art; he was a sculptor, painter, collector and more, and his collection of artwork is significant. The condition of this gift was that they display them in the exquisite Hôtel Biron, but the French state went further than that and they are now intermingled into the beautiful rose gardens around this building.
It is open from 10am-5.45pm Thursday-Sunday and Tuesday, then until 8.45pm on Wednesday. The museum and gardens are free for children and €6/€2 for adults. But as mentioned above, you can get a combined ticket with the Musée d'Orsay for less if you plan on visiting them both on the same day. Also, for most museums in Paris, if you buy your tickets online you can generally avoid the queues.
Hôtel des Invalides
129 Rue de Grenelle, 75007 Paris, France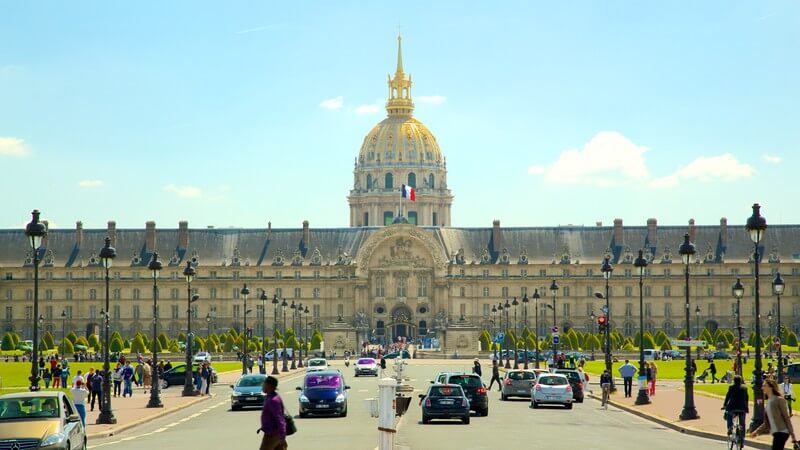 The Hôtel des Invalides has been the centre of some very significant historical events in Parisian history; it was built in 1670s by King Louis XIV to house hospitalised war veterans (invalides). It was stormed for weapons by revolutionaries looking for weapons to take down the Bastille and also houses the tomb of Napoleon Bonaparte (once the Emperor of the French). This grand building is free for children to visit and €9 for adults; it is open daily from 7.30am to 7pm, and until 9pm on Tuesdays from April to September.
Places to Visit in the
4th Arrondissement, Paris
Notre Dame
6 Parvis Notre-Dame – Pl. Jean-Paul II, 75004 Paris, France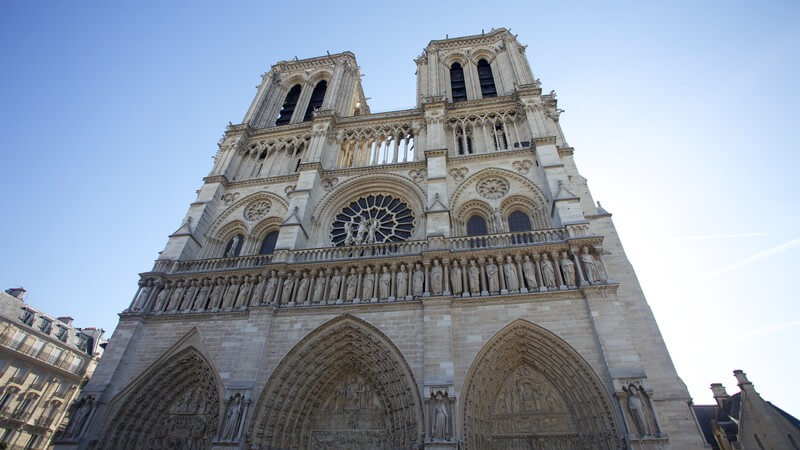 Situated on the Île de la Cité on the cusp of the city's Latin quarter is the heart of Paris: Notre Dame. This iconic cathedral was the centre of the Catholic France for centuries and is a French Gothic architectural masterpiece. It is free to visit and we highly recommend you take a 360° stroll around this cathedral to see all of its beautiful features. If you want to climb up the towers and get up close and personal with the gargoyles that perch on Notre Dame's exterior walls it will cost you €8.50 (free for children). The towers are open to visitors from 10am-6.30pm.
Alternatively, if you want to visit the church's treasury and see a number of Christian relics it will cost €2 for adults and €1 for a child. Included in this collection of relics is the 'crown of roses' that is believed to have graced the head of Jesus Christ when he was crucified (this only comes out from 3pm-4pm on the first Friday of each month, 3pm to 4pm every Friday during Lent, and 10am to 5pm on Good Friday (so you will have to time your trip if you want to see this relic).
Notre Dame is open from 7.45am-6.45pm Monday to Saturday and it is open until 7.15pm on Sunday.
Île St. Louis
Île St. Louis, 75004 Paris

Once Île St. Louis was famous writer Ernest Hemingway's favourite retreat in Paris and this peculiar island in the Seine River (next to Île de la Cité) is like a rustic village in the middle of a bustling city. Known for homing several of Paris' elite citizens, you can access the village and all of its quaint stalls, boutiques and cafés from a the footbridges that attach it to the rest of the city.
Centre Georges Pompidou
Place Georges-Pompidou, 75004 Paris, France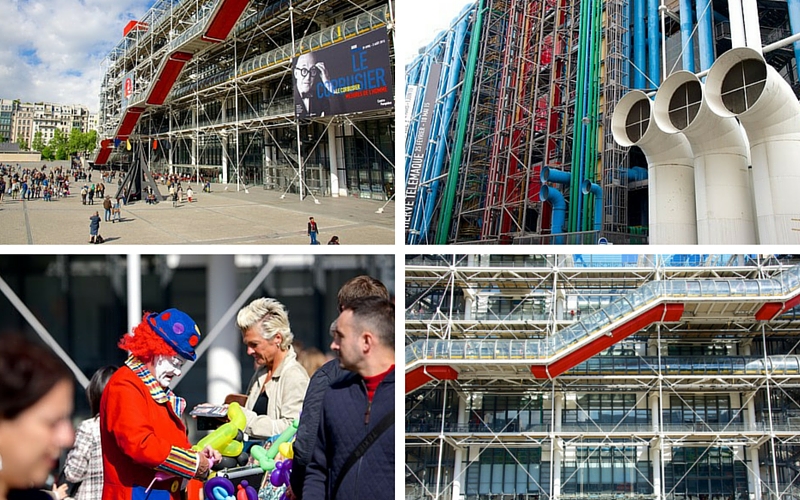 This attraction is well known for its loud architectural design but it also houses an incredible array of modern art as well as presentations of dance, theatre and many more cultural and creative activities. Outside the Centre Georges Pompidou you can rest your feet and watch the entertaining street buskers and entertainers catch passers-by unawares. It is €13 for adults for to visit this dynamic gallery (free for children) and it is open from 11am-9pm Wednesday to Monday.
L'Hôtel de Ville (Town Hall)
Place de l'Hôtel de Ville, 75004 Paris, France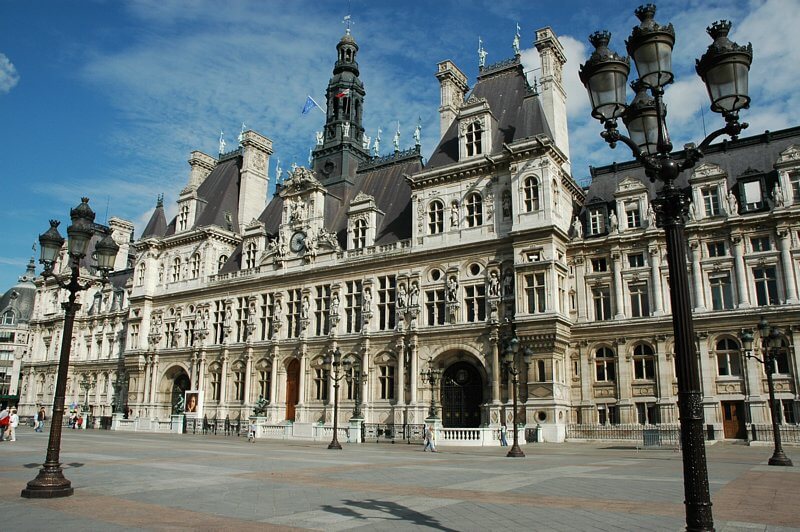 Source:Rolldi
This grand renaissance building has been the central building of administration in Paris for centuries. Whilst its décor and infrastructure has changed over the centuries it has been a political building since 1357, and currently houses the Mayoral administration. It is not a building tourists can go inside, but it is well worth inspecting the exterior and from December to March there is an outdoor ice-rink set up for anyone to try.
Places to Visit in the 1st Arrondissement, Paris
Sainte-Chapelle
8 Boulevard du Palais, 75001 Paris, France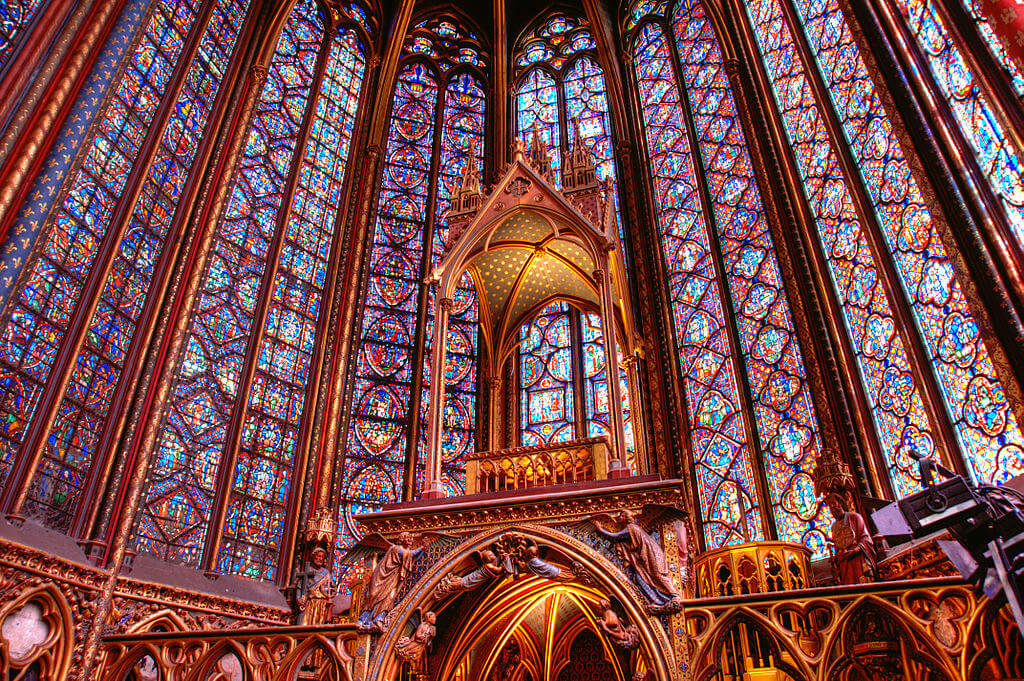 Source: Jean-Christophe BENOIST
Also, on the Île de la Cité very close to Notre Dame, is Sainte-Chapelle. This church is probably one of the lesser well-known sights of Paris, but should 100% be on your to see list. Built in 1248 the second floor of this church is guaranteed to take your breath away. Make sure you visit on a sunny day, as you will see the light shine through the wall-to-wall, multi-coloured, stained-glass windows.
It is €8.50 for adults to visit and free for children, and is open from 9.30am to 6pm every day, except from mid-May to mid-September when it is open until 9.30pm and from 9am to 5pm November to February.
The Louvre
Place de l'Hôtel de Ville, 75004 Paris, France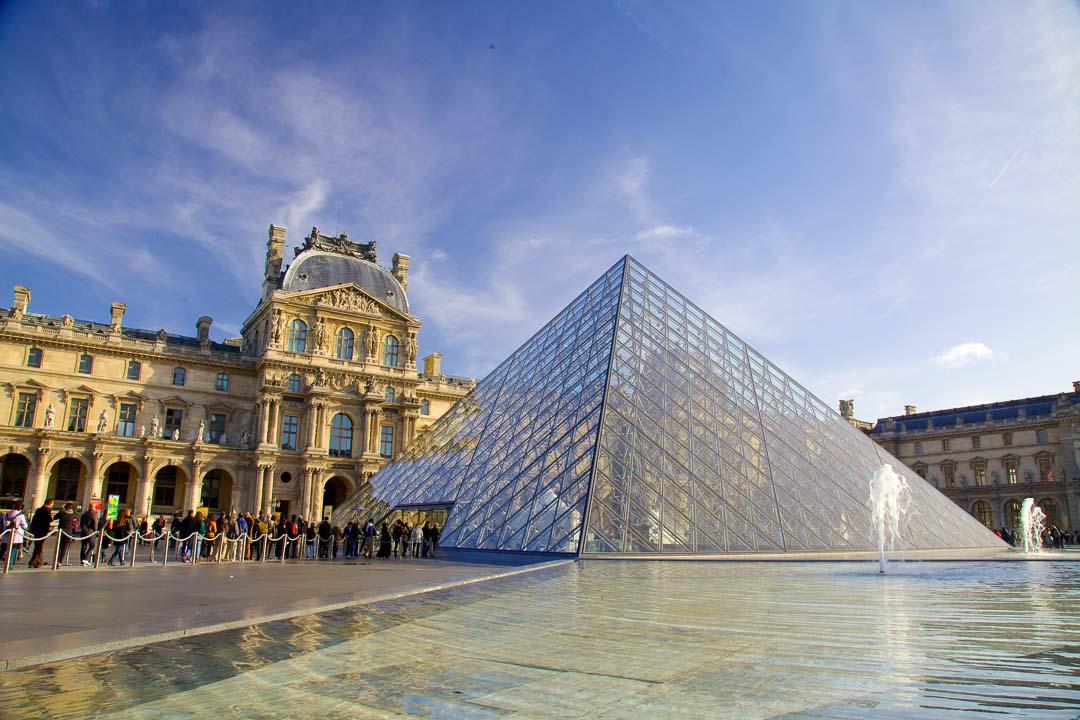 The Louvre is another icon of Paris and the most famous gallery/museum in the city. It houses one of the largest collections of art from countless eras and is home to some of the most famous pieces of artwork in the world, such as the Mona Lisa by Leonardo da Vinci and the Venus de Milo by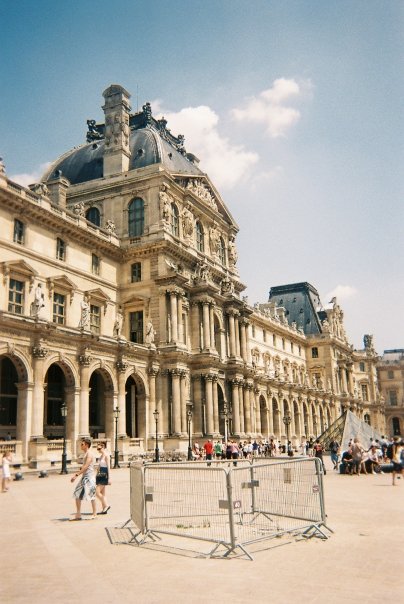 Alexandros of Antioch. When you enter this grand building, through its famous glass pyramid, you will find yourself in the same vast building as over 35,000 pieces of artwork. You could easily spend hours getting lost amongst these beautiful works of art, so we recommend you pick up an audio guide to make sure you see all the best bits.
Entry for adults is €12 and free for children, and the museum is open from 9am to 6pm Monday, Thursday, Saturday & Sunday, and it remains open later (to 9.45pm) on Wednesday & Friday.
Just outside The Louvre is the long lawn of picturesque, picnic friendly gardens called the Tuileries, if you continue walking down you will find yourself entering the 8th arrondissement (see below for more information).
"Paris is a very compact city, with most of the major sites in close proximity. It is for this reason that it has always been a favourite of the flaneur, and walking from place to place rather than taking the Metro will always bring many unexpected treats. Strolling along and across the Seine, through the historic centres on the left and right banks and out to the slightly grittier (and arguably even more fascinating) edges is an essential part of any Paris trip."
By Adam Roberts, Founder of www.invisibleparis.net
Places to Visit in the 8th Arrondissement
Place de la Concorde
Place de La Concorde, 75008 Paris, France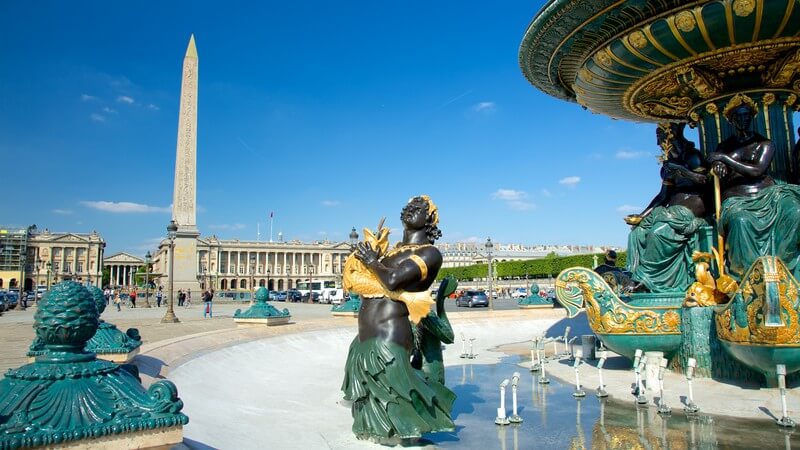 In-between the Tuileries and the Champs-Élysées is the Place de la Concorde. This is one of the major squares in Paris, and is where a huge number of French aristocracy lost their heads during the revolution, including Marie Antoinette, Robespierre and the first victim was King Louis XVI. Now, you can see the 3300-year old obelisk gifted to France in 1831 from Egypt and the Fontaines de la Concorde – two beautiful fountains created to commemorate the maritime industry in France.
Avenue des Champs-Élysées
Avenue des Champs Elysees, 75008 Paris, France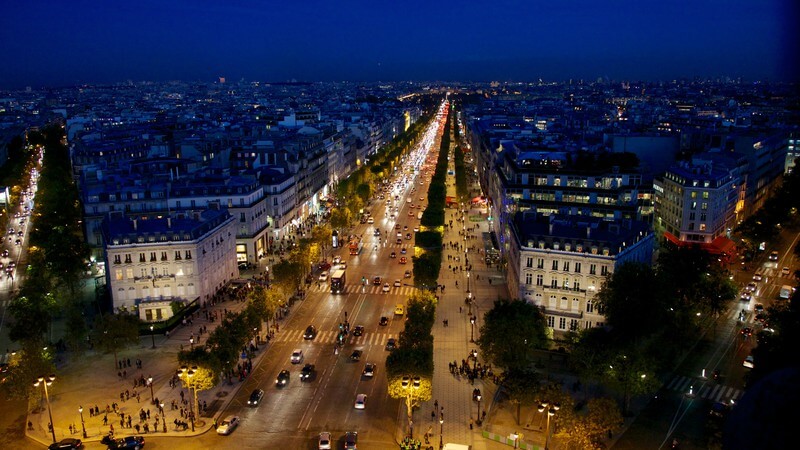 This is an avenue in the midst of Paris that stretches for approximately 1.2miles and is lined with shops, bars, cafés and restaurants. If you're looking to do some shopping the Champs-Élysées is the place to go in Paris or if you find yourself in Paris on Bastille Day you should watch the great parade that marches down this road.
Arc de Triomphe
Place Charles de Gaulle, 75008 Paris, France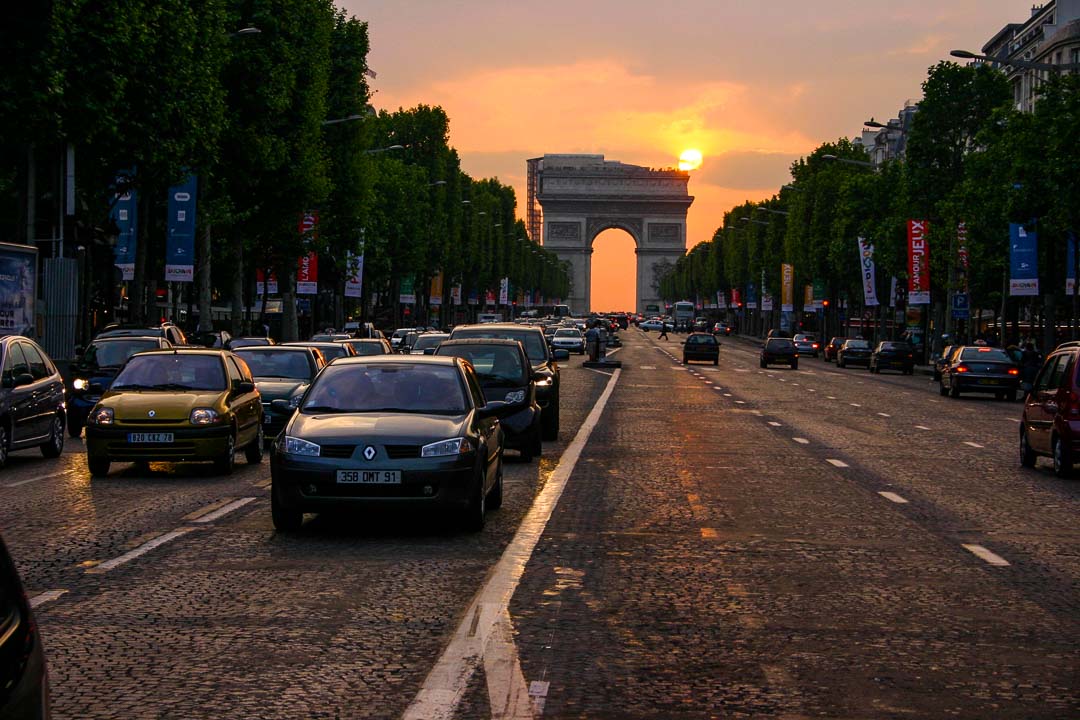 One of Paris' most famous monuments is the Arc de Triomphe, it stands proudly in the Place Charles de Gaulle at the top of the Champs-Élysées. It opened in 1836 and honours and commemorates those who died fighting in the French Revolution and Napoleonic Wars. Visitors can ride a lift to the museum inside of the Arc de Triomphe where you can find out more about the story of this monument. Another climb up 46 stairs will take you to the very top of the Arc de Triomphe outside, where you can look over the city.
It is open from 10am to 11pm in April to September and until 10.30pm from October to March. It will cost €8 for adults to enter and is free for children.
Grand Palais
3 Avenue du Général Eisenhower, 75008 Paris, France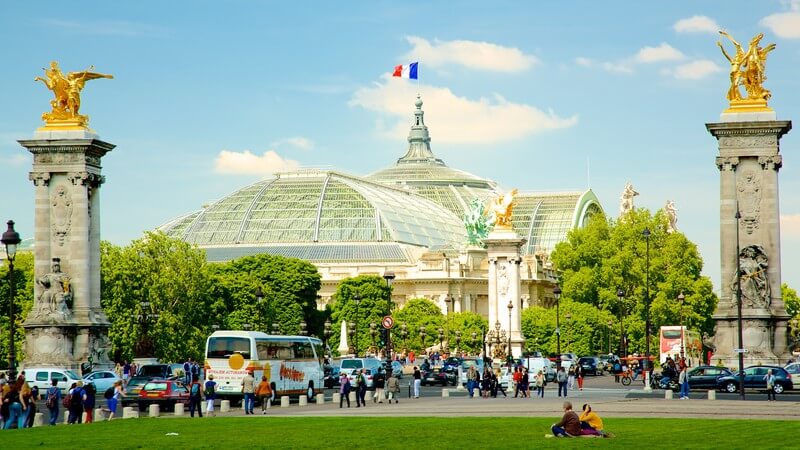 Built in 1900 for the World Fair this huge exhibition centre is quite a sight to behold. It houses many famous events such as Paris Fashion Week shows and some of the biggest art shows in the world. Exhibitions vary, so you should visit the website to find out what is on when you want to visit and opening times.
Opposite the Grand Palais is the aptly named Petit Palais; another museum filled with art from around the world. Visit their website to find out what is on when you visit and opening times.
L'Eglise de Madeleine
Place de la Madeleine, 75008 Paris, France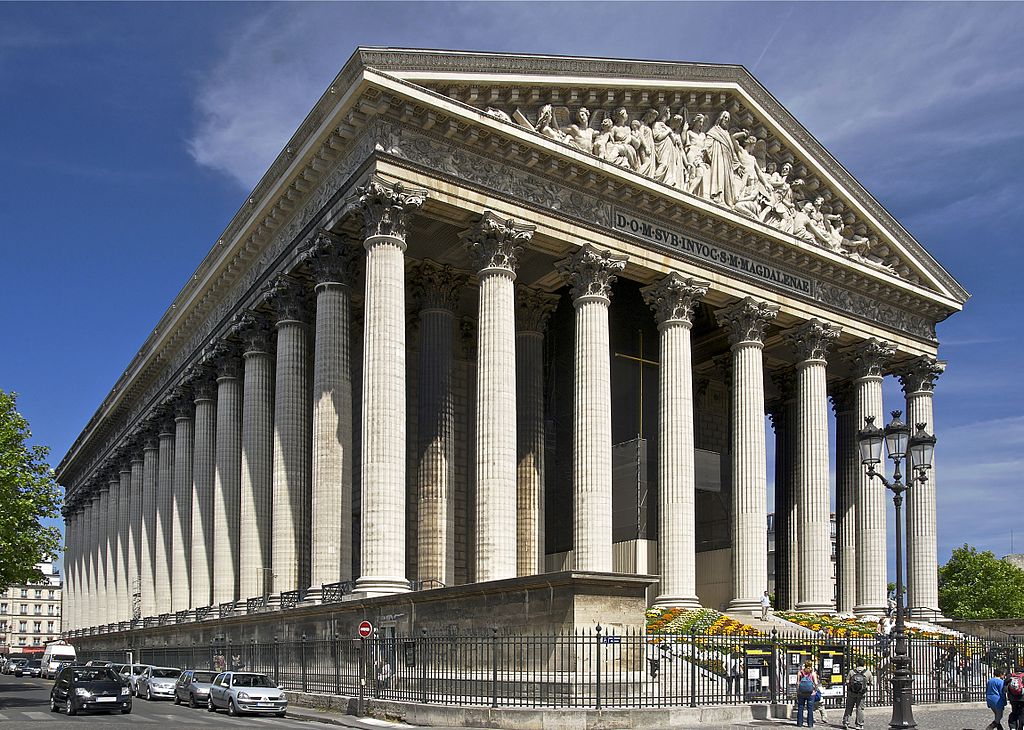 Source: Jebulon
This is another Catholic Church in Paris, but is slightly different to the usual French Gothic design; it is strongly representative of the Mediterranean designs of Greece and Italy. It is also nearby to the Rue de Faubourg Saint-Honoré where you can find all the latest designs from the designer boutiques.
Places to Visit in the

18th Arrondissement, Paris
Moulin Rouge
82 Boulevard de Clichy, 75018 Paris, France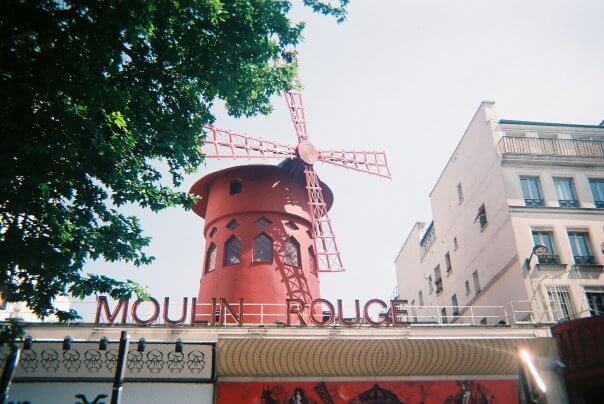 Source: Amy
Made famous by seedy stories of Paris' history and the famous Baz Luhrmann movie Moulin Rouge, this arrondissement is the home of Paris' most infamous area: Montmatre. You can actually visit the Moulin Rouge to see its famous red windmill and watch one of its can-can shows; visit the website to book tickets and find out more about the shows on at the time of your visit.
Sacré Coeur
35 Rue du Chevalier de la Barre, 75018 Paris, France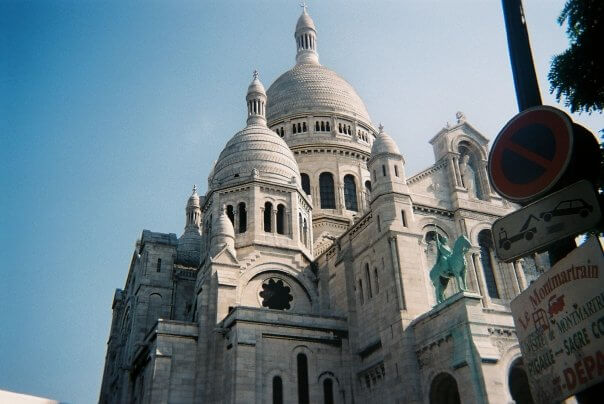 Source: Amy
It's not all can-can dancers and parties in Montmatre, the Sacré Coeur sits proudly atop the hill in this district looking out over Paris. To get to Sacré Coeur you will have to climb a great number of stairs, but feel free to take a break and set up a picnic on one of the many gardens on the way up. Alternatively, you could always jump on the shuttle funicular if you feel you are unable or do not wish to climb the stairs.
A climb up 234 stairs inside the church will get you to the top of its dome; it will cost €6 for adults and €4 for children and is open from 6am to 10.30pm. This church is very conservative so you should ensure you are dressed respectably as you may be refused entry otherwise.

Paris Tourism Guide: 

Other Places to Visit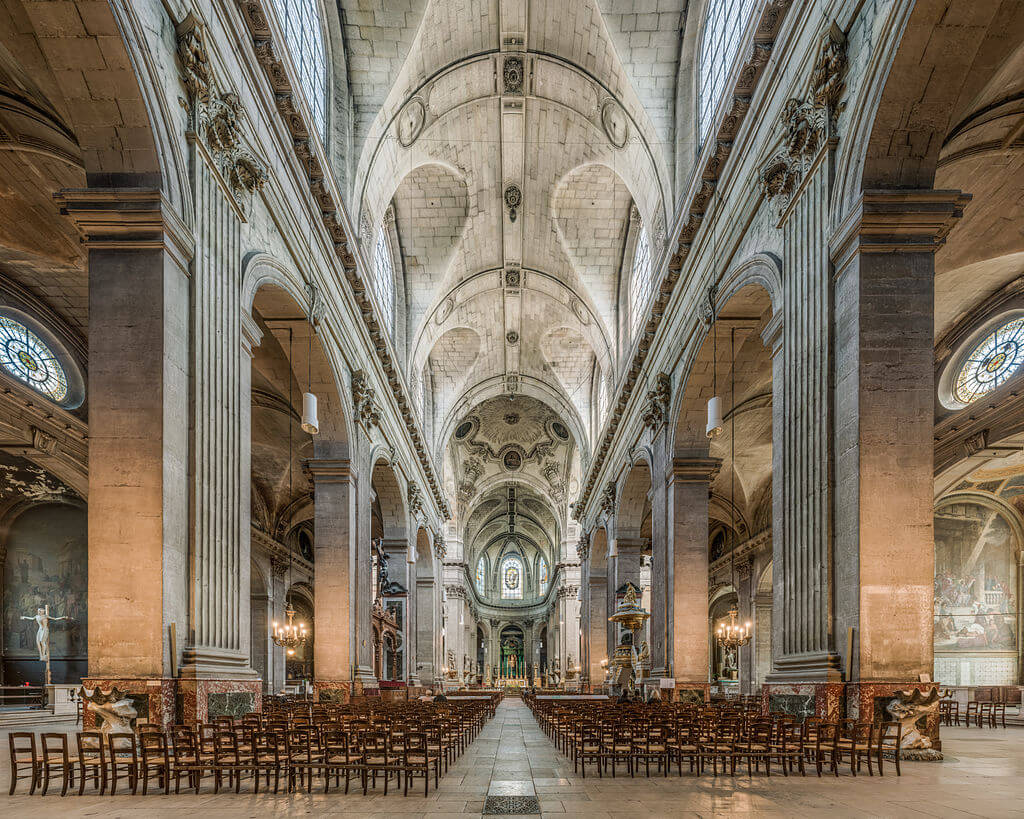 CC by SA 3.0 / DXR / Daniel Vorndran 
There are 20 arrondissements in France, and if we can't list them all, but we just wanted to mention a few more to make sure you got a full view of Paris:
Arenes de Lutece – 5th Arrondissement, Paris
"Back in the first century A.D., a Roman-made arena hosted circuses, plays, and bloody gladiator games for crowds of up to 17,000. Les Arenes de Lutece remains as a free, un-commercialized open space. Old men play petanque and kids play soccer in the center, while picnickers enjoy the shady respite of stone bleachers above."
– Laurie Pike, Founder of www.theparisblog.com
St. Sulpice – 6th Arrondissement, Paris
St. Sulpice is the second largest church in the city and is often overlooked by tourists, but for what reason we are not sure. The interior of this church is astounding, its sheer size and detailed design is beautiful and we think it should be on your must-see list.
2 Rue Palatine, 75006 Paris, France
Catacombes de Paris – 14th Arrondissement, Paris
The Catacombs of Paris are the network of tunnels beneath Paris that hold the remains of six million people. These slightly sinister tunnels of skulls and bones were created to deal with the issue of Paris' overflowing cemeteries. The tunnels were also the headquarters of the French resistance during WWII. You can walk around these tunnels from 10am to 8pm, from Tuesday to Monday (last admission is at 7pm).
1 Avenue du Colonel Henri Rol-Tanguy, 75014 Paris, France
Daytrips from Paris
Situated just outside of Paris are two great places you should try and visit, they are a short ride on the RER train and well worth the excursion.
Palace of Versailles
Place d'Armes, 78000 Versailles, France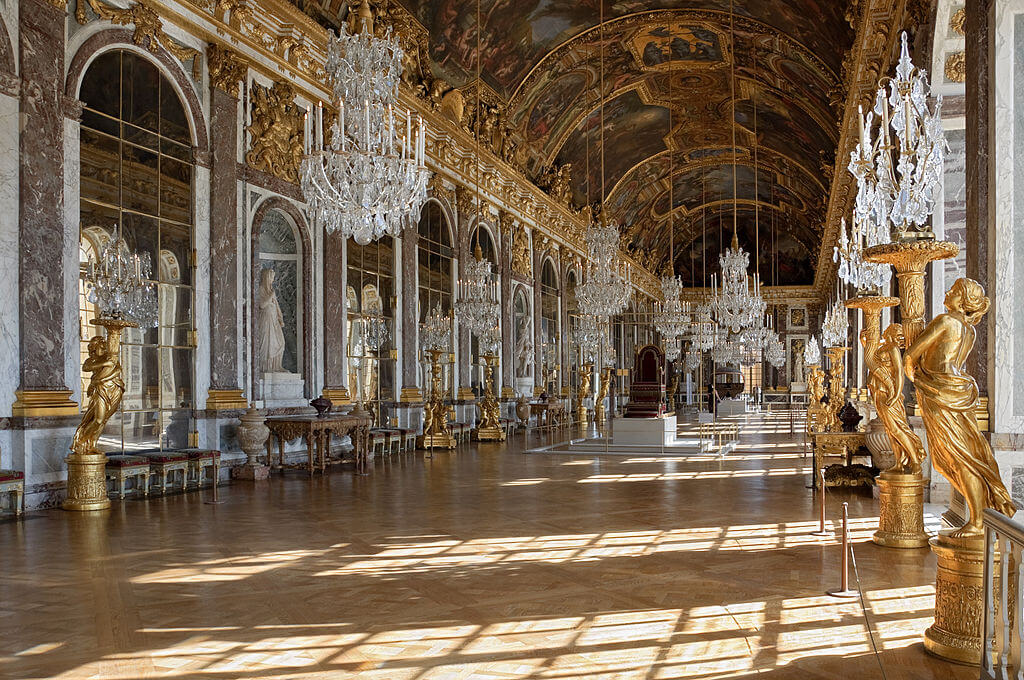 Source: Myrabella
This is an enormous palace built in 1623 by King Louis XIII, since then it has had so many extensions that in 1682 King Louis XIV moved his family and all of his courtiers to live in this palace. It is an exciting sight to see because of its sheer size and quality décor, design and artwork, not to mention its historical significance.
Disneyland Paris
Disneyland Paris, 77777 Marne-la-Vallée, France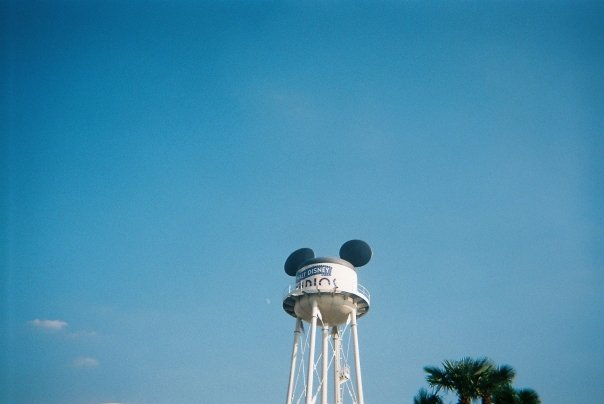 Source: Amy
Disneyland Paris is just as magical as any other Disneyland, and if you have never been before then we thoroughly recommend you go at least once whilst you are here. It is not just for adults; rollercoasters and interactive shows are entertaining for all ages. Click the link below to visit the Expedia website to find out more about a trip to Disneyland Paris.
[button style='blue' url='https://www.expedia.co.in/things-to-do/?location=Disneyland%C2%AE%20Paris,%20France' icon='entypo-suitcase' fullwidth='true'] Disneyland Paris[/button]
Paris Video Guide
Paris Tourism Guide: Nightlife in Paris

The diversity of the nightlife in Paris is profound; you can find hip jazz clubs lined up next to spritely cocktails bars or hidden underground clubs. There are a few different areas in Paris where you can sit back and relax with a good glass of wine, we've listed a few below for you to explore:
Nightlife in the Latin Quarter (5th and 6th arrondissements)
The Latin Quarter of Paris is known for its culturally upbeat atmosphere and lively bars, like the Café des Oubilettes which resembles a medieval dungeon and features live bands and a range of different music. Chez Georges is another underground experience; this old wine cellar and is very much a night of up-close and personal dancing and socialising.
If you prefer something more above the ground, then La Compagnie des Vins Surnaturels, might be more appropriate for your evening. It is a classy establishment serving nothing but the best alcohol and food but with the price tags to match. Or try Café de Flore where you will feel as though you've taken a step back into 1930s Paris and are rubbing shoulders with Picasso and Hemingway themselves; you may even spot the occasional celebrity.
Nightlife in Montmartre and Pigalle (9th and 18th arrondissements)
The home of the Moulin Rouge is also a fun place to dip your toes into the local nightlife scene; besides a visit to one of the shows at the Moulin Rouge we recommend trying the Café La Cigale. This bar is the sister site of the famous music venue and you will therefore find the best European music to accompany your cocktails. Le Café du Commerce is a trendy bar where you can also grab a late bite to eat before you try any one of their huge range of French wines.
"Some of my favorite cocktail bars in the City of Light, where you can spend your evenings testing, tasting and clinking glasses are; Baton Rouge, Bespoke, Rosebud, Castor Club, Artisan and Lulu White named after a Madame from New Orleans. The cocktails in Paris are so superb, that even Hemingway would be proud."
By Doni, Founder of www.girlsguidetoparis.com
Back To Top of Paris Tourism Guide

Where to Eat: Food in Paris
In keeping with ideals of Paris, the food is also oozing with luxury; Parisian food is very rich and a lot of it is quite creamy, even their aperitifs and snacking foods are unique and classy. Traditionally famous Parisian food include pain au chocolats, macarons, croissants, cheese, wine and chocolate; there are some great places where you can try these and we've listed them below. There are also, a few restaurants listed below where you can try delicious French (and European) food from authentic restaurants that tourists don't know as much about.
French Bakeries (Boulangeries)
Whilst in Paris you will undoubtedly have the urge to try a classic French croissant or pain au chocolat, and when you do, we recommend you visit one of the following bakeries:
Maison Kayser: 8 Rue Monge, 75005 Paris, France
Boulangerie Gosselin: 258, boulevard Saint Germain 75007 Paris
Le Grenier à Pain: 38 Rue des Abbesses, 75018 Paris, France
Poilâne: 8 Rue du Cherche-Midi, 75006 Paris, France
Restaurants in Paris
The restaurants in Paris listed below are a mix of fine-dining, traditional Parisian and non-tourist locations where you will find locals dining as well as other smart tourists.
Fine Dining
L'Atelier Rodier: 17 rue Rodier, 75009 Paris, France
Georges (Centre Pompidou): Place Georges Pompidou, 75004 Paris, France
Epicure: Le Bristol Paris, 112 rue du Faubourg Saint-Honoré, 75008 Paris, France
"While there are the obvious must-see sights in Paris, my favorite parts are the gardens and hidden trails throughout the city. Paris has more recognizable monuments than any other city in the world, but its tree-shaded boulevards, romantic bridges illuminated by wrought-iron lamps and wicker chair-lined café terraces all have a unique charm too. 

Make a plan to see the main monuments and attractions, but then spend your time wandering through the various parks and gardens, picking up food from a cafe and having a picnic, and strolling through the streets of Paris enjoying the local cuisine late into the night."
– Anjali Shah, Founder of www.thepickyeaterblog.com
Derrière: 69 Rue des Gravilliers, 75003 Paris, France
L'Ebauchoir: 43 Rue de Cîteaux, 75012 Paris, France
La Pantruche: 3 Rue Victor Masse, 75009 Paris, France
Buvette: 28 Rue Henry Monnier, 75009 Paris, France
Robert et Louise: 64 Rue Vieille du Temple, 75003 Paris, France
Terra Corsa: 42 Rue des Martyrs, 75009 Paris, France
Ladurée
Ladurée is a Parisian institution; you must try this quaint afternoon tea destination and try the array of teas and macarons on offer. These tea rooms started in 1862 when a miller called Louis Ernest Ladurée found a bakery that quickly grew in popularity and developed into what it is known as today.
"Make sure to set aside a few hours to visit the Food Hall at Galeries Lafayette. Far from a simple supermarket, the hall pulses with gourmet stalls ranging from the crème-de-la-crème of Parisian pastries, to cases full of the finest cheeses from around the country, to a full-scale wine & champagne "cave". Don't miss a chance to mingle with lunchtime diners at any of the hall's pop-up restaurants including a "catch-of-the-day" seafood & oyster bar."
By Tuula, Founder of www.belleprovencetravels.com
Back To Top of Paris Tourism Guide

Indian Food in Paris
If you'd like to see how the French do Indian food or maybe you're missing home and want some home comforts then you are in luck as there is a huge population of Indians living in Paris, many of whom have started up their own restaurants. We recommend trying the following restaurants, they are all highly-reviewed by customers, but if you find one that you think should be on this list, leave a note in the comments section below and we will add it to our guide.
Kashmir House: 36 Rue de Chabrol, 75010 Paris, France
Bolly Nan: 12 Rue des Petits Carreaux, 75002 Paris, France
MG Road: 205 Rue Saint-Martin, 75003 Paris, France
Desi Road: 14 Rue Dauphine, 75006 Paris, France
Gandhi Ji's: 12 Rue la Fayette, 75009 Paris, France
Jaipur Cafe: 17 Rue des Messageries, 75010 Paris, France
Back To Top of Paris Tourism Guide

Where to Stay: Best Hotels in Paris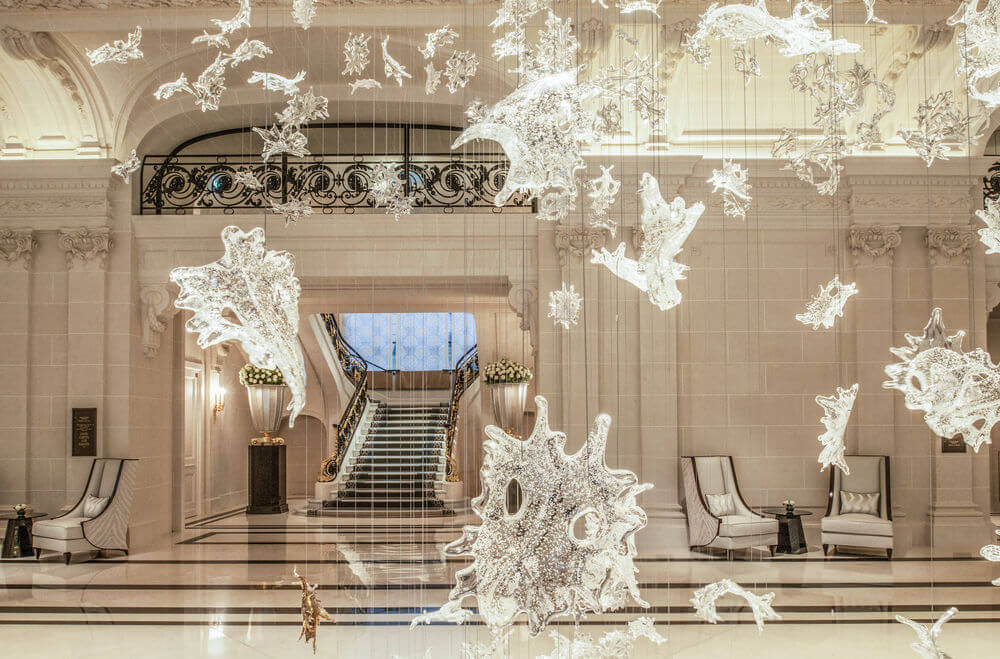 Luxury Hotels in Paris
Paris has always been known for its indulgence and luxury, so much so that it was once the cause of the revolution that overthrew their monarchy. However, that luxury is now more readily available and comes in the form of magnificent hotels. The Peninsula Paris (approx. ₹47,000 per night) is a chic Parisian hotel that provides an unsurmountable amount of luxury living to its guests. Opulent interiors and rooftop restaurants with great views of the Eiffel Tower, mean this is one stay that you will never forget. It is in the 16th arrondissement, which means the Arc De Triomphe is less than a 10-minute walk away; if you don't want to walk the hotel can organise a chauffeured tour around the city in a classic car (surcharge).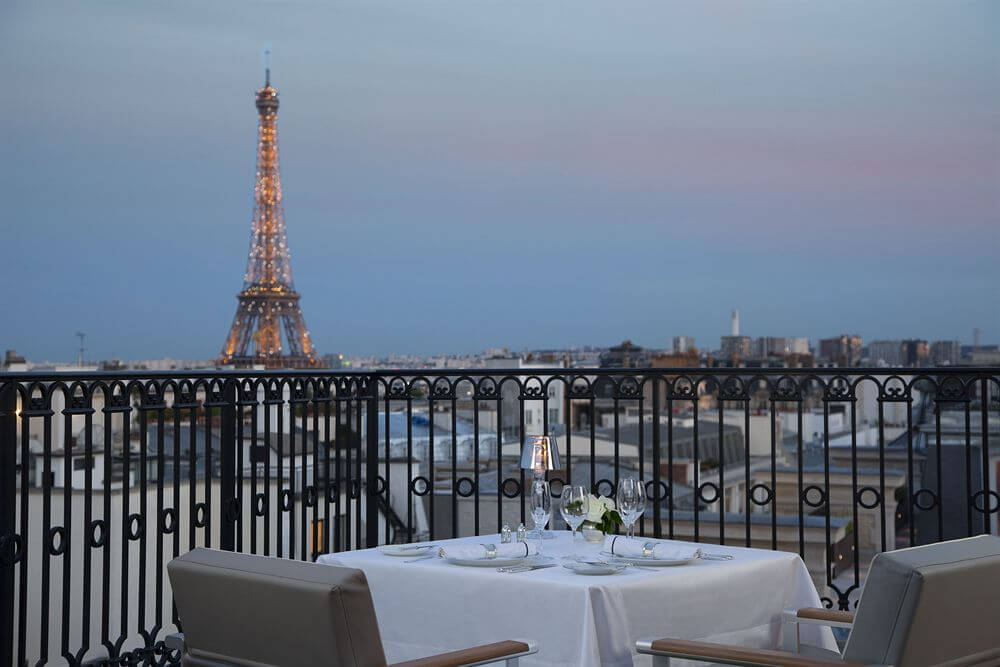 Luxury does not always come with as big a price tag as the Peninsula; you can retreat to the Relais Saint Germain (approx. ₹22,100 per night) which offers a more traditional Parisian experience. The décor is a modern twist on traditional Parisian décor from a time when Paris was its most romantic state. It is in the 6th arrondissement (St. Germain), this hotel is near to places like Notre Dame and the Sorbonne Palace, not to mention the eclectic Île St. Louis. The Hotel de la Tamise (approx. ₹14,500 per night) is another luxury hotel in the 1st arrondissement, nearby to The Louvre, Place de La Concorde and the Palais Royale (to name a few).
Other luxury hotels in Paris that we had to mention include: Maison Souquet, Hotel d'Aubusson or the Shangri-La Hotel, that range from ₹15,000-57,000 per night (on average, prices may change based on duration and time of stay).
[one_half][button style='blue' url='https://www.expedia.co.in/5Star-Paris-Hotels.s50-0-d179898.Travel-Guide-Filter-Hotels' icon='entypo-suitcase' fullwidth='true']View More Luxury Hotels in Paris[/button][/one_half]
[one_half_last][/one_half_last]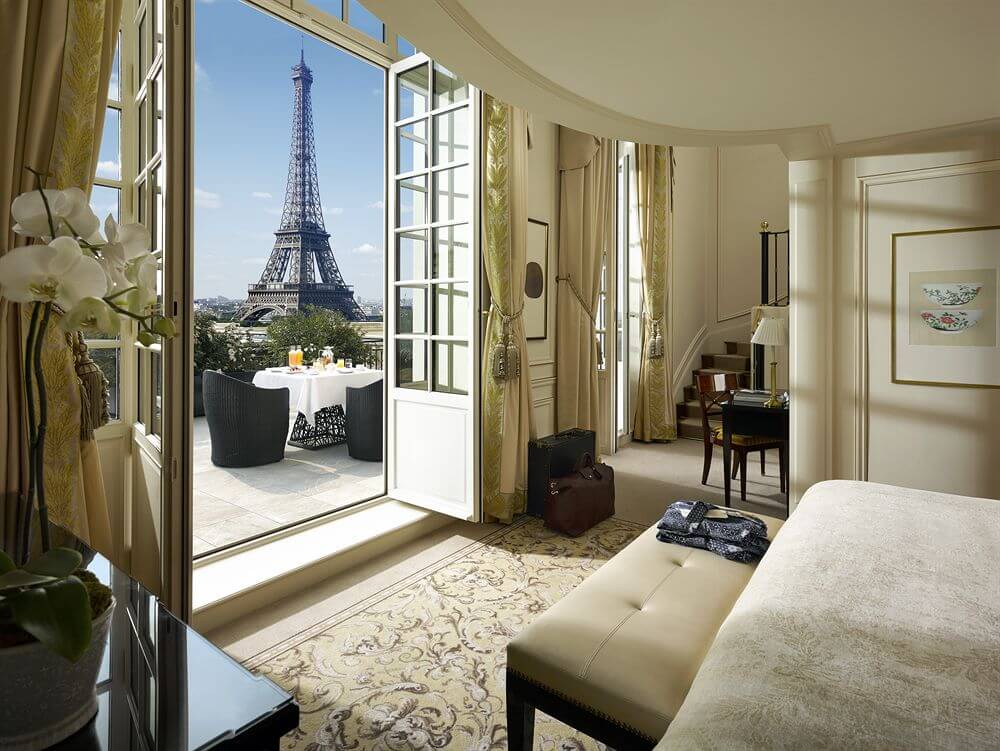 Mid-Range Hotels in Paris
Fashion meets the traditional at the Hotel L'Antoine (approx. ₹7,525 per night) and they get along very well based on guest reviews and recommendations. This hotel is in the 11th arrondissement nearby to the Picasso Museum and the famous Pere Lachaise Cemetery. Each room has its own unique design and hotel amenities include a sauna, bar/lounge, fitness centre, free WiFi and many more (just ask your concierge for details).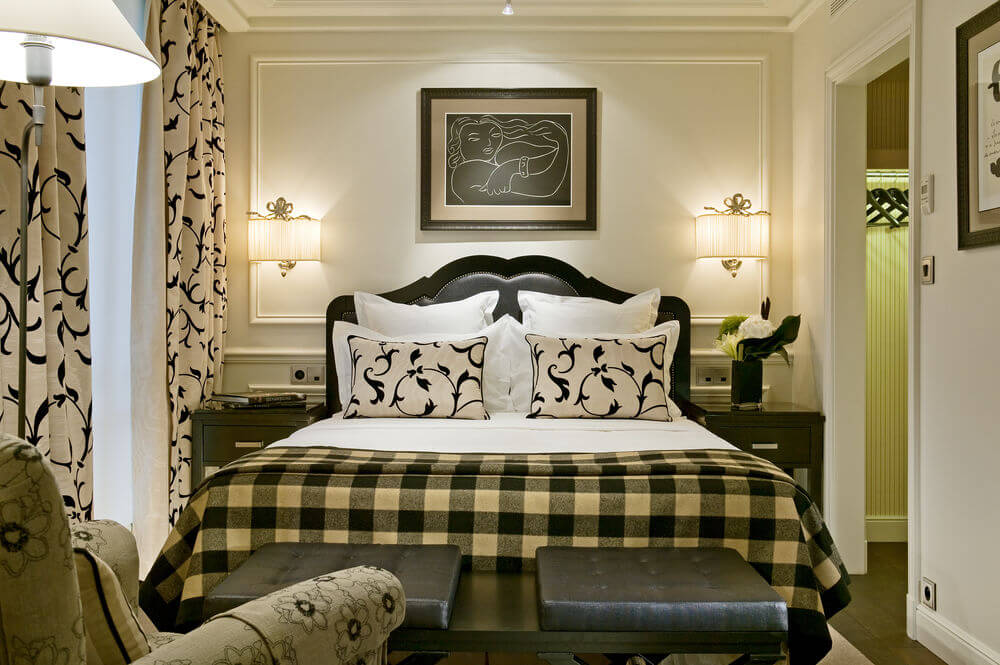 The Hôtel Keppler, in the 16th arrondissement (approx. ₹10,450 per night), is a warm retreat with a traditional, sophisticated ambience making it a lovely place to return home to after a day of sightseeing. It is located near the Trocadero and Eiffel Tower, so you can stroll home after a watching the lights of Eiffel Tower light up Paris at night.
Some other guest favourite hotels include Hôtel Miramar, Hotel de Lille, Design Hotel Secret de Paris and La Maison Favart. These hotels range from approx. ₹5,000-12,000 per night, but there are many more for different prices that can be found on the Expedia website. Click the link at the bottom of this section to find the right hotel for you.
Budget Hotels in Paris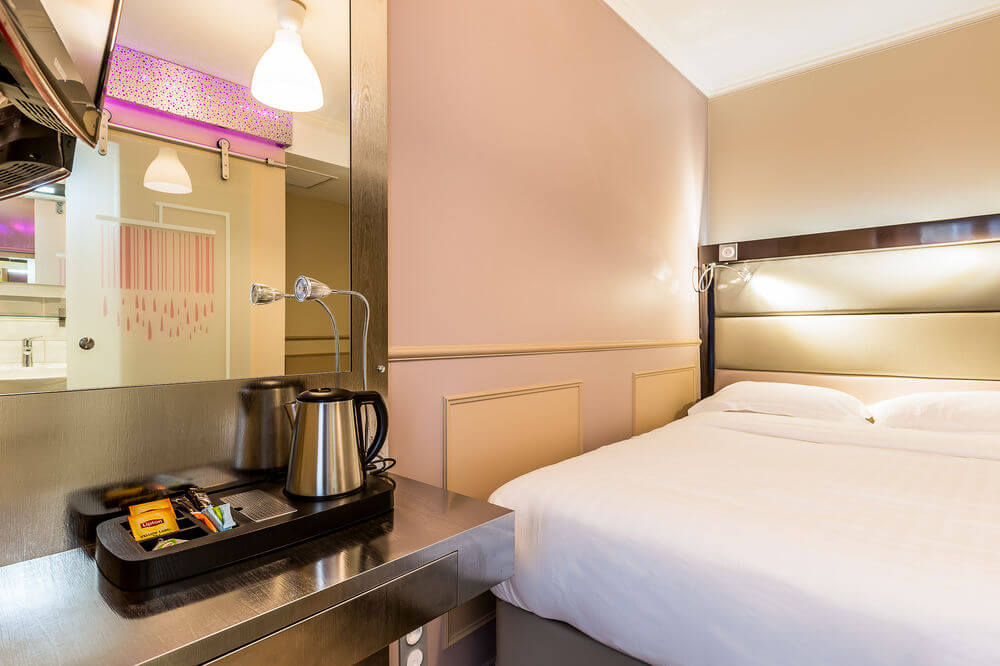 The wonders of Paris are off limits to no-one, if your budget is significantly smaller than that of a Royal family, perhaps try District République (approx. ₹4,100 per night) in the 10th arrondissement. This budget hotel in Paris provides all the basic amenities you will need for a comfortable trip to the city. It has a 24-hour front desk and the staff are knowledgeable on all things Paris, so if you need any tips, inspiration or help they should be your first port of call.
The Hotel des  Arts (approx. ₹4,800 per night) is another comfortable budget hotel in Paris, located in Montmatre (18th arrondissement); you will be near the Sacré Coeur, Moulin Rouge and upbeat nightlife locations. You will have complimentary WiFi when staying in this hotel and be catered to by knowledgeable staff who are eager to help and ensure you have the best experience of Paris.
Other great budget hotels in Paris include the Hotel Acropole or Hôtel Palais De Chaillot both of which are close to the sights and cost approximately less than ₹6,000 per night stay (on average). The link below will take you to the Expedia website where you can view all of the budget hotels and more in Paris.
[button style='blue' url='https://www.expedia.co.in/Paris-Hotels.d179898.Travel-Guide-Hotels' icon='entypo-suitcase' fullwidth='true'] Hotels in Paris[/button]
Back To Top of Paris Tourism Guide

Getting Around: Transport in Paris
There are many methods of transport to take you around the sights and attractions of Paris. Listed below are the most convenient and best ways of travel:
Paris Metro
Paris' metro system is one of the best transport systems in the world, it is always on time and is well-connected to almost every point in the city. It has 14 lines and hundreds of stops and runs from 5am to 12.30am. Prices are as follows: one ticket, for one journey, is €1.80 (approx. ₹137) or a pack of ten tickets, for ten journeys, is €14.10 (approx.  ₹1080).  You can also buy 2-10 day travel cards for a range of different prices – speak to a local ticket officer or use one of the machines at any metro station to find out more.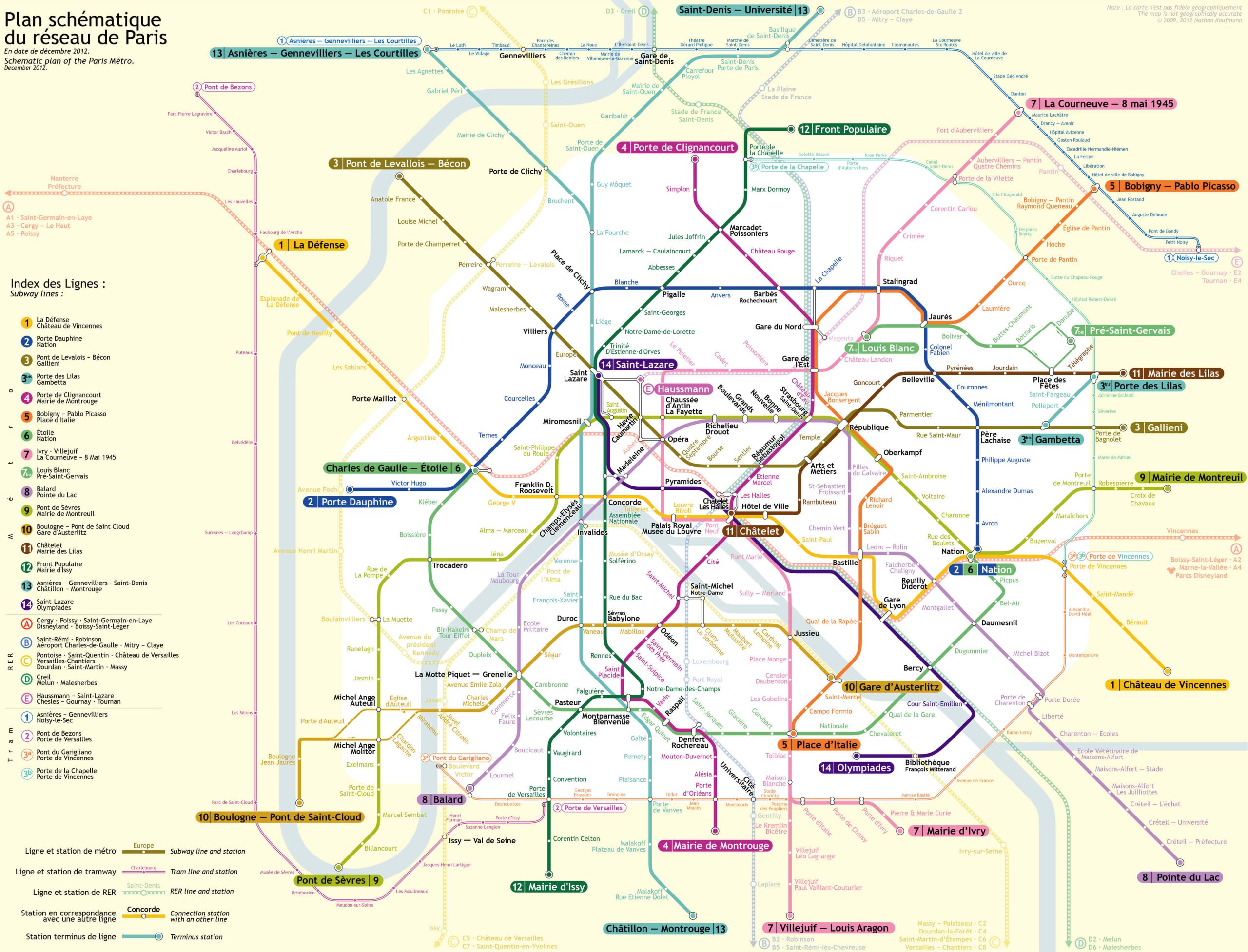 Source: Rigil
RER Train
This train is better for visiting places outside the city, and is most likely going to be used to get to and from the airport or for an excursion to Disneyland or Versailles. Details of the lines can be seen on the metro map above.
Buses in paris
The bus system in Paris is very efficient, it runs from 6.30am to 8.30pm and you can use your metro tickets on these too. The metro is probably your best bet, but there are many 'hop-on, hop-off' bus tour companies that are really good for getting a good view of Paris. (Tip: there are other types of Paris city tours, such as culinary or art tour, available in Paris. Not all tours require a bus and you will see walking tour stands around popular tourist sites, such as the Eiffel Tower).
Taxis in Paris
Taxis are not hard to find in Paris, whilst they appear more expensive than taxis in India, they are relatively cheap for Europe. Taxis are good for very early morning starts or late nights when other transport methods no longer run. If you are not comfortable picking up one of these taxis on the street, ask your hotel concierge to help provide you with a number or even call one for you, they will be happy to help and provide advice.
Other Ways to Get Around in Paris
If you feel like trying something new, you could pick up the Batobus, which is a taxi-boat service that runs up and down the Seine River, with numerous stops along the way. Alternatively, hire one of Paris' city bikes, you can pick up one of the bikes and can return it at any bike stand around the city. Visit the website here to sign up for access to these bikes.
Back To Top of Paris Tourism Guide

When: Best Time to Visit Paris
There is no bad time to visit Paris, it all just depends on what sort of Parisian experience you are seeking.
Spring in Paris (March-June)
American writer Henry Miller said that "When spring comes to Paris the humblest mortal alive must feel that he dwells in paradise"; this is when the beauty of Paris really comes to life. Flora and fauna are in full bloom and temperatures usually average around 10°C in March and continue getting warmer as it gets closer to June.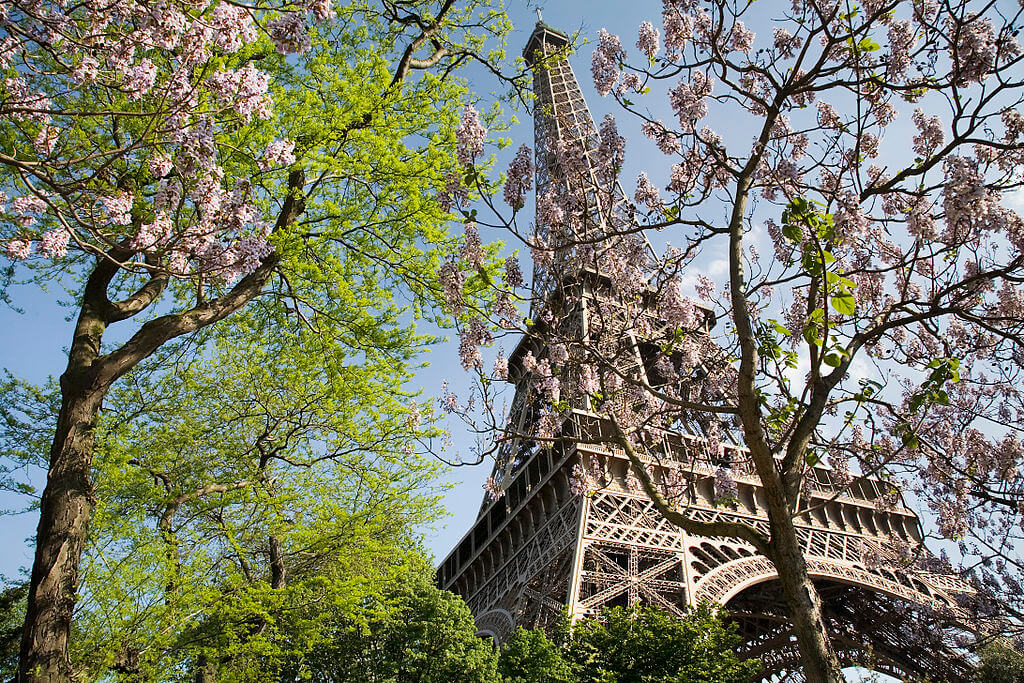 CC by SA 3.0 / Jorge Royan
This is a good time to comfortable stroll around the city taking in all of the sights and you could even try and get tickets for the French Tennis Open in May (Roland Garros); however it is a popular time to visit so prices could be more expensive and tourists more likely (Tip: try to avoid European school holiday times for a less busy experience).
Summer in Paris (July-August)
Summer in Paris is very warm, which makes picnics and evening glasses of wine all the more enjoyable. However, you will be enjoying these experiences with a large amount of tourists, owing to school holidays and the best weather conditions (costs are also likely to go up because of these reasons). With that said, it is still a highly-enjoyable time to visit Paris, and if you're lucky to be there on the 14th July, you will be able to join in with the Bastille Day celebrations (French National holiday celebrating the storming of the Bastille Prison – a significant moment in their revolution).
Autumn in Paris (September-November)
Early September is a good time to visit Paris as you will catch that last bit of lingering Summer warmth but without the Summer crowds. Temperatures will drop from highs of 20°C to 10°C, so be prepared for a dip in temperatures if you go in the later Autumn months. All the sights will still be there for you to see and you can enjoy a hot chocolate cuddled up under a blanket outside one of Paris' many cafés.
"The season you choose to visit Paris in will make all the difference! The city's landmarks may be impressive all year long, but things get really busy during warmer months. If you want to experience the French capital like a true Parisian, visit during Autumn instead. It'll be more pleasant!"
– Zara Quiroga, Travel Writer and Videographer from www.bkpk.me
Winter in Paris (December-February)
These are the coldest months in Paris, average temperatures range from 2-8°C and there is always the chance of snowfall. Whilst the temperatures may not be as comfortable as Spring, Paris' twinkling lights and cosy cafés more than make up for it. The Eiffel Tower lights up like a giant Christmas tree and New Year's celebrations include large parties and parades. Finally, where better to be on Valentine's Day than the City of Love?
Back To Top of Paris Tourism Guide
[button style='blue' url=' https://www.expedia.co.in/Cheap-Flights-To-Paris.d179898.Travel-Guide-Flights' icon='entypo-suitcase' fullwidth='true'] Book Flights to Paris [/button]

Useful French Phrases for a Holiday in Paris
Bonjour – Good Day/Hello (this is the usual, polite way to greet someone during the daytime hours)
Bon Soir – Good Evening
Au revoir – Goodbye
Oui – Yes
Non – No
Je voudrais… – I would like…
S'il vous plait – Please
Merci – Thank You
Parlez-vous anglais? – Do you speak English?
Je ne comprend pas – I do not understand
Back To Top of Paris Tourism Guide
Download the PDF version of our Paris travel guide to keep with you whilst you tour the City of Love.