By Expedia Team, on April 18, 2018
Best Tourist Places in India to Visit During Summer
As summer comes, tourists start looking for covers away from the scorching heat and overcrowded cities. Fortunately, India's landscape is diverse enough to offer unique getaways in lush valleys, beautiful hill stations nestled in the Himalayas, and high-altitude regions marked with iconic attractions. In this article, I have picked up the best places in India to escape the summer heat and indulge in wonderful experience amidst serene natural settings.
Parvati Valley

This was the fourth time I visited the Himalayas, and this part of the Himalayas simply stands out amongst all I have seen. Stretches of grasslands dotted with wild yellow flowers seemed like a natural playground against the backdrop of towering snow-clad mountains. We drank water directly from the shallow streams, watched wild horses running freely and gazed at the beautiful Milky Way at night. What a pleasant change from the hustling city life!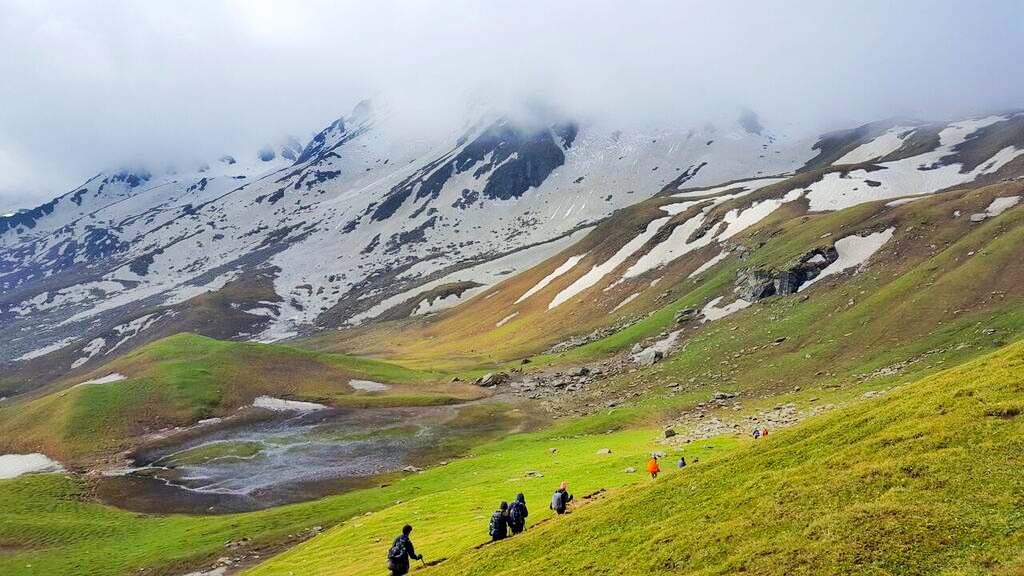 We crossed that snowy mountain!
Horses grazing on pasture against the backdrop of high-rising mountains
Parvati Valley is not just about natural splendour! The valley's culture and interesting stories act as a magnet for travellers. The region is known across the planet for cannabis cultivation – so much so that cafes in Amsterdam have a variety of hash on their menu called "Malana Cream," named after the Malana village of Parvati Valley. Although cannabis is prohibited in India, I could see people smoking openly in public. I can't recommend you to try the hash of Parvati Valley but I can surely ask you to have some chats with the locals about the cannabis cultivation. You will love it!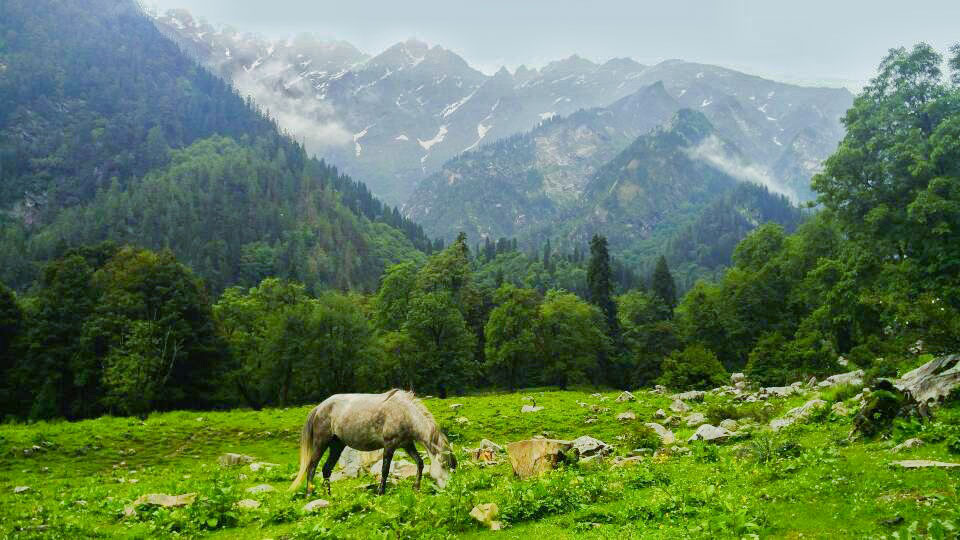 Besides a cannabis-village, Malana is also a mystic-village. Many consider Malanese people to be the descendants of Alexander's army who stayed back when Alexander visited India. They haven't mixed with other races, and even now, they don't get in contact with outsiders. In recent years, hordes of tourists flock to Malana (most are in search of 'cream' while some want to study their culture) every summer.
[button style='blue' url='https://www.expedia.co.in/Kasol-Hotels.d6224602.Travel-Guide-Hotels' icon='entypo-suitcase' fullwidth='true']See hotels in Kasol[/button]
Ladakh in Summer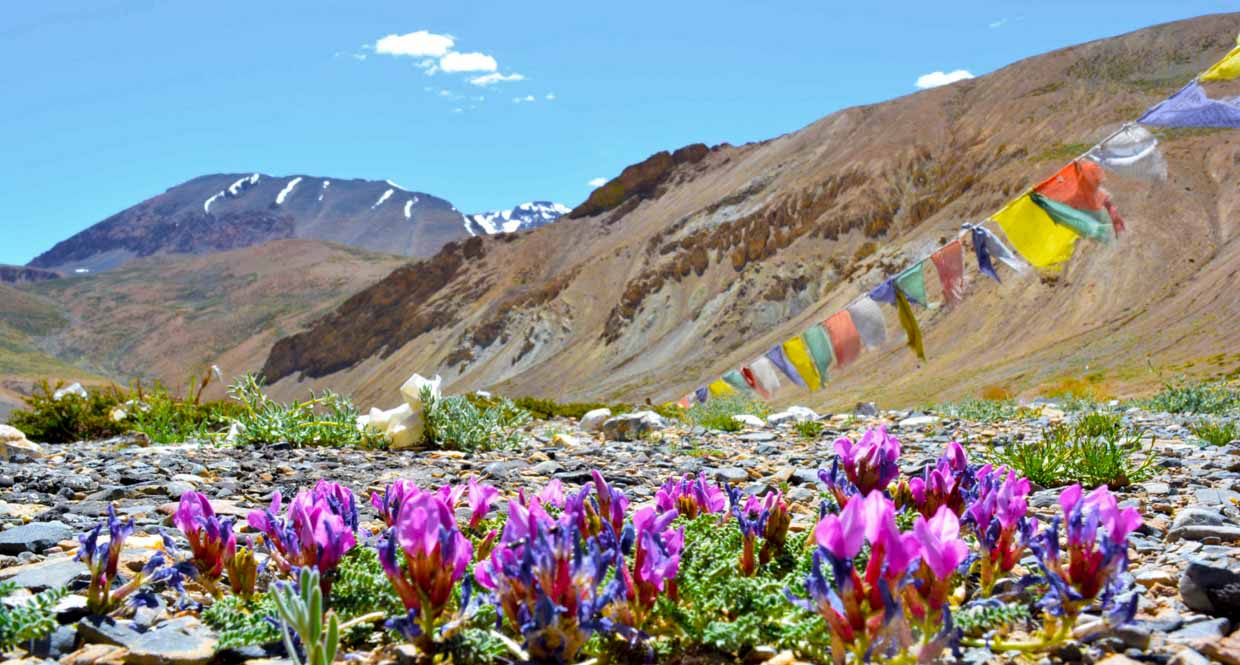 Wildflowers and Buddhist prayer flags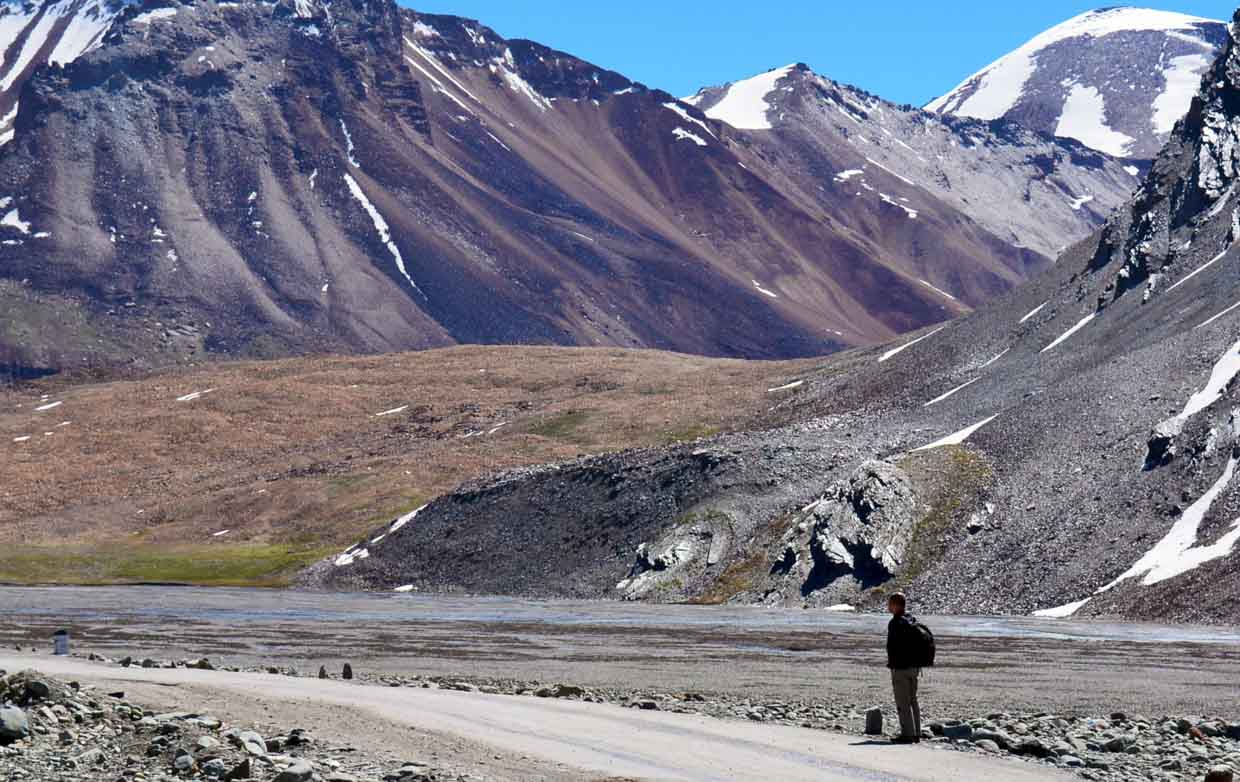 "Waiting"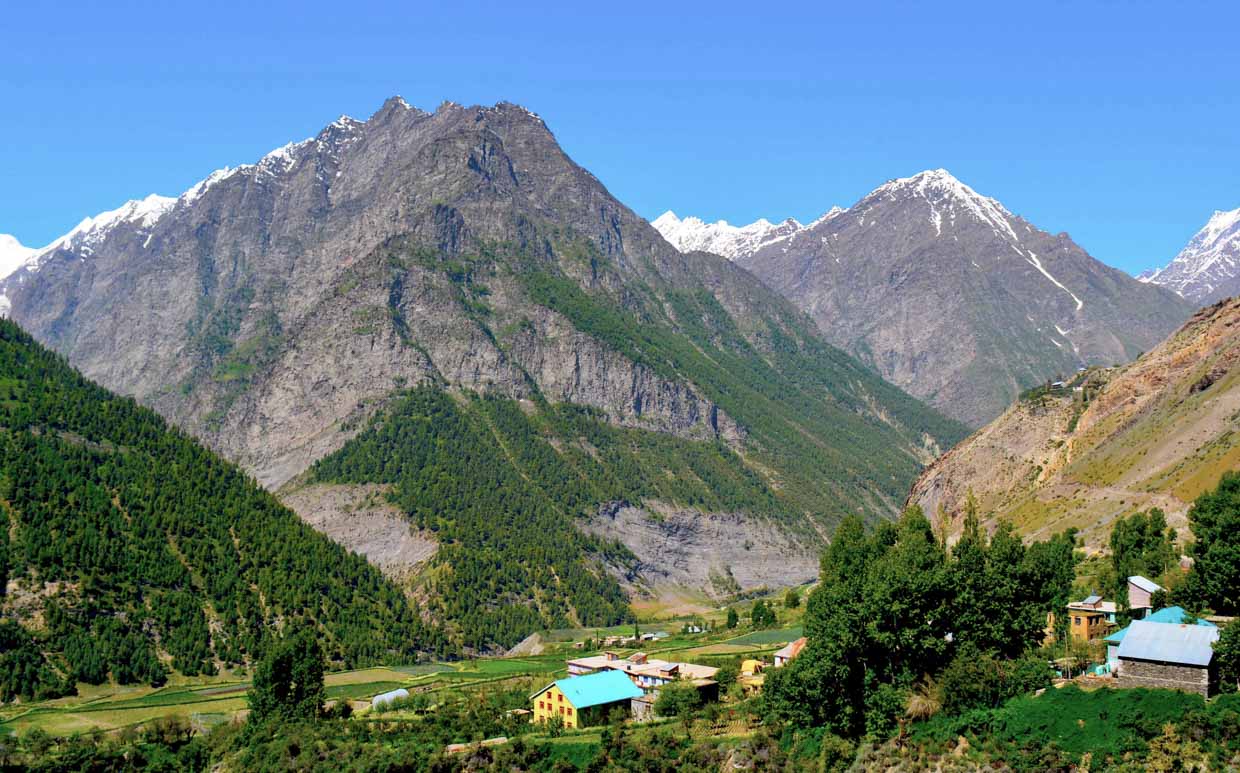 Small Himalayan villages on the way.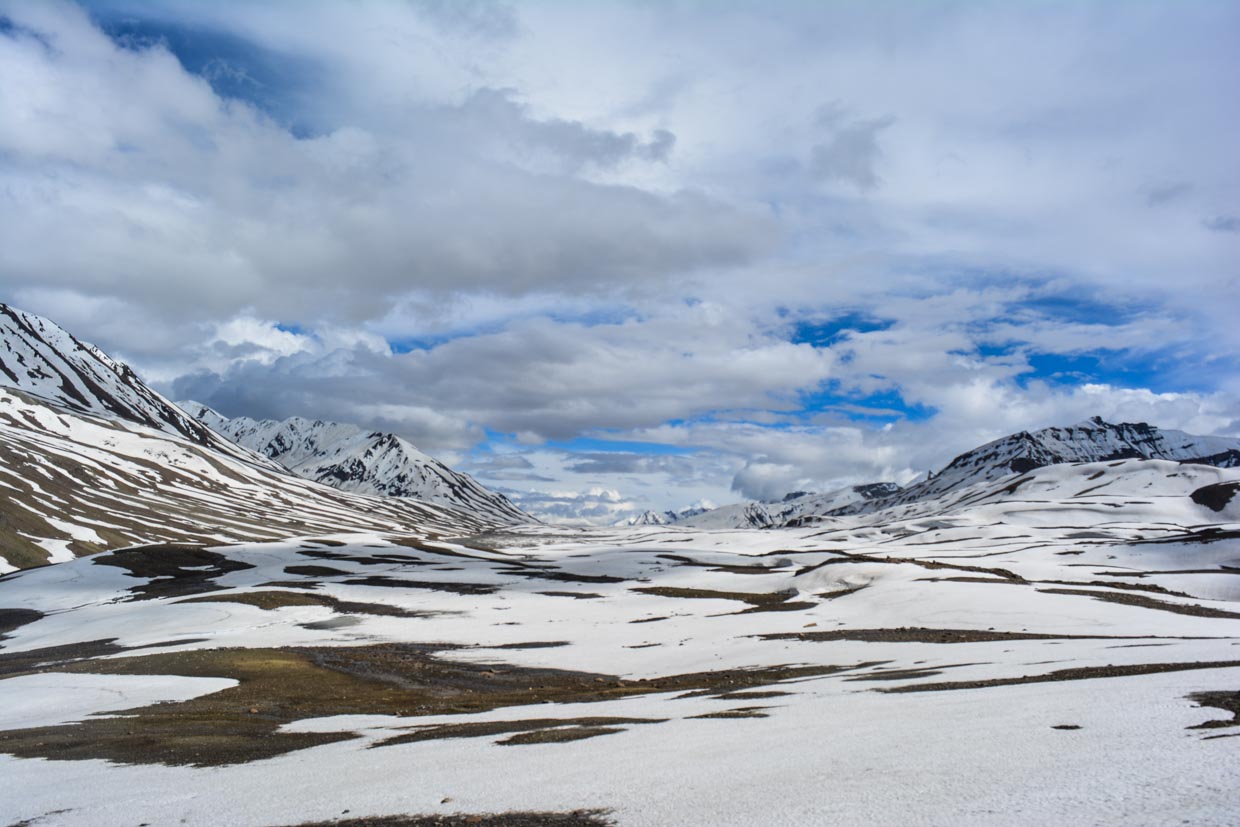 Where the white sheet of ice meets the white clouds
Spare more days while in Ladakh! Travel on one of the highest motorable roads in the world through Khardung La, ride a Bactrian camel in Nubra Valley, camp beside the enchanting Pangong Lake and go for river rafting in Zanskar River. For a more laid-back activity, visit some of the oldest Buddhist monasteries and observe the lives of monks. Watch yourself falling for the endless stretches of untouched nature.
[button style='blue' url='https://www.expedia.co.in/Spangmik-Hotels.d6344212.Travel-Guide-Hotels' icon='entypo-suitcase' fullwidth='true']See other hotels in Spangmik[/button]
Sikkim
Kanchendzonga, world's third highest peak rising above the clouds
Kanchendzonga, world's third highest peak rising above the clouds
Sikkim keeps countless stories hidden amongst its mountains. It was the last state that was annexed to India in 1975 and is probably the cleanest state in the country. With Nepal to its west, Bhutan on the eastern side and Tibet bordering from the north, Sikkim experiences a pleasant amalgamation of all the three cultures.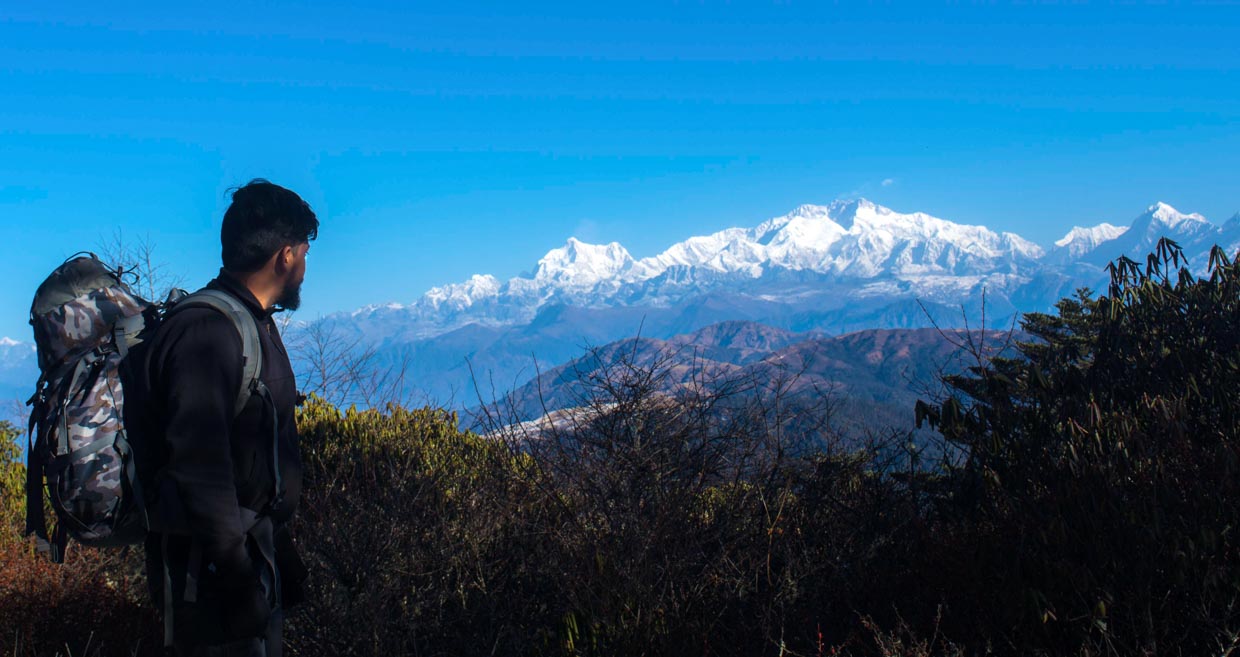 The feeling of being humbled by the majestic mountains
The essence of Sikkim lies in the unexplored lush valleys, rapid currents of Teesta River, breathtaking views of dominating ice-capped cliffs, cascading waterfalls, and ancient monasteries. You can have Gangtok, the capital of Sikkim, as a base to explore nearby areas like Nathu La, Yuksom, Rumtek Monastery, Phodong Monastery, Khecheopalri Lake and Gurudongmar Lake. If you are the type of person who prefers small, offbeat places over the big cities, staying in Pelling may be perfect for you.
[button style='blue' url='https://www.expedia.co.in/Cheap-Flights-To-Sikkim.d6049946.Travel-Guide-Flights' icon='entypo-suitcase' fullwidth='true']Check out flights to Sikkim[/button]
Munnar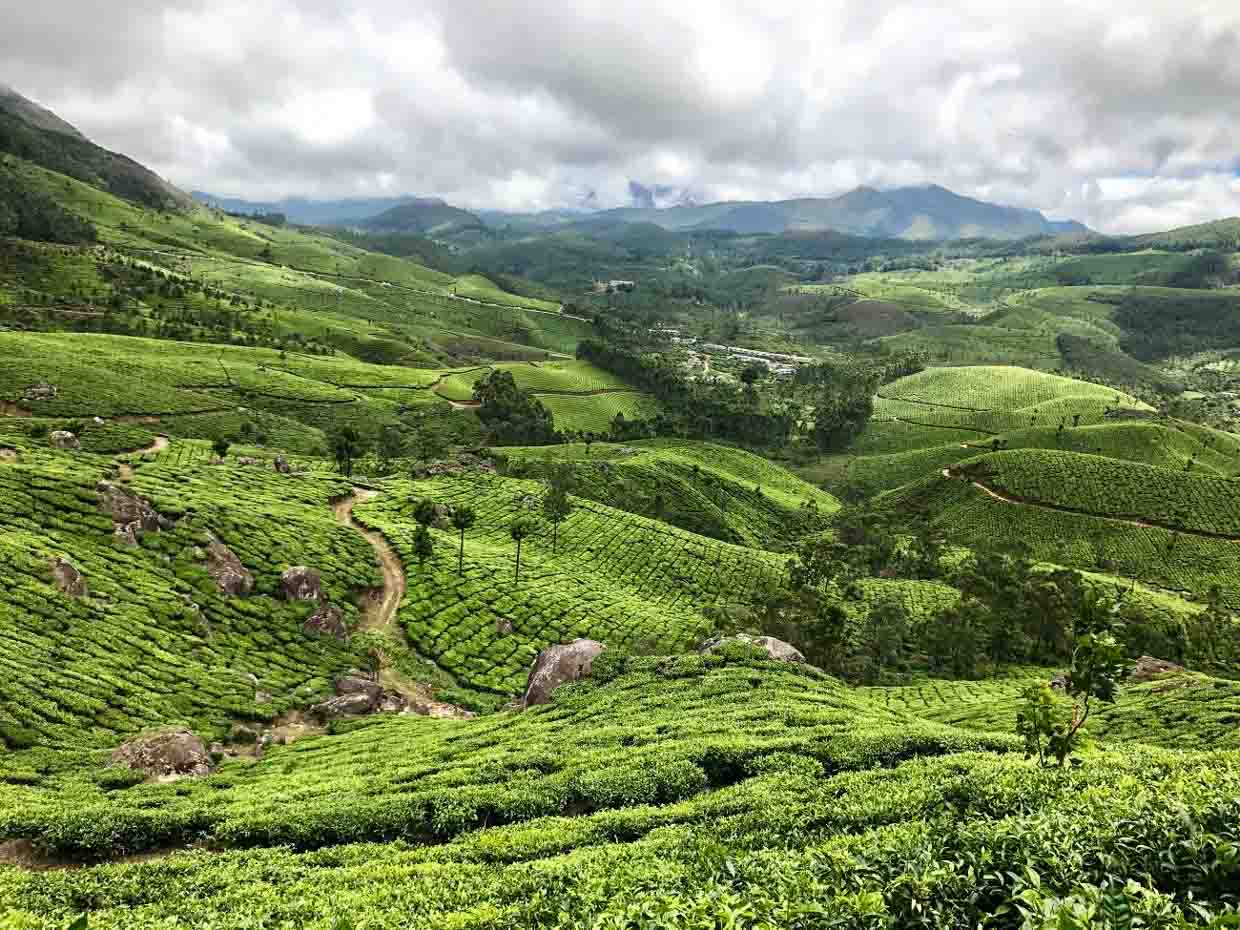 Photo by Raghu Chandra Prodduturi
Munnar is a small mountain village in northern Kerala located at the confluence of three mountain rivers – Mudrapuzha, Nallathanni, and Kundala. With its incredible hilly landscapes full of tea plantations, it is an oasis of freshness during summer in southern India.
I visited Munnar from Bengaluru on a car with my buddies. As we neared Munnar, tea plantations on the hill slopes started replacing lush green paddy fields. The drop in temperature was quite apparent, so we turned off our air conditioner and rolled down the windows to feel the cool mountain air gushing in.
We went for a day-hike to the hills and passed through numerous tea plantations. I personally enjoyed having a pleasant tea aroma lingering in the air and interacting with the locals. After the walk, we visited "Top Station," an old cable-car station which was used for transportation for the tea industry during colonial days. Along with tea plantations, Munnar offers great opportunities to explore cascading waterfalls, historic buildings and diverse flora and fauna in Eravikulam National Park and Salim Ali Bird Sanctuary.
[button style='blue' url='https://www.expedia.co.in/Cheap-Flights-To-Munnar.d6049881.Travel-Guide-Flights' icon='entypo-suitcase' fullwidth='true']Check out flights to Munnar[/button]
Kodaikanal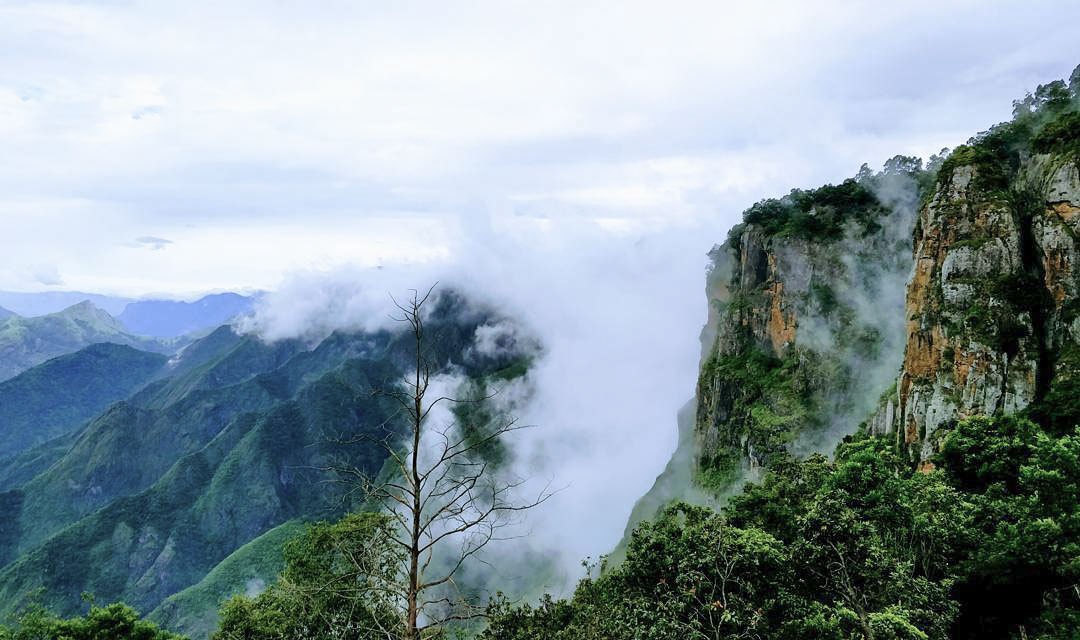 Photo by Sri Charan Dwaraka
Kodaikanal, in Tamil Nadu, is the perfect place to hunt for a rainbow, gold pots, fairies, and goblins. Its dense forests, green hills, beautiful chalets and magnificent lakes make this land look magical and the morning mist further increases this air of mystery created by incredible nature.
To reach the fairy village from the flat expanses of Tamil Nadu, climb the south face of the Palani Hills near Madurai. After travelling three hours and gaining more than two thousand meters of altitude, you reach the picturesque village of Kodaikanal.
This hill station is cleaner and less chaotic than most Indian towns where you can stroll, relax and sample delicious cheese. Kodaikanal is renowned for a flowering plant called "Kurunji" (Strobilanthes Kunthiana), which appears every twelve years and blankets the hills with shades of lilac. The last flowering was in 2006, and the next one is scheduled for December 2018, so there is still some time left to plan your trip! I also recommend visiting the Bear Shola falls, the Silver Cascade and the Guna Caves, all of which are short drives away from Kodaikanal.
[button style='blue' url='https://www.expedia.co.in/Cheap-Flights-To-Kodaikanal.d6125933.Travel-Guide-Flights' icon='entypo-suitcase' fullwidth='true']Check out flights to Kodaikanal[/button]
Andaman and Nicobar Islands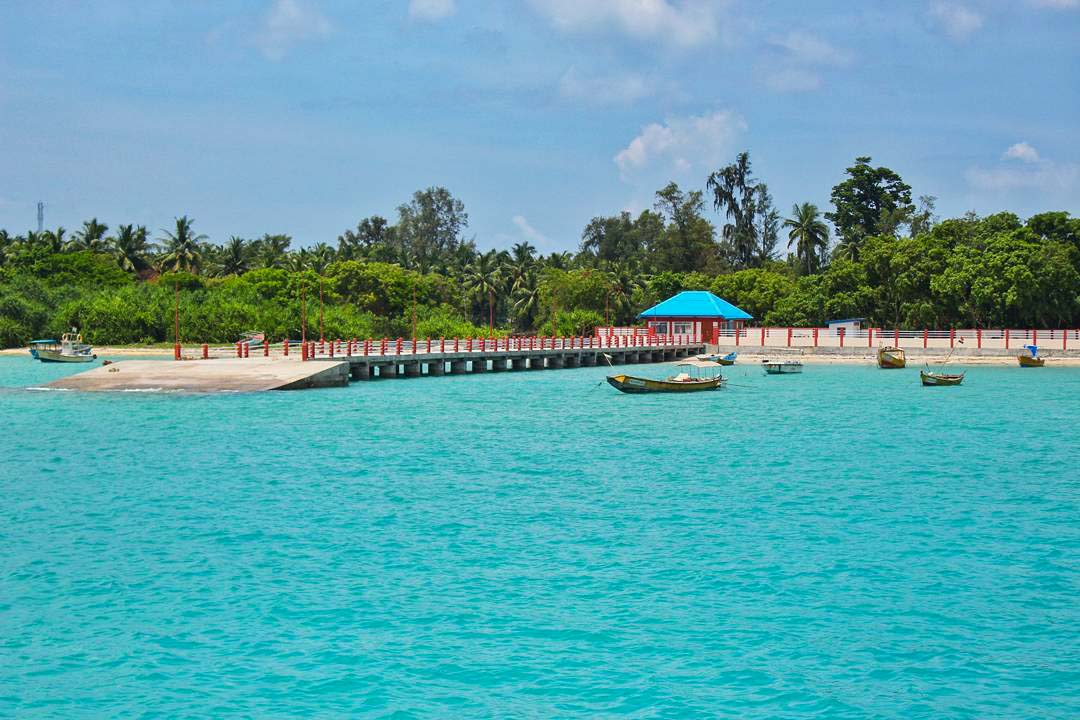 Photo by Dhyan Dinesh
India has a large number of beautiful beaches, but none comes close to those in Andaman and Nicobar Islands. Bright sunny days and cool sea winds combine to form a pleasant weather, providing an excellent escape for Indians in the summer holidays for accessing world-class beaches without leaving their country. Tourists can also indulge in endless opportunities for water sports like scuba diving, snorkelling and water walking.
The Andaman and Nicobar Islands are much more than unspoilt landscapes, postcard beaches, unparalleled underwater life and endemic wildlife. There are reminiscences of the colonial times when the Andaman Island was used as a prison and detention centre by the British. Even today, you can see Victorian-style buildings in Port Blair and sense torture and killings of prisoners as you walk through the Cellular Jail.
Andaman and Nicobar Islands are one of the last places on the planet to have isolated tribal communities. Although you have opportunities to learn about the last lost tribes of Eurasia, foreign contact is prohibited so as to respect their voluntary isolation.
[button style='blue' url='https://www.expedia.co.in/Andaman-And-Nicobar-Islands.d6049920.Holidays-City-Breaks' icon='entypo-suitcase' fullwidth='true']Check out trips to Andaman and Nicobar Islands[/button]