By Expedia Team, on April 18, 2018
Goa Tourism: Best Things to do on a Goa Trip
Goa is without doubt India's West Coast paradise. From the glorious sands of Anjuna beach to the electric nightlife of Tito's Road, there are many well-loved places to visit in Goa that has long been popular with holiday goers. There's so much to experience in this special part of India that it can be hard to know where to begin.
Featuring exclusive insight from some of the world's top travel writers, this Expedia guide is here to help you get the best out of your Goa trip. Goa is a destination friendly to different travel tastes and budget, from quiet family retreat to adventure-fuelled vacation. With the help of our expert travel writers who have different travel styles, we've put together tips on enjoying the different sides of Goa. Hit the best backpacker spots in Goa on a budget, or check in to luxury beach resorts for a relaxing time with the family.
Click the sections below to travel through Goa with us and discover the best places to visit in Goa and fun things to do. Alternatively download the full guide at the bottom of the page for offline access.


Goa Tourism
With over 100km of glorious golden coastline, exquisite cuisine and a rich Portuguese heritage, Goa has long been India's most loved resort destination. Ever since the colonial times India's smallest state has attracted holidaymakers from all over the world, and tucked into the sub-continent's south-west coast, Goa's exciting twist on traditional Indian culture is unlike anywhere else in the country.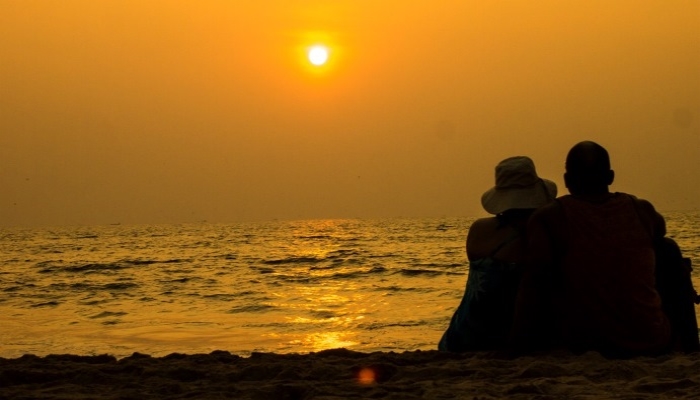 As Portugal's first colony in India, Goa was once the pillar for a vast spice trade network for nearly 500 years until it was liberated by Prime Minister Jawaharlal Nehru in 1961. Thanks to the influx of tourism over the last 50 years however, it is among India's richest states and undoubtedly boasts some of the best beaches in all of Asia.
With over 2 million tourists annually Goa is now the preferred getaway for India's growing middle class too, and from historic architecture to spiritual sanctuaries, offers a unique blend of unforgettable, spectacular experiences.

Where to Stay: Goa Hotels
Tourism in Goa is an important part of life. There are lots of hotels and accommodation to choose from, at different price points.
Playing host to hundreds of thousands of visitors around the Christmas and New Year periods, accommodation will be at a premium throughout Goa, so it is essential to book beforehand if you plan to visit Goa in December. Not only to get the best deals online but to also save you the hassle when you're there. However during the non-peak season, spending a little more on accommodation can really get you a lot!
Budget Hotels in Goa
For the budget-minded traveller, you're never too far away from a cheap hotel or backpacker lodging. These types of accommodation can range from bare rooms with simple mattresses to impressively furnished guest houses, and because they're run by local families a home-cooked meal might even be included the price!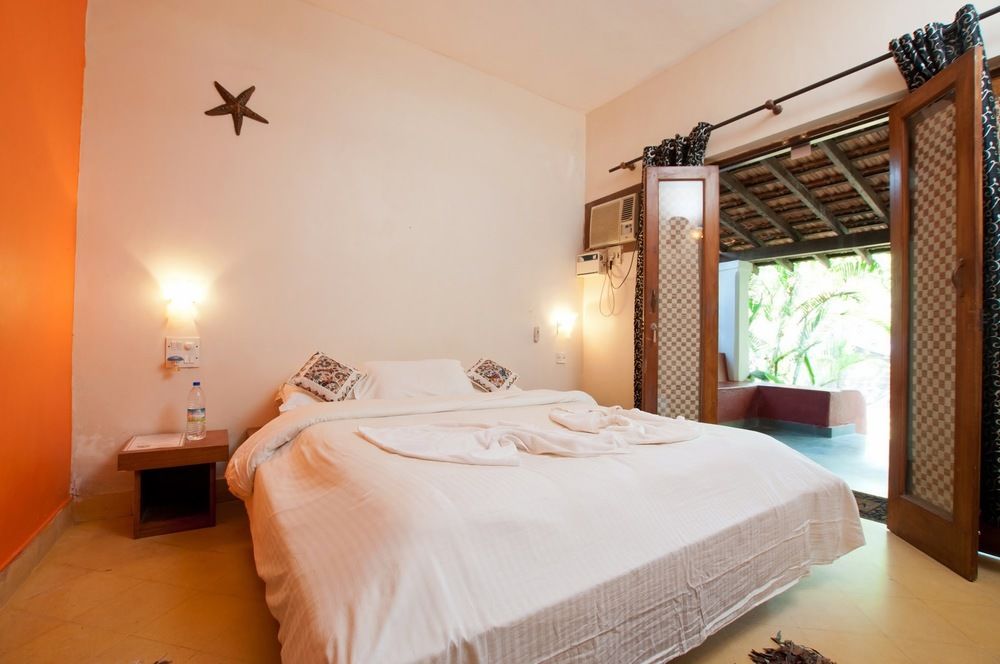 3 star hotel, Montego Bay Beach Village, Goa
By going off the beaten track in Goa you'll be able to find cheap hotels, B&Bs and backpacker hostels for very reasonable prices, however prices will start to rise the closer you get to the coastal belt and city areas.
A standard double room typically comes with a basic bathroom and fan. Note that prices can double in peak season. Before paying, always try to check the condition of the room if possible (whether or not the toilet works, etc.) as some places don't share the same standards of quality while continuing to charge similar prices.
Alternatively, and for the best taste of rural Goa, family houses are cheap and allow you to experience local culture at its finest, although baths and toilets will most likely be in small outhouses.
[button style='blue' url='https://www.expedia.co.in/2Star-Goa-Hotels.s20-0-d6049928.Travel-Guide-Filter-Hotels?rfrr=TG.LP.Filter.HotelClass' icon='entypo-suitcase' fullwidth='true'] Find 2 Star Hotels in Goa[/button]
Mid-Range Hotels in Goa
The majority of accommodation in Goa consists of mid-range, reasonably priced hotels, typically offering maid and room service, guest bars and restaurants, and Wi-Fi internet. During the off season there's rarely need to book these in advance, with very little price difference compared to budget hotels.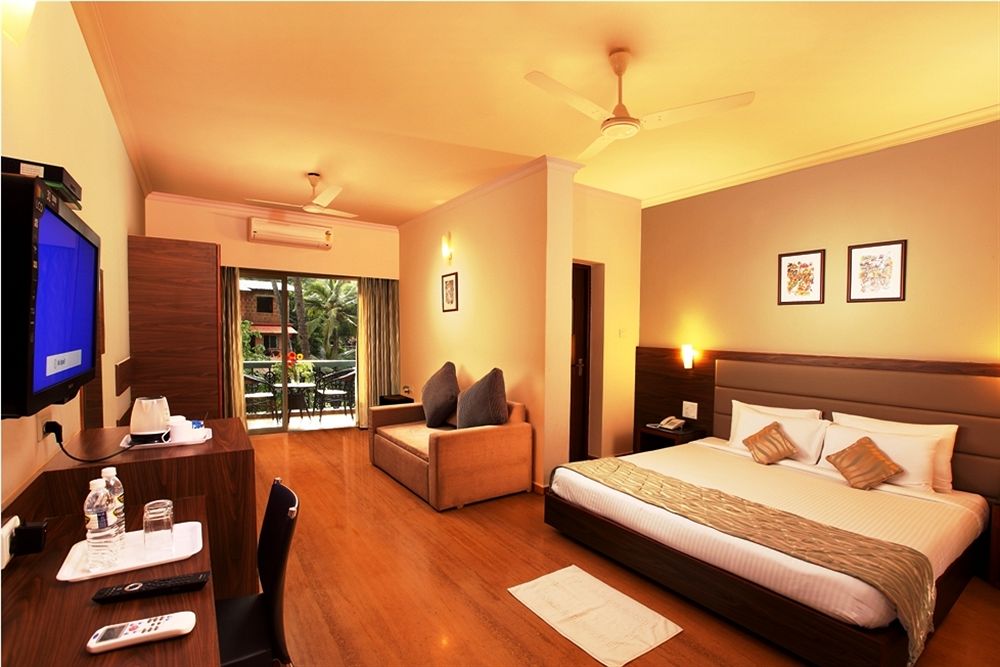 The Hawaii Comforts, 3 Star hotel in Goa
A room with a good-sized bed, en suite toilet, hot and cold water, cable television, air conditioning and even a balcony can cost as little as 500-800 Rupees per night, although its safer to expect most prices to range upwards from 1000 Rupees.
[button style='blue' url='https://www.expedia.co.in/3Star-Goa-Hotels.s30-0-d6049928.Travel-Guide-Filter-Hotels' icon='entypo-suitcase' fullwidth='true'] Find 3 Star Hotels in Goa[/button]
Luxury hotels in Goa
Luxury Goa hotels and long-term rentals, such as 3-5 star hotels and private villas are most popular with families and short term travellers.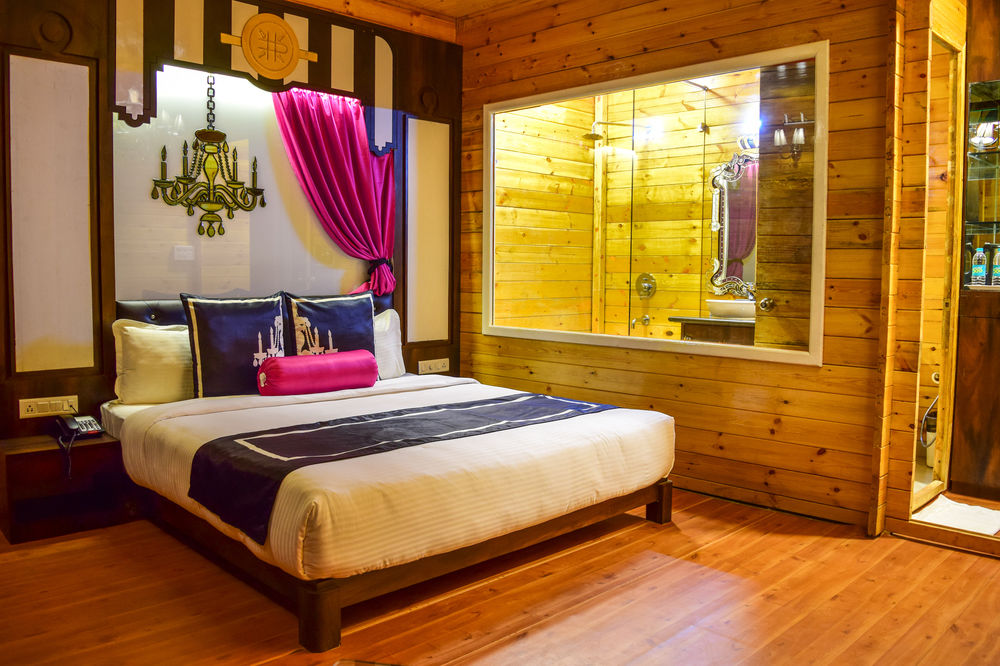 Estrela Do Mar Beach Resort, 4 Star Goa Hotel 
Although expensive, the standard of luxury is unmatched, and rooms often look out onto the shoreline with easy access to the beach and local markets. Offering a selection of restaurants, swimming pools, room sizes and gym and spa facilities, tourists can expect to pay anywhere between 4,000 and 10,000 Rupees per night.
[button style='blue' url='https://www.expedia.co.in/Goa-Hotels.d6049928.Travel-Guide-Hotels' icon='entypo-suitcase' fullwidth='true'] See Top Hotels in Goa[/button]
Goa Long Term Rentals
For those looking to travel Goa for months rather than weeks, long term rentals are the most cost-effective option. Rent prices can range from village to village, however all facilities are typically included in the price, and houses can sleep anywhere from 2 to 10 people, making this type of accommodation popular with large groups. Owners tend to offer significant discounts to travellers who book months at a time and provide bigger initial deposits!
[button style='blue' url='https://www.expedia.co.in/Goa-Hotels-Apartment-Hotel.0-0-d6049928-tApartmentHotel.Travel-Guide-Filter-Hotels' icon='entypo-suitcase' fullwidth='true'] See Apartment Hotels in Goa[/button]
"The accommodation in Goa is fantastic, from rustic and funky little huts on the beach, to stunning hotels and guest houses, there's really a room for every budget in Goa. You can pretty much just walk around any town in the state and find a good place to stay. In Anjuna, there are plenty of places set right along the water and on quiet back roads, just meters from the sand.

In Panaji, the state's capital, there are beautiful hotels and guest houses set in old Portuguese buildings, with tiled roofs and small, cement balconies. No matter where you go in Goa, you'll be amazed at the accommodation its incredible value for money!"
– Nick and Dariece, Founders of www.goatsontheroad.com

Goa Food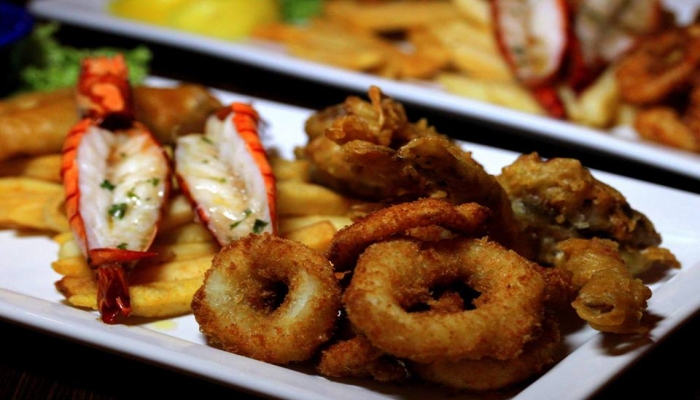 Goan food is wonderfully diverse and one of the world's original fusion foods. Although fish curries, fruit rice and other staple dishes shouldn't be missed, there are many more distinct tastes and flavours to experience in the culinary treasure trove that is Goa. Indeed, seafood is usually a must on the menu for Goans, who take as much pride in their dishes as they do their siestas. However it is the pleasure of eating, and not just how the food is cooked, that defines cuisine and culture alike.
Goa's Portuguese heritage and traditional Indian cooking complement each other perfectly to create one of the best food experiences the South-West coast paradise has to offer. The traditional saying of 'Prodham bhookt, magi mookt' ('You can't think until you've eaten well') is a mindset reflected in the wealth of dishes available in Goa food. So whether you're looking for a mild introduction to Goa or a spice adventure to excite your taste buds, there's a fantastic assortment of restaurants, shacks and street vendors to choose from when you're hungry for food in Goa.
"Staying healthy in Goa, like anywhere in India, takes caution, but is absolutely realistic. Bottled water is key, not only for drinking, but also for brushing your teeth, washing fruit, and consuming anything in restaurants. (Most restaurants will specify that they use bottled water, even in their cooking and ice.)

Like anywhere on earth, lots of water, a bit of exercise (run on the beach, anyone?), and eating relatively healthy will stave off most maladies. Foodborne illness is a bit of a lottery, but I don't think it's as bad as it's made out to be."
Vince Robbins, Travel Writer, Urban Travel Blog
Let's Eat!
Offering a healthy menu nearly as long as the queue of locals outside, Plantain Leaf is one of Goa's most popular vegetarian restaurants. Located in the heart of the market area just off Calangute beach, Plantain Leaf serves up the best of South Indian dishes, most notably the classic vegetable pancake breakfast.
Then there's Greenland Bar & Restaurant, located on Utorda beach only a short walk from the glorious sands of the Sunset shoreline. A British-run diner, guests are treated to traditional delicacies and specialities from Greenland's expert Goan chef, with their tasty banana fritters a particular highlight.
Anjuna beach, one of the most popular resort destinations in Goa and just a short drive from Sunset beach, is famously known for its culinary offering. As boutique cafés back onto Italian pizzerias, Anjuna is where East meets West, with enough food choices to keep tourists dining for weeks.
Although diverse, nearly all Goan food is made with spicy ingredients; rice is fried with green chillies, and 'mild' curries can actually be very hot. Therefore, if you would like to limit your spice experience in Goa, you must be very clear when ordering food in restaurants. To keep your stomach settled, order a side dish of cool yogurt to help digest your food, and always keep a spare bottle of water with you.
"Goa is a unique destination in India because of the Portuguese influence, which has infiltrated many aspects of the culture – including the food! The proximity to the Arabian Ocean also informs the menu. As a fish eater who loves spicy food, I have very fond memories of running up and down the beach in Goa, on the hunt for the best beach shack restaurants.

I tasted Goan fish curry, which is a classic of the cuisine in many places, and I have to say I was never disappointed. Large pieces of fresh, tender fish in a fiery bath, washed down with tender coconut juice and followed by a showy orange and pink sunset. Nothing better."
Mariellen Ward, Founder of www.breathedreamgo.com

Places to Visit in Goa
The coastline is really where you need to be on a Goa trip. We'll pick out some of our favourite beaches in the next section but there are a few other spots worth checking out. Click on the images to find out about more about these other interesting places to visit in Goa.
[one_third]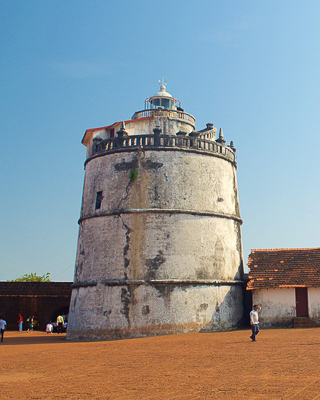 [/one_third]
[one_third]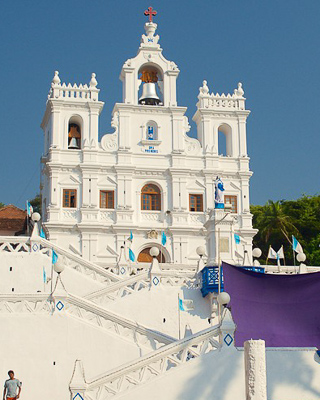 [/one_third]
[one_third_last]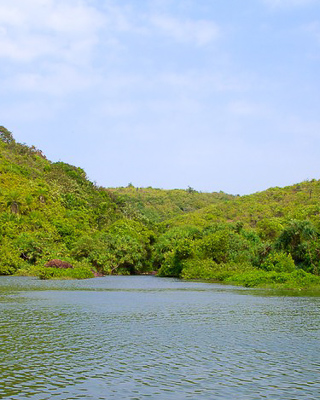 [/one_third_last]

Best Beaches in Goa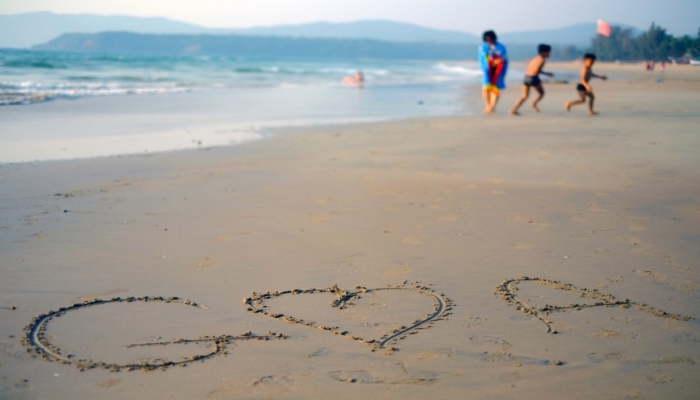 The essence of Goa's charm lies within its wealth of beautiful beaches, which are undoubtedly the most popular natural attractions. Effortlessly strung out along the coastline, there are around 30 beaches to experience in Goa, each with its own appeal and each catering for every type of holiday.
Palolem beach
Let's start with Palolem beach, Goa's fashionable tourist hangout. Although busy during the peak summer months, don't let this deter you from lazing the day away under the gorgeous sunsets. An idyllic stretch of shoreline, Palolem was popularised in the 1970s as an 'off the beaten track' sanctuary, and although the impact of mass tourism can be seen in abundance, Palolem is still the best place for first-time holidaymakers to experience Goa's natural beauty.
Morjim and Ashvem beaches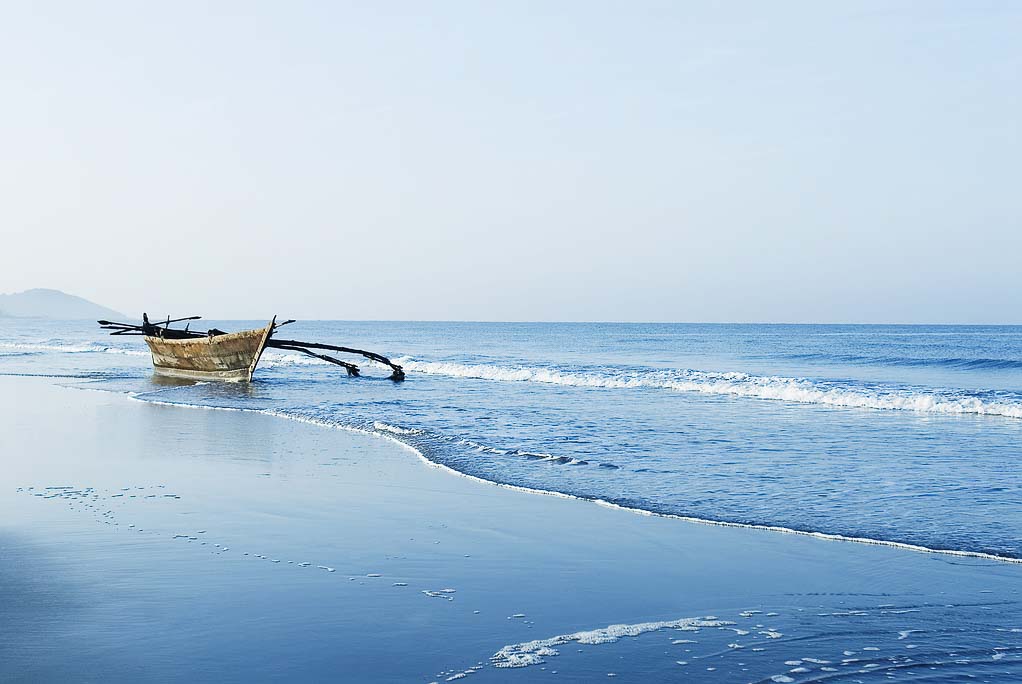 For those looking to get in touch with nature, Morjim and Ashvem beaches are nothing short of breathtaking. Only a short drive from the tourist hubs of northern Goa, Morjim and Ashvem are protected beaches home to Olive Ridley turtles who lay eggs here every year. The surrounding landscape has thankfully managed to fend off any major construction too, meaning the shoreline and shallow waters are certainly some of Goa's cleanest. For an atmosphere that's a world away, Morjim and Ashvem have to be seen to be believed!
Anjuna beach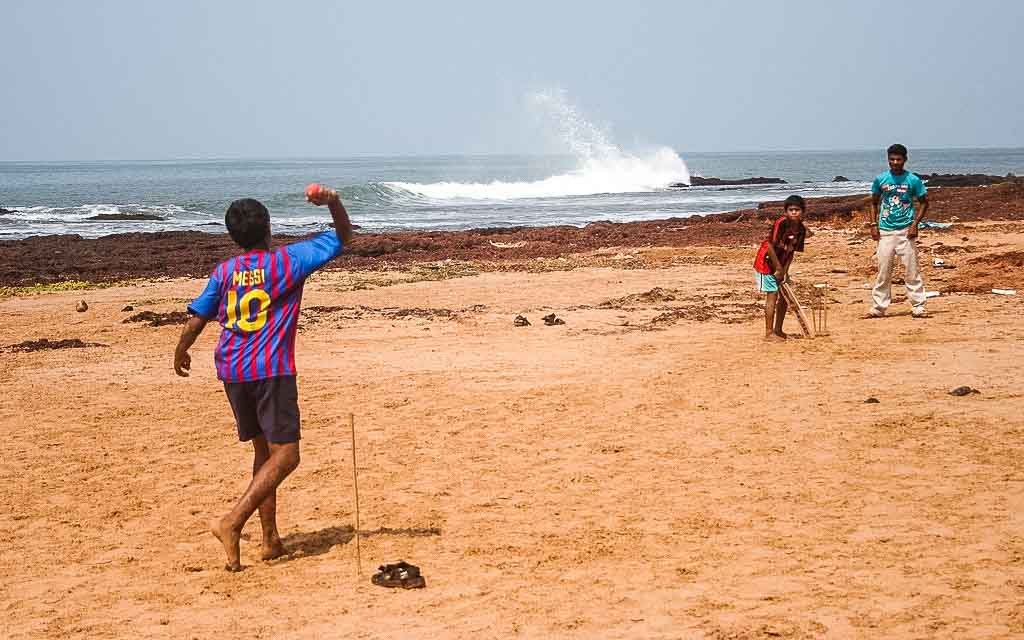 Anjuna Beach / CC 2.0 / Nagarjun Kandukuru
Located about 18km from Panaji, Anjuna beach is the unconventional and original hippy hangout of Goa, home to the famous Wednesday flea market and destination of choice for first timers visiting Goa. With beachfront accommodation and a variety of traditional dining, Anjuna's soft white sands are only a short walk away from the historic highlights of Chapora Fort and the Albuquerque Mansion, for those looking to do some sightseeing.
Because of the rocky headland towards the quieter, southern end of Anjuna beach, the sea is a lot calmer here and safer to swim in, an important consideration if you're visiting Goa with a young family. However if you're looking for something a little more exciting, the northern end of Anjuna beach offers bungee jumping and an array of water sports, perfect for keeping you active.
Beach Safety
Although most beaches in Goa are attended by lifeguards during the day it isn't recommended to swim at night time, or visit the beach alone in the evenings. It is also important to be mindful of swimming during the months of October and November, as the seabed will still be settling from monsoon season and may be unstable. Always look out for warning flags along Goa's beaches that indicate unsafe swimming conditions.
"With its perfect symmetry and the lush palm forest that lies behind it, Palolem Beach in southern Goa is anything but a well-kept secret. One way to escape the crowds of Palolem is to rent a bicycle and head north, to the tranquil Goan beach of Agonda, or south to idyllic Karwar, which is technically in the northern part of Karnataka state."
Robert Schrader, Founder of www.leaveyourdailyhell.com

Nightlife in Goa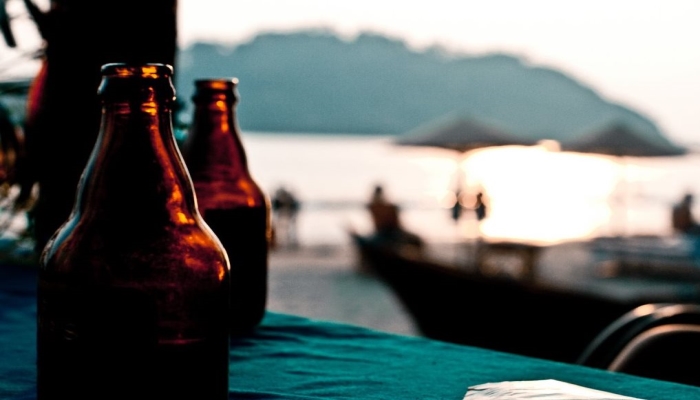 For decades Goa's nightlife has been attracting holidaymakers in their millions. The intersection of beach and party is where the sweetness of Goa tourism lies, pulling visitors year after year. From the hippie communities of the 1960s to the current hipster youth, psychedelic music and ambient live performances have cemented Goa's nightlife above all else in India. For a more spiritual approach to partying there are numerous bars, retreats and secluded sands that offer a mellow start to the evening.
Party in Baga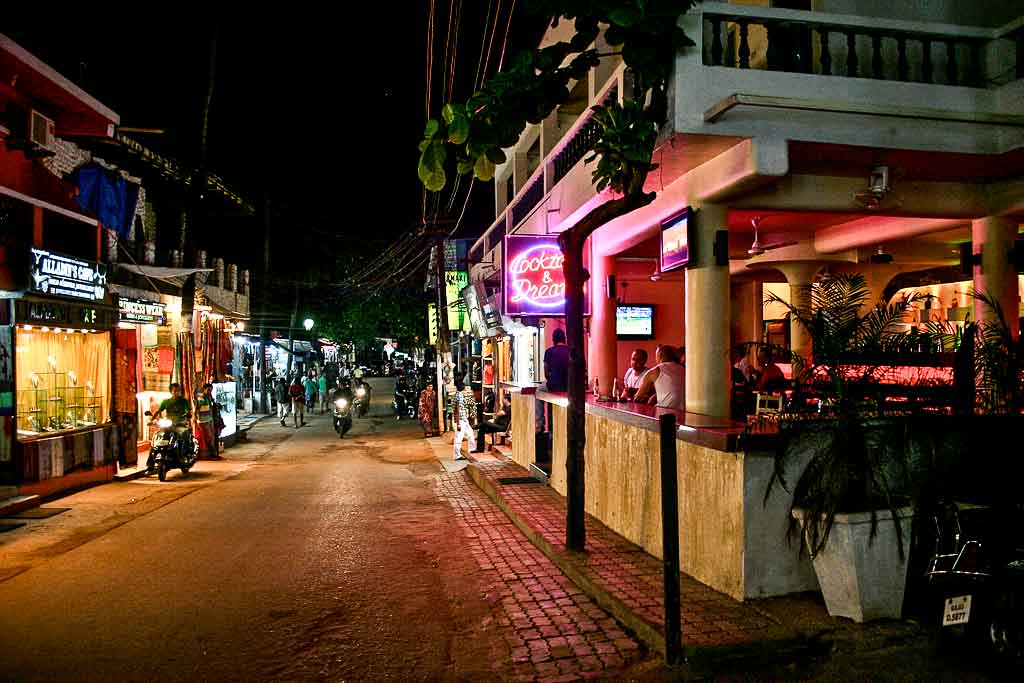 Tito's Road / CC 2.0 / Lech Linkel
There's a real continental feel about Baga's nightlife, with holidaymakers gravitating between popular chart music and the alternative DJ scene. The main clubbing strip here is Tito's Road, populated by pubs, bars, food stalls, tattooists and souvenir shops, tightly compact but very loud and lively. The busiest days here are Friday and Saturday as large numbers of Indians from the surrounding states come to enjoy the party atmosphere, therefore if you would like a quieter introduction to Baga's nightlife, Tito's Road is a lot calmer at the beginning of the week.
Fashionable bars to begin the evening are Cocktails and Dreams, and Hype, both open air and great for sitting back and taking in the electric vibe. A little further up the strip is Café Mambo, an institution in Baga rather than a bar. Cocktails here are made with the freshest ingredients and the bar staff are very welcoming, even offering free food to sober up those still dancing at closing time!
Quietly placed between the beach and the main strip is Cavala, an enchanting resort offering the best of live music, stunning gardens and quality cuisine – an honourable alternative to the eccentric buzz of the strip.
Party on Anjuna Beach
Time seems to stop on Anjuna beach during the day. While chilled music drifts out of quirky bars, fruit sellers stroll along the shoreline keeping tourists hydrated, ready for the night ahead. But when the sun goes down Anjuna beach lights up, and the dreamy sands are transformed into markets of trippy artwork and psychedelic dancefloors. The rave scene is huge in certain parts of Goa, and in peak season tourists travel from all over the world to experience the infamous atmosphere.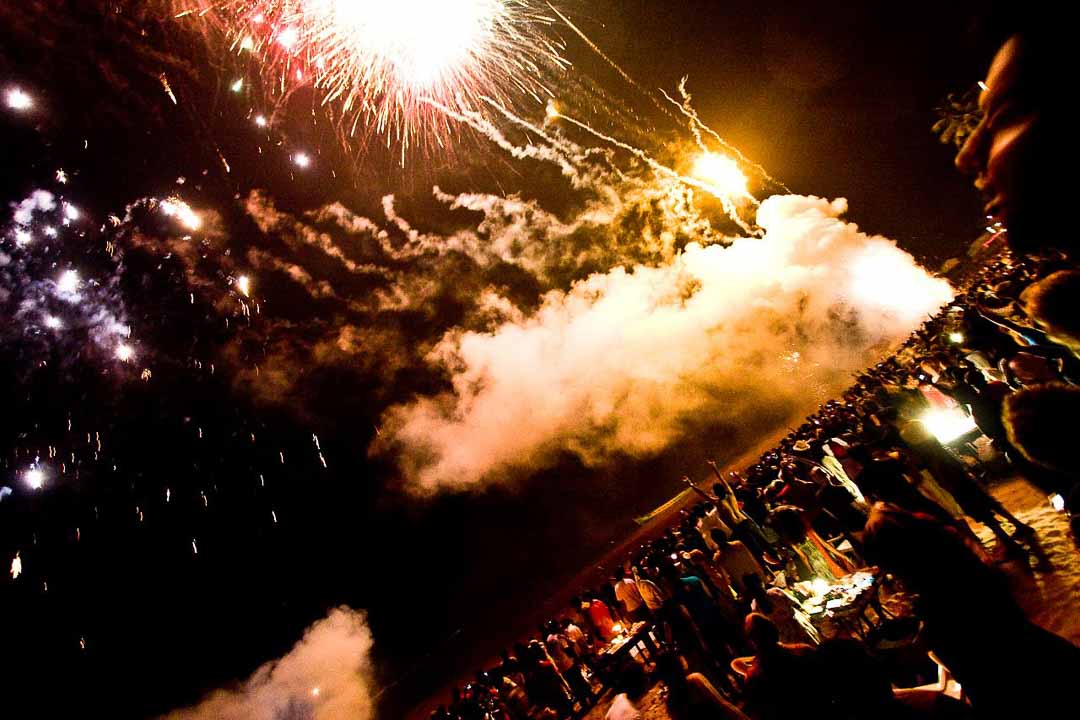 Anjuna Beach / CC 2.0 / Ale
One of the original party veterans of Anjuna is Curlies, a bar that often takes over large parts of the beach for special events. Decking out the cliff and surrounding rock face with euphoric designs, fabrics, artwork and statues, Anjuna's nightlife is more of a show than a party, and especially on weekends tourists really get the chance to integrate with locals in friendly and safe environment.
"Goa offers so much, and caters to so many, that it's hard to know where to begin with this beautiful part of India. Other than the glorious food, it was the exciting nightlife of Anjuna beach that made the biggest impression on me. It's more of a movement than anything else, an experience nurtured by the long standing citizens of Goa and passed on to each visiting tourist.

Don't come here with a closed mind because it won't stay closed for long – the nightlife is so varied that there's something new to experience around every corner. Savour each sunset, each new friend made, and each sunrise."
– Zoe Williams, Fashion and Lifestyle Blogger, www.romeoandthelonelygirl.com
Budget Travel Tips for Your Goa Trip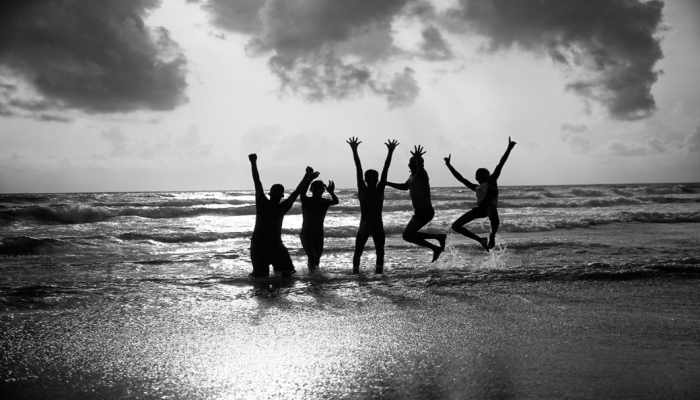 Best Time to Visit Goa
Although visited by tourists all year round, the best time to experience Goa is after the monsoon season, which typically lasts from the beginning of June until late September. The weather in Goa is best at this time.
High season for Goa tourism begins in November until late March, and although this is classed as the 'coolest' time of the year, temperatures can still reach over 30 degrees with a low of around 20 degrees. Traditionally there's a huge influx of tourists just before Christmas too, and therefore accommodation, food and travel prices skyrocket.
Cost of a Goa Trip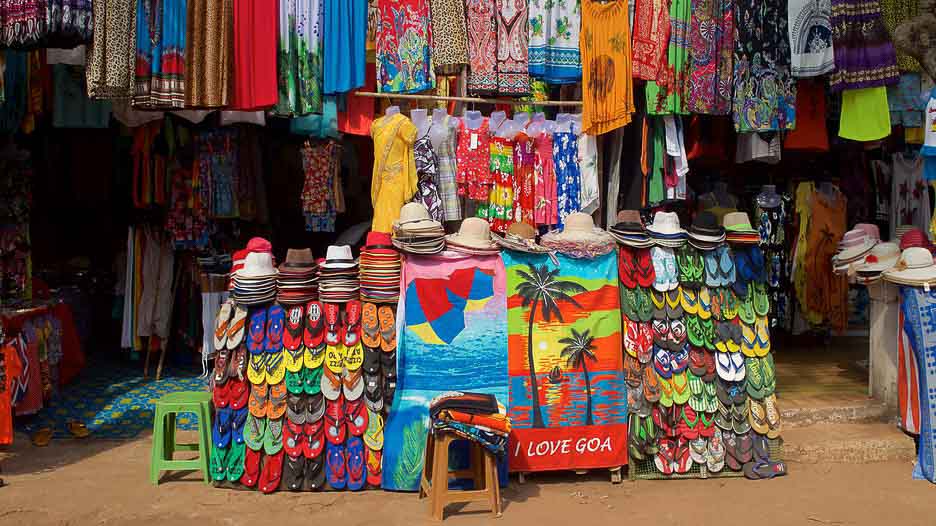 Goa is relatively cheap to visit, despite record tourist numbers in recent years. The majority of your expenditures will go on accommodation, transport and food, however there's still ways to save money without compromising on quality.
For the best hotels and apartments, visiting Goa between March and October (non-peak season) can save you a significant amount of money. Those within a short distance of popular beaches and historic attractions will be a little more expensive, however compared to the peak season this will certainly be cost effective.
Getting Around: Transport in Goa
With good road links to the capital Panaji, getting around Goa is pretty easy. Unfortunately the state's bus network is very limited and crowded, while taxis are exorbitantly priced. The vast majority of tourists therefore choose to rent motorbikes, although carpooling is also popular if travelling with luggage.
Motorbikes are by far the cheapest mode of transport, and depending on the bike you want and the season, a rental can cost anywhere between 300 and 600 Rupees, not including fuel costs. Whether renting a motorbike or a car, always make sure you have medical insurance, and wider personal insurance to cover the cost of any lost or damaged items when travelling throughout Goa.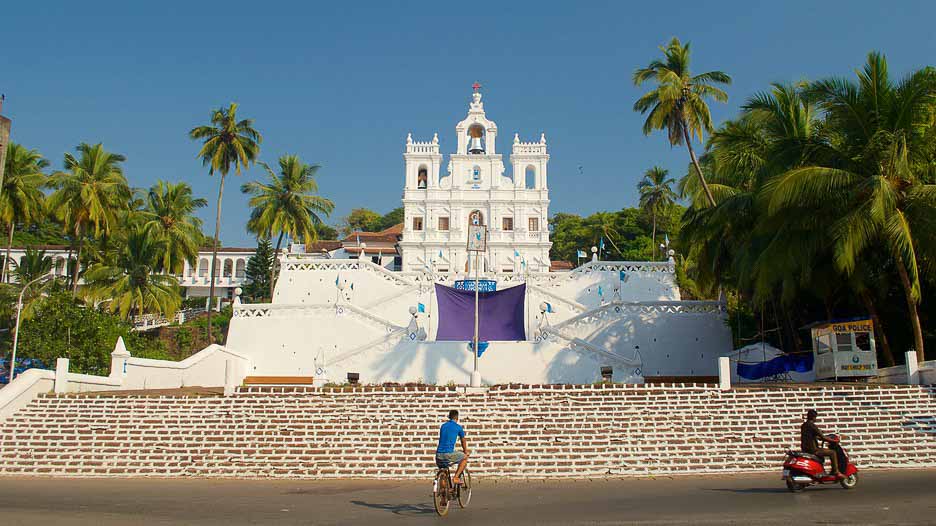 Cheap Food in Goa
Finally, Indian cuisine is one of the best things to experience in Goa. From healthy breakfasts to laidback lunches, tourists have a huge choice of traditional and western restaurants without having to break the bank. However beach restaurants and expensive shacks tend to cater more to western food, not only limiting your culinary experience in Goa but eating into your cash too.
Alternatively, there are plenty of authentic places to eat just a short walk from the popular shoreline diners, and with meals costing as little as 300 Rupees (beer is even cheaper), you can taste the best of Goa without compromising on quantity or quality. If you're stuck for somewhere to eat, see where the locals flock to; a restaurant with a high turnover is always an indicator of good food and hygiene!
"Whether you rent a car, motorcycle, or take a tour, my number one recommendation would be to move around. Goa is a naturally beautiful and culturally fascinating region that is greater than the sum of its main tourist towns.

The endless, vibrant green country fields, the historically quirky colonial towns like Quepem, and the long stretches of unincorporated beaches are what I recall most vividly when I think of Goa."
By Vince Robbins of Urban Travel Blog

About our Guest Contributors
Nick and Dariece, Founders of Goats on the Road
Nick and Dariece are the couple behind GoatsOnTheRoad.com and a weekly travel column on Credit Walk. Their website is designed to show others how to turn their travels into a lifestyle. Masters at making money abroad, they've been on the road since 2008 and have explored some of the least visited places on earth.
Vince Robbins, Travel Writer, Urban Travel Blog
Vince Robbins is an American designer, photographer and writer for UrbanTravelBlog.com, and also the founder of minimalist travel website 20LiterLife.com. Reporting on urban trends, cultural experiences, eco-tourism and nightlife, Urban Travel Blog compiles 50+ insider city guides with hot tips for wild weekends in your favourite cities, from Amsterdam to Yerevan.
Mariellen Ward, Founder of Breathe Dream Go
Mariellen Ward is a professional travel writer based in Toronto and Delhi. She writes for many online and offline publications and also publishes the award-winning travel blog Breathedreamgo.com, inspired by her extensive travels in India. Though Canadian by birth, Mariellen considers India to be her "soul culture."
Robert Schrader, Founder of Leave Your Daily Hell
Robert Schrader is the nomadic writer and photographer behind Leaveyourdailyhell.com, one of the world's most popular travel blogs. When he's not traveling to exciting places like Goa, you can find him recharging his batteries in Austin, TX. His next trip is to the Japanese island of Hokkaido.
Zoe Williams, Founder of Romeo and the Lonely Girl
Lover of travel, fashion and music, Zoe Williams is a social media expert and founder of RomeoAndTheLonelyGirl.com – a music and lifestyle blog that blends all current affairs when it comes to sound and style. Zoe's blog has been featured in Company magazine and The Guardian online, and was also picked as a top lifestyle blog for More! magazine's Blog Boudoir.
Need an offline guide to take with you on your trip?