By Expedia Team, on May 21, 2018
From Lakes to Museums, 6 Interesting Places to Visit in Nagpur
Nagpur, which means the 'City of Snakes', is one of the biggest cities in the Indian state of Maharashtra and is the winter capital of the state. Nagpur earns the title 'City of Snakes' because of the Nag River, which flows like a snake through the city. This city was founded back in 1703 and since then has grown by massive proportions. Nagpur has been a major political and commercial centre of the Vidarbha region of Maharashtra, but apart from that, it is known to be a significant producer of Oranges too. For a discerning traveller, there are loads of tourist places in Nagpur to explore. Let us start our journey of this beautiful city!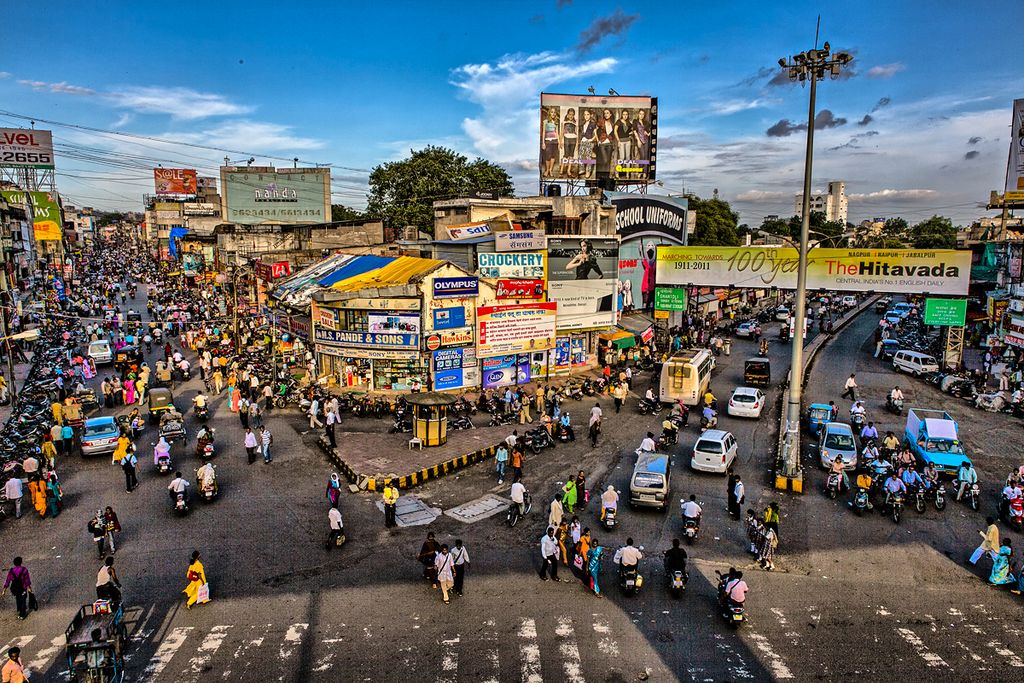 Nagpur Market / CC by 4.0 / VinyS
Interesting Places to Visit in Nagpur
1) Deekshabhoomi: The Most Peaceful Place in Nagpur
Built in 2001, Deekshabhoomi is a Buddhist monument in the shape of a massive whitewashed dome and looks similar to other famous stupas around India. This is the very place where Dr B.R.Ambedkar embraced Buddhism and this largest stupa in Asia is erected in the memory of this event, which saw more than 600,000 of his followers convert to Buddhism with him. You can find a bronze statue of Lord Buddha and the sacred Bodhi Tree here too.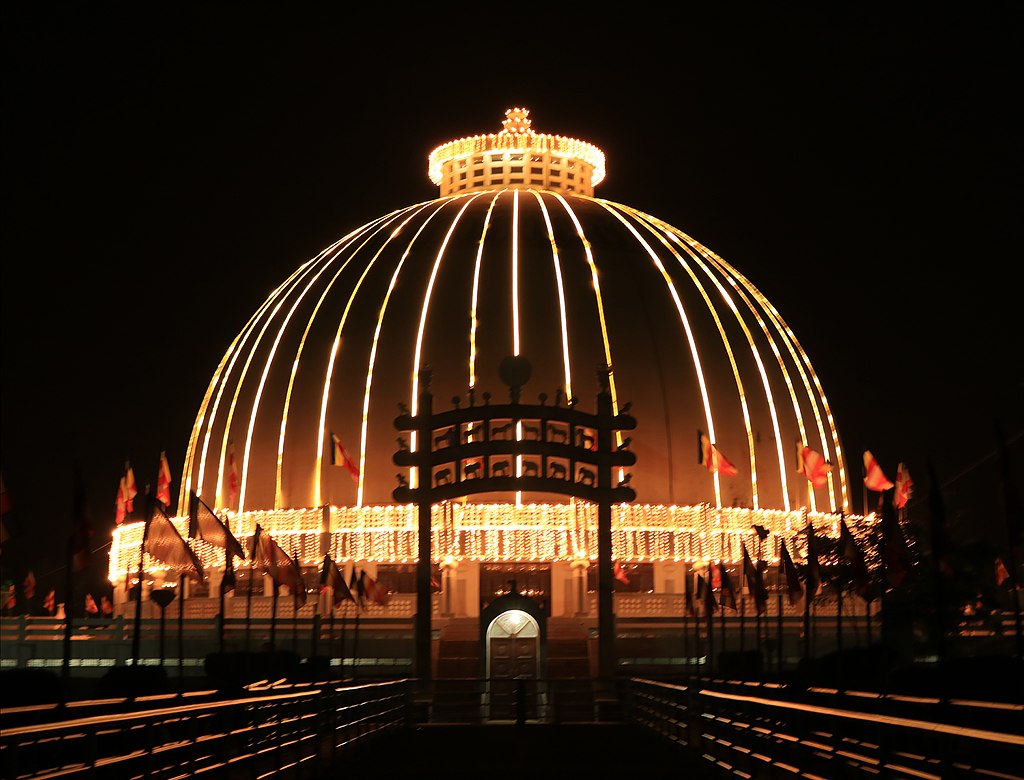 Deekshabhoomi at night– CC by 4.0 / AshitW
2) Ambazari Lake: The Biggest Lake of Nagpur
Nagpur has 11 lakes, and Ambazari Lake is the biggest of them all. It is from this very lake that the Nag River is said to originate. Built in 1870, this lake was used to supply water to all of Nagpur for 30 years. It is surrounded by thousands of mango trees, hence giving it the name Ambazari, where amba means mango in Marathi. You can see people jogging and walking around in the lake garden during mornings and evenings. Soft music keeps playing throughout the day here, and this is why it has quickly turned into one of the best tourist places in Nagpur.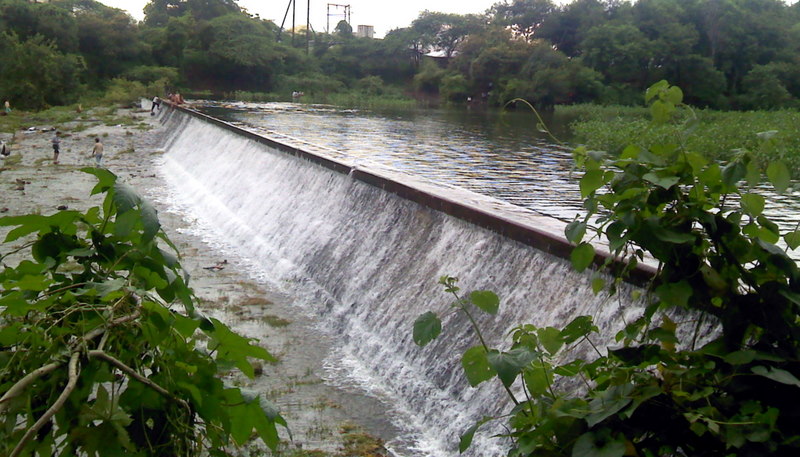 Ambazari Lake Overflow – CC by 3.0 / Ganesh Dhamodkar
3) Tadoba Andhari National Park: Oldest and Largest National Park of Maharashtra
Tadoba Andhari is located at 140 km distance from Nagpur and is one of the best tiger reserves in India; it is also the oldest and largest national park in Maharashtra. If you are a fan of wildlife safaris, this is the place you must not miss when visiting this city. With 88 tigers in this reserve, you can expect to spot these majestic beasts when taking a safari. Along with tigers, you can also find nilgai, leopards, sambar, barking deer and chitals among other animals.
 Tiger cub – CC by 4.0 / Siddhesh Sawant
4) Raman Science Centre: A Great Place For Kids!
If you're travelling with your family, Raman Science Centre is one place that your kids will absolutely adore. Located in the heart of Nagpur, this place boasts of a planetarium, a 3-D theatre that shows science film shows as well as a full-fledged science centre where your kids can not only learn about ancient inventions in science but can also have a fun-learning experience while performing some activities like Floor Piano and Virtual Book! Moreover, Raman Science Centre has a science park and a pre-historic animal park where you can see models of different species of animals from the pre-historic era.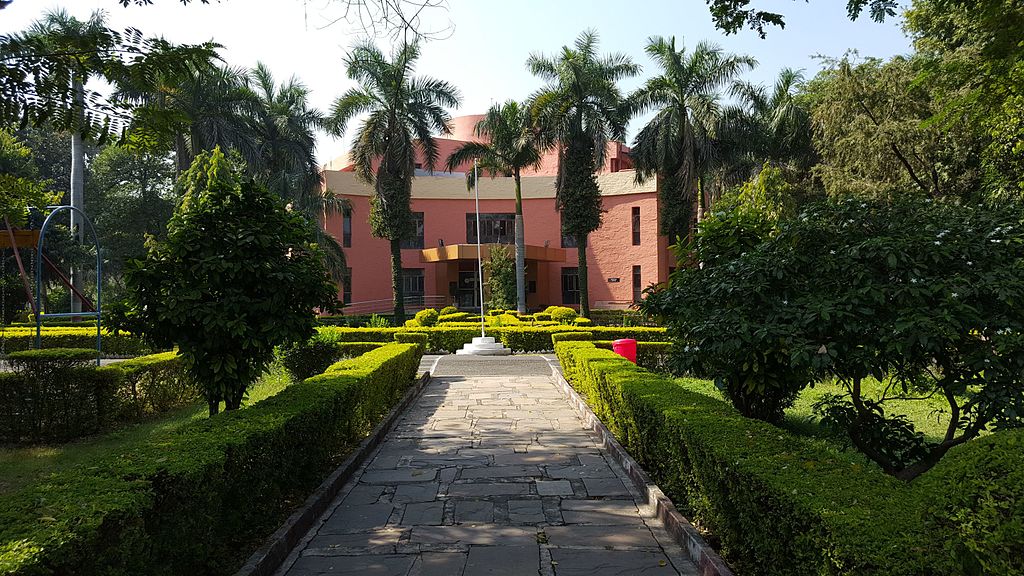 Raman Science Centre – CC by 4.0 / Nriyer64
5) Zero Mile Stone: A Historic Monument In Nagpur
This monument is not exactly a stone as one would think after reading its name. It actually consists of three different structures; a pillar, a stone and a statue of horses. The pillar is made out of sandstone and right next to it is a small stone that shows a GTS Standard Benchmark, as this monument was built during the Great Trigonometrical Survey of India in 1907. Apart from these, there is a statue of four stucco horses that was added later. These horses appear to be coming out from the ground. It is said that this was the geographical centre of colonial India.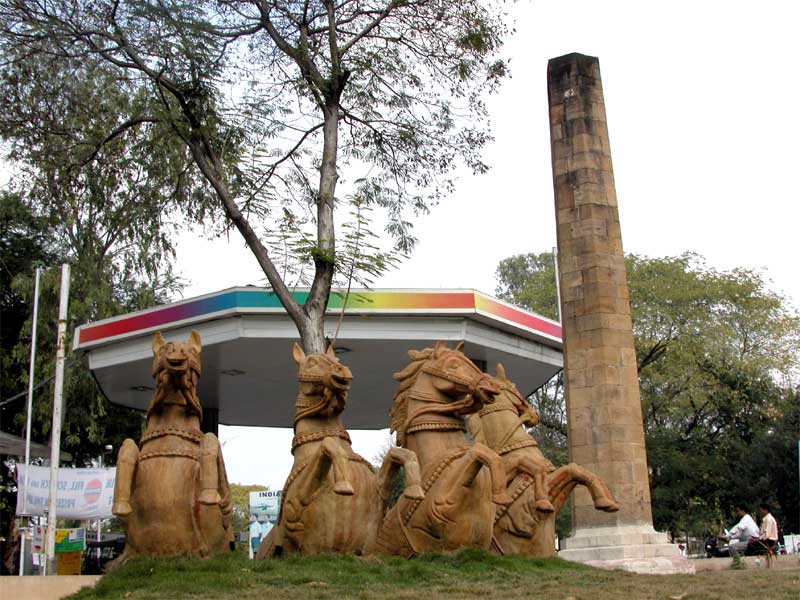 Zero Mile Stone – CC by 3.0 / Dr.Tarique Sani
6) Sitabuldi Fort: The Best Fort In Nagpur
The Sitabuldi Fort was the site of the historic Sitabuldi Battle that was fought between the Kingdom of Nagpur and the British East India Company during the Third Anglo-Maratha War. This fort has become a well-known tourist attraction in Nagpur and is known for its historical significance. Today, it is controlled by the Indian Army and is home to the 118th Infantry Battalion of the army. If you wish to see the fort from the inside, consider visiting on 26th January, 1st May and 15th August, as those are the only three days in the year when it is open to the public.
Nagpur may not be a popular tourist attraction of India as it gets overshadowed by other major ones from Maharashtra like Mumbai and Pune, but it definitely does have a lot to see and discover.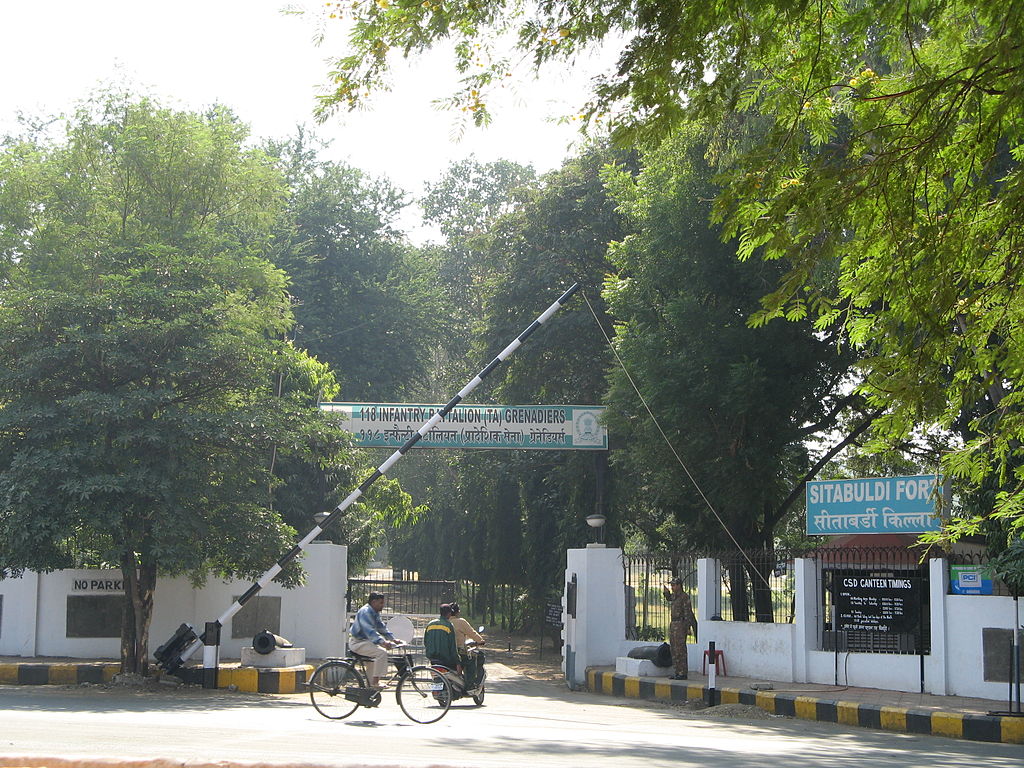 Sitabuldi Fort Entrance – CC by 3.0 / Gppande
Best Time to Visit: The best time to visit Nagpur is during winter when the temperatures are cooler from November to February.
Where to stay: Radisson Blu Hotel Nagpur and Le Meridien Nagpur are the two most popular hotels for the tourists due to their strategic locations and impressive service.