By Expedia Team, on February 17, 2016
Jaipur Tourism Guide
Jaipur's culture and history reminds us of an epic novel; there are grand buildings, intricate love stories, heroic battles and glamorous, multi-faceted characters (especially the Maharajas). Rajasthan is one of the flashiest and most colourful states in India, and as its capital Jaipur does not fail to live up to this reputation. Jaipur has been a cultural jewel in Indian history for hundreds of years and we're excited to tell you more about it.
One of the most popular questions about Jaipur that we hear often is: why is Jaipur pink? Well, once upon a time a clever Maharaja had a smart plan to impress some Royal guests (Queen Victoria and Prince Albert) on their Royal visit in 1876. Pink is the colour of warm welcomes and he wanted to make sure the relations between Jaipur and its British Empress were water-tight. Jaipur's pink is really more a red/brown colour, as the buildings are built with red sandstone, the warm appearance of the city has always resonated well with proud locals and excited visitors.
So if you haven't decided whether the majestic Jaipur is for you or perhaps you have and need some guidance on what to do, you've come to the right place. We've built our Jaipur Tourism Guide in order to guide your decisions and ensure you have the best trip possible; which means not missing out on the key sights.

Places to Visit in Jaipur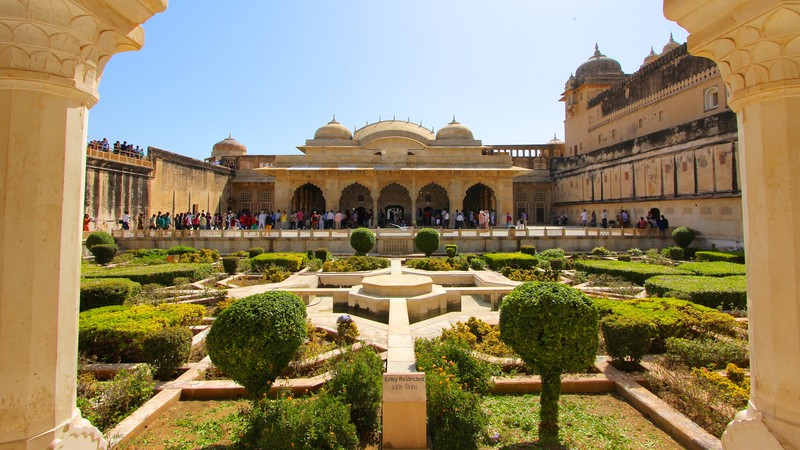 The Amer Fort
The Amer Fort (also known as The Amber Fort or Amber Palace) is a grand fortress, located just over 10km outside of the Pink City; with its serpentine staircases and plethora of passages this is a key sight to see for anyone visiting Jaipur. Overlooking Maota Lake, this Hindu style fort takes around 2hours to explore; we recommend getting an audio guide to lead you through this incredible building sharing all the stories of the history and beauty of this building.
We recommend you get there early to buy tickets, but still be prepared to wait as The Amer Fort is incredibly popular place to visit in Jaipur so queues are inevitable. The sight is open from 8am-6pm and last entrance is at 5.30pm, but go earlier if you want to see as much as you can. Entry for Indians is ₹25 and guides and audio guides can be arranged for ₹150-200 depending on your preference.
Be warned: it is usually popular to get an elephant ride up the stairs to the fort, however animal rights groups have been very active in fighting this as it is believed the elephants are sorely mistreated.
Amer, Jaipur, Rajasthan, 302001, India
City Palace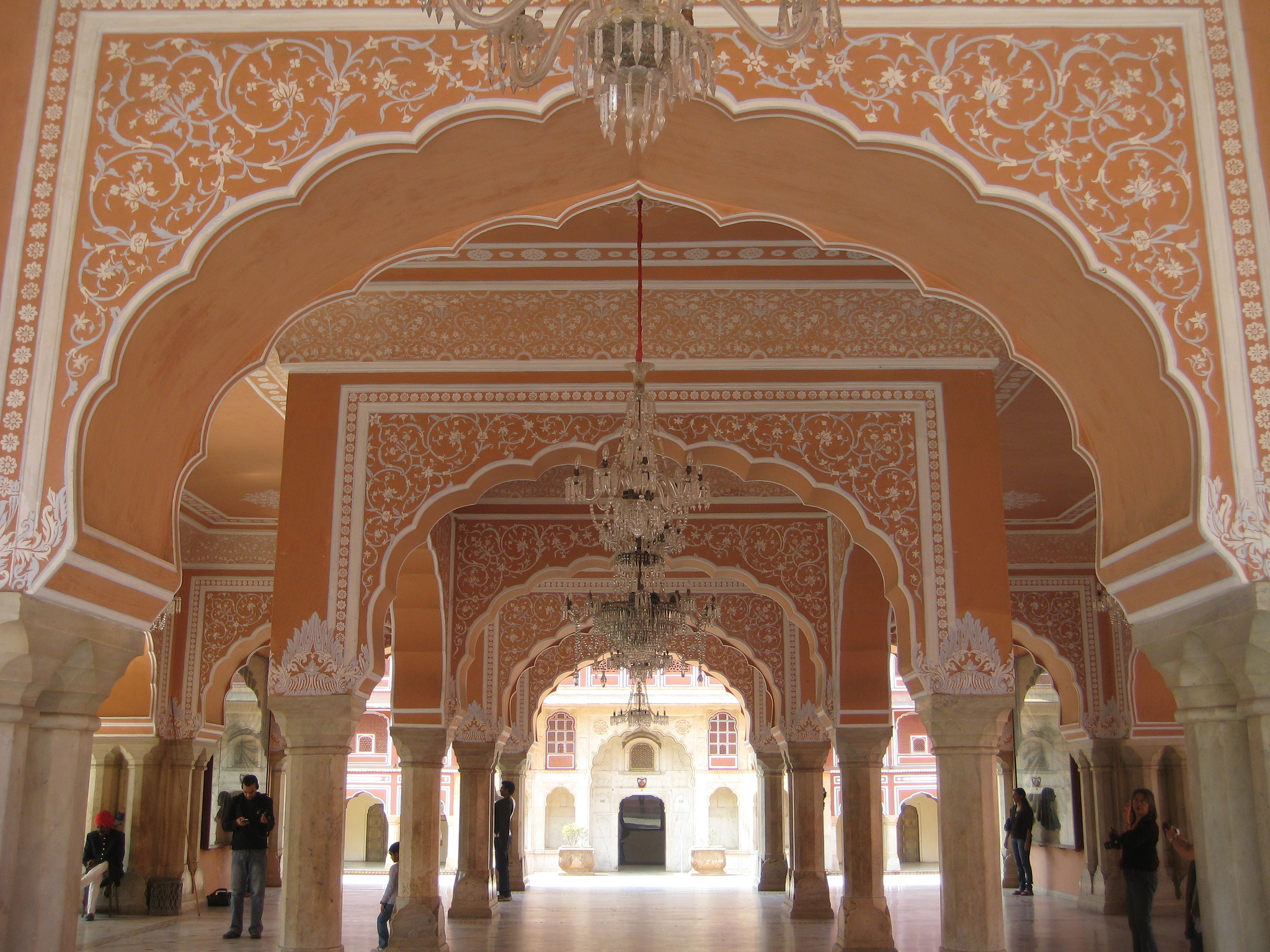 No visit to Jaipur is complete without a visit to the City Palace; once the home of Maharajas built in 1729-1732, this predominantly pink building is now a museum where visitors can learn more about the history of Jaipur. City Palace includes the Chandra Mahal and Mubarak Mahal buildings; the bottom floor of the Chandra Mahal is open to visitors, but the other 6 floors of this 7 floor citadel are currently where the Maharaja's decedents reside. The Mubarak Mahal showcases the fine silks and clothing designs worn by royalty throughout the ages.
From the beliefs and attitudes of the people all the way to the buildings that make up the city, this destination is a great place to discover more about how the history of Jaipur has moulded its reputation today. The palace is open for visitors from 9.30am-5pm and entry and guide fees range from ₹100-300. Or if you're feeling really lavish you can embark on the Royal Grandeur tour for ₹2500.
Jalebi Chowk, Near Jantar Mantar, Tripolia Bazar, Jaipur, Rajasthan, 302002, India
Jantar Mantar
It is not all glitz and glamour of yesteryears in Jaipur, Jantar Mantar is an astronomical observatory site built in the 1738. Now a UNESCO World Heritage Site, this observatory contains the world's largest sundial and around 20 fixed instruments designed to make astronomical observation easier with the naked eye. They reflect the enlightened advances of science in India and are architecturally incredible; this is a must see destination on your Jaipur To Do List. It is open from 9.00am-4.30pm daily for visitors and the entrance fee for Indians is ₹40. If you'd like to learn as much as you possibly can about Jantar Mantar then we recommend you get an audio guide (₹150) or join one of the groups with a personal human guide (₹200).
Near the Tripoliya Bazaar, Near entrance to City Palace, Jaipur, Rajasthan, 302020, India
Hawa Mahal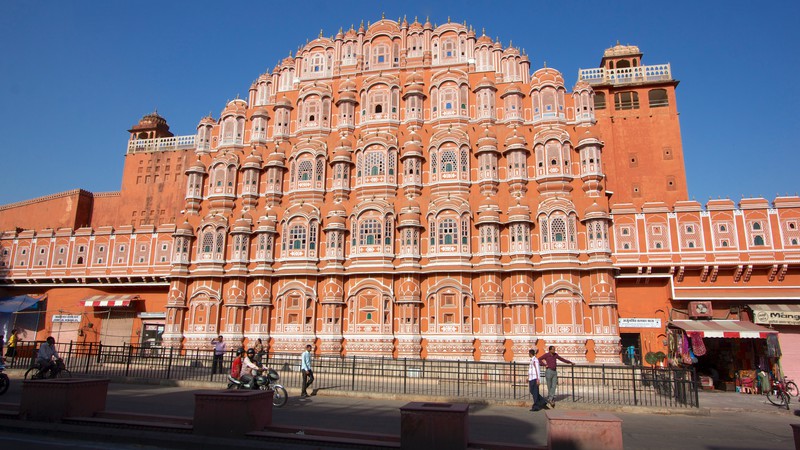 Thought to have inspired great Hollywood Director Wes Anderson's Grand Budapest Hotel, the Hawa Mahal is an architectural astounding building to behold. This 5-storey palace was built in 1799; its pink honeycomb complexion is an architects dream and adds to the glamour of this dazzling city. The women of the Royal family were once not allowed out in public, so the Hawa Mahal was built to ensure they had a great view of the comings and goings of the city; the 953 windows within the building helped facilitate this.
Hawa Mahal Rd, Badi Choupad, Pink City, Jaipur, Rajasthan 302002, India
Nahargarh Fort
For an aerial view of the entire Pink City, take a trip to the Nahargarh Fort, where you will be above to gaze over all that Jaipur has to offer. Located high up in the Aravalli Hills, this fort was one of three that stood to defend this rich city from any enemies. This fort has had many vocations; a hunting lodge for maharajas, a safety house for British diplomats and the location where peace treaties were signed, but never as a war fort.
Narghard Rd, Krishna Nagar, Brahmpuri, Jaipur, Rajasthan, 302001, India
"The markets of the Pink City are my favourite haunt whenever I visit the city. From crafts to colourful souvenirs, you get a variety of things that you can bring back home. However if there is one monument that stands tall here , it is the Hawa Mahal or the Palace of Winds – a five storey wall that rises like a pyramidal structure built of red and pink sandstone. Standing here, I almost feel like a princess looking down on the city!"
By Lakshmi Sharath, Founder of www.lakshmisharath.com
Galtaji Temple
Located approximately 10km away from Jaipur is Galtaji Temple, also known as the Monkey Temple; this historic temple is a site of pilgrimage for Hindus and is a peaceful, interesting sight for tourists. The temple is set across fresh water springs and holy kunds (water tanks); one of the kunds, named Galta, is rumoured to never dry out, making it the most holy of all them all. The temple's intricate walkways and beautiful architecture is built into the rocks surrounding it and is known for the monkeys that call the area home. If you ask nicely and pay a little money, usually one of the local kids who feed the monkeys will show you around whilst fending off these cheeky animals.
Galta Ji, Jaipur, Rajasthan, 302031, India
The Jaivana Cannon, Jaigarh Fort
The story goes that during the war between the Jaipur Royalty and Mughals (and a few others) in the 17th century, the Maharaja of Jaipur wanted to build a canon so large that it could destroy large amounts of men in one shot. This is how the Jaivana Cannon was born – it is the world's largest wheeled cannon and could shoot as far as 40kms with around 100kgs of gunpowder! A visit to the Jaigarh Fort (connected to the Amer Fort via passages) will mean that you get to view this cannon.
Above Amber Fort, Jaipur, Rajastha,n 302001, India
 "Do not miss out the sunset from the Nahargarh Fort in Jaipur. People visit Amber Fort or Jaigarh Fort but miss out on Nahargarh. The sunset view of the city from Nahargarh Fort and the road next to it is amazing. Carry a tripod to click the city lights too."
By Mridula Dwivedi, Found of www.traveltalesfromindia.in

Shopping in Jaipur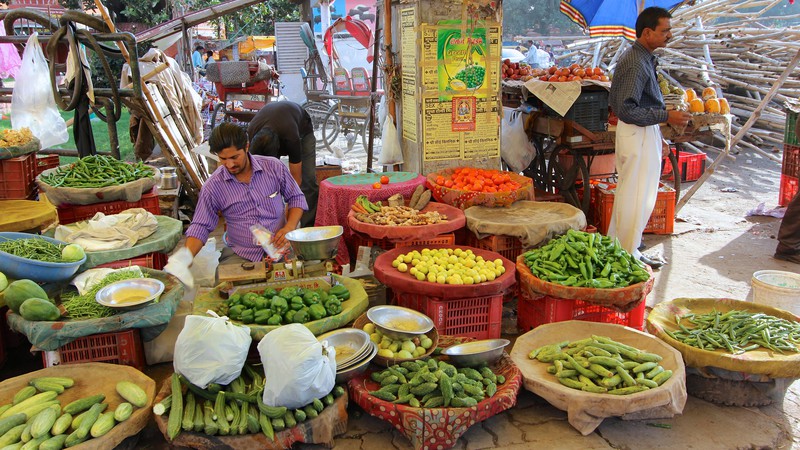 Shopping in Jaipur is an exciting way to investigate local life; there are numerous bustling bazaars dotted around the city where you can purchase souvenirs to take home. Enjoy looking a local art work and treat yourself to a pair of mojaris and vibrant materials. Make sure you don't carry too much cash around and be observant of your surroundings. Some of the most popular markets and bazaars in Jaipur including the Tripolia Bazaar, Bapu Bazaar, Badi Chaupar and Johri Bazaar.
For other inspiration take a look at our post on places to celebrate Diwali in India as this Pink City erupts into vibrant celebrations, should you find yourself in Jaipur for Diwali. Or perhaps consider adding Jaipur to your destination list for the long weekends this year, it would be a great time to embark on the great Golden Triangle Tour!
"By all means visit the formidable forts and opulent palaces from the past of Jaipur. But once you are done with the history, walk the crowded bazaars in the old city to discover the rustic and rugged Rajasthan, drenching you in colors of fragrant earth that you will be one with Jaipur. "
By Prasad Np, Also Known As desi Traveler

Nightlife in Jaipur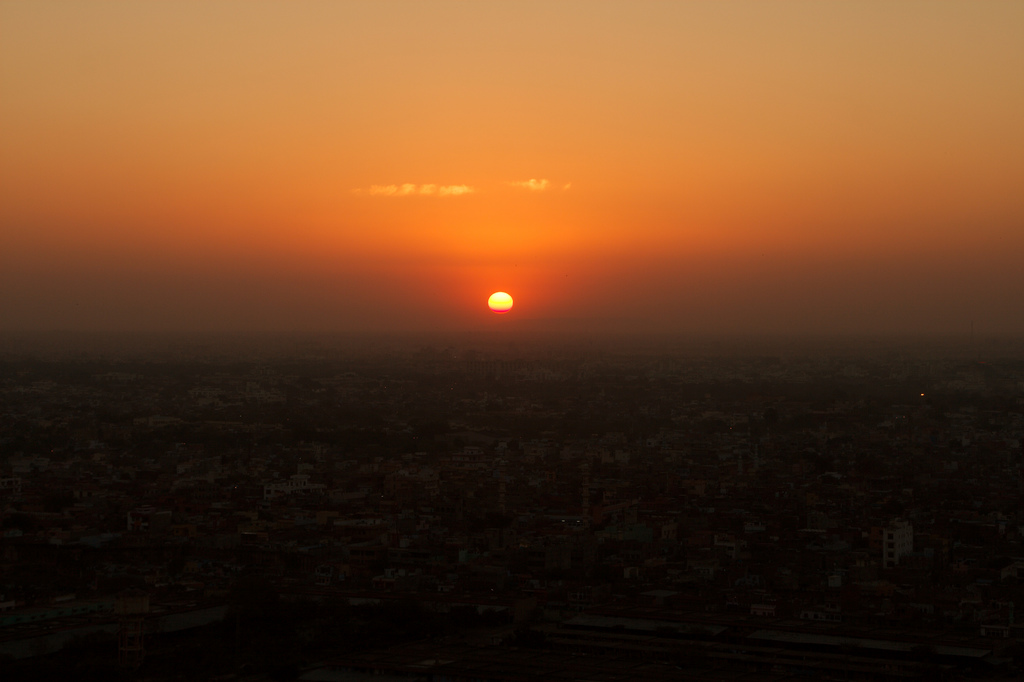 Source:Christian Haugen
Sound and Light Show, Amer Fort
The sound and light show at the Amer Fort in Jaipur, is a 50-minute musical display that starts at 7pm (English version at 9pm) showcasing the cultural signatures of Jaipur. It is a truly authentic show and there are no over-the-top effects that affect the quality of this performance. Make sure you organise your transportation back from the show before-hand as it can be hard to find a ride home.
Amer, Jaipur, Rajasthan, 302001, India
TA Blu
A sophisticated, cosmopolitan rooftop bar where you can sip on tasty cocktails whilst watching the sunset of this dazzling city. It is a very edgy, up and coming destination known to have been visited by an array of different customers, from international celebrities to locals alike. It is a great place to relax with friends or unwind on a romantic evening out!
Hotel Clarks Amer, J L N Marg, Jaipur 302018, India
Amigos Bar & Disco
If you're looking to get your dancing shoes on, then there is nowhere better in Jaipur than Amigos Bar and Disco. This Mexican-themed party destination is on hand to serve you a range of drinks, from beers to cocktails and rums to wines. It's a great place to go with friends and is located on the 9th floor of the Hotel Om Tower, meaning you'll get to look out on the whole city whilst your party the night away.
Church Road, M I Road, Jaipur, Rajasthan 302001, India

Food in Jaipur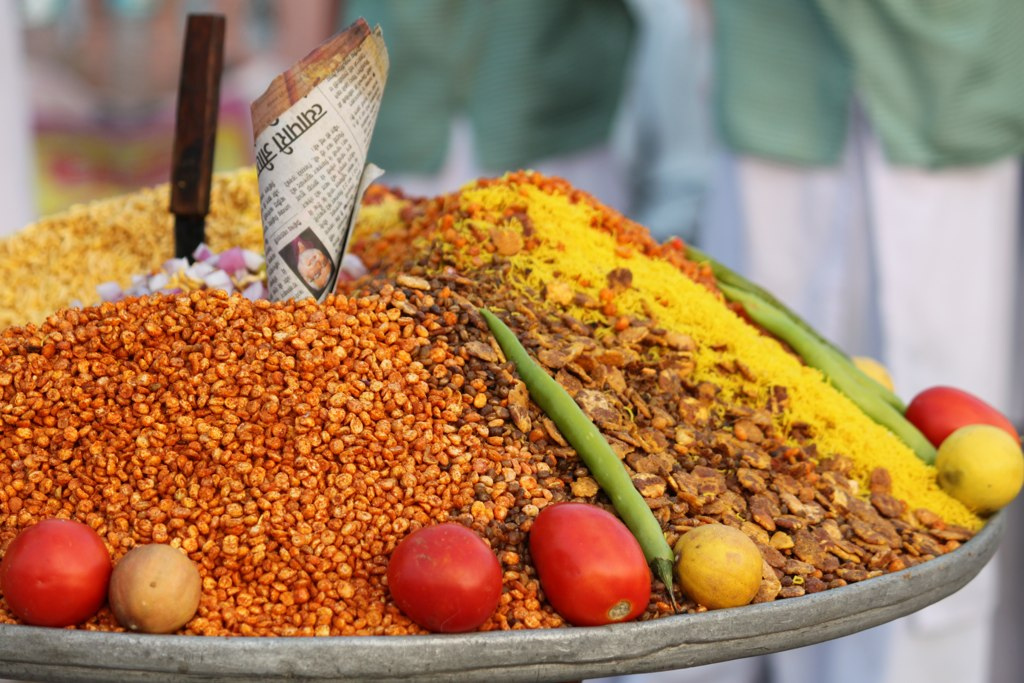 Perks of being in a lavish city include the fact that excellence extends beyond the service and architecture and into the food. Rajasthan is a state known for its delicious dishes and Jaipur food is as hot as its climate! The food in Jaipur is equally as tasty as Jaipur's buildings are beautiful. Make sure you try some traditional dishes such as dal baati churma and ghewar.
There are countless numbers of restaurants, food stalls and cafes located around the city, but there are a few that stand out for us for different reasons. First of all the City Palace Café is a must for anyone wanting to dine surrounded by memories of kings and queens of the past. You'll be treated to highly authentic, traditional Rajput dishes such as Mawa Kachori.
The City Palace, Johari Bazar, Johari Bazar, Jaipur, Rajasthan, 302003, India
Niro's is one of the most popular little eateries in Jaipur for travellers and locals alike, which is always a good sign. It's been open since 1949 and is always thriving with business; if you fancy trying something different perhaps try their Chinese dishes, but we recommend you stick with their classic, tasty Indian food.
Shop No.80, Near Bank Of Baroda, Mirza Ismail Road, Jaipur, Rajasthan, 302001, India
LMB, the shorter name for the popular Laxmi Mishtan Bhandar, is internationally known as one of the best places to eat in Jaipur. Open since 1954 and located in a hotel, this authentic dining experience is purely vegetarian; it includes many of the tastes of the street food from outside, but in the comfort of an elegantly designed restaurant.
Surajpol, Laxmi Narayan Puri, Jaipur, Rajasthan, 302003, India
A few other restaurants of note to look out for are Reds, OM Revolving Restaurant and Ganesh Restaurant. If you know of any others please do share your thoughts in the comments section below, we don't want anyone missing out on Jaipur delights!

Where to Stay in Jaipur
Luxury Hotels in Jaipur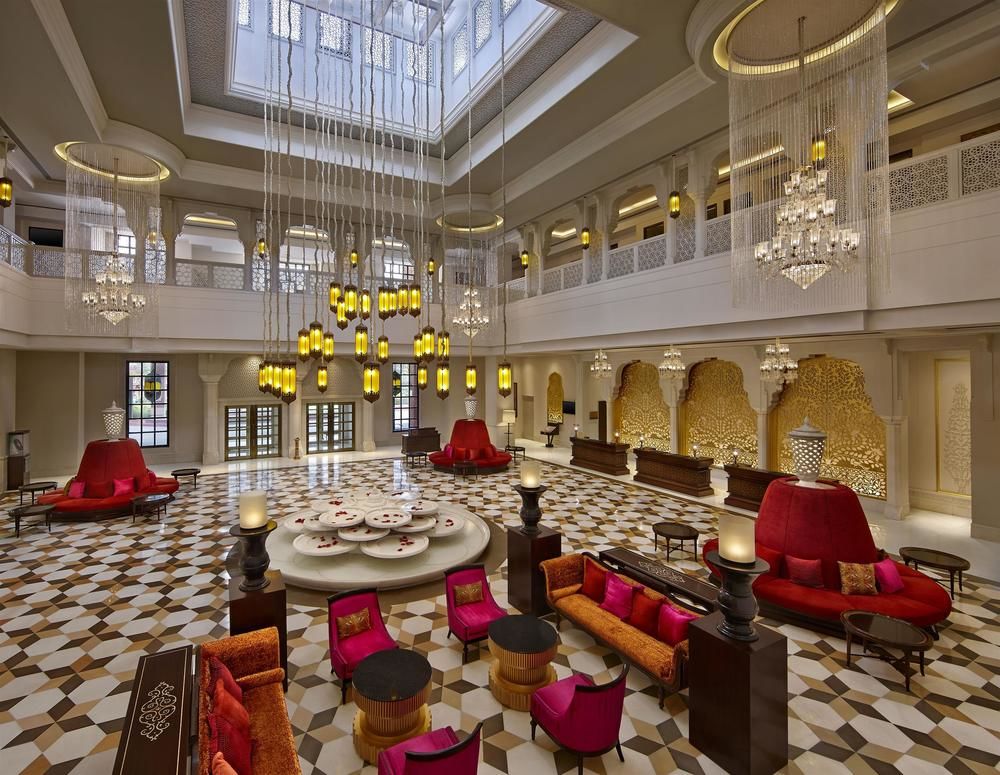 As the phrase goes, "when in Rome, do as the Romans do", so when in Jaipur why not live the life of luxury as the maharajas of days gone by once did. There is ample opportunity to do so: The Taj Rambagh Palace is one of the most luxurious hotels we imagine you'll ever come across and this is probably because it was once the home of Jaipur's Maharaja! The hotel décor is oozing with golds, reds and oranges that scream royalty and the comfort level is more than any Maharaja could ever dream of.
As you can probably tell, we're very excited about getting a chance to tell you about this hotel, the minute you arrive you'll want for nothing. The staff are always on hand and the level of service is exceptional. Don't believe us? Just look at the ratings and recommendation level from our guests by clicking on the link above. A stay in the lap of luxury will cost you approximately ₹28,900 a night at a minimum.
Alternative options for luxury hotels include the ITC Rajputana, A Luxury Collection Hotel; located near to all the main sites, this hotel adds convenience to its long list of positive features. Or perhaps you'll be more intrigued by the Jai Mahal Palace whose sprawling grounds are incredibly romantic but also make the hotel a great place for families with kids. These hotels will cost you on average ₹6,650-18,825 per night stay, but prices can be much more depending on the details of your visit.
Mid-Range Hotels in Jaipur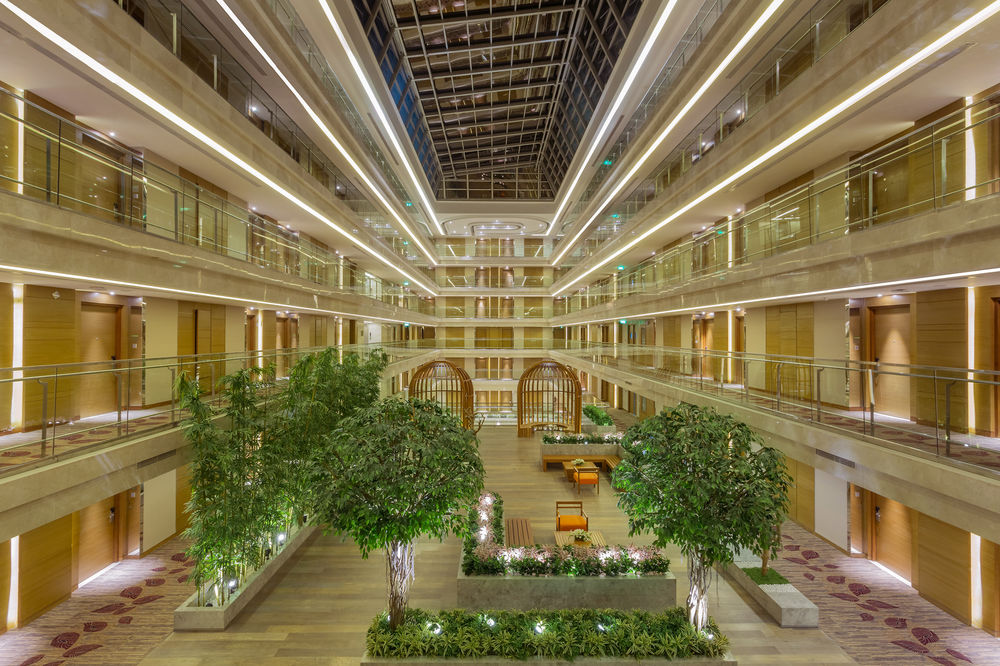 There are many great mid-range hotels in Jaipur, one of our favourites is the Holiday Inn Jaipur City Centre. This hotel provides great comfort and value for money, it has four different restaurants, a health club, a bar/lounge and free WiFi, as well as a cute coffee shop/café and a rooftop terrace. Each room is individually decorated with a sleek, stylish and sophisticated theme.
Alternatively, you could try the Fortune Select Metropolitan located near the Taj Rambagh Palace or try a Haveli. Havelis are grand old town houses that have been converted into comfortable hotels or bed and breakfasts just for you, one of the nicest Havelis in Jaipur is the Nahargarh Haveli.
Staying in one of these mid-range hotels in Jaipur for one night will cost you at least ₹2,400 per night, and prices can vary depending on the time you visit (peak or non-peak season) and how many nights you choose to stay.
Budget Hotels in Jaipur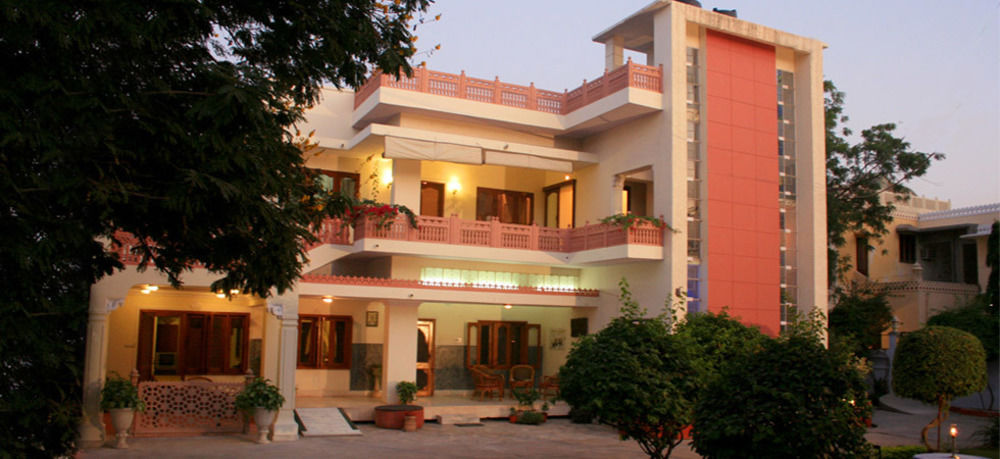 If you're travelling to Jaipur on a budget or whether you're more interesting in spending your money on sights, food and experiences rather than accommodation then there are many options for you. The Rawla Rawatstar guesthouse occupies an ideal location in the city centre, located to many transport services, such as buses, taxis and rickshaws and also some great sights such as Jantar Mantar. Amenities include free Wi-Fi, laundry service, daily housekeeping and many others designed to make your stay as comfortable as possible. The owner is a very kind, caring lady who usually around and happy to help or give any advice (as a local she knows a lot of useful information about Jaipur).
Alternative options in similar price ranges are the OYO Rooms Vaishali Nagar or Anuraag Villa that, between them, have many comforting features such as Wi-Fi, laundry services, free parking and free breakfast. A stay in one of these budget hotels will cost, at a minimum of ₹936, but as always this can change dependent on the time of your visit and duration of your stay.
These are all but a few of the incredible hotels Jaipur has to offer; there is guaranteed to be something for everyone, whether you're a solo traveller or there with a big family. Select the link below to discover more hotels in Jaipur.
[button style='blue' url='https://www.expedia.co.in/Jaipur-Hotels.d6052917.Travel-Guide-Hotels' icon='entypo-suitcase' fullwidth='true'] Hotels in Jaipur[/button]

Getting Around Jaipur
As you've now already gathered from reading about all the things to do and places to visit in Jaipur, the city is a pretty magical place. We want to make sure you get around as easily as possible, so pesky traffic jams don't hinder your experience. There are a few methods of transportation, besides walking (which is always a great option, but only if you have time to kill), such as hiring a car, taking a taxi or organising a chauffeur. However, our preference is to test out a rickshaw!
Rickshaws in Jaipur
Rickshaws are a really useful way of getting around Jaipur, with these rickshaws you'll be able to take in your beautiful surroundings whilst travelling between destinations. Taking a guided tour in a rickshaw is a lovely opportunity to view all of the sights, without being stuck inside or in traffic; there are plenty of rickshaw drivers who will be happy to give you a guided tour for around ₹400-500 a day. These rickshaws can manage the more narrow passages of the city, and dodge Jaipur's somewhat horrendous traffic jams, so they're a great choice for getting around.
Whilst the official fares for rickshaws are: ₹15 for the first kilometre and ₹10 for every other kilometre, drivers are known to try and get away with charging more. Whilst rickshaws are monitored for metre usage, many a driver will always try and push their luck (especially with tourists) so make sure you keep you try and use the fixed rate or prepaid rickshaws stands and keep your ticket safe, to give to the driver at the end of your journey. If you cannot find one of these pre-paid/fixed-rate rickshaws then we definitely recommend discussing the price with the driver before you proceed on your journey. Other travellers have found it useful to check rates with their hotel concierge to assess what they should be paying for their rickshaw journey.

Best Time to Go to Jaipur
Jaipur tends to be warm all year round, but we recommend trying to avoid the Summer (April-June) as temperatures will spike (sometimes up to 47°C) making exploration far less comfortable. However, April does still have its perks; Gangaur Festival is held in honour of Lord Shiv and Goddess Parvati, so you can expect to see lots of bright colours and taste their popular sweet dish: Ghewar.
We think the best time to go is October to March, although be aware that in winter (November-February) temperatures drop to around 4°C in the evening. Yet, these are definitely the most pleasant months to be out and about sightseeing, as temperature are usually around 18-27°C during the day. But if you're not afraid or deterred by a bit (okay, a lot) of rain, then perhaps try monsoon season (July-September); low tourism season means that hotels may be inclined to offer better deals.
For your convenience we have created a PDF version of the Jaipur Tourism Guide, for you to print out and use on your travels.