By Expedia Team, on May 30, 2018
Bangkok Tourism Guide
Bangkok is a mesmerising city. An architectural paradox, a city of chaos and intrigue, filled with cultural richness that will not fail to leave a lasting impression.
The city is the capital of Thailand, and delivers all a cultural hub should and more. Known also as the Venice of the East, you will find yourself amidst sluggish river traffic, golden Buddhist temples and looming, glistening skyscrapers. The clash between the modern and traditional is in abundance and will leave you expecting the unexpected as you walk around every corner.
The city is a growing, sprawling metropolis intertwined with time-honoured historic sites such as celestial palaces and longstanding village communities. Prepare to have your senses inspired and your heart racing as you explore the hidden alleys and secret corners that are home to Bangkok's most exciting sites and attractions.
Bangkok is a cultural enigma and things move quickly. It's a good idea to prepare and familiarise yourself a little before your visit. We've put together a travel guide to help you get started on your Bangkok adventure.


Places to Visit in Bangkok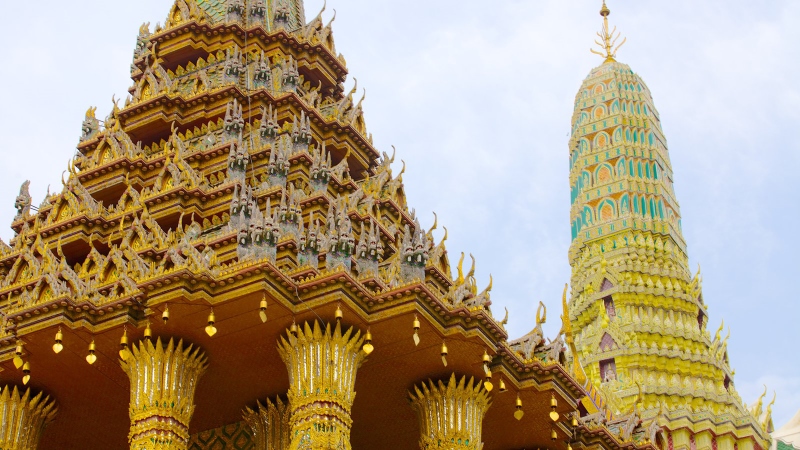 With such a rich, culturally astounding history, there is no shortage of places to visit in Bangkok. From Buddhist temples with gleaming, golden roofs to market places precariously floating on Bangkok's maze of waters, you will soon find yourself surrounded by Bangkok's wondrous and impressive sights.
Here a few of the top tourist sights to see and activities to do in Bangkok.
Wat Phra Kaew
Bewilder at this intense architectural homage to Thailand's Buddhist culture and monarchy; this sacred ground was consecrated in 1782 and is a commonly sought out pilgrimage destination for Buddhists around the world.
Located within the grounds of the Grand Palace it is home to the Emerald Buddha, a meditating Buddha sculpture delicately carved out of a single block of jade. The King is the only person permitted to view the Emerald Buddha, but the atmosphere and ambience emanating from this sacred area is enough to send tingles up any visitor's spine.
The Grand Palace and Wat Phra Kaew is a superb place for tourists to understand the foundations of Thai culture, and truly stare in awe at a sight worth seeing.
Damnoen Saduak – The Floating Market
The floating markets have always been at the epicentre of international imagery of Bangkok; the reason for that being is that they really are overwhelmingly, wonderful in the best way. It is a fun, fast-paced experience where fresh, home-grown fruits and vegetables are haggled over, and trinkets and keepsakes are bought by visitors wanting something to remind themselves of the time they bartered for their breakfast.
"One of my favourite things to do in Bangkok is to hop on a local boat on the Chao Phraya river and watch life along the lungs of the city. Though tourist boats do ply the Chao Phraya, it is the local ones that house monks and vendors and tourists alike, providing a perspective that is less sequestered as you explore Bangkok. The river is also cooler than the city itself, providing you with some respite from the sticky air. When you're done, get out in Chinatown and head to Samsara Cafe, where you can grab a drink by the river and continue your people watching as the sun sets."
By Jodi Ettenberg, Founder of www.legalnomads.com
Khao San Road
The Khao San Road is a popular tourist destination and you will find fellow travellers from all over the world investigating the offerings of the shops, hotels and bars that line this busy street. But don't be afraid of losing out on a cultural experience amongst a sea of tourists, the popularity of the street extends to the locals, so you can look forward to mingling with them and learning more about Thai culture.
The Giant Swing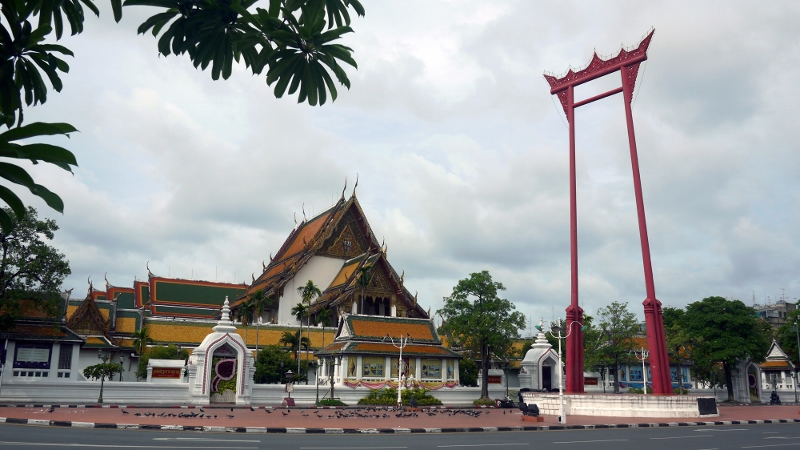 Standing amongst the Wat Suthat and Bangkok City Hall is Bangkok's famous crimson Giant Swing; at a whopping 21.5 metres tall this distinctive sight is a must see. Traditionally, it was used as part of a Thanksgiving ceremony where young men, suspended high above the street below, would swing to try and catch silver coins in their teeth. Owing to a few fatalities and even more injuries the tradition was ceased, and now this unique sight stands as a tribute to a time gone by in Bangkok. But if this doesn't sound like enough entertainment for you, the Wat Suthat, a temple of the highest honour, is right next door. The imposing architecture and charming, exquisite interiors lined with different images of Buddha are guaranteed to dazzle any visitor.
The list could go on forever, and a few more we thought we'd mention are: attending a traditional Thai puppet show, visiting The Temple of the Reclining Buddha and observing the world of Muay Thai boxing; all great activities ready for your viewing pleasure.
"Bangkok is such a popular destination, that its "must-sees" are well known. If you want to explore Thailand's capital beyond the temples and floating markets, head straight to Klong Toey. This is the biggest wholesale market in town, where Thai people buy and eat. An amazing glimpse into the local life!"
By A&Z, Founders of www.bkpk.me 
[button style='blue' url='https://travelblog.expedia.co.in/activities/attractions-in-bangkok-budget/' icon='entypo-suitcase' fullwidth='true'] Attractions in Bangkok on a Budget [/button]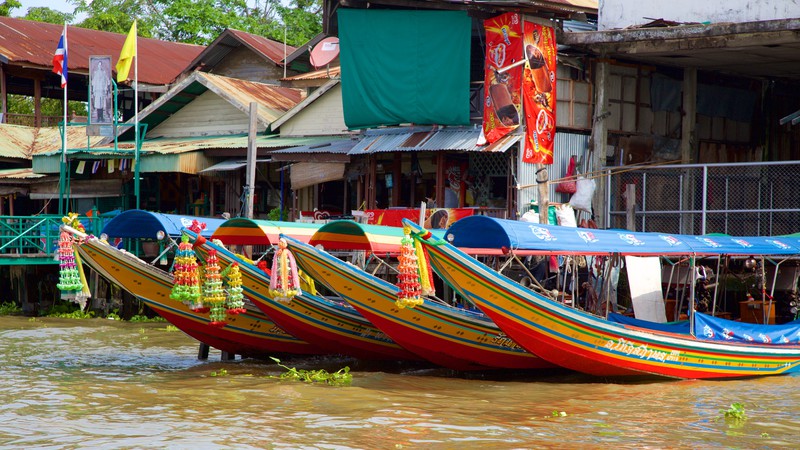 Bangkok Food
Undoubtedly a hugely, enjoyable part of your Bangkok trip will be getting familiar with the Thai cuisine available in Bangkok. From lively stalls selling street food that will overpower you with the alluring aroma of their sweet dishes, to restaurants in the clouds serving gourmet food accompanied by colourful cocktails, Bangkok truly delivers on all things gastronomical.
Street Food in Bangkok
Bangkok's mouth-watering street food can be found round almost every corner, and is a great opportunity to take a taste of Thai culture. You will find it difficult to find an ingredient that Bangkok street food does not supply; from fish curries, duck noodles and vegetables dripping in soy sauce, prepare to send your taste buds reeling.
As food is in no shortage on the streets of Bangkok, from elaborate dishes to tasty nibbles, you will be able to try a new thing every day. We don't want to spoil the surprises that await you, but here are a few suggestions of dishes we recommend you try.
There is stiff competition among vendors over who sells the city's best Pad Thai, a dish that has fast become known as Thailand's National Dish. It is a stir-fried noodle dish of Thai vegetables and your choice of meats, mixed in with fish sauce, egg and peanuts, neatly topped off with a drizzle of lime juice. Or Khao Niew Ma Muan, also known as Mango Sticky Rice, containing jasmine rice and juicy mango, stirred in with smooth coconut cream, this makes for a delicious sweet option.
But it is not all rice and noodles. Som Tam, a papaya salad, is incredibly popular. You can easily find it at street food stalls, ready to go for the hungriest of travellers. Unripe papaya is crunched up and added to a mix of tasty ingredients, often including lime, fish sauce, chilli, and beans. The mixture of flavours and textures will leave your taste buds excited.
Monday is usually the day the streets of Bangkok are cleaned up, so many vendors won't be open. But when the stalls are alive with life, the food has great value; dishes usually cost between 60 and 400 rupees, depending on whether you go for a quick snack or a hearty meal.
Now you've got an idea of the exciting flavours in Bangkok, here's some highly endorsed streets in Bangkok where you will find authentic, delectable Thai street food in Bangkok.
Sukhumvit Soi 38
Easily one of the most popular destinations for street food is Sukhumvit Soi 38, it is not only the tourists who flock here but the locals are big advocates of the freshly cooked food produced here every day.
Menus here are all in English, food is made to order and ready to be eaten there and then or taken away and eaten in another area of Bangkok's rich environment. A true street food experience is not authentically Thai until you've gorged on noodles whilst trying to overcome the rush of the world around you.
Silom Soi 20
A hard morning at work is always enough to stir up an appetite. That's why a short distance from one of Bangkok's dense business districts is Silom Soi 20. Here you can find dozens of vendors amongst the hustle and bustle of day to day life, and there are countless plastic chairs and tables for you to relax and dig into your dinner.
After lunch, you can wander down to the city's largest Hindu Temple.
Mahachai Road
Natives and travellers are in agreement on one thing, the best Paid Thai is from a street restaurant named Thip Samai. Bangkok's worst kept secret is located along the Mahachai Road. Here, Pad Thai is gently gift wrapped in a thin case of beaten egg…brace yourself for a taste sensation. Quick note – the world famous dish is only unavailable on every other Wednesday.
Restaurants in Bangkok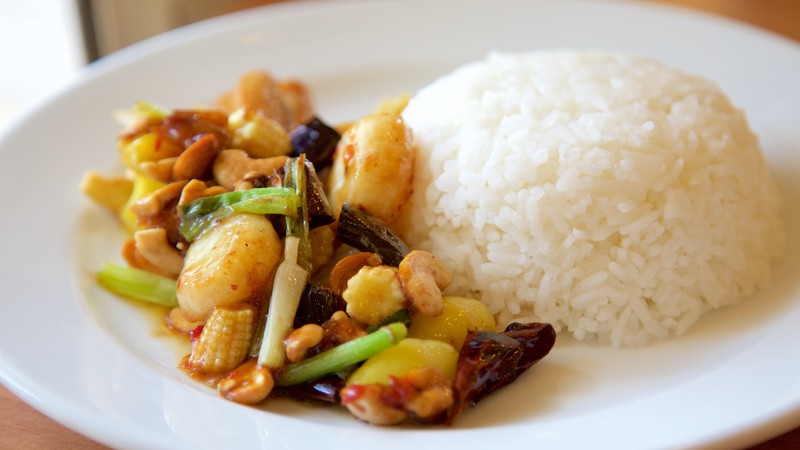 It is not all street food in Bangkok, there's lots of fine dining and culturally-rich experiences to be had in the restaurants located all over Bangkok too. While you dine, prepare to take in awe-inspiring views from skyscrapers or experience the down-right bizarre in restaurants with questionable decor themes…
These establishments equal their street food counterparts for quality and intrigue, but tingle the tastebuds in a different way.
Sirocco
Lebua at State Tower has a number of offerings for sophisticated experiences in Bangkok, and one of those is their Sirocco restaurant.
Adjacent to the famous Sky Bar (see Bangkok Nightlife) on the 63rd floor of this elegant skyscraper, the restaurant offers a evening to remember. The experience starts as you enter the elevator and swiftly ascend up to the chic garden restaurant, where you are welcomed by the sweet aroma and warm breeze that Bangkok's sky has to offer. You will then be served award-winning dishes, such as Poêle poached, homemade linguini pasta, and Perigord black truffle with lobster essence or Pyrenees lamb saddle with alla Milanese, parmesan "Royale", wrapped in papardelle, black truffle tomato stir fry and herb jus.
These top quality dishes come with top price tag, so peek at their website first and definitely get that credit card ready. A full course meal, with drinks could cost you anywhere from 12,000 rupees (for two people). There's also a strict dress code, including no athletic or sports uniforms, torn clothing, slippers, beach sandals and flip-flops and men are asked to refrain from wearing sleeveless clothing, shorts, and open shoe (this code applies to children too).
Cabbages and Condoms
The food is great, but it is not the main attraction of the restaurant. You can't miss the striking décor they have chosen: condoms.
There are multiple sculptures at Cabbages and Condoms, made purely out of condom packets and instead of a mint at the end of your meal, feel free to take a condom sample. The restaurant was conceptualized as part of a campaign to improve awareness, understanding and acceptance of contraception and family planning.
Part of the income generated goes towards supporting various actions and events of the Population and Community Development Association. The cost of visiting this peculiar restaurant is anywhere from around 400 rupees per person, but this all depends on how easy you find it to resist their cuisine.
Issaya Siamese Club
Secretly located in a luscious, green, tropical surrounding is a grand, 100-year old house, with warm twinkling lights, comfy, colourful beanbags and romantic porches and verandas…it is also the restaurant of internationally known chef Ian Kittichai. The Issaya Siamese Club offers all a chance to taste modern cuisine, whilst taking a step back into the past; relax on the restaurant's velvet sofas or take a sip of your cocktail in one of the private salons that guests are able to reserve.
Enjoy the Thai shabby-chic ambience whilst trying dishes such as the banana blossom and palm heart salad served with crispy shallots and roasted peanuts in a chilli jam dressing or the jasmine flower panna cotta with jasmine rice ice cream and jasmine rice tuile for dessert. A great place for romantics or anyone wanting to retreat from the exciting chaos of Bangkok's busy streets; expect to be spending at least 2,000 rupees per person and prepare to indulge in dishes oozing with passion.
Indian Food in Bangkok
If you feel as though you would like to try a slice of home whilst away, Bangkok has a number of great Indian restaurants offering a different dining experience each time. Places such as The India Hut, Art Masala and The Great Kebab Factory are well-reviewed and popular amongst travellers and locals alike.
"There is no end of things to see and do in Bangkok, however I recommend sampling the street food and finding a sky bar to chill out. I recommend Sukhumvit Soi 38 and Silom Soi 20 as great places to start for street food and the Sukhumvit Marriott sky bar, Octave, for a 360 view."
By Mariellen Ward, Award Winning Travel Writer and Founder of www.breathedreamgo.com

Nightlife in Bangkok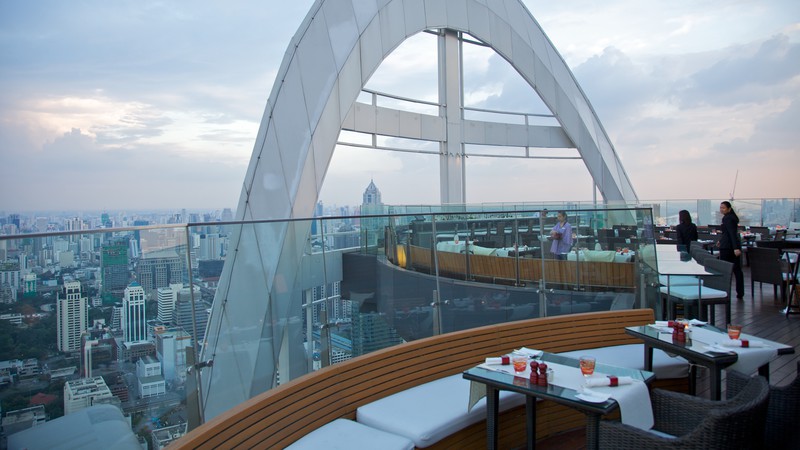 When the sun goes down Bangkok's nightlife literally lights up the city; bars, clubs and restaurants are in no short supply and there is guaranteed to be something to satisfy everyone's tastes. From live bands and pumping nightclubs to classy cocktails bars, these destinations offer a new way to delve into and savour all that Bangkok has to offer.
Khao San Road comes to life at night, from tamer, upscale cocktail bars to booming night clubs illuminated by neon lights; this is a great place to test out what aspect of Bangkok at night suits you best. Or if you want to get a view of the bigger picture, the Sky Bar in Lebua at State Tower, is a great way of seeing Bangkok morph into and embrace its night time personality. The vision of the gleaming, shimmering lights of Bangkok will make you dizzier than the bar's strongest cocktail.
Bangkok is a fairly safe city for tourists, but always keep an eye out for over-friendly strangers and keep your belongings and drinks close-by at all times. Plenty of nightlife destinations are located around the city, so as always explore beyond our suggestions.
"Bangkok is known for being a party city and the night never stops. While backpackers and 20 somethings will love Khao San Road and some may prefer the adult scenes at Patpong or Soi Cowboy, for a "normal"night out look in Sukhumvit or Silom!" 
By Rachel Jones, Founder of www.hippie-inheels.com 

Where to Stay in Bangkok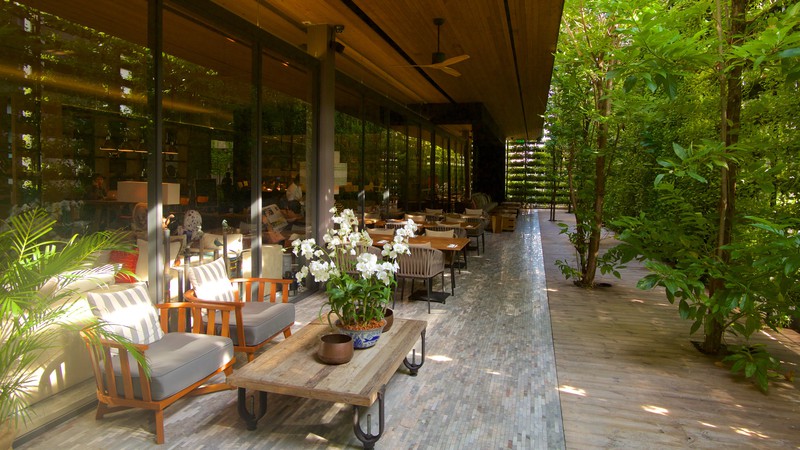 Luxury Hotels in Bangkok
If money is no object and you are looking forward to investigating the luxurious accommodation Bangkok has to offer, you are in luck. The city has a range of hotels offering you sleek and sophisticated contemporary surroundings, such as the W Bangkok where you'll rub shoulders with jet setters and fashionistas, and never want for anything. Alternatively if you are looking for a more culturally traditional surrounding, the Sheraton Grande Sukhumvit, offers an indulgent retreat-like experience, whilst retaining a classical and deluxe personality.
Looking for a more private trip, how about a break at the Cape House Serviced Apartments, located in one of the more distinguished areas of Bangkok, and features a gym and outdoors pool.
Other similar experiences can be found at the Centara Grand at Central Plaza Ladprao, Metropolitan by COMO and many more that can be located on the Expedia website.
Prices can vary dependent on time of year, but for this level of exuberance, expect to be spending at least 6,000 rupees and upwards a night.
Mid-range Hotels in Bangkok
Bangkok's mid-range hotel scene is highly competitive, and the city has an ample amount of hotels and apartments vying for your business, so expect some great-value deals.
The Raya Surawong Bangkok offers an elegant, smooth experience for the traveller looking comfortable and personable accommodation, in a calm, minimalist atmosphere.
If you're seeking something more perhaps try the Glow Pratunam, where after a long day of sightseeing you can put your feet up by the pool or decompress in the steam room.
Fortunately most mid-range hotels in Bangkok have a pool to satisfy the need of a well-travelled tourist to relax and retreat from the Bangkok's bold, hot climate. Other hotels of this type include The Tawana Bangkok or The Asia Hotel Bangkok.
Prices for mid-range hotels tend to stay quite similar during the year, and usual start at around 2,500-3,000 rupees, but make sure you have a good search to find one that perfectly suits your desires.
Budget Hotels in Bangkok
As an incredibly popular tourist destination for travellers from all over the world, from vastly different backgrounds, staying in Bangkok on a budget is not a problem. Again, owing to staunch competition you will receive great value for your money.
Excellently located near to the main Bangkok Transit System, is the Red Planet Asoke Hotel, with great links to the city this is smart place to stay if you are planning on doing a lot of sightseeing. In Bangkok you are never far from anything, and this hotel is nearby to many great restaurants and major shopping sites.
Alternatively on Bangkok's busy Surawongse Road and nearby to the Patpong Night Market is Justbeds. All rooms provide with basic amenities, such as a mini-fridge, safe deposit box and Wi-Fi, and will give a great level of comfort for the budget traveller.
Other examples of budget hotels in Bangkok include the PJ Watergate Hotel and New Siam II. Budget hotels in Bangkok usually provide the usual conveniences needed for your travels, but make sure you explore further to check they have what you need.
Staying in Bangkok on a budget is highly popular for backpackers and solo travellers, so prices can vary throughout the year and can range from anywhere between 700 to 2,000 rupees.
[button style='blue' url='https://www.expedia.co.in/Bangkok-Hotels.d178236.Travel-Guide-Hotels' icon='entypo-suitcase' fullwidth='true'] Hotels in Bangkok [/button]

Getting Around Bangkok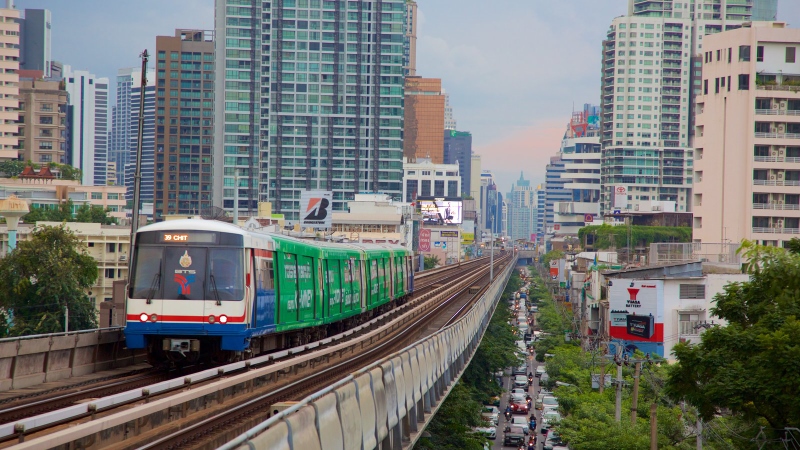 Navigating this beautifully, chaotic city can be a bit daunting, but new transportation systems and helpful locals make this a lot easier.
Walking, Tuk-tuks, taxis, the Skytrain and the underground system are the main ways of getting around, and you will usually need to combine at least two of them to get to your destination. Maps of the train system are usually available at most stations, and walking between certain sights is more than simple. However, remember the city of Bangkok covers an area of approximately 1,500 square kilometres and is home to tens of millions of people, not to mention the countless number of visitors who flock there each year, so traffic of all kinds is inevitable. Avoid, ground traffic by gliding along the Skytrain tracks floating about the city or avoid ground traffic by trying to orientate your daily activities to avoid rush-hour.
Pedestrians should beware of taxis and Tuk-tuks, road rules rarely adhered to, and to avoid getting a nasty knock, keep your eyes peeled. Figuring out the streets of Bangkok will be a steep learning curve, fortunately the culture ebbing from every road will more than compensate.