By Expedia Team, on April 18, 2018
Best Hotels in Udaipur
Udaipur is the jewel in the crown of India's Rajasthan area. Surrounded by the rolling Aravalli Hills and situated beside the picturesque Lake Pichhola.  If you're looking for inspiration on where to stay in Udaipur, here's a run down of the best hotels in Udaipur — with a lake view, best for couples, great for a honeymoon…We've picked these 10 hotels based on our writer's reviews, Expedia guest ratings and hotels available at different budget points.
Click the name of the hotel to see more information including latest hotel room rates on Expedia India.
Where to Stay: Best Hotels in Udaipur
Lake Pichola, P.O. Box 5, Udaipur, Rajasthan, 313001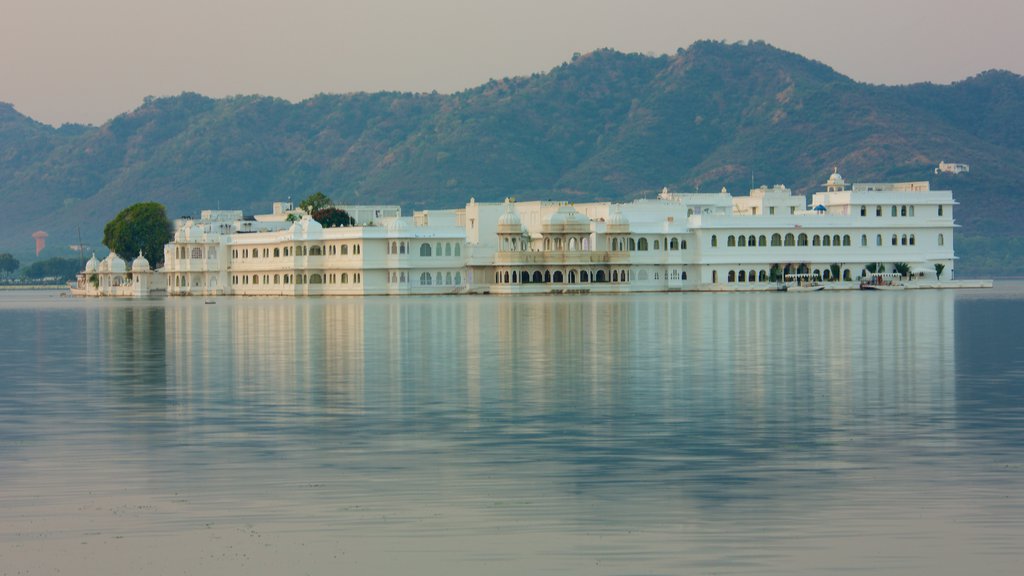 The number one top spot naturally goes to the most famous hotel in Udaipur: The Taj Lake Palace Hotel. Situated on a small island in the iridescent Lake Pichola, this hotel defines luxury; with exquisite furnishings and traditional décor, this hotel in Udaipur really does have everything you could need. It is just a short boat ride away from Udaipur's famous City Palace and close by to Jagdish Temple and Bagore ki Haveli.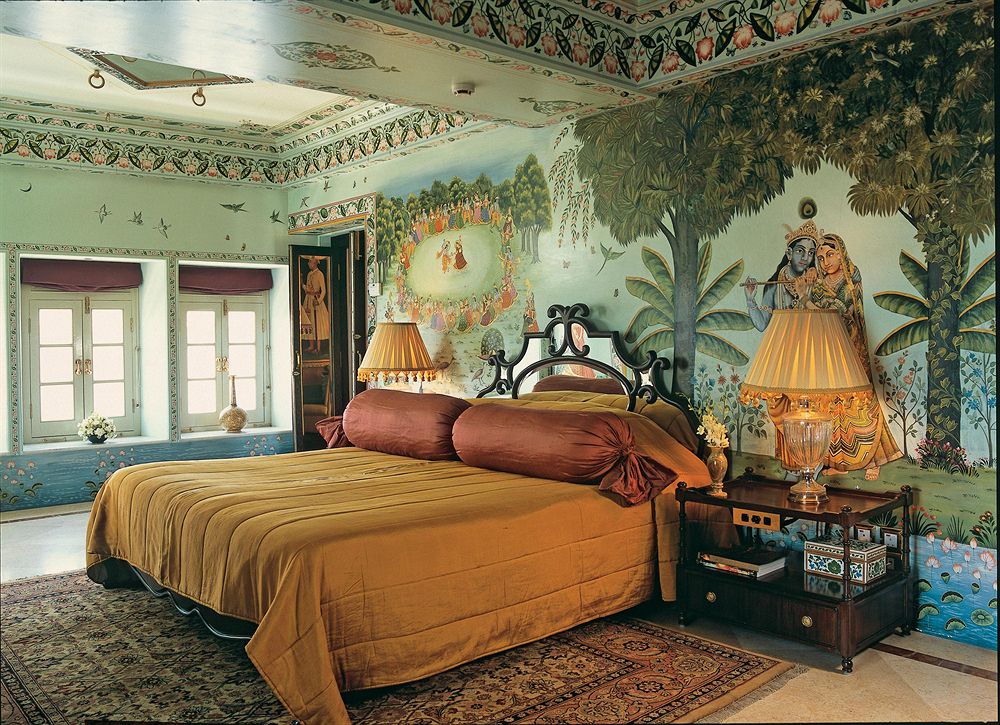 Hotel amenities include a fully equipped spa, a chance to dine whilst watching the sunset over the lake, floor butlers and sunset cruises; a stunning view of the lake from your bedroom is complimentary. The hotel is over 250 years old and looks as though it was set in a fairy-tale; we're positive this would be an ideal destination for a romantic getaway or honeymoon destination.
Rupees per night (average): 41,667
Haridasji Ki Magri, Udaipur, Rajasthan, 313001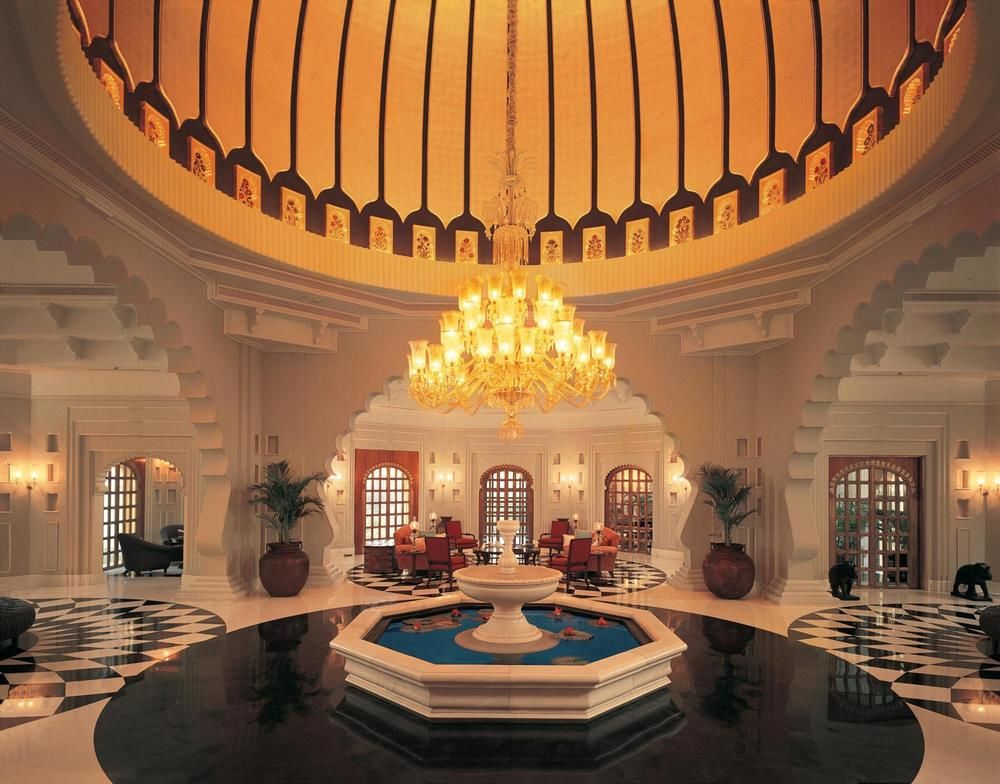 In a close second, is The Oberoi Udaivilas. Found on the shores of Lake Pichola, this stunning hotel matches the Taj Lake Palace for comfort and splendour. The hotel is very family friendly, including providing a babysitting facility (for an extra cost). The hotel has two outdoor pools, concierge services, restaurants, bars and all you can expect from a top-quality establishment.
Furthermore, you're close by to top tourist places in Udaipur such as City Palace, Bagore-ki-Haveli Museum, and Crystal Gallery.
Alternatively, if you don't feel like leaving the hotel, why not expand your skills by taking a cooking lesson from one of the hotel's head chefs.
Rupees per night (average.): 46,667
Lake Pichola, PO Box No.125, Udaipur, Rajasthan 313001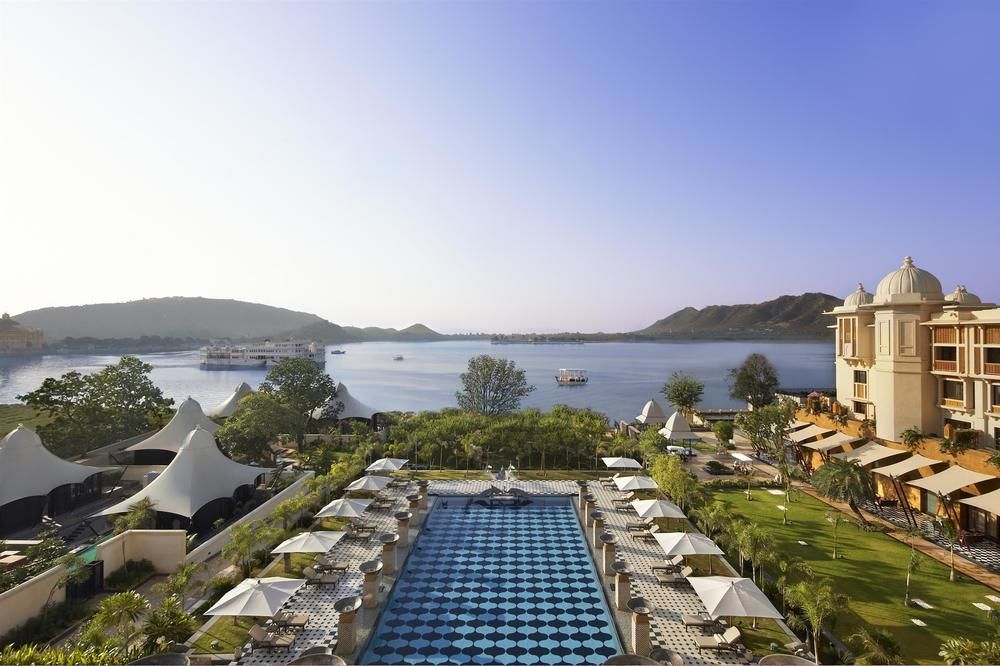 Our third favourite hotel in Udaipur is a luxurious castle in the historical district of Udaipur; oozing with culture, class and history The Leela Palace is a perfect spot to spend your trip to Udaipur. This hotel is also very family friendly and the outstanding staff will make you feel comfortable and taken care of for the whole trip.
Guests of this hotel have declared it to be one of the most beautiful places in India (and that's really saying something), with the most attentive staff, who make sure you feel like royalty whilst staying in the Palace. Other amenities include valet parking, free train station collection, bars, outdoor pool, a fitness facility, dry-cleaning and many more.
Rupees per night (average.): 49,500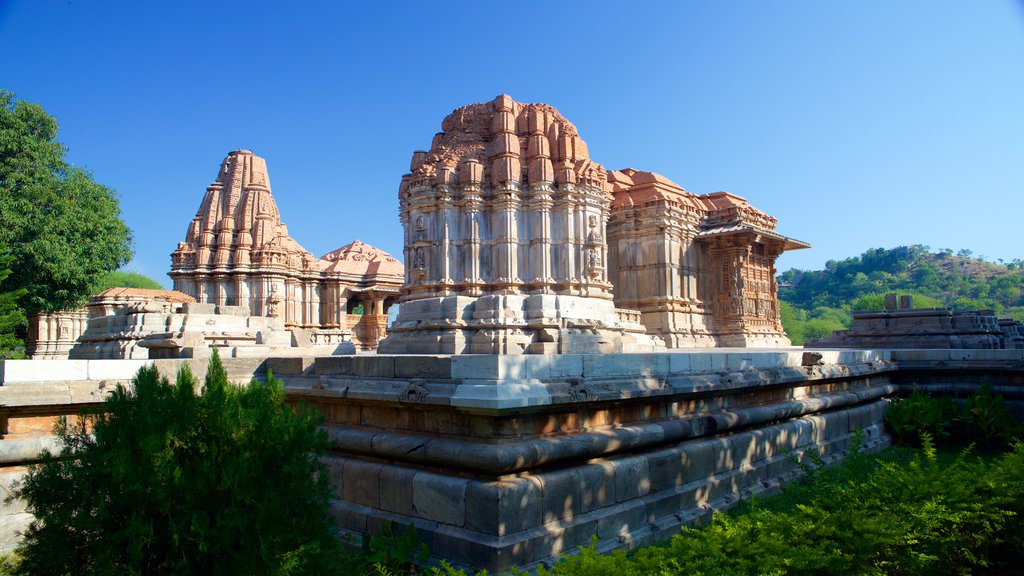 Nagda Temple
NH8, Near Eklingji Temple Delwara, Rajasthan, 313202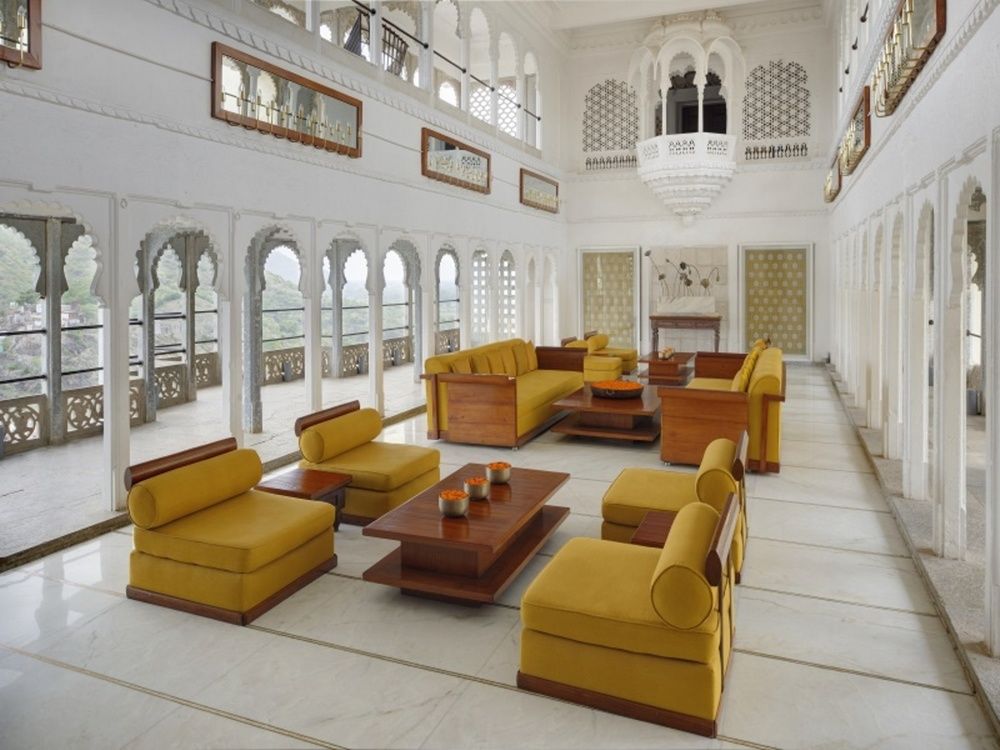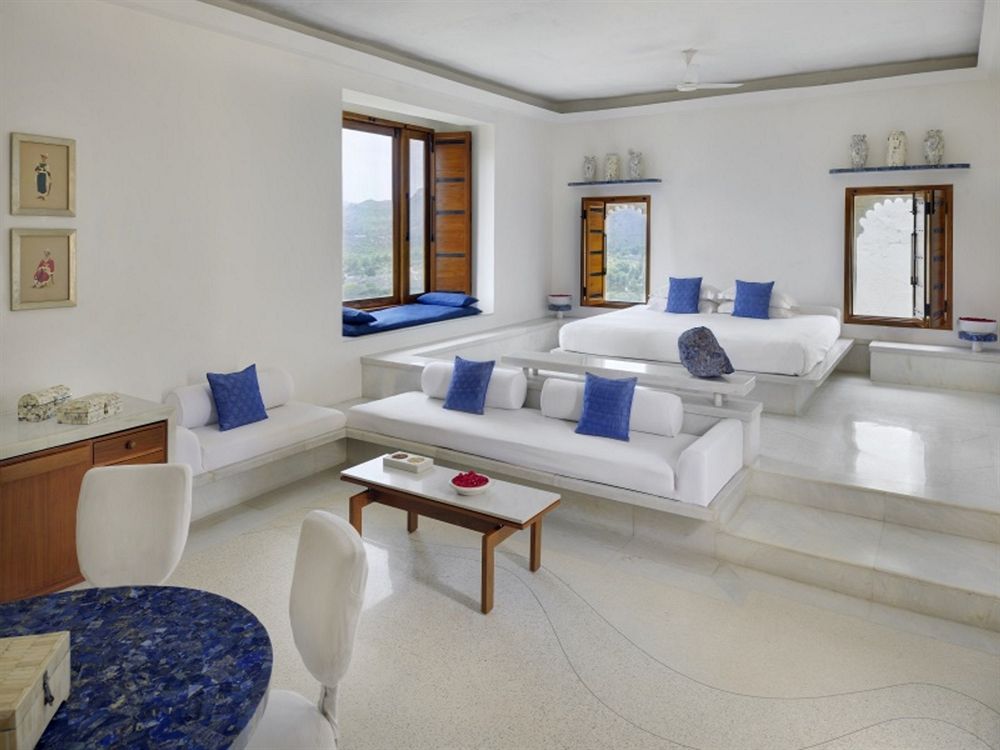 Many of the best hotels in Udaipur have beautiful architecture and a lake view. Including this one, RAAS Devigarh hotel.
Located up in the mountains is a rustic, palatial house called the Raas Devigarh Hotel where you can spend your evenings gazing out over the twinkling city of Udaipur. All within 16miles of the destination are the following must-see Udaipur sights: Eklingji Temple, Sahastra Bahu Temple, Nathdwara Temple and Nagda (as seen above).
The hotel really provides you with everything you need for a trip to Udaipur; wake up to a complimentary breakfast and when you're done exploring Udaipur, you can recline and relax at the hotel next to its outdoor pool.
Rupees per night (average.): 24,000
Gulab Bagh Road, Udaipur, Rajasthan, 464340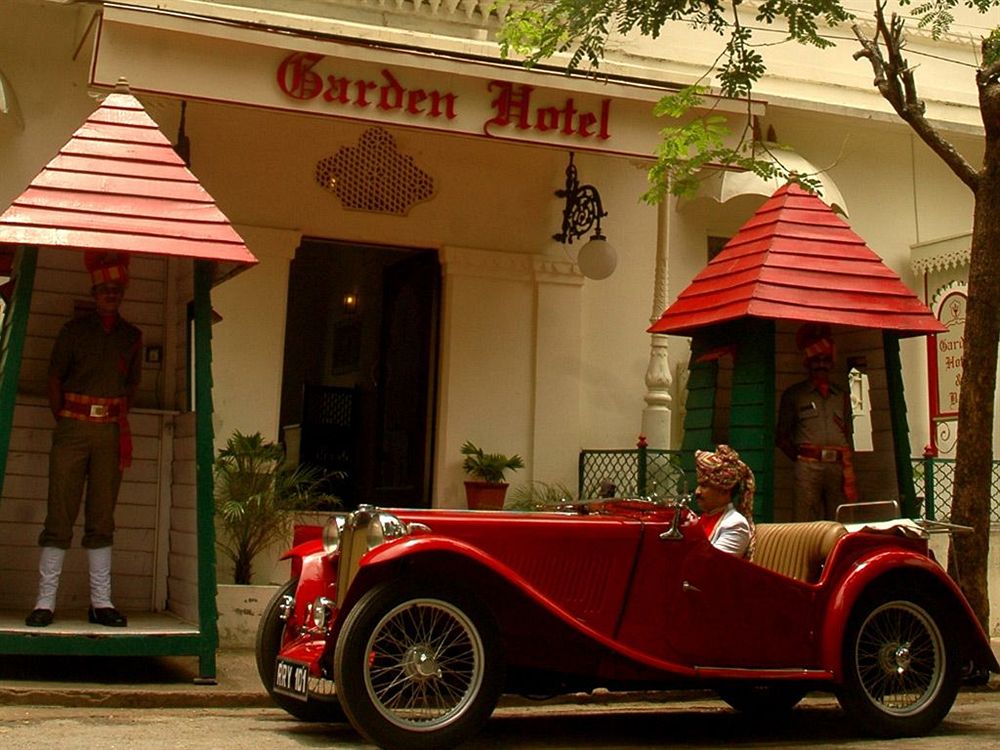 This quaint hotel in Udaipur offers a highly-satisfactory level of comfort and hospitality, and is great for those not looking to spend too much on accommodation. The staff are on hand to offer their advice when you're looking for information about sights and tours; other amenities include laundry, free parking, Wi-Fi (surcharge) and many more.
Conveniently, for those looking to tour the city, the hotel is located in Udaipur's city centre and is a short distance away from Bapu Bazaar, Gulab Bagh, City Palace and Crystal Gallery.
Rupees per night (average.): 5,100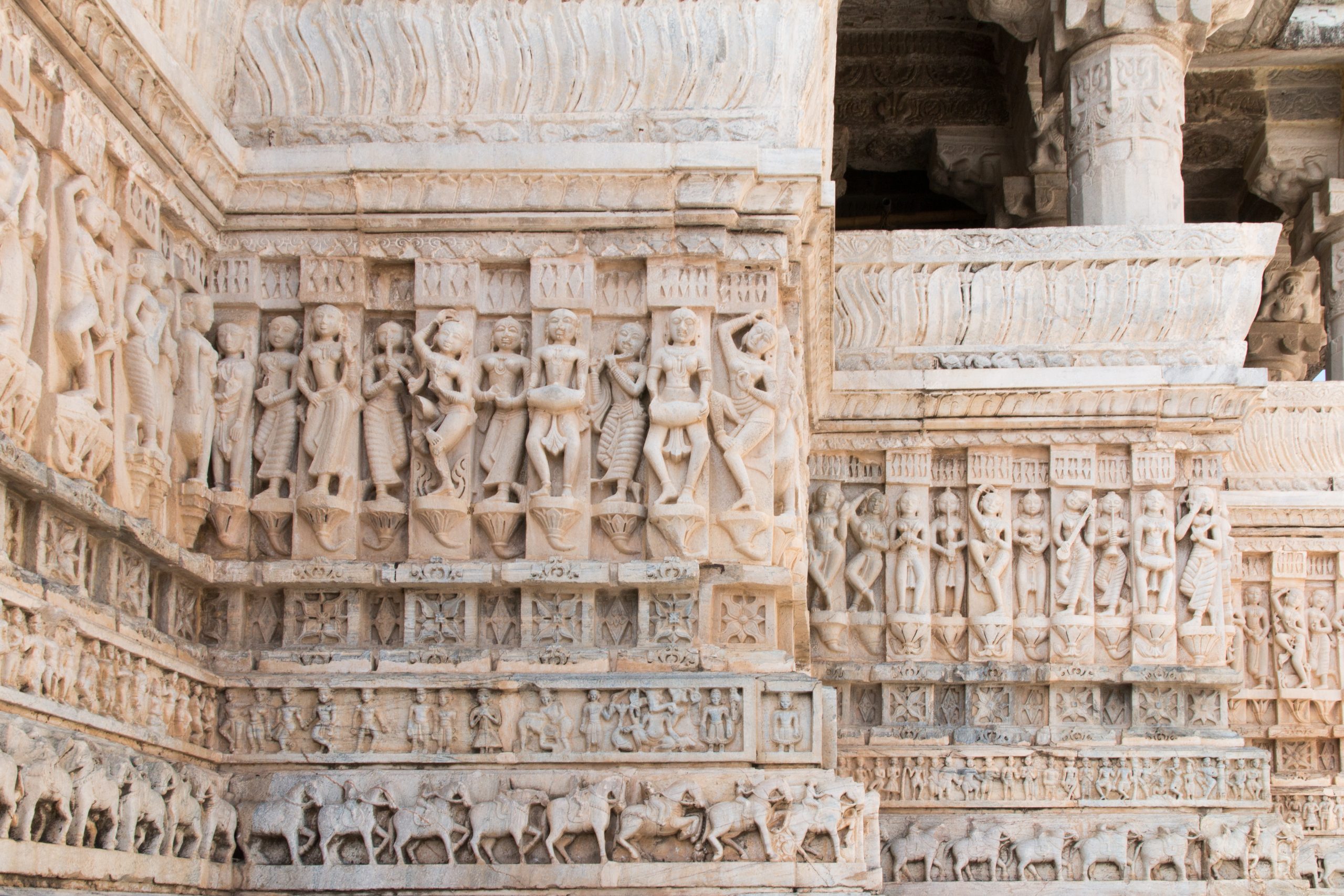 Jagdish Temple / Source: Daniel Villafruela
Sisarma, Udaipur, Rajasthan, 313001
With panoramic views of the city and three outdoor pools, there is much to love about this Udaipur hotel in the hills. Fateh Garh Hotel in Udaipur oozes charm and class and there are many places to laze about with a good book and soak up the atmosphere.
There are several sights located within 10km of the hotel including Gangaur Ghat, Bagore-ki-Haveli Museum, Jagdish Temple (see above image), Maharana Pratap Statue and Shilpgram Museum, so you'll be staying in a good location for sightseeing.
Rupees per night (average.): 13,000
5-B New Fatehpura, Opp.Sahelion Ki Bari, Udaipur, Rajasthan, 313001
This low-key hotel in Udaipur provides the simplicity and class necessary for any weary traveller to rest their feet after a day of doing business or touring the city. Amantra Comfort Hotel is a good option for a budget hotel in Udaipur. The hotel offers free Wi-Fi as well as a restaurant, shops, bar and a full-service spa, which is always ideal after a long day.
Only a short distance away (5-15mins) are some of Udaipur's charming sights and places to visit, such as the Garden of the Maids of Honor, Sukhadia Circle and Panchwati Circle.
Rupees per night (average.): 4,950
1 Haridas Ji Ki Magri, Main Road, Udaipur, Rajasthan, 313001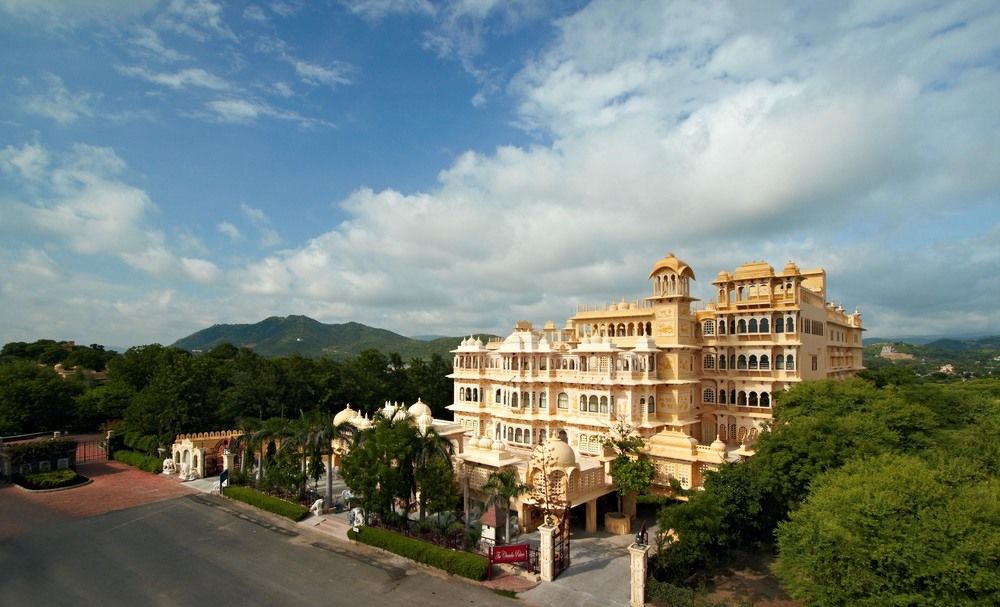 This hotel in Udaipur has been popular for years. With such beautiful architecture, Chunda Palace has also played host to many lavish and beautiful weddings. The bedrooms are very large and decadent; large beds, balconies and all rooms come with jetted, whirlpool bathtubs!  Other hotel amenities include two pools (one for children), free Wi-Fi, a large range of concierge services, laundry facilities, shopping on-site and many more.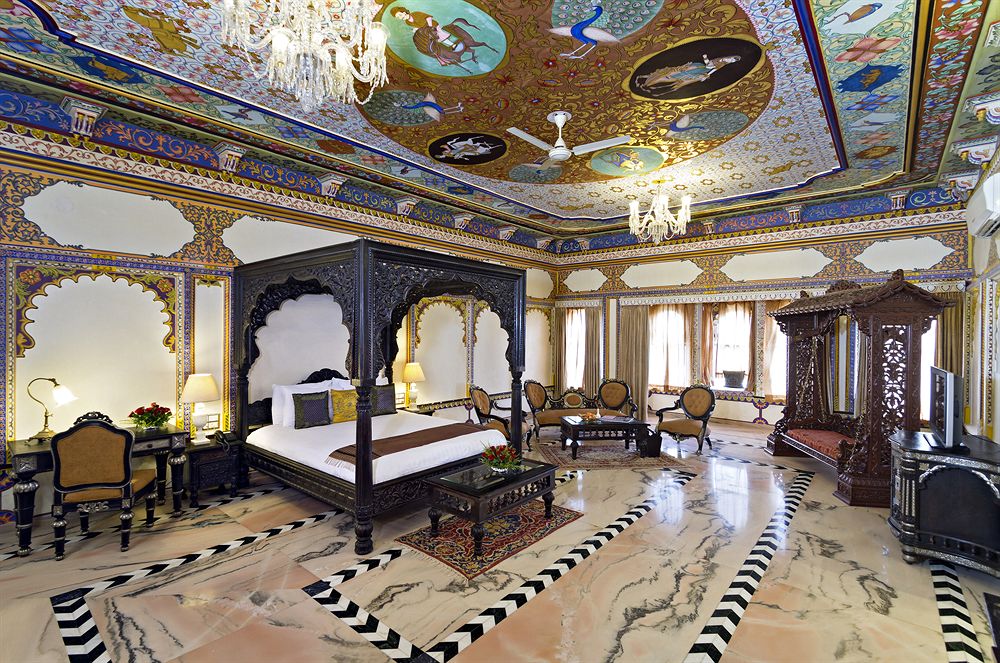 But don't just sit around the hotel room, great as it may be. Go out and explore the city of Udaipur.  Top tourist attractions like Lake Palace, Jag Niwas, Gangaur Ghat, Bagore-ki-Haveli Museum and Jagdish Temple are all less than 3km away.
Rupees per night (average.): 13,167
Opp Fateh Sagar, Lake Udaipur, Rajasthan, 313004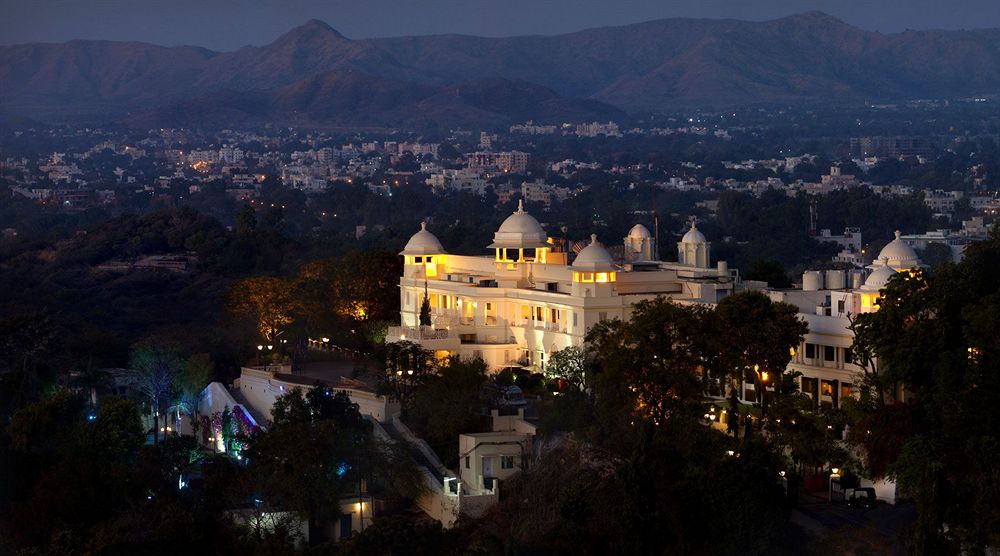 This luxury hotel boasts a beautiful view of the lake and the city, where switching off and taking your self away from the bustling streets below, is simple. The décor of The Lalit Laxmi Vilas Palace is a perfect example of combining modern and traditional, to bring a warm, comfortable, classy ambience. This classic Raj style and the incredibly helpful and supportive staff will make you feel as though you were a Prince/Princess parading through their palace.
Nearby sights include Maharana Pratap, Statue, Panchwati Circle, Bharatiya Lok Kala Museum, Jagdish Temple and Gangaur Ghat.
Rupees per night (average.): 23,750
Bhinder Haweli, Outside Chandpole Near Hanuman Ghat, Naga Nagri, Udaipur, Rajasthan, 313001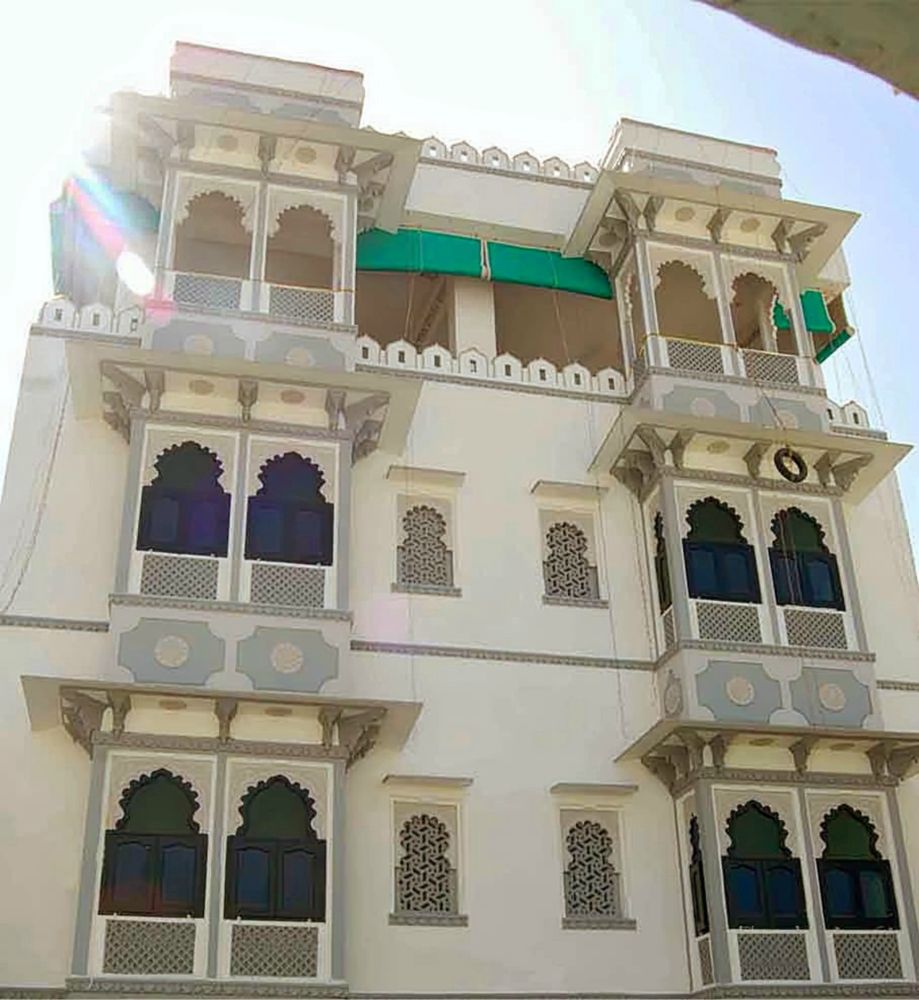 At the end of our list of the best hotels in Udaipur, is our favourite budget hotel in Udaipur: The Little Prince Hotel. It provides all the basic comforts you could want in a hotel to get a good rest for the night. This hotel also includes a surprise: a rooftop restaurant! The food is very tasty and it is a great place to take in the view of Udaipur, including popular sights that are all located nearby.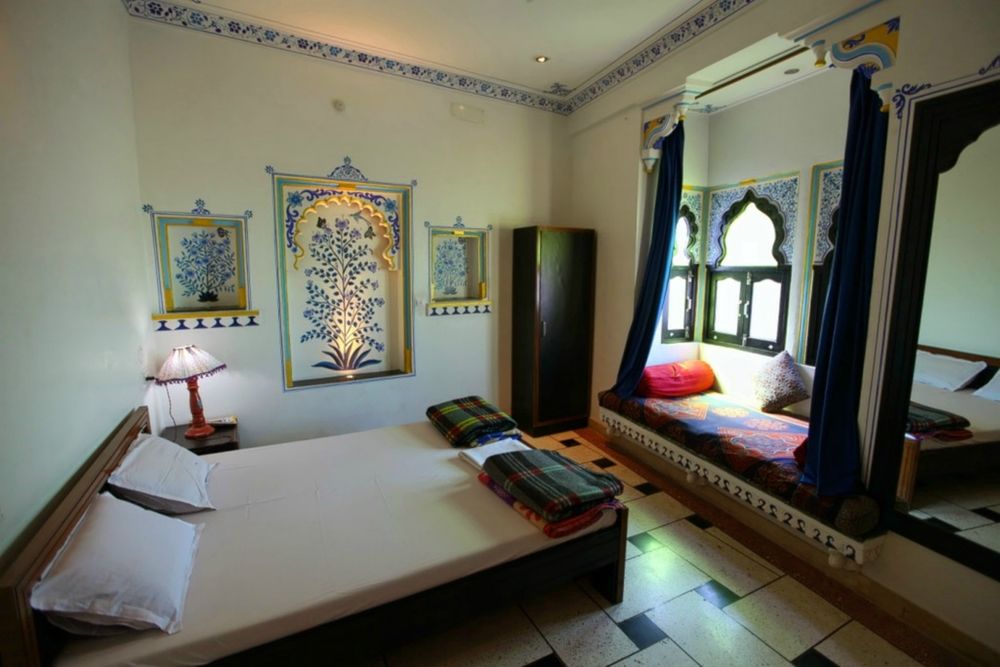 It is very easy to walk over to Udaipur's tourist places Lake Pichola, Jagadish Temple, Jag Niwas. Bagore-ki-Haveli Museum and Gangaur Ghat. This hotels packs more than is to be expected at the price you would be paying. The room rates are inclusive of free parking, daily housekeeping, free toiletries and many more.
Rupees per night (average.): 2,537

If you want to see more wonderful hotels in Udaipur, click the link below and let your adventure begin.
[button style='blue' url='https://www.expedia.co.in/Udaipur-Hotels.d6052923.Travel-Guide-Hotels' icon='entypo-suitcase' fullwidth='true'] View More Hotels in Udaipur [/button]