By Expedia Team, on July 17, 2018
A Honeymoon in Kerala – Where to Stay
With its beautiful beaches, backwater attractions and strong spicy local cuisine, it's easy to see why a honeymoon in Kerala is a popular choice for couples. Where you stay in Kerala can help to shape your experience. There's plenty of attractions to explore of course, but on a honeymoon you might spend quite a lot of time in and around your honeymoon suite. Here are some great areas to stay in Kerala and the top romantic hotels for couples out there.
Where to Stay for a Honeymoon in Kerala

Romantic Bliss in the Backwaters of Kumarakom
A great destination for those wanting to be in their bubble. There are lakes, lush green countryside and numerous canals to explore. Book a canoeing trip on a country boat and glide past scenic villages and churches. Or spend a night in a luxury houseboat. You can also enjoy couple spas and yoga sessions at the excellent resorts here.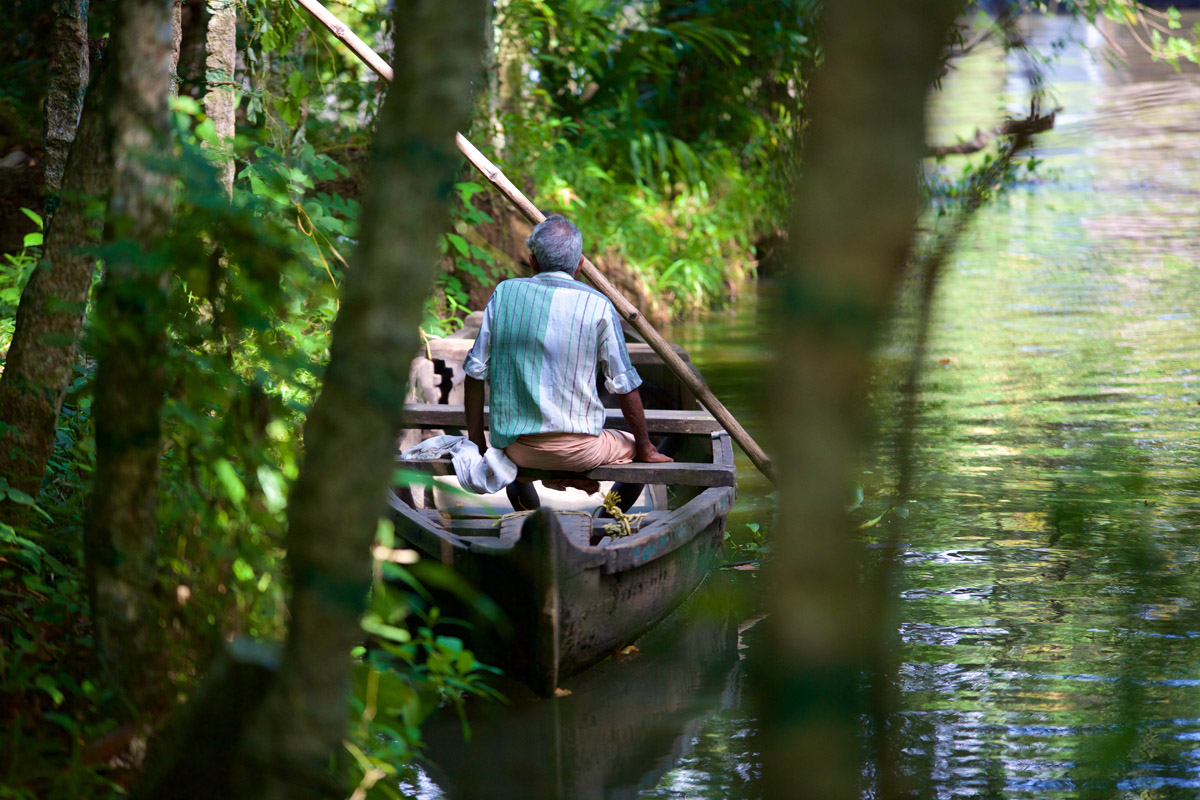 Romantic Hotels for a Honeymoon in Kumarakom, Kerala
Kumarakom Lake Resort, Aveda Kumarakom and Vivanta by Taj are top rated.
Kumarakom Lake Resort offers honeymoon packages.
The Currymeen restaurant at Vivanta by Taj is recommended for a cosy meal for two.

Snuggling in a Hammock on Marari Beach
Close to Alleppey, is a lesser-known beach that is still off the tourist grid. Named among top five hammock beaches in the world, Marari Beach is ideal for those who love sea and sand.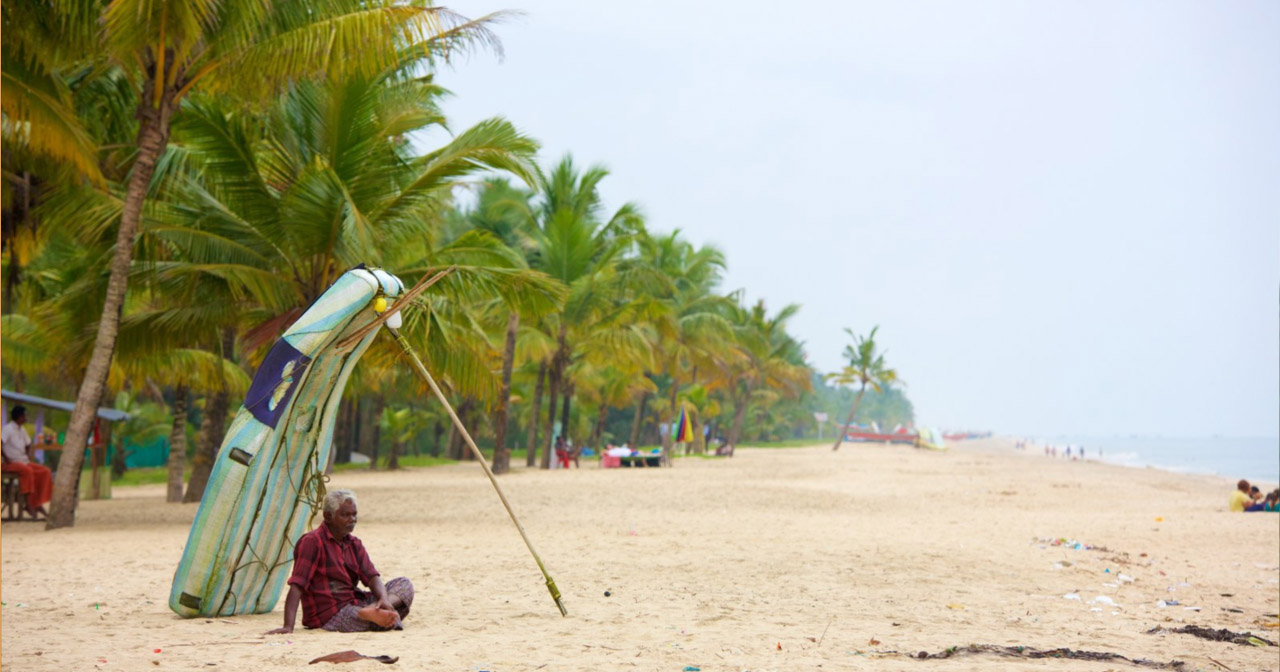 Romantic Hotels for a Honeymoon in Kerala on Marari Beach
The highly rated CGH Earth property on the Marari Beach promises an authentic Kerala village experience. The thirty-acre large resort is dotted with coconut groves, fruit trees, lily ponds and an organic farm. A perfect detox after the frenetic wedding festivities.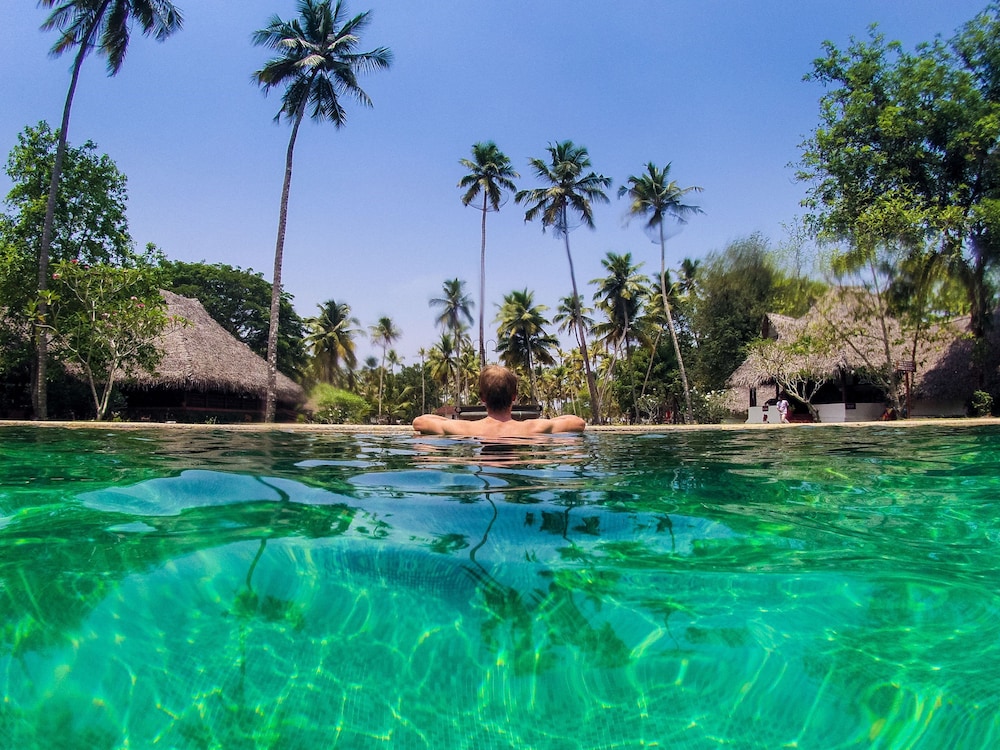 [button style='blue' url='https://www.expedia.co.in/Marari-Beach-Hotels.d553248621532734817.Travel-Guide-Hotels' icon='entypo-suitcase' fullwidth='true'] Search all Marari Beach Hotels[/button]

Fort Kochi: Leisurely walks in the atmospheric by-lanes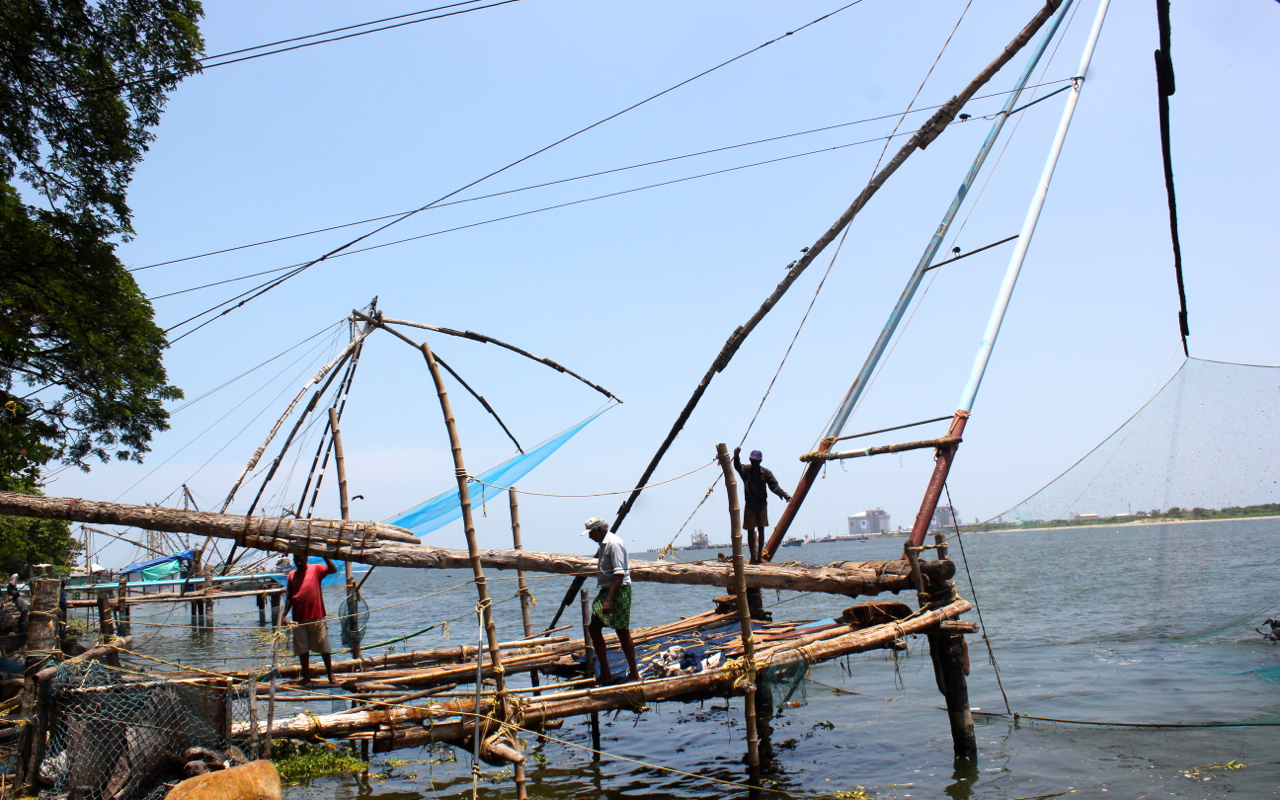 Chinese Fishing Nets at Fort Kochi  / Nagarjun Kandukuru
Time slows down at Fort Kochi! The old town offers a peep into its colonial legacy – walk past houses, markets and warehouses from the Portuguese, Dutch and British eras. Experience the lively art scene – there are many contemporary art galleries to explore. Dig into the delectable flavours of the Syrian Christian food in Kerala. Stroll on the beach promenade. Watch the Chinese fishing nets rising against the twilight sky in a picture perfect frame.
Romantic Hotels for a Honeymoon in Kerala on Fort Kochi
There are beautiful heritage properties here. The Old Courtyard Hotel, Brunton Boatyard and Vivanta by Taj – Malabar, Cochin are good options for stay. For dining, do try out Kashi Art Cafe, Teapot Cafe and Fusion Bay. The restaurant at Brunton Boatyard – The History & Terrace Grill – is superb.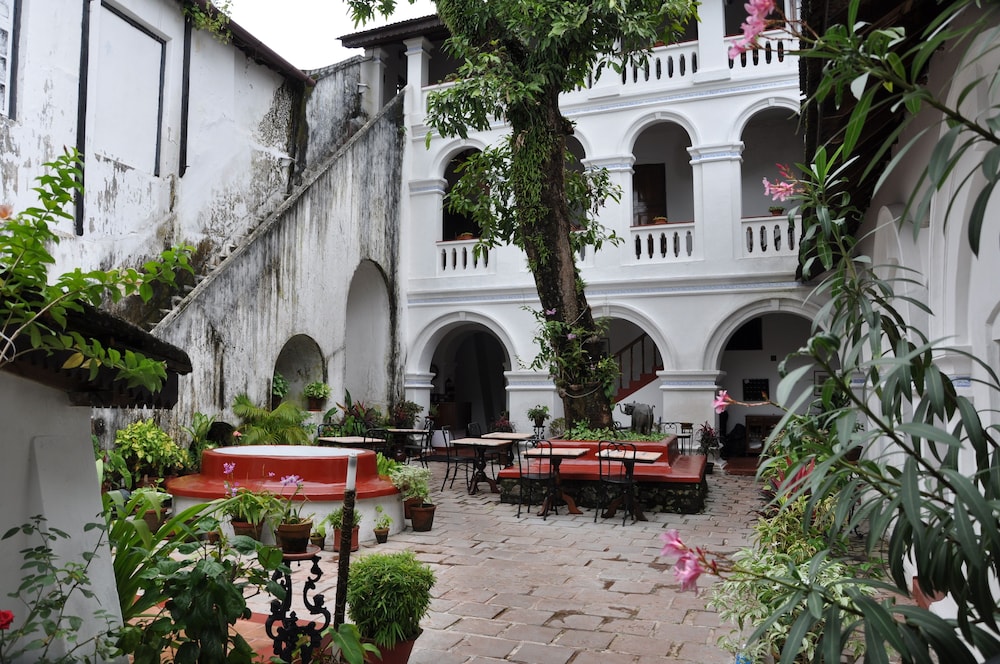 The Old Courtyard Hotel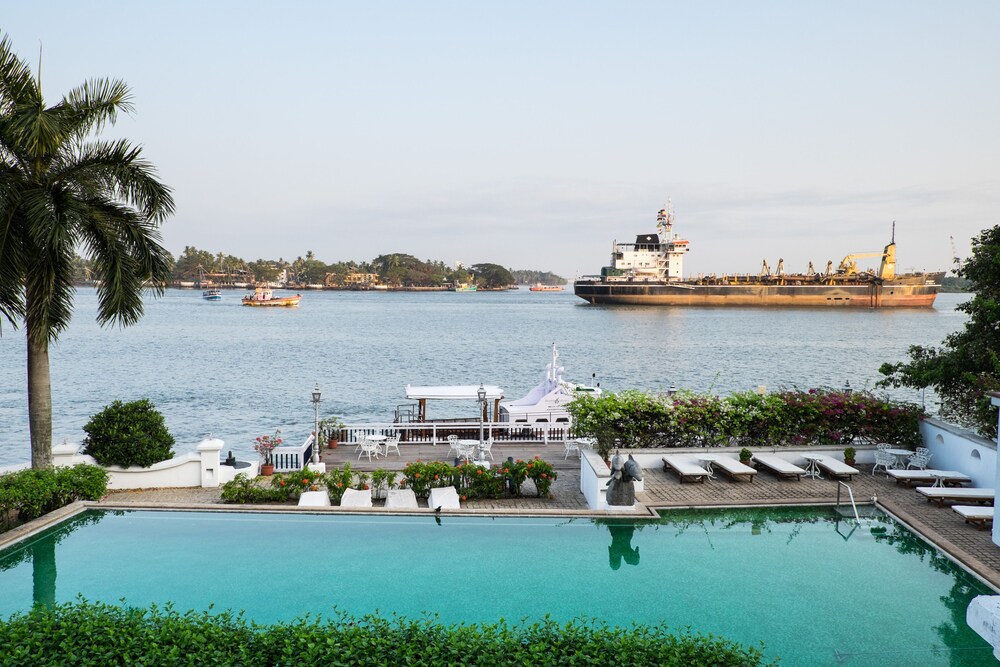 Brunton Boatyard
[one_half]
[/one_half][one_half_last]
[/one_half_last] Taj Malabar Resort & Spa, Cochin

Bekal Fort: For a love song or two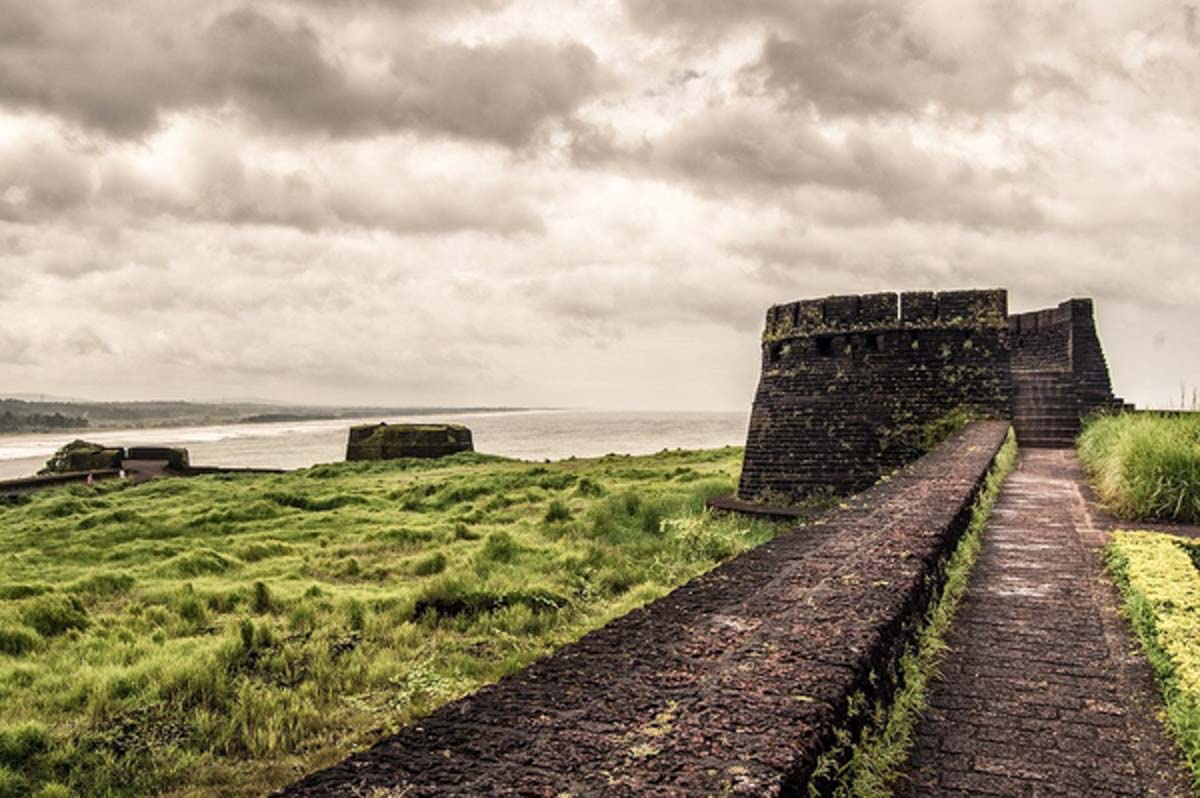 Bekal Fort / CC BY-SA 3.0 / Renjithks
The 300-year-old Bekal Fort in Kasaragod is a top Kerala attraction with an idyllic setting for Bollywood inspired romance. A popular location for many film shoots, this well-maintained fort offers stunning views of the beach and the Arabian Sea. The neighbouring Valiyaparamba islands are separated from the mainland by scenic backwaters. Go on a traditional Kettuvalam (Kerala houseboat) cruise to enjoy the views of coconut groves and colourful fishing boats. The Malabar region is a biodiversity hotspot – you can spot sunbirds, magpies, herons, sea eagles et al. 
Romantic Hotels for a Honeymoon in Kerala near Bekal Fort
The Taj Bekal is a beach resort spread across 26 acres. The property has laterite villas and rooms designed to resemble Ketuvallam houseboats. Signature experiences offered include kayaking, romantic dinners by the river, indulgent aromatherapy massages, and delicious home-style meals on a houseboat cruise.
[one_half]
[/one_half]
[one_half_last]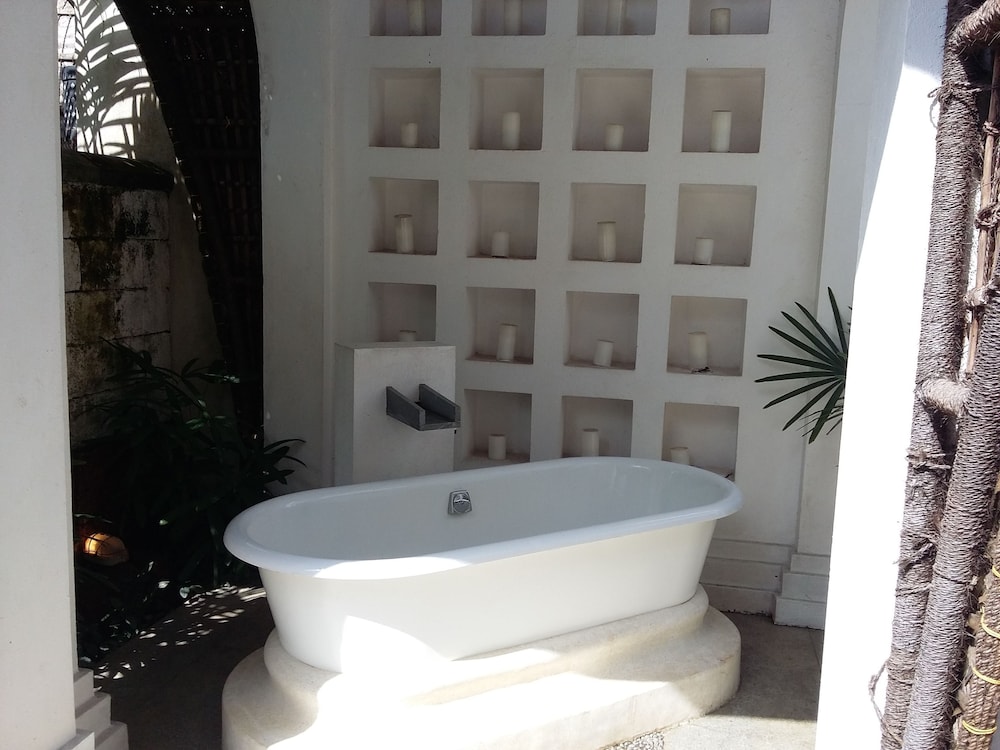 [/one_half_last]

Munnar: A Cool Retreat in the Hills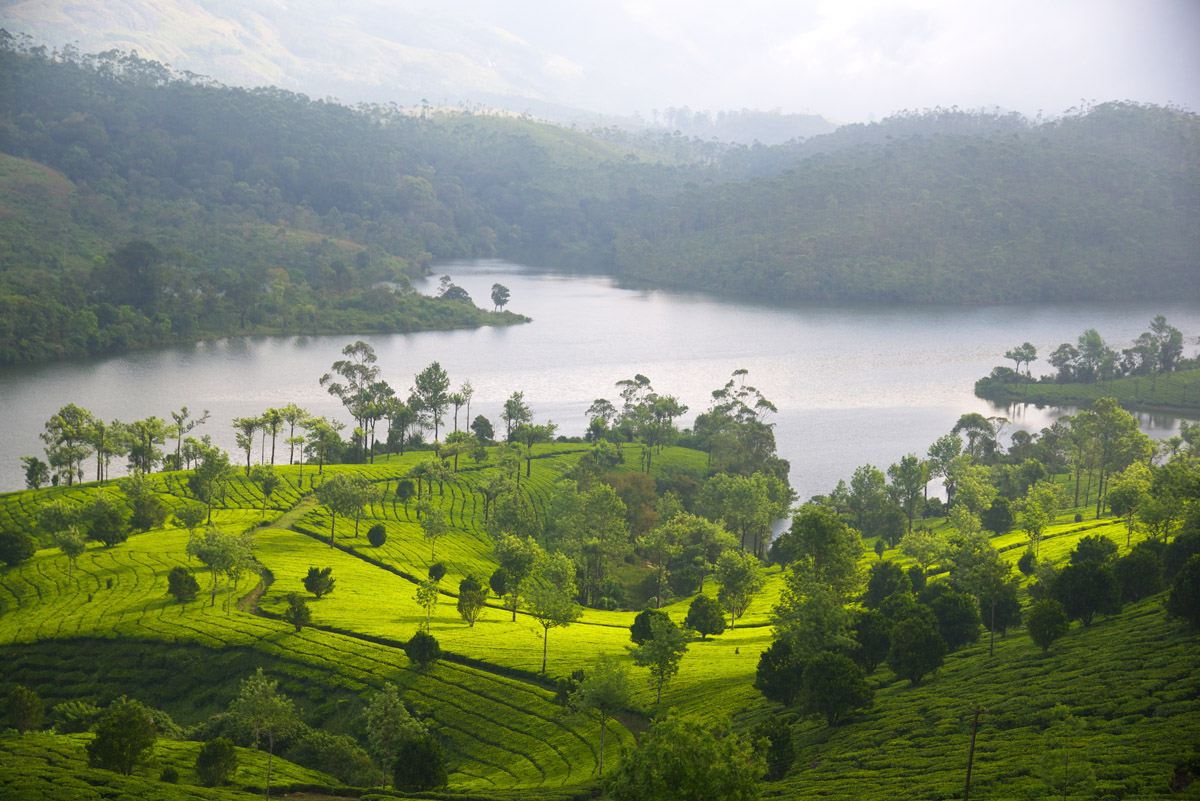 Munnar is a popular hill station in Kerala. Known for its tea plantations, the limitless stretches of tea gardens make Munnar a charming destination. Make a trip to Kolukkumalai Tea Estate, among the highest tea plantations in the world. Do take a tour of the tea factory here, where tea is processed using traditional methods. If lounging around is not your cup of tea, you can always trek up to Anamudi, the highest peak in south India (with permission from the Eravikulam National Park authorities). The zig-zag mountain roads also make Munnar ideal for high altitude cycling.
Romantic Hotels for a Honeymoon in Kerala on Munnar
Book a luxury room at Kaivalayam Retreat. It is located close to attractions including Attukad Waterfall and Mount Carmel Church. Other great stay options include Bracknell Forest and Fragrant Nature Munnar.
  Kaivalayam Retreat
 Bracknell Forest
 Fragrant Nature Munnar
  Fragrant Nature Munnar
 Fragrant Nature Munnar

Romantic Cliffside strolls in Varkala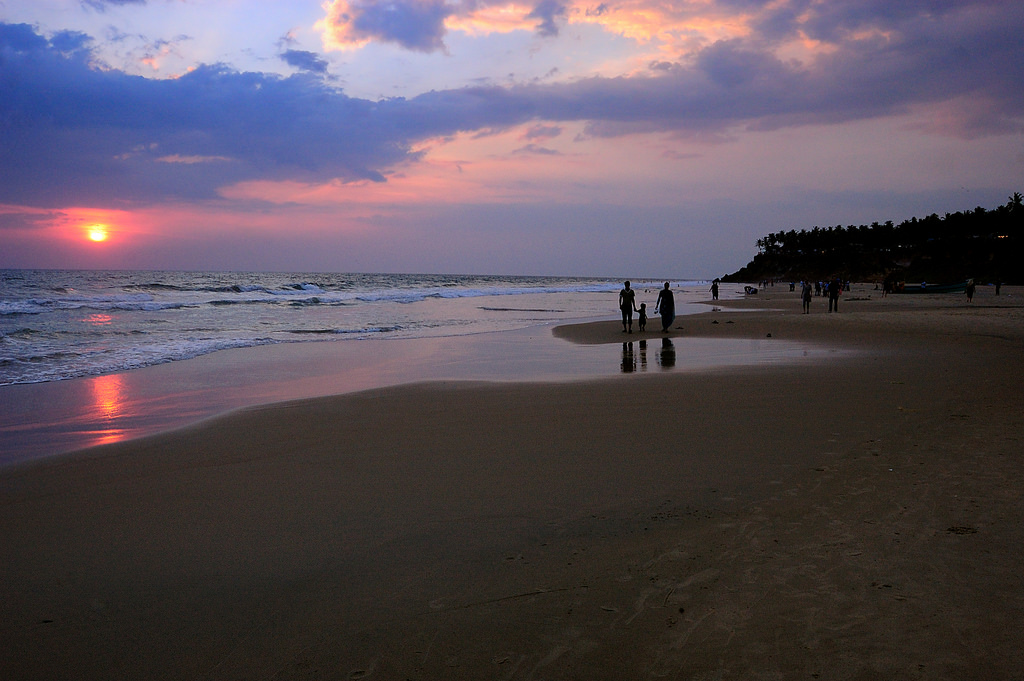 CC 2.0 / Thejas Panarkandy
This quiet beach town may just be your getaway for some quality time together. Enjoy dining at the restaurants on top of high red-laterite cliffs that skirt the beach. Dig in the seafood and savour the sight of the amber-tinted sun setting over the Arabian Sea. Visit the Ponnumthuruthi island that lies in the middle of a backwater lake – the scenic boat ride to the island and back is worth an expedition. Rise and shine early one morning, and walk down on the stretch from the northern clifftop to Kappil Beach, through Odayam Beach and Edava fishing village. For divine blessings, you can visit the 2000-year-old Janardanaswamy Temple.
Romantic Hotels for a Kerala Honeymoon in Varkala
 The Gateway Hotel Varkala is fabulous. It is located very close to Varkala Beach and Janardanaswamy Temple. Recommended restaurants in Varkala include Trattorias, Café del Mar and God's Own Country Kitchen.
  The Gateway Hotel Varkala 
A trip to Kerala promises to be a fabulous getaway experience for any couple!
[button url='https://www.expedia.co.in/Destinations-In-Kerala.d602187.Flight-Destinations' icon='entypo-flight' fullwidth='true'] Let's go to Kerala![/button]
[button style='blue' url='https://www.expedia.co.in/Destinations-In-Kerala-Romantic-Hotel.0-0-d602187-tRomanticHotel.Hotel-Filter-Destinations' icon='entypo-suitcase' fullwidth='true'] See More Romantic Hotels in Kerala[/button]