By Expedia Team, on September 26, 2016
Best Luxury Hotels in the Paradise of Bali
Bali is undoubtedly one of the most beautiful holiday destinations in the World. From beautiful beaches to lush landscapes; this island really has lots to offer for anyone seeking a wonderful break from everyday life, which explains its popularity with travellers from around the world. When you're not relaxing on the stunning Sanur, an unbeatable stretch of beach, you can explore the wonderful Tegallalang Rice Terraces and everything in between.
As Bali is such a splendid holiday destination; when you stay here you really must stay in one of the many impressive 5 star hotels for a truly lush experience. Need help figuring out where to stay in Bali? We've made a list of 5 star hotels in Bali which are all available at for *less than 10,000 Rupees
Best Affordable Luxury Hotels in Bali, Indonesia
Balinese resort in nature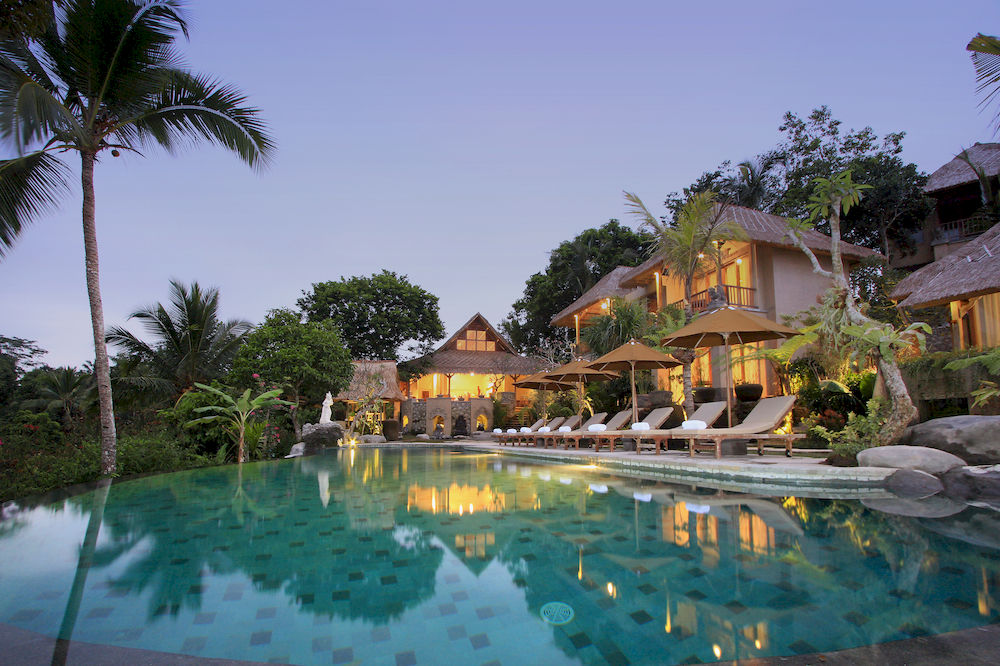 Located in the picturesque Ubud, Puri Gangga Resort is a revelation. Featuring a spa, yoga centre and a fantastic restaurant; this resort has all your needs catered for. Surrounded on all sides with deep green, healthy flora you will feel thoroughly at ease in these fantastic surroundings.
The rooms are naturally furnished with locally sourced materials; they are appealing due to their simple and clean feel. All the rooms have plenty of natural light and feel large and airy. With fully accommodating staff ready to go the extra mile, there is not more you can wish for form an Ubud resort.
Balinese home away from home
Upon entering this hotel, you are immediately aware that you have entered a luxury establishment. TS Suites Bali is an education in subtlety and class, with wide open spaces throughout and a fantastic layout this hotel epitomizes attention to detail. Located within walking distance of the beach and featuring 5 restaurants, a 24 hour gym and poolside bar; you will be utterly at home here.
The decor of the hotel has been carried out with great care, a distinctive aura of tranquility can be felt throughout. The rooms are modern and contain thoughtful features all of which adds to the classiness that this hotel embodies. If you want the best experience that this hotel can offer then be sure to book a poolside room, so you can wake up and immediately go for a morning swim.
Bali resort with a great pool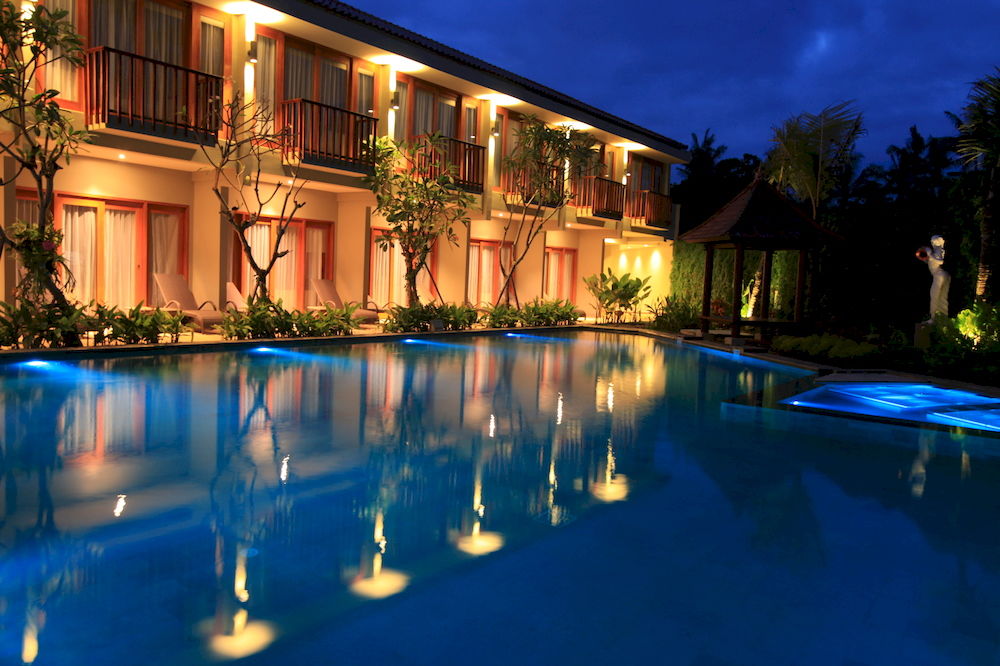 Found in a sleepy village this Bali resort resembles an 18th century Italian villa, white walls are thronged with clinging vegetation and the area is surrounded by well-kept flora. 3 large pools with poolside bars, an onsite spa and a top floor restaurant and lounge mean that this resort exists to help you relax on your stay in this paradise island.
The gleaming tiled floors found in each of the rooms of Ubud Wana Resort help keep you keep cool during the warmest hours of the day and top off the stylish décor of which this resort is full. The rooms are simple, with cream colours creating a very relaxing atmosphere; perfect for evenings after taking in the sights that Bali has to offer.
Bali hotel with 5-star luxury experience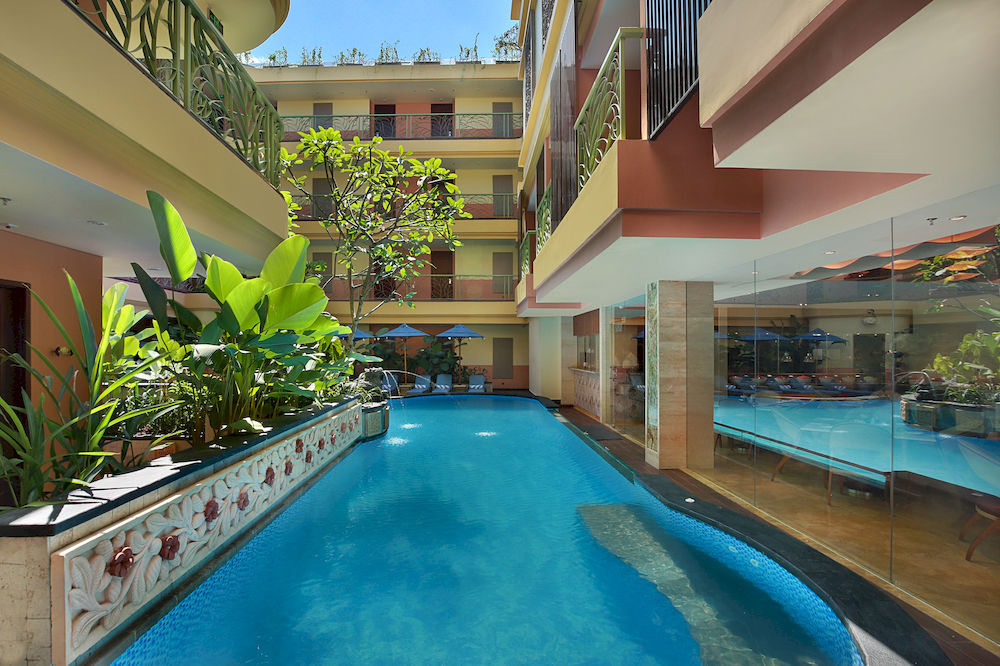 SenS Hotel and Spa is next to make our list of the best hotels in Bali. Containing fantastic indoor and outdoor pools this Spanish inspired hotel exists to be your home from home while you holiday in Bali. Sens Hotel and Spa  Bali has a fully stocked fitness centre allows you to stay in shape when you're not too busy soaking up the sun on the dedicated sun-trap patio.  Whenever you fancy a bite to eat the onsite Yonne Café has your cravings covered; renowned for its international cuisine, you well find the food that you want here.
The open plan rooms here are exceptional and you will enjoy the minimalist stylings at play. This is a serene location to relax after a day of exploring Bali, and you will not be left disappointed with the service here as every need is dealt with swiftly and with the utmost politeness.
Eco-friendly Bali Resort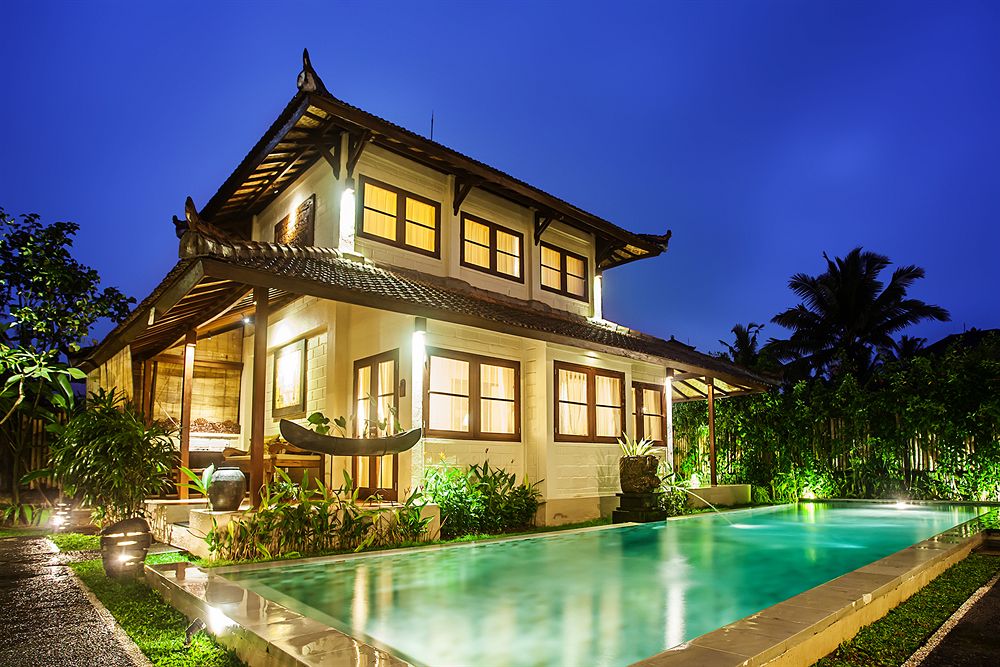 For green travellers, this is one of the best hotels in Bali you would like. This Eco hotel is mainly built from recycled wood and is styled with typical Indonesian features, meaning "half-moon" Munari is both romantic and fantastically situated. The full sized spa gives you the opportunity to get your full slice of relaxation should you need it and the onsite restaurant will serve you some of the best Asian cuisine you will try during your stay in Bali.
The rooms in Munari Resort & Spa are bursting with character with simple whitewashed walls giving a very clean feel which is perfectly complimented by the cool, brown-tiled floors. The rooms have large French doors opening out to either splendid forest views or the generously sized outdoor pool. Little touches such as the complimentary towels and slippers add to the luxury feel of this 5 star hotel.
Award-winning Bali hotel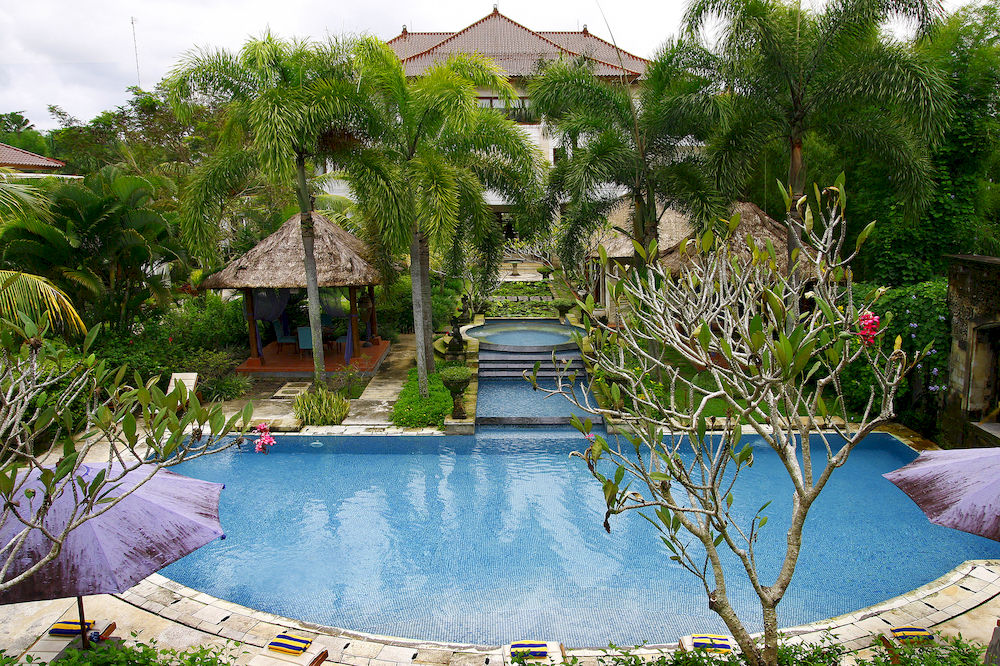 2011 saw the Heaven & Earth Spa at this hotel win Hotel Spa of the Year. So its a solid choice for our selection of the best hotels in Bali. The Mansion is set out in the tradition of luxury Indonesian style, with warm colours throughout that are topped off with a burnished gold trim. 3 restaurants, 5 outdoor pools, a 24hr gym and its poolside bars make this hotel extra special.
The rooms here echo luxury in every corner, from lavish wall hangings and thick drapes to minimalist bamboo coated walls there is a luxury room here to suit every taste. The lounges that are available throughout the hotel are another hallmark of excellence; with comfortable furnishings and expertly mixed colours making for the ultimate place of relaxation offer a spa treatment.
Bali resort surrounded by jungle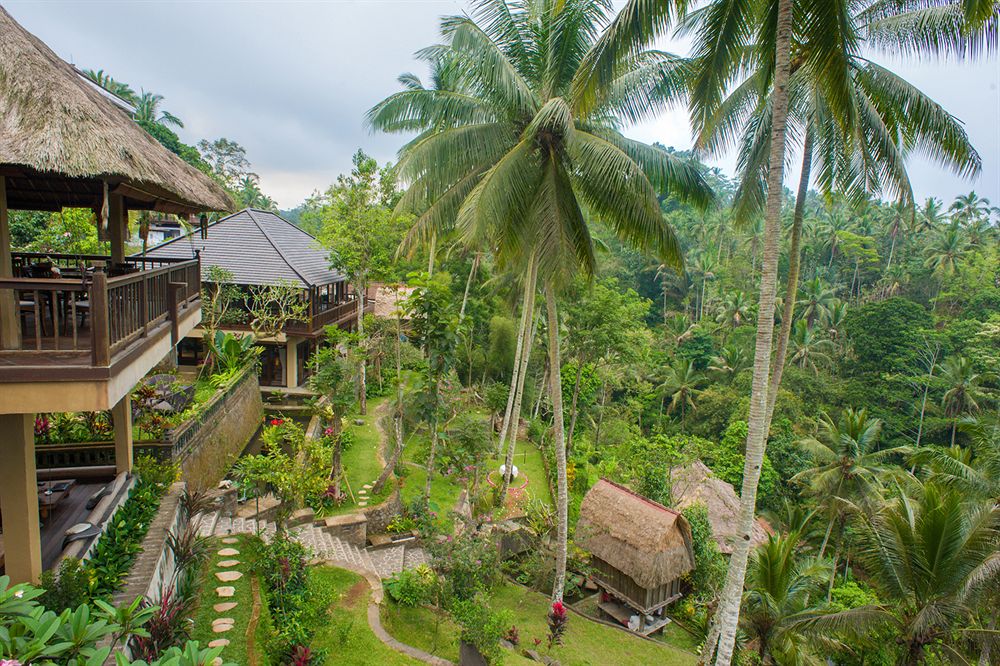 This luxury resort looks beautiful from every angle and at every time of day. Surrounded by what seems to be jungle, The Kampung Resort gives you a unique sense of luxury isolation. Both modern and traditional; this retreat truly feels special and you will be hard pushed to find somewhere as nice inside as the views are outside.
The rooms are distinguished and full of class, as soon as your bags have been deposited in your room you will want to sit on one of the comfortable chairs and simply take in your surroundings. The different terraced levels of this building are home to a variety of different but equally luxurious rooms, with the best rooms being found at the top. These royal suites are practically open and give you the feeling of sleeping outside; which location taken into account is a truly special experience.
Personal villas for a perfect retreat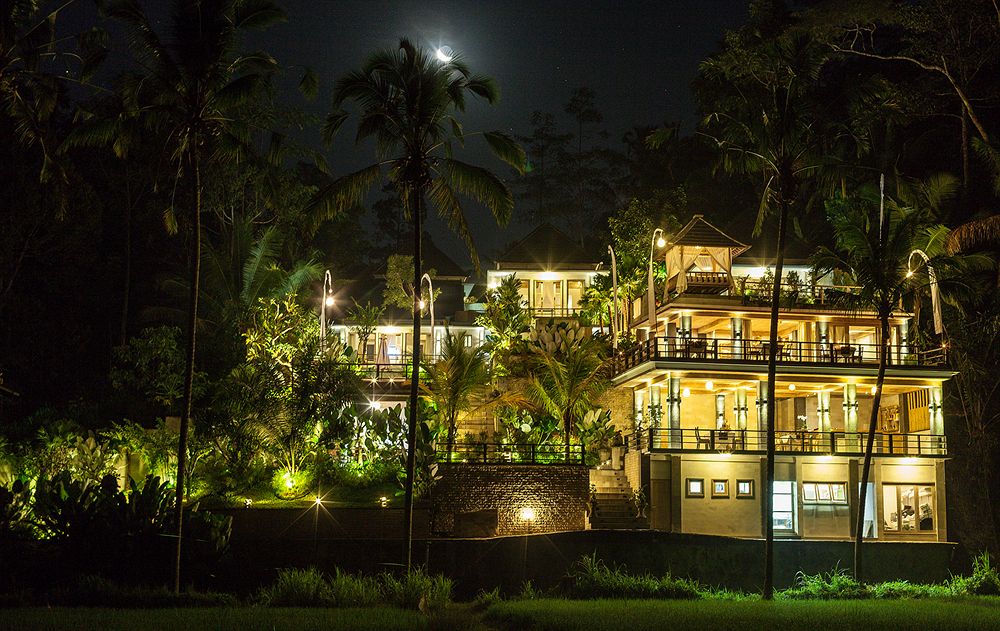 For an authentic experience, the best hotels in Bali are often ones that have private villas that mirror the local homes of huts. Of course, the villas are constructed in a modern way with lots of comfortable facilities.
These 10 villas are nestled in the hillside and are reminiscent of a Mayan pyramid. The individual style of each villa is expertly crafted and perfectly accompanies the comforting greenery that surrounds the area. Gorgeous features make a stay in an of the complex's villas a privilege that you will long to revisit.
Each of the villas has its own personality, with specialist textiles and black granite walls perfectly complementing the stone flagged floors. The added benefit of the amazing Jacuzzi's found in each villa will have you eager to return to the complex of a day enjoying the beautiful island.
Authentic Balinese experience amidst jungle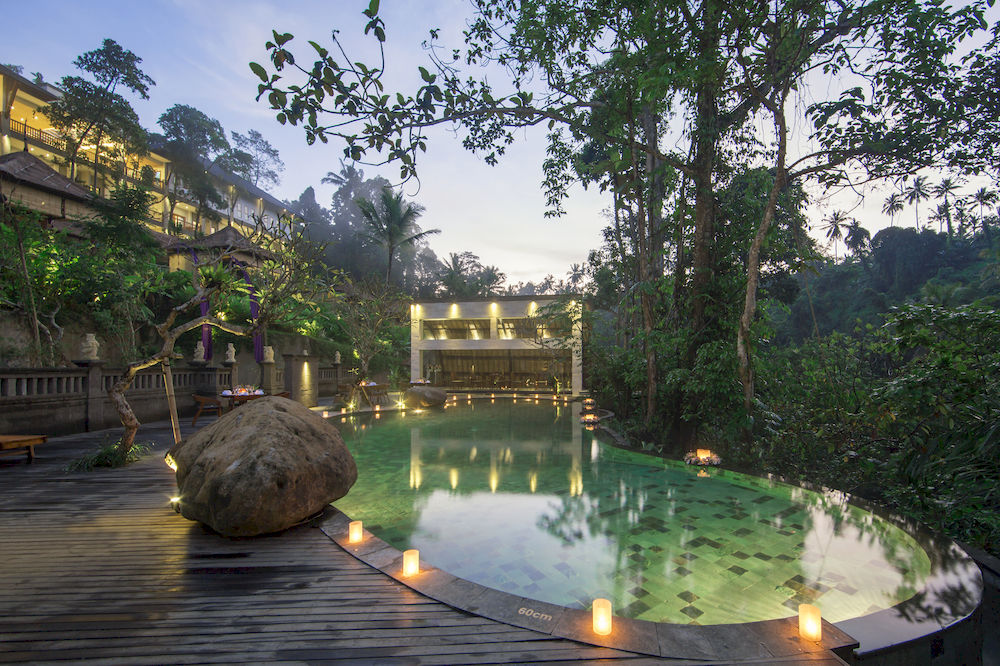 The Lokha Ubud exists to celebrate the local culture in which it finds itself, with architecture and décor mirroring the society around it and cooking classes where you can learn how to cook like the locals. Close to the Wos River; the surrounding tropical vegetation makes this an ideal jungle-esque retreat.
The décor of the rooms and villas here is the height of modern design and is a perfect juxtaposition to the ancient jungle terrain that it is surrounded with. The rooms are great example of lavish minimalism, where any guest will be struck by the luxurious feel of their accommodation.
And those are our picks of the best hotels in Bali that combine both affordability and luxury. What's your favourite hotel in Bali? Tell us in the comments below.
[tabs]
[tab title="Bali Weather" icon="entypo-light-up"]
Best time to visit Bali: Although Bali's weather is generally pleasant all year round, the dry season from May to October is considered the best time to visit as the sun stays out and there is little rain.[/tab]
[tab title="Getting There" icon="entypo-address"] Flights from India to Bali: Many flights from India to Bali are available on Singapore Airlines. The average flight time is 10 hours[/tab]
[tab title="Visa Information" icon="entypo-book"]For US$25 you can get a visa upon arrival that is valid for 30 days and can be extended for another 30 days.[/tab]
[/tabs]
*Accurate at the time of publication