By Expedia Team, on October 3, 2016
Local Tips: Things to do in London Like a Londonder
We know there's nothing better than visiting a city like London and doing the things that only the locals really know about. So, we've rounded up a few insider tips from Londoners to take your trip to the next level and make sure you visit the more dynamic things to do in London.
Things to do in London Like a Londoner

The Churchill Arms, Notting Hill
It's no surprise, a list of things to do in London like a local will include a pub. In Notting Hill there is an old English pub covered in the most beautiful flowers you could imagine. However, what's more special about this pub is that when you take a step inside and head towards the back, you'll feel as though you've stepped into a different country. Decorated with tropical plants, waterfalls and traditional décor is a Thai restaurant. This Thai food has been known to serve some of the most authentic Thai food in England, and that includes the incredibly hot Thai chillies and spices.
The food is very reasonably priced, especially for London, but we recommend you ring up in advance to book a table: +44 20 7727 4242
Address: 119 Kensington Church St, London W8 7LN
Nearest Underground Station: Notting Hill Gate
The Underground – AKA The Tube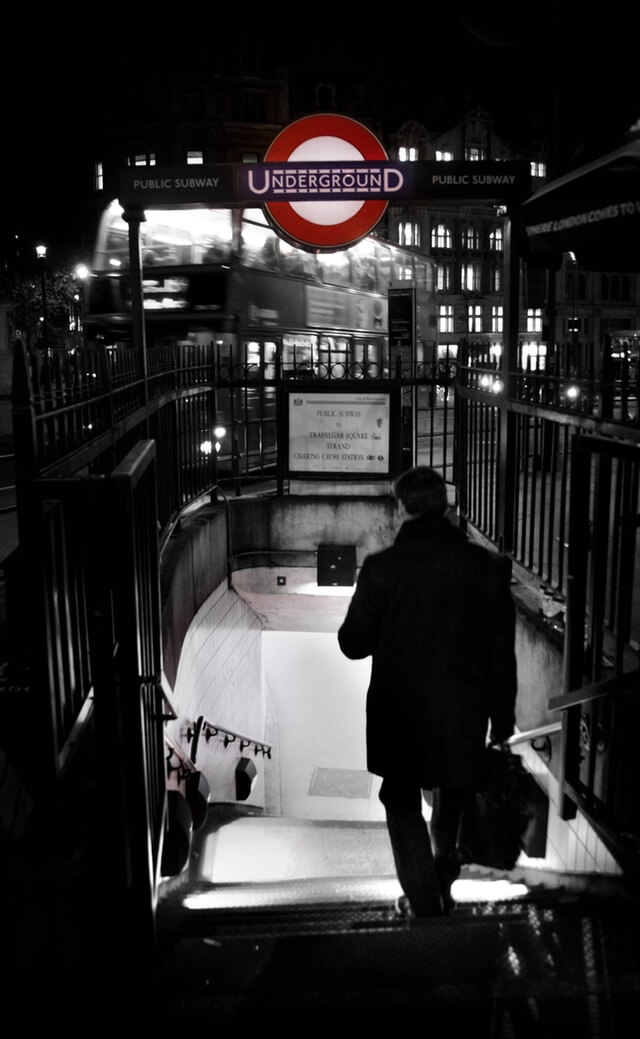 The most efficient and common method of transport around London is the Underground, or more commonly known as the Tube. This connects all of London in a series of underground train lines. The usual tube map is available from any underground station, but these maps can be slightly deceiving. The map can make certain stations appear a lot further apart than they actually are.
Luckily, Transport for London has made a more realistic version, which could save you a lot of time and money, as you can walk between several stations instead of going underground.
You can view the map here.
Tip: There are two lanes for riding the escalators in the Underground stations; to stand still whilst riding the escalator keep to the right, to walk up or down the escalators keep left.
The Electric Cinema, Notting Hill
If you are a fan of movies and new experiences, you should try and visit the Electric Cinema. This is no ordinary cinema; you'll enjoy your film in the comfort of a cosy couch or soft leather seats. The cinema has a traditional Hollywood glamour décor and is one of the oldest, longest-running cinemas in London.
Pre-book your tickets for the latest Hollywood blockbusters online here to avoid disappointment.
Address: 191 Portobello Road, Notting Hill, London W11 2ED
Nearest Underground Station: Notting Hill Gate
Zigfrid Von Underbelly, Hoxton
Getting dressed up, having a dance and a drink is one of the things to do in London that give you the opportunity to mix and mingle with the post-work London crowd. There are many cool bars and clubs in London, but sometimes when you are a tourist you can get stuck going to the same ones that everyone knows. Zigfrid Von Underbelly is here to free you from that trap. This bar is a vibrant fusion of so many different cultures; with mismatched French-esque furniture, tiki bars, totem poles and more, it is an exciting experience from the minute you walk in.
It is a restaurant, a bar and a nightclub all-rolled into one, so whatever night time or daytime experience you are looking for you will find it here. The music varies, but the cocktails remain delicious, and Happy Hour is from 4pm-7pm Monday to Saturday, and all day Sunday.
Address: 11 Hoxton Square, London N1 6NU
Nearest Underground Station: Old Street
National Theatre, South Bank
The National Theatre is home to some of the greatest plays and performances London's talented actors have to offer. But, because of this tickets can be hard to get hold of and quite expensive. However, what Londoners know is that you can go and queue up (best to get there early 9am/9.30am) to get same day tickets at a lower cost.
Address: National Theatre, Upper Ground, London SE1 9PX
Nearest Underground Station: Waterloo
The Breakfast Club
For foodies, The Breakfast Club will definitely be one of the things to do in London to make your belly happy. The Breakfast Club is a dining experience to be remembered; there are many of these restaurants dotted around London but the one in Spitalfields is our favourite. Don't let the name fool you, this restaurant serves meals for every time of the day and we recommend going at night because of the extra surprise that awaits you.
If you ask your waiter nicely, at the end of your meal you can be lead through the door of what appears to be a giant fridge, but is really a passageway to an underground bar/lounge.
Address: 12-16 Artillery Ln, London E1 7LS
Nearest Underground Station: Liverpool Street
Gospeloke
Gospeloke is a karaoke sensation that cannot be missed by anyone wanting to stretch their lungs a bit and feel like a celebrity singer for a few moments. It beats any old karaoke experience because as you sing you will be backed up by your very own Gospel Choir. Gospeloke isn't in one location as it is a travelling night that pops up in a number of different bars and nightclubs, but to find out if there's a Gospeloke event happening when you are visiting London visit their Facebook page here.