By Expedia Team, on April 22, 2016
Bali Holidays with Kids: Soak up Some Culture in Bali with Your Kids
Bali has always been a well-loved destination for a holiday with kids. Sandy beach resorts, amazing kids clubs and a variety of cuisines to appeal to the little palettes – it's a hard to resist destination with the littlies!
If you're keen to put your feet up on a sun-bed and leave the the kids to make sandcastles, here are some ideas to get to experience Balinese culture with your little ones.
Why Bali with Kids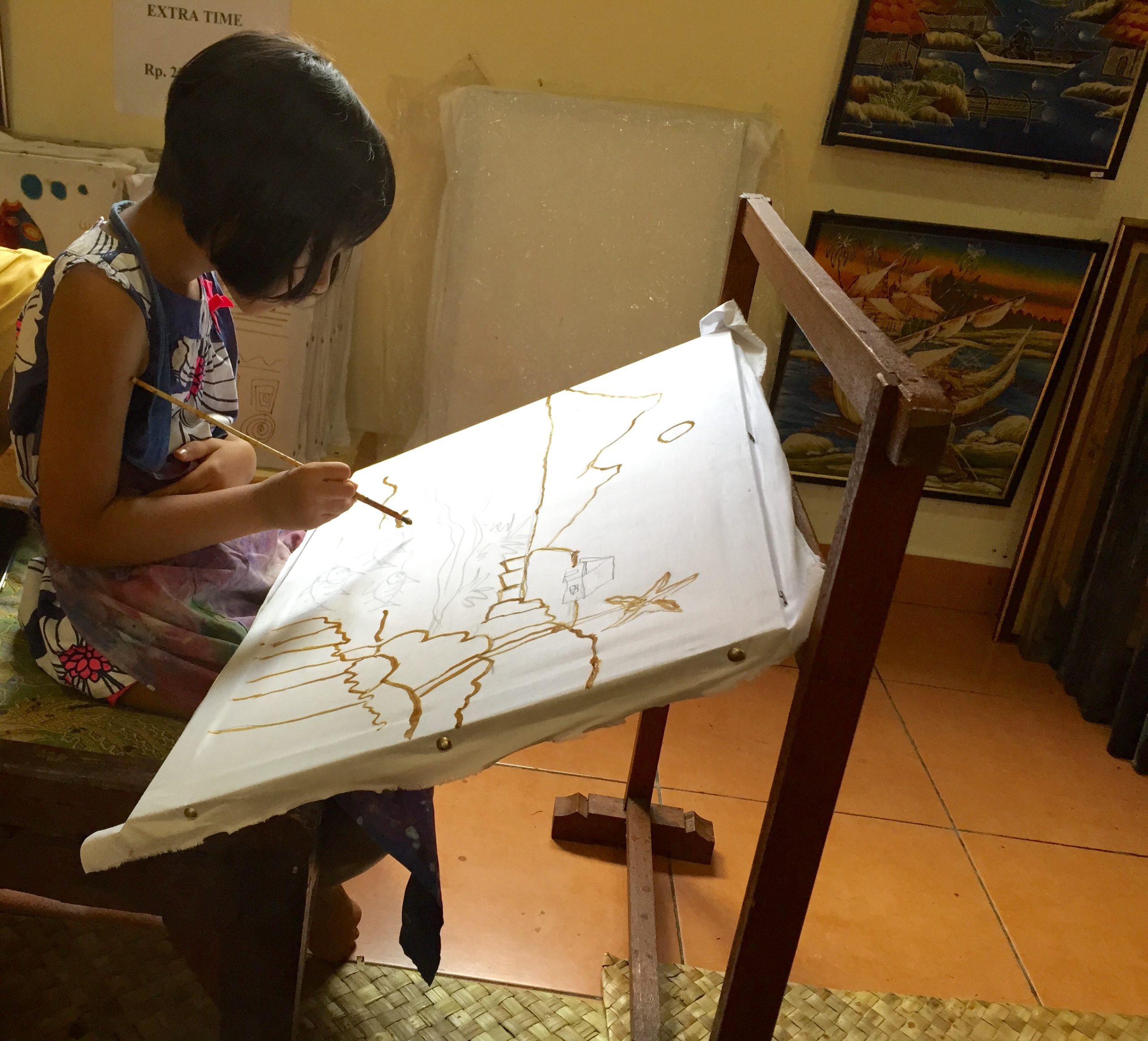 Coast and Culture
Bali has a splendid coastline peppered with pristine beaches, as well as such a depth of cultural experiences.  So you get both the relaxation and culture at one go!
Kid-Friendly Activities
Bali tourism includes several cultural activities that are very kid-friendly. A holiday in Bali with kids gives them the opportunity to learn something new. And you don't have to rack your brains on how to engage them once they've outgrown the kids club.
Exposing them to a different culture
The beauty of travel is that your children get to learn outside the books. In a destination so rich with culture, your children will learn loads and take memories back with them of experiences they wouldn't get anywhere else.
So here are some child-friendly cultural activities you can do with your kids in Bali.
Paint your own Batik Painting
While you walk the streets of Ubud admiring Batik paintings in galleries, how about painting one yourself!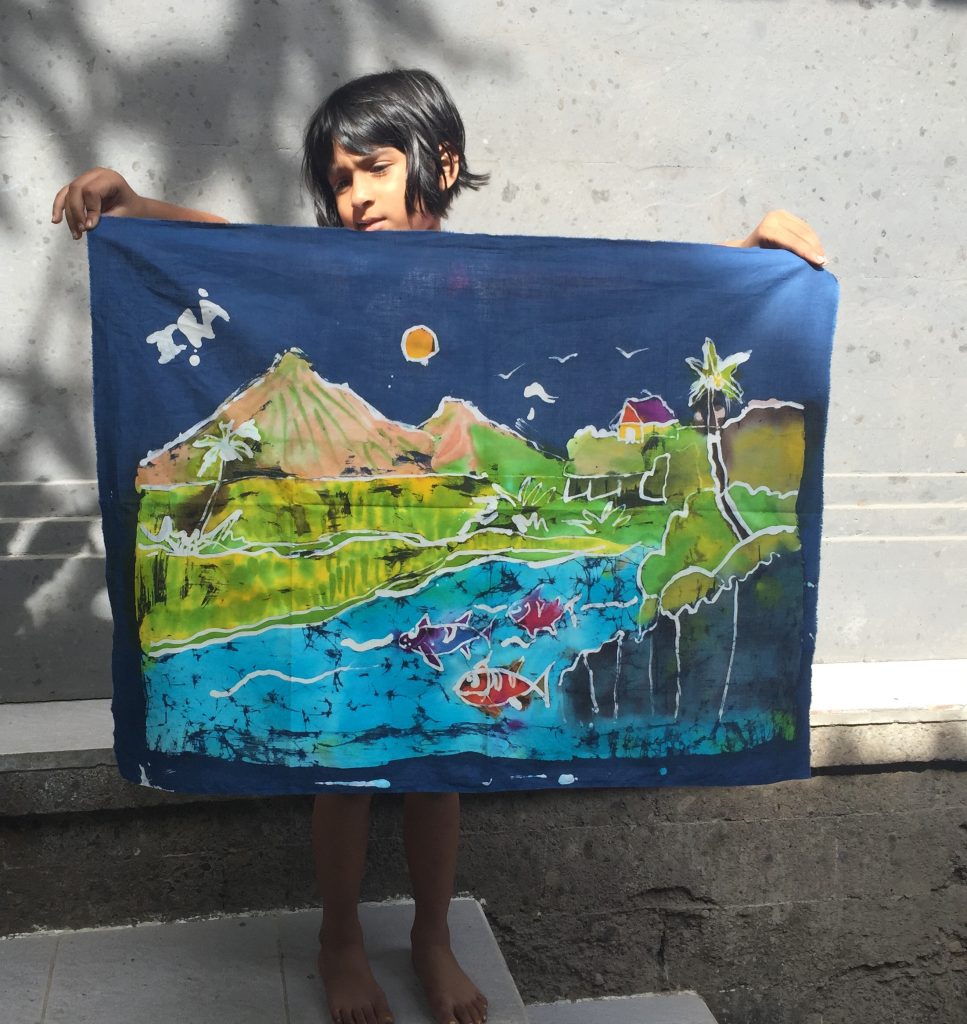 Ubud has great Batik workshops – half or full day – that you can choose depending on how old your kids are (and their span of attention). Workshops are usually conducted by a popular painter (we learnt with Painter Nyoman Suradnya), includes paints & tools and step-by-step coaching as you draw, wax paint, colour, crackle and dye your Batik painting.
The little ones are usually given easier painting tools, while older kids and grown ups are given the more complex ones. Needless to say, it is a joy to take home the art created by your kids!
Make Balinese Offerings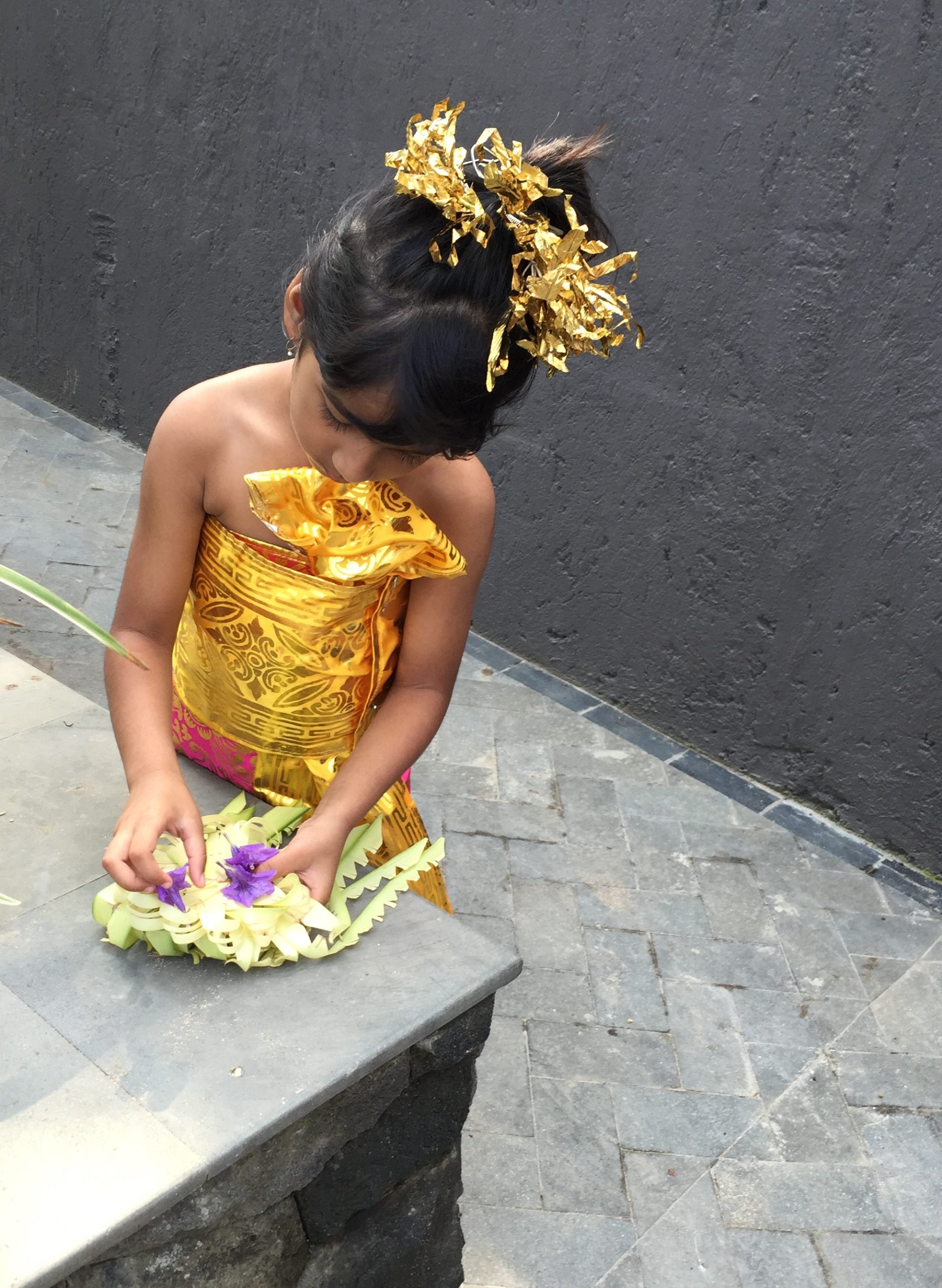 You will stumble upon (quite literally sometimes) offerings made of little palm leaf trays with flowers almost everywhere in Bali – outside shops, homes, at street corners and of course at temples. It's great to have the kids learn the craft behind such an integral part of the local culture.
Kids will enjoy weaving little palm leaf streaks into a tray and arrange flowers and leaves, sometimes sticky rice or even candies – into mini basket offerings. The Puri Lukisan Museum right in the centre of Ubud has offering making workshops.
Learn to cook Balinese cuisine
This is a fun family experience that grown ups and kids will enjoy doing together!
Cooking classes usually start with a trip to the local market to pick up ingredients. The colourful fruits & vegetables, the sounds, smell and action of a local market is exciting for the little explorers.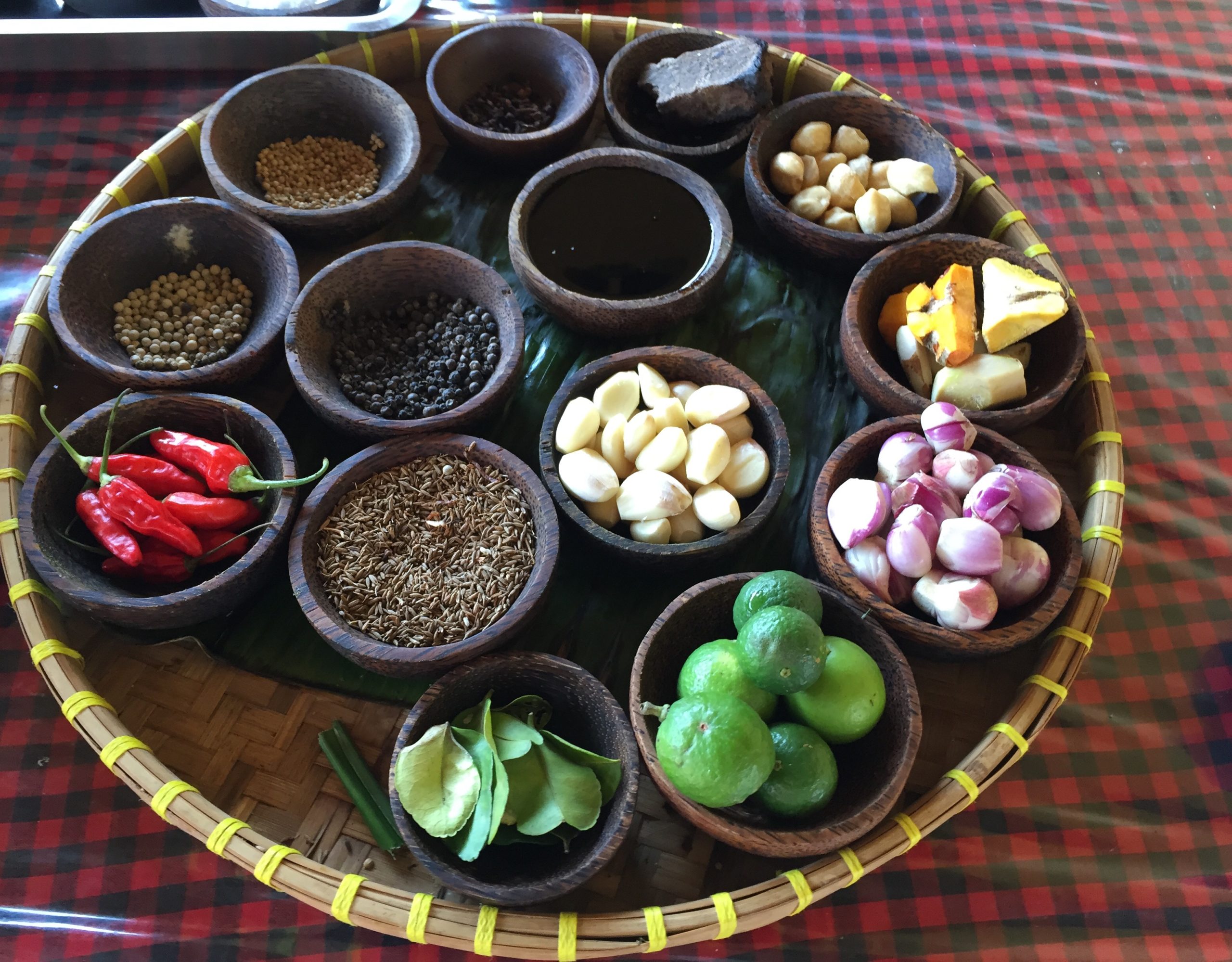 The actual cooking session is team work at its best. Most cooking schools engage even little kids (say 3 year olds onwards) and though they cannot chop or fry, they are given jobs like plucking leafy vegetables, stuffing pancakes or mixing the dough – there's rarely a minute of boredom or a 'when will we go home, mom' in that session!
Watch Balinese Folk Performances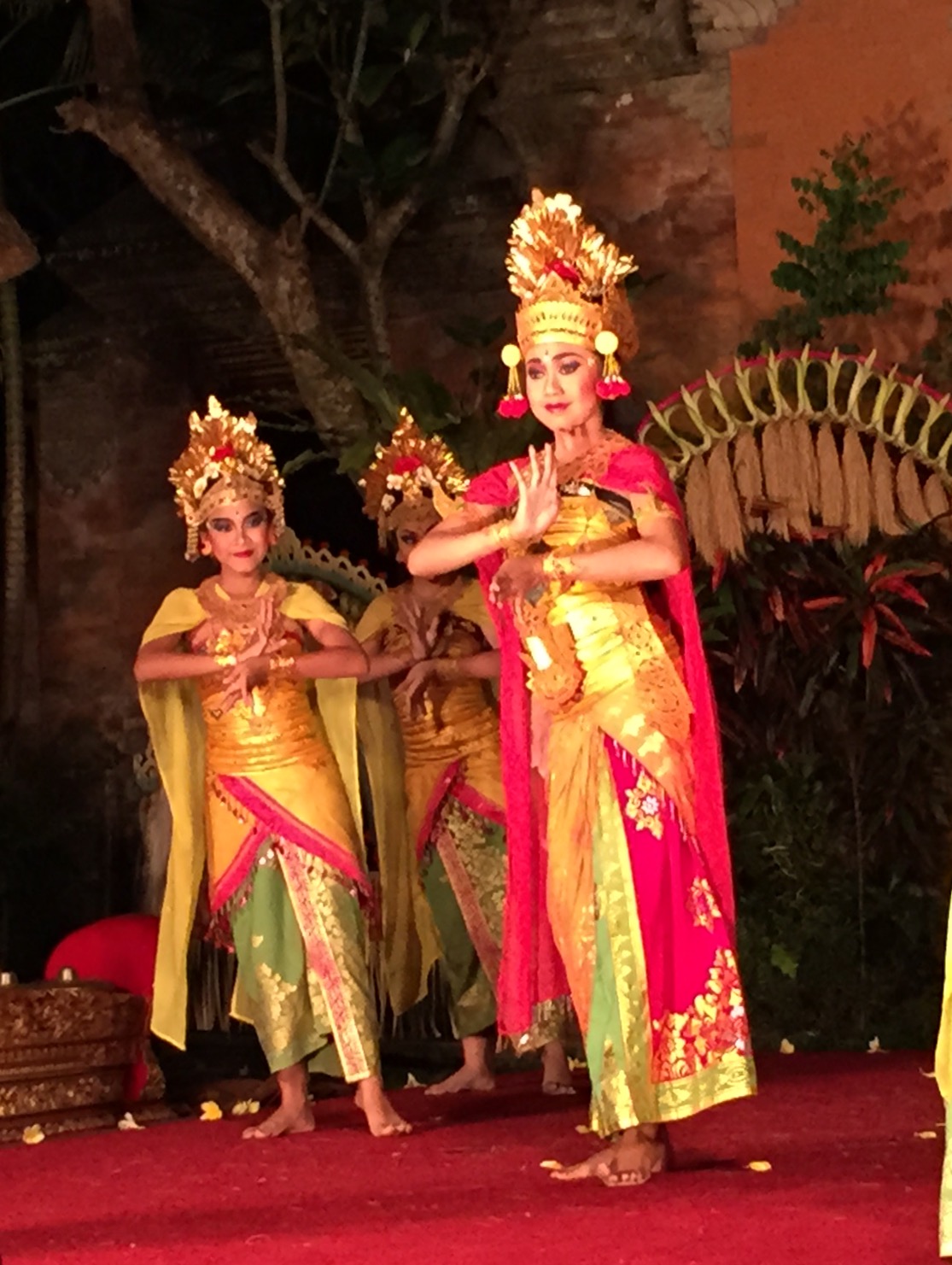 Soaked in culture and Balinese history, these folk performances are full of color, music and dance. While grown ups will enjoy all of these, there are particularly some folk performances that kids will love too.
The Kecak Dance at the Uluwatu temple is a super hit with kids – the performers engage the crowd beautifully with comic interactions woven between the mythological story line (Hanuman's character jumping amidst the crowd and playing pranks usually has most kids in splits!).
[button style='green' url='https://www.expedia.co.in/things-to-do/?location=Bali,%20Indonesia' icon='entypo-lifebuoy' fullwidth='true'] Find More Tours in Bali[/button]
Visit a Balinese temple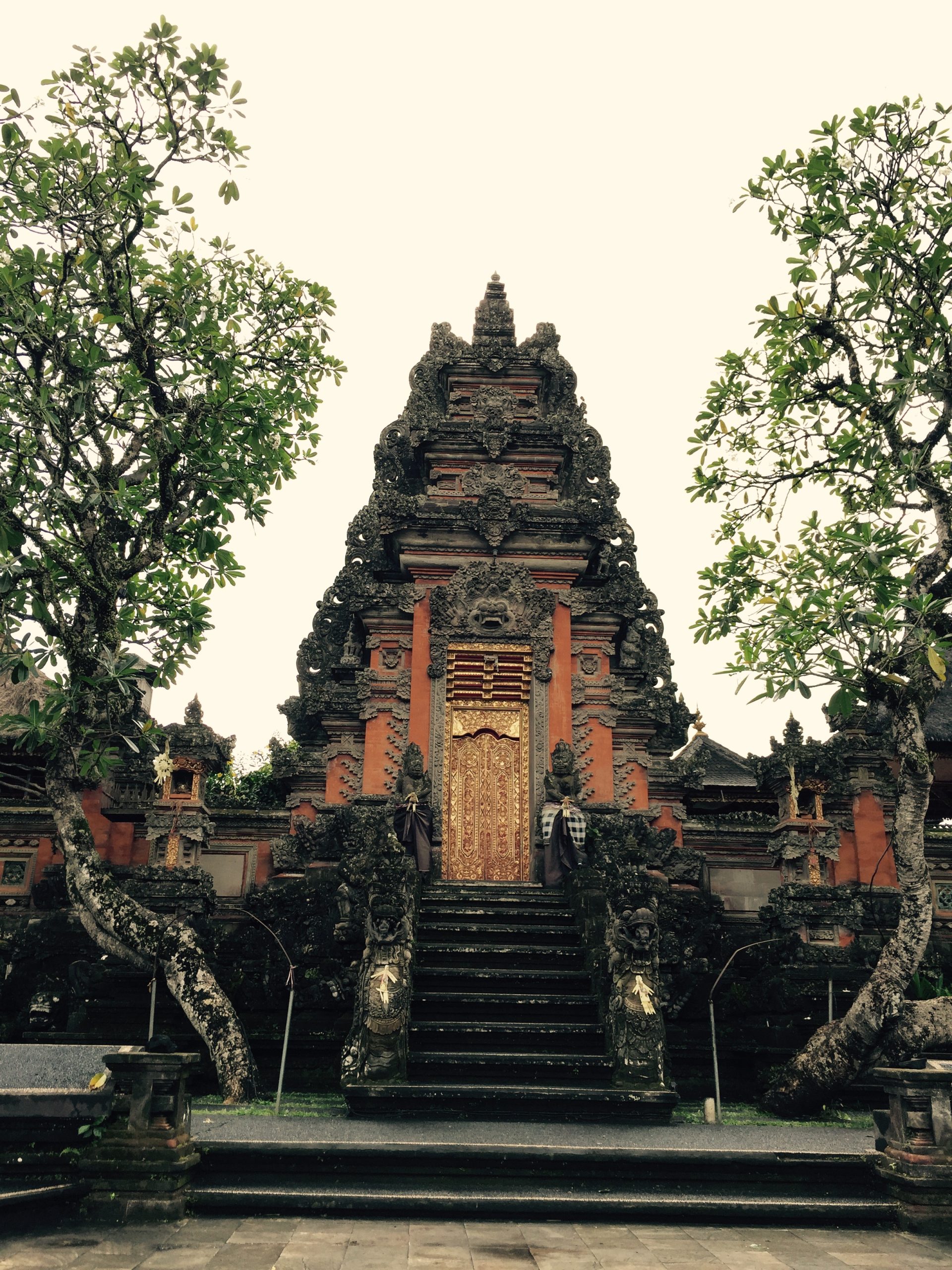 There is a temple or two in practically every street in Ubud – so you're never too far from one! Visiting a temple can be an interesting experience for the kids.
There are several types of temples – like those by the sea perched on a cliff (the stunning views make up for the climb), cave temples or temples on a mountain or volcano or just that village temples by the corner street. Research on all the temples you can visit and shortlist the ones you think you'd like.
Culture Experiences at the Pondok Pekak Library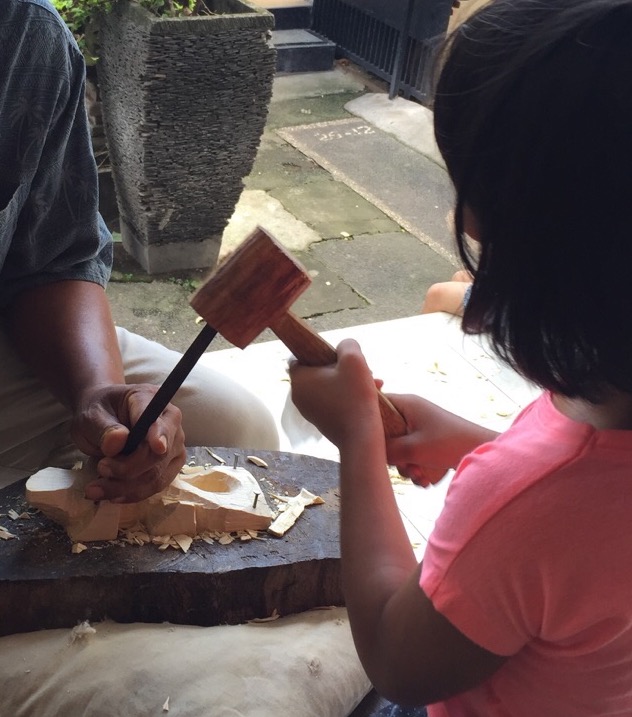 This Library in the centre of Ubud, has a host of cultural experiences that you can do with your kids. Like the Balinese Dance workshop where the little ones can dress up in Balinese costumes and learn traditional dance steps.
More kid-friendly activities in Bali include playing the Gamelan instrument, wood carving and mask making. You can practically spend a whole day here and with the activities being just around an hour each, there is enough variety to keep the kids excited!
Stay at a Balinese homestay
The best way to experience Balinese culture is by staying with a Balinese family in their traditional home. This way, you get to see a day in the life of a Balinese!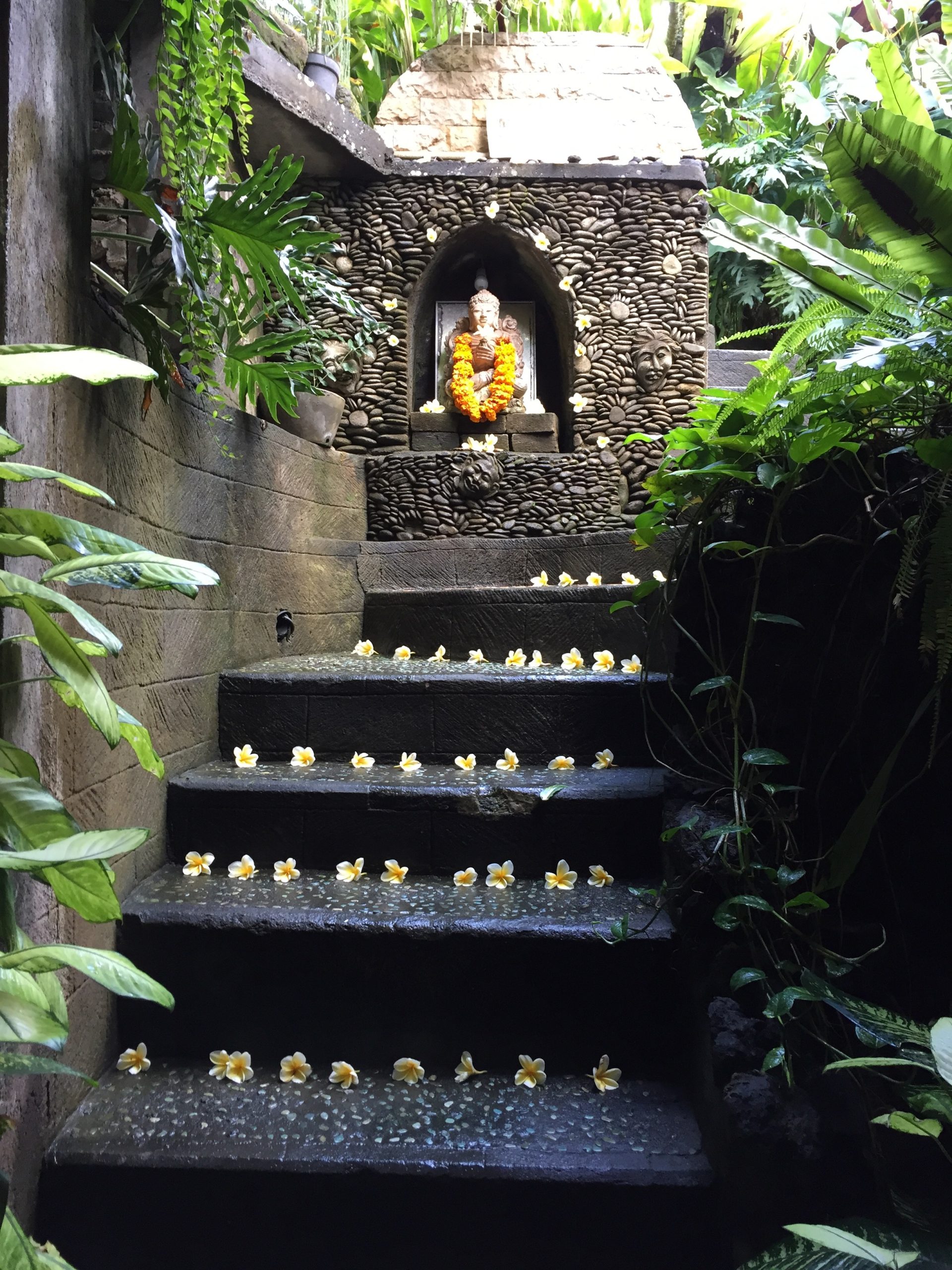 While it may not have the comforts of luxury hotels in Bali, it give kids a flavour of a life very different from the one they're used to. You can see the morning offerings at their in-house temple, sample home cooked Balinese food, pick up some Balinese phrases and perhaps a free history lesson too 🙂
[button style='blue' url='https://www.expedia.co.in/Cheap-Flights-To-Bali.d602651.Travel-Guide-Flights?rfrr=TG.Destinations.City.Book.Flight icon='entypo-flight' fullwidth='true'] Find flights from India to Bali [/button]
[button style='blue' url='https://www.expedia.co.in/Bali-Hotels.d602651.Travel-Guide-Hotels?rfrr=TG.Destinations.City.Book.Hotels' icon='entypo-suitcase' fullwidth='true'] Find Bali Hotels & Accommodation [/button]
[button style='green' url='https://www.expedia.co.in/things-to-do/?location=Bali,%20Indonesia' icon='entypo-lifebuoy' fullwidth='true'] Find Tourism Activities in Bali[/button]
---

About the Author
Deepti is a travel writer who is passionate about exploring the world along with her daughter. From hot air ballooning in Turkey to climbing a volcano in East Java, they've been traveling with the little one in tow ever since she was 3 months old, and is convinced that traveling with kids can be a lot more than Disneyland and plush resorts (although, that too is needed sometimes). Twitter freak, street food aficionado and lover of iced lemon tea, she's currently exploring Asia with her 6 year old.
Follow her adventures on her blog neverjetlagged.com and on twitter @neverjetlagged