By Expedia Team, on April 18, 2018
Durga Puja: An Experience Full of Colors and Traditions
Christmas in New York, Rio Carnival in Brazil, and the La Tomatina Festival in Spain summed up cannot beat the magnitude of the Durga Puja celebrations in Kolkata, India. Celebrated in September or October, Durga Puja spans 10 days filled with packed elaborate rituals. You will find a stunning display of creativity and art in the form of innovative themed pandals and idols. It is almost impossible to pen down the grandeur of experiencing Durga Puja in words.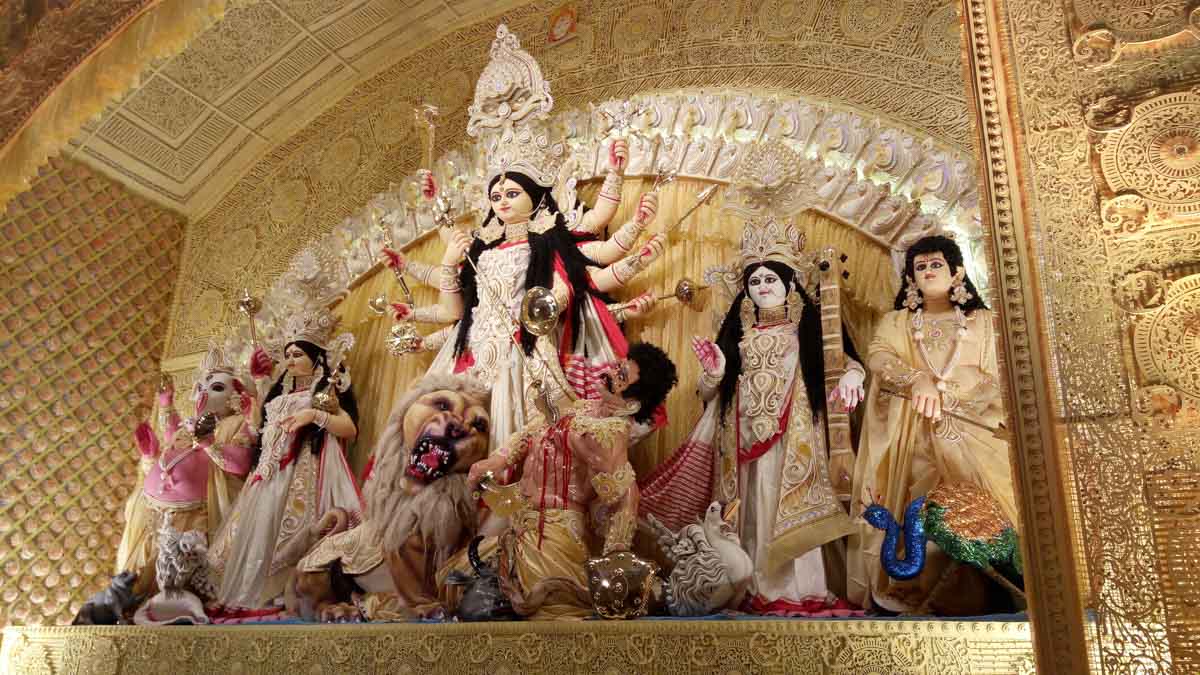 A stunning idol of Goddess Durga and her family | Photo Credit: Amrita Ghosh
Durga Puja is a celebration of divine feminine power and victory over the evil demon 'Mahishasura' who was blessed not to be defeated by any man or God. The collective energy of all Gods created Goddess Durga, who then defeated and killed the demon king Mahishasura after ten days of fighting. Hence, the day of Durga's victory, which is the final day of the celebration, is also celebrated as 'Vijayadashmi' – meaning "victory on the 10th day".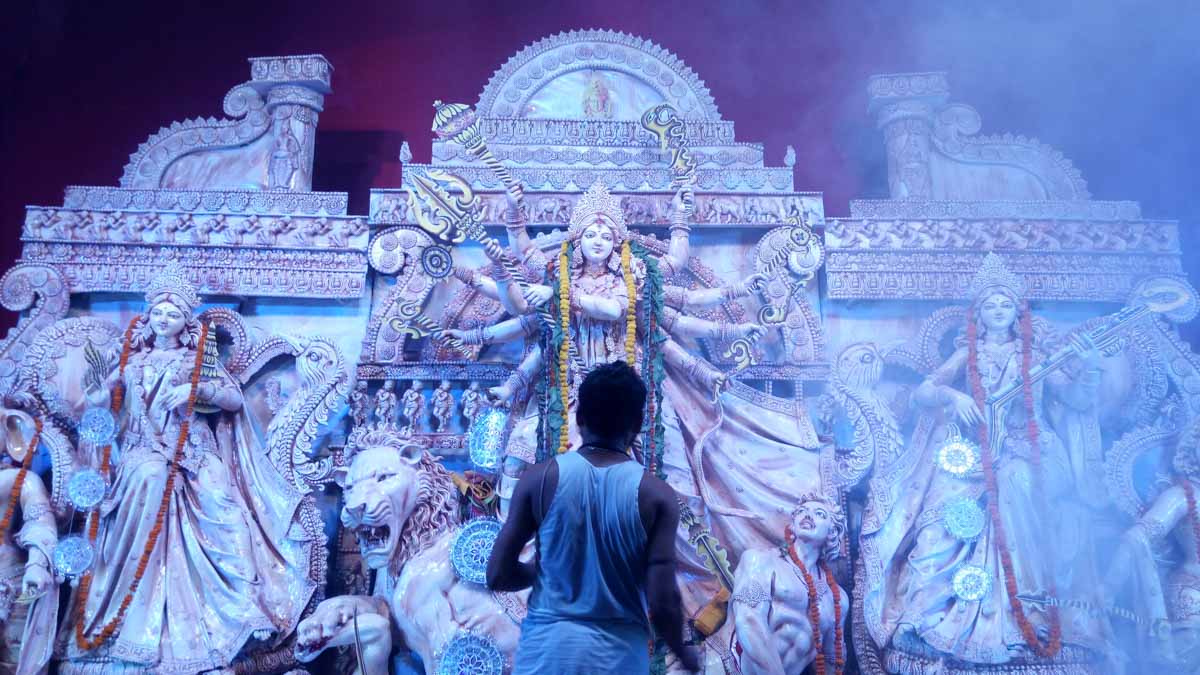 The Goddess being worshiped in a pandal
Each day of Durga Puja is full of rituals and customs with different significance.
Pre-Durga Puja
In Kolkatta, the real celebration starts months in advance. Preparations involve shopping for new clothes and gifts for families and friends. The month preceding Durga Puja is always hectic. Everyone is in a joyous mood thronging stores and shops offering great sales and discounts, scouring for new sarees, salwar kameez and kurtas or dhotis for Durga Puja. Witnessing the city and its people gearing up for the festival is as exciting as the festival itself!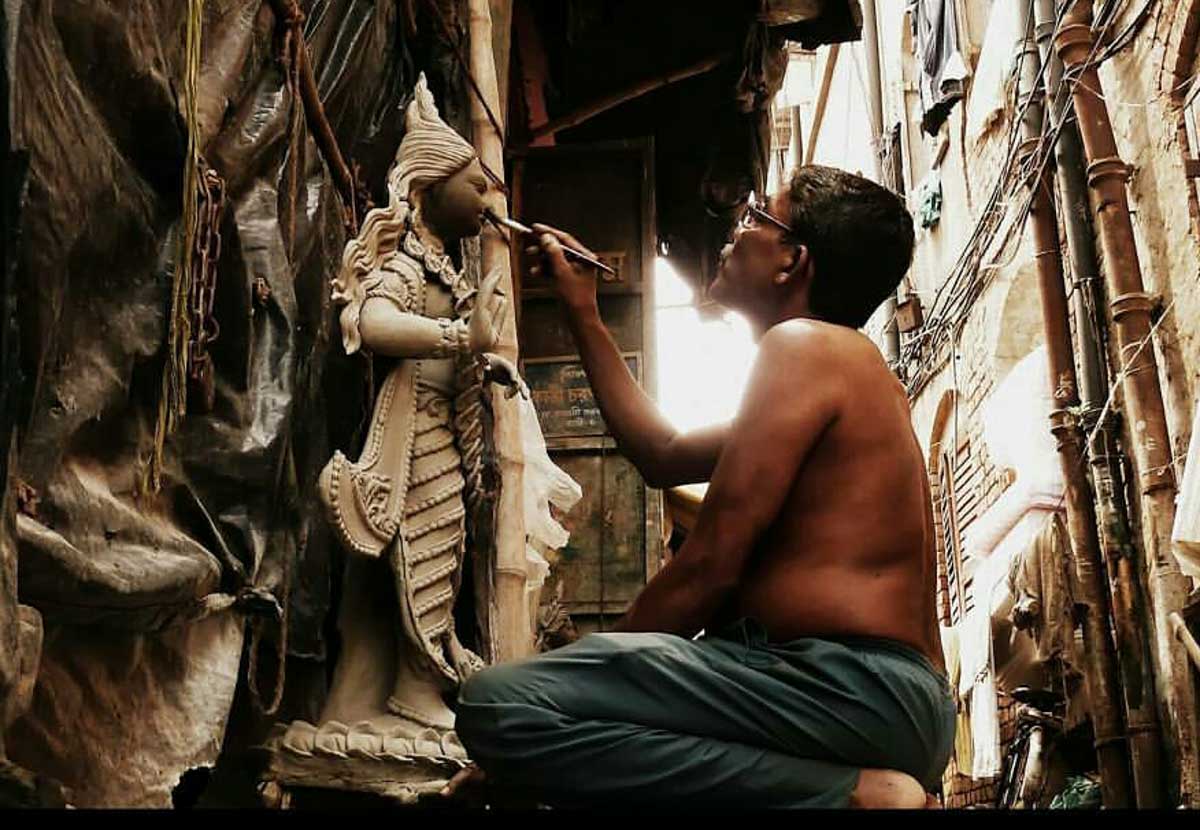 An idol in the making in Kumartuli | Photo Credit: Vivekverma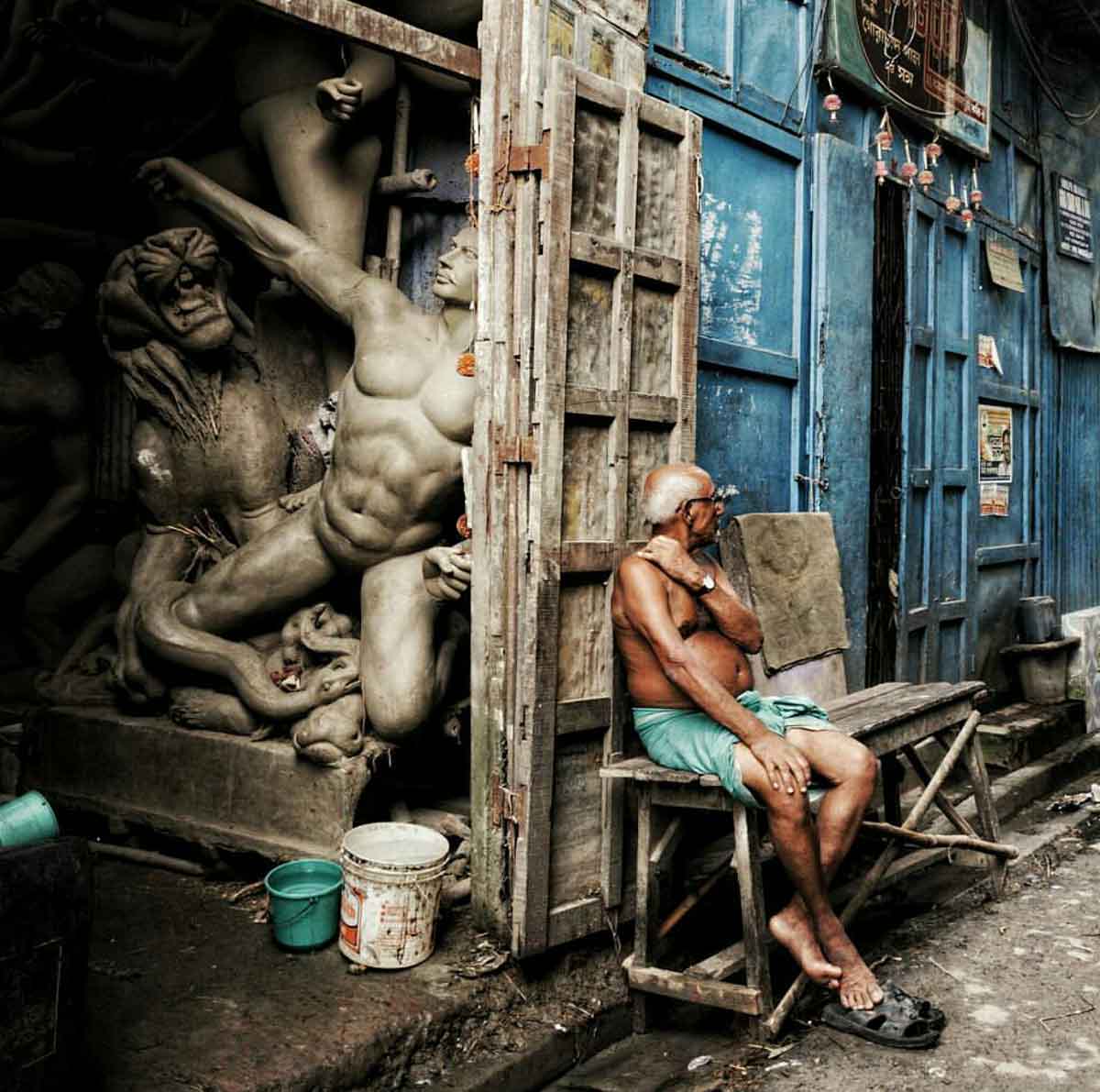 An idol maker in Kumartuli resting after a hard day of work | Photo Credit: Kanika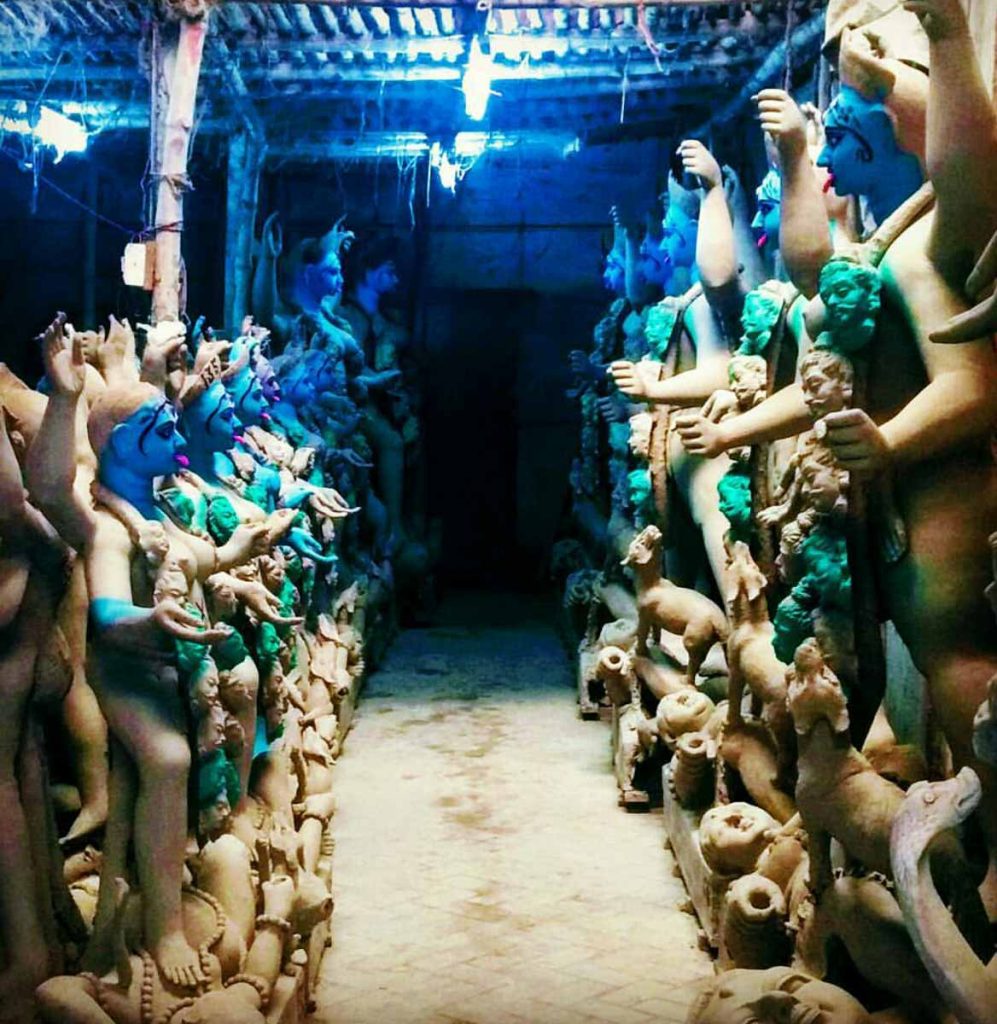 Goddess idols in the making in Kumartuli
Chokkhu Daan on Mahalaya
The idols are prepared several months before the celebration, except for one part: their eyes. They are only drawn on 'Mahalaya' that is one day before the ten-day festival commences. This process is known as 'Chokkhu Daan', meaning the Goddess is invited to earth. The best place to witness this ritual is Kumartuli which is the busiest potter's locality in North Kolkata.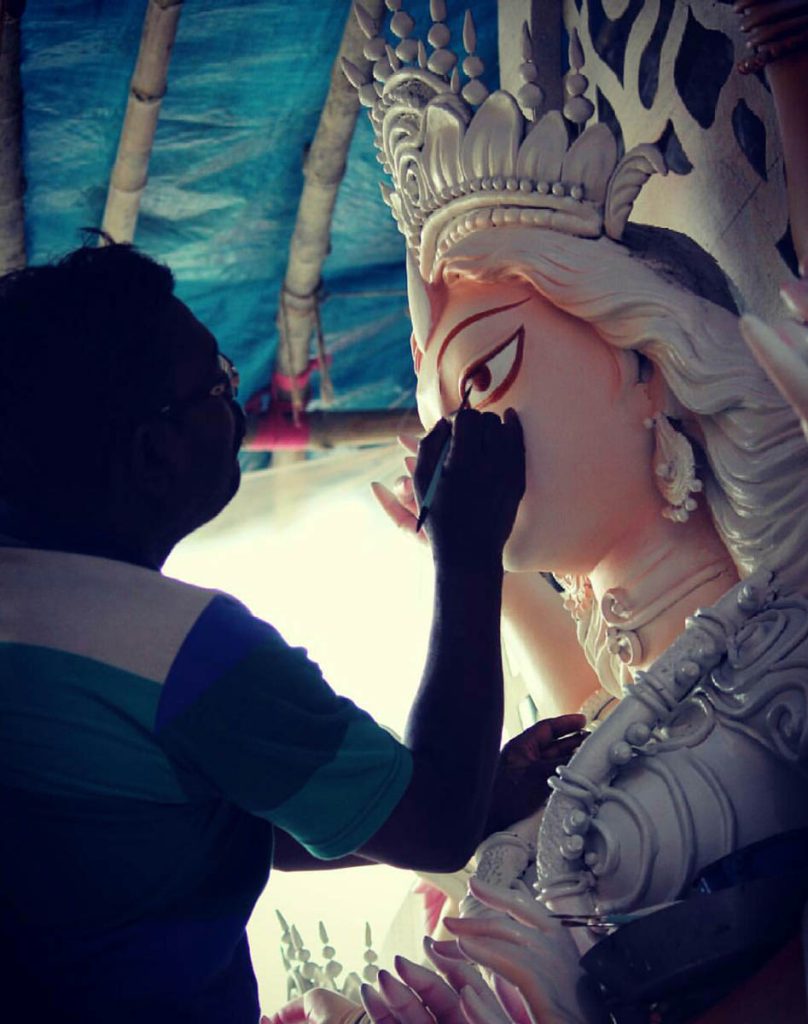 Chokkhu Daan being done in Kumartuli
Pandal-hopping
Traditionally, idols are only placed in the pandals from the 6th day onwards. Nevertheless, in recent years, it has become common for people to start visiting the idols, placed in the pandals, from the first day of the festival. Pandal-hopping last for ten days, and so do the snaking queues!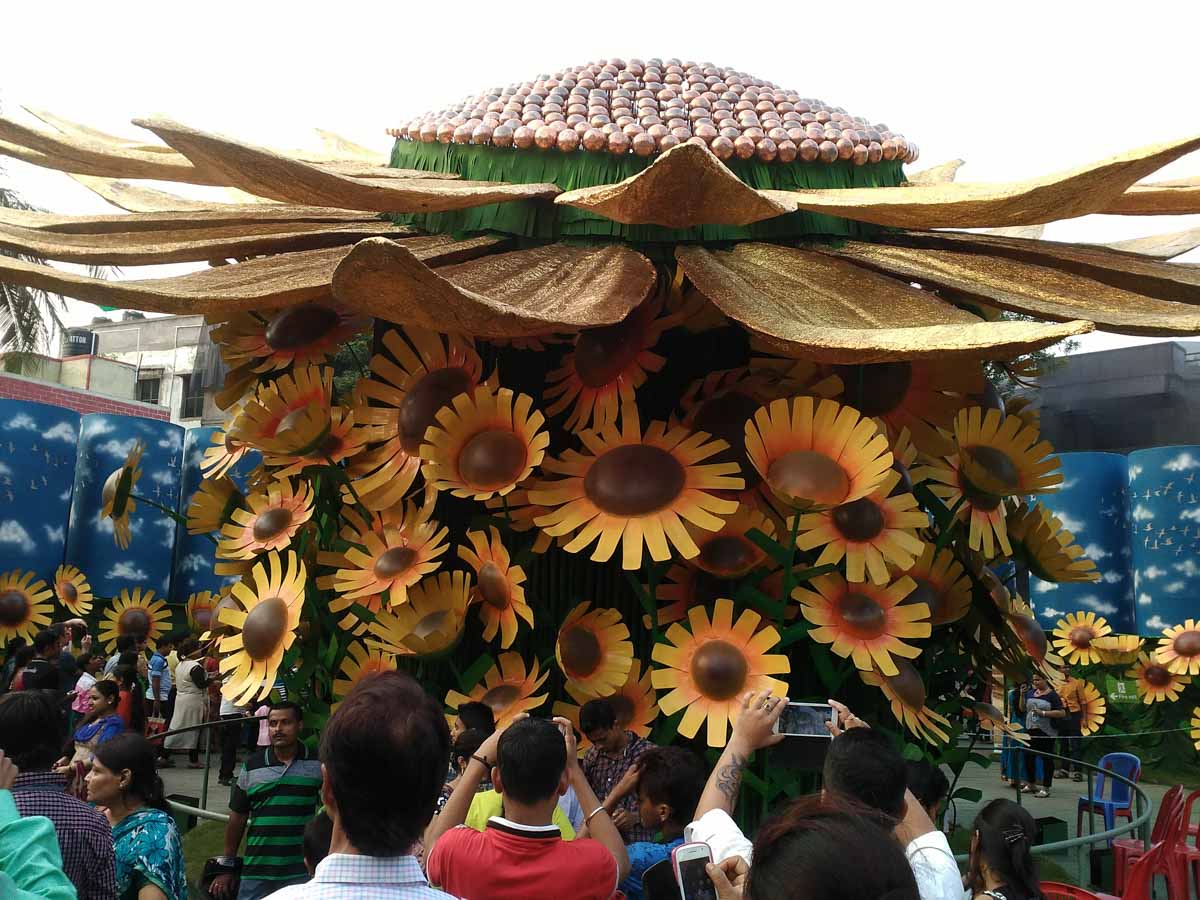 A pandal themed on Sunflowers, sunflowers made with fan blades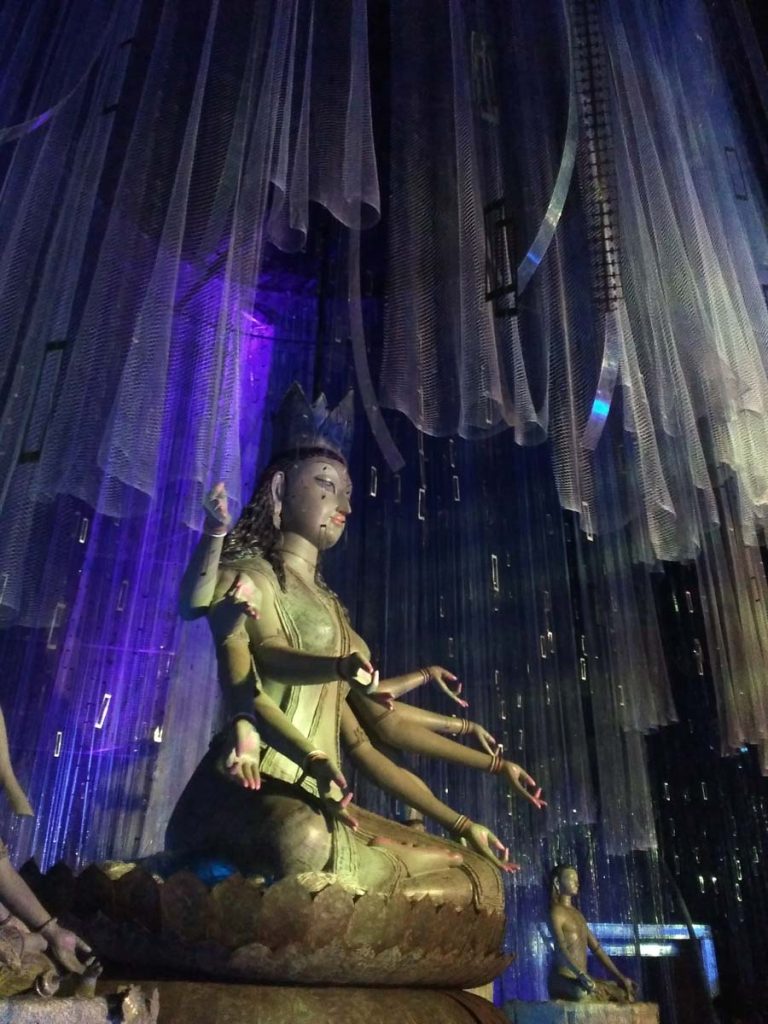 The meditating Goddess Durga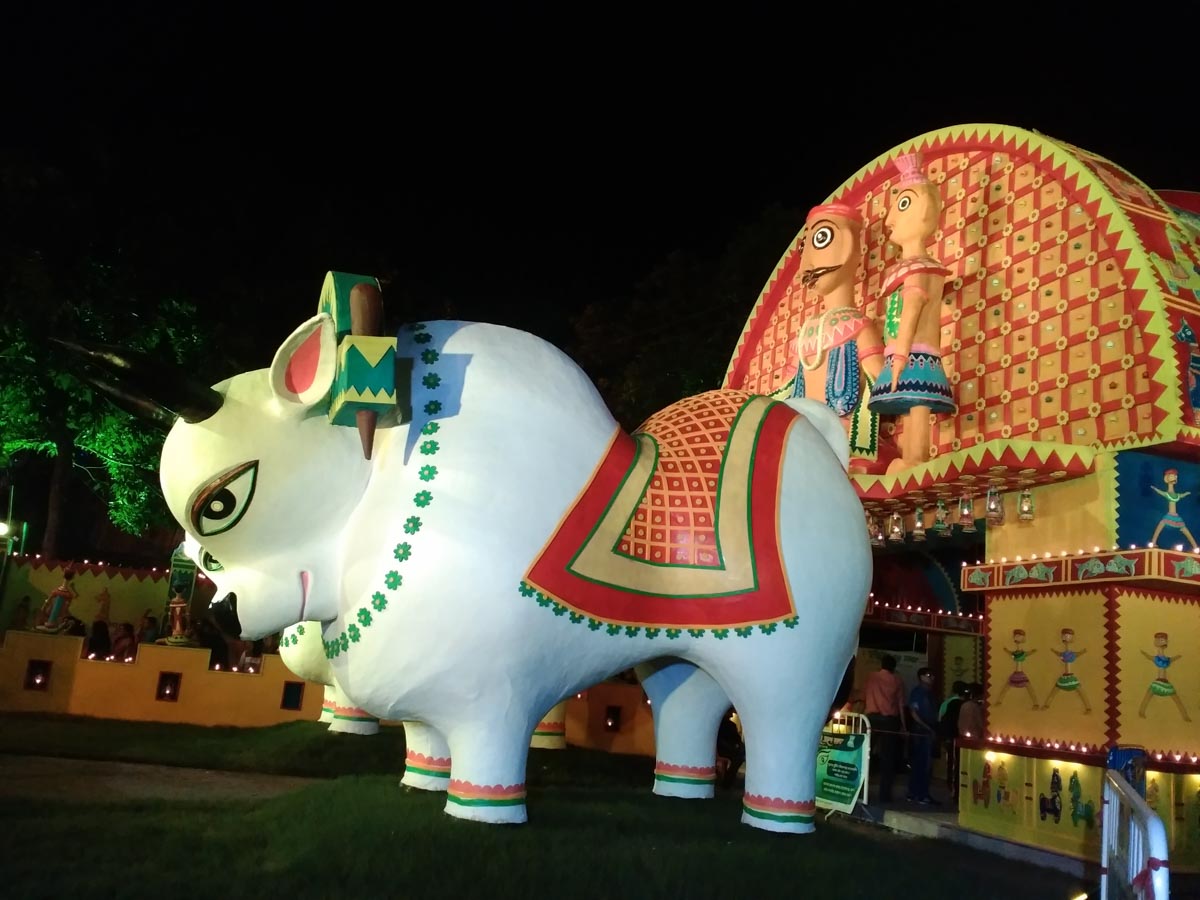 A village themed pandal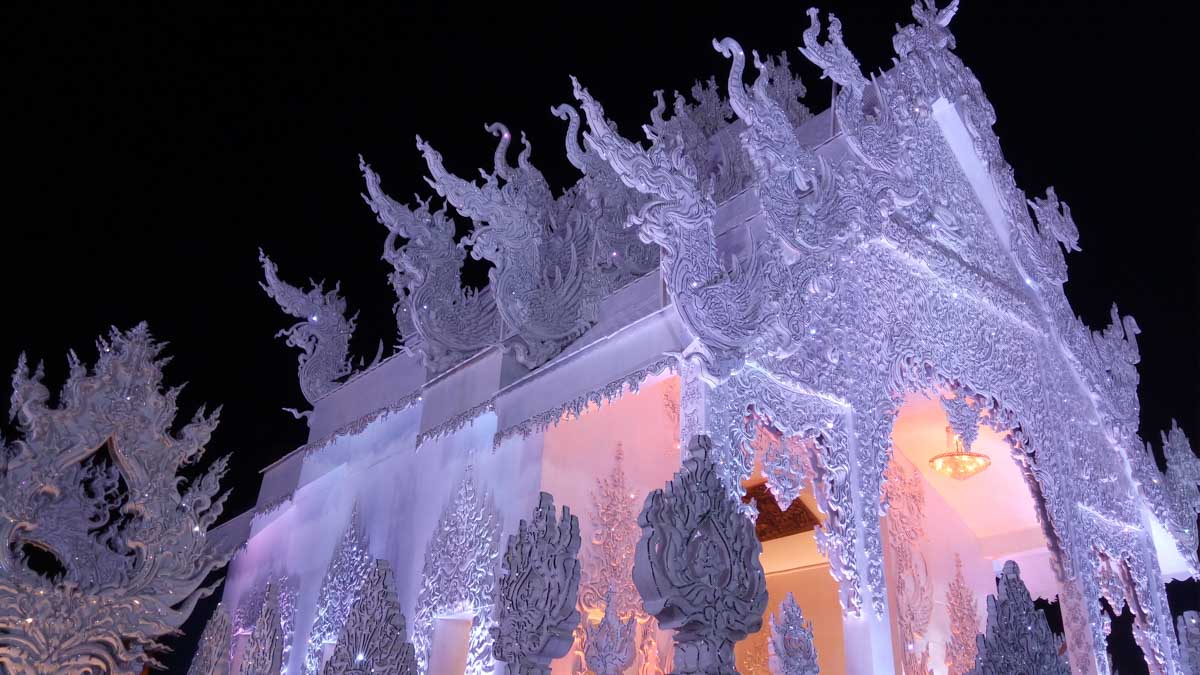 Stunning pandal theme based on a temple in Thailand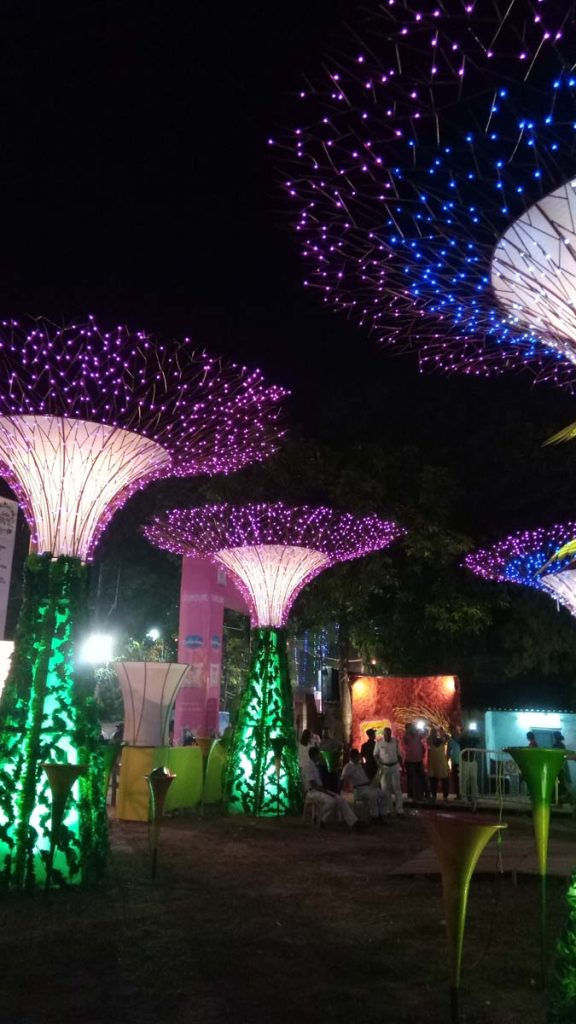 Unique pandal made similar to Gardens by the Bay, Singapore
Bringing the Goddess in on 'Shasti'
On the 6th day, also known as Shasta, the Goddess is placed inside the pandals. The procession then starts, marking the beginning of the carnival. After the idol is brought from the place she is made, people start dancing to the rhythm of Dhak (drums). The Goddess is not the only idol in the procession — the statues of Ganesha, Kartikeya, Saraswati and Lakshmi are also present.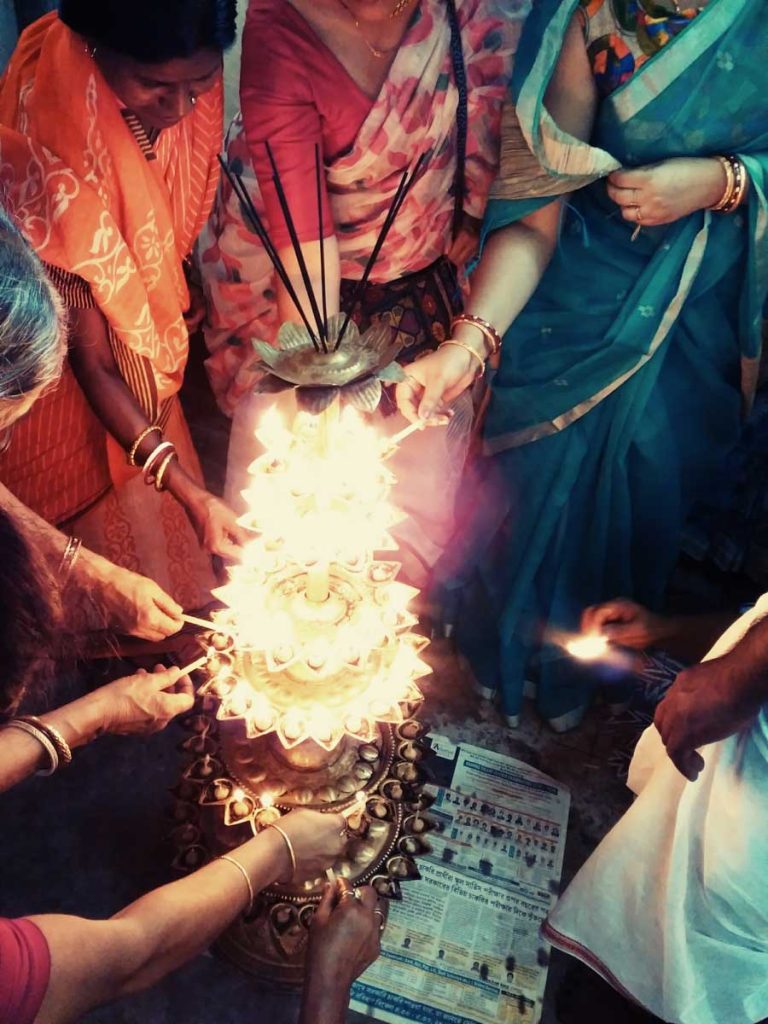 It is customary to light 108 diyas during Durga Puja
Offering Pushpanjali
One of the most auspicious rituals is Pushpanjali where people wake up early and get dressed in new ethnic wear. They will start gathering early to offer prayers called Pushpanjali at the local pandal. Normally, people fast until they are done offering their prayers as they will feast upon 'Bhog' after Pushpanjali. Bhog is essentially the food served for and blessed by the Goddess. There are always plenty of food for everyone!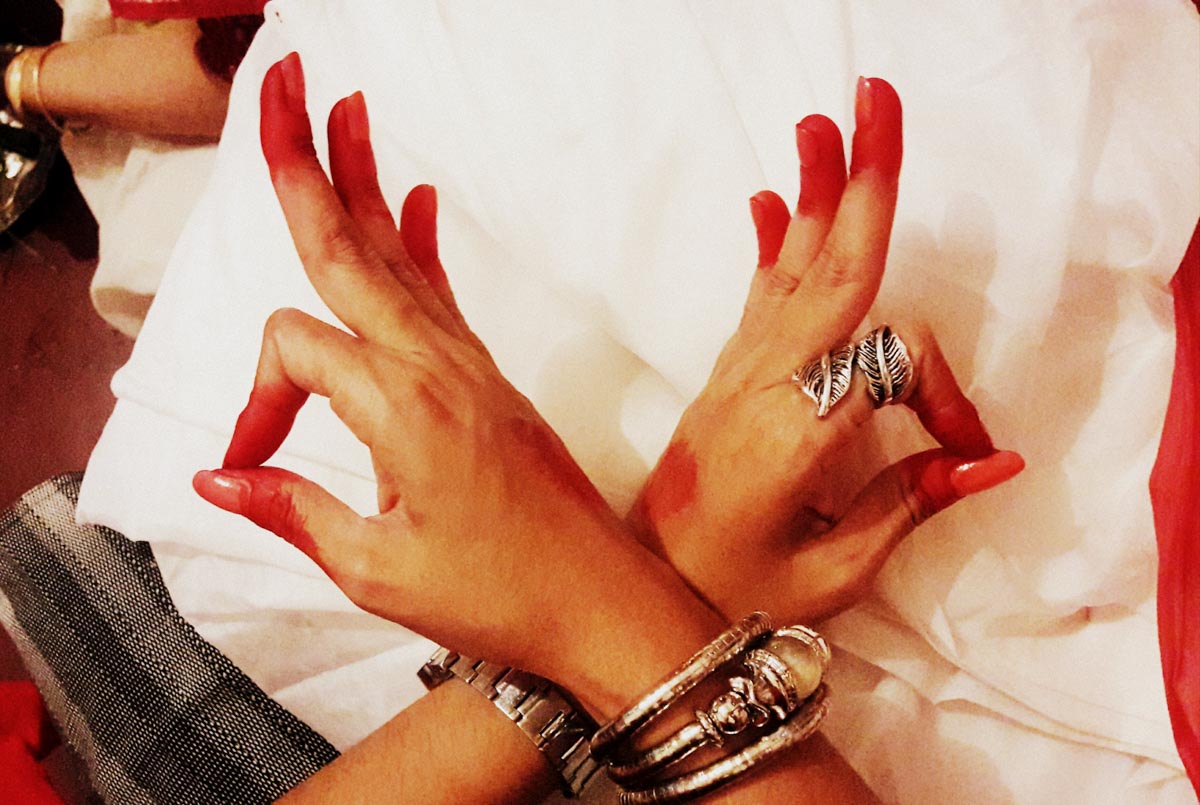 The red colour known as 'Aalta' is usually applied on the hands and legs of women during Durga Puja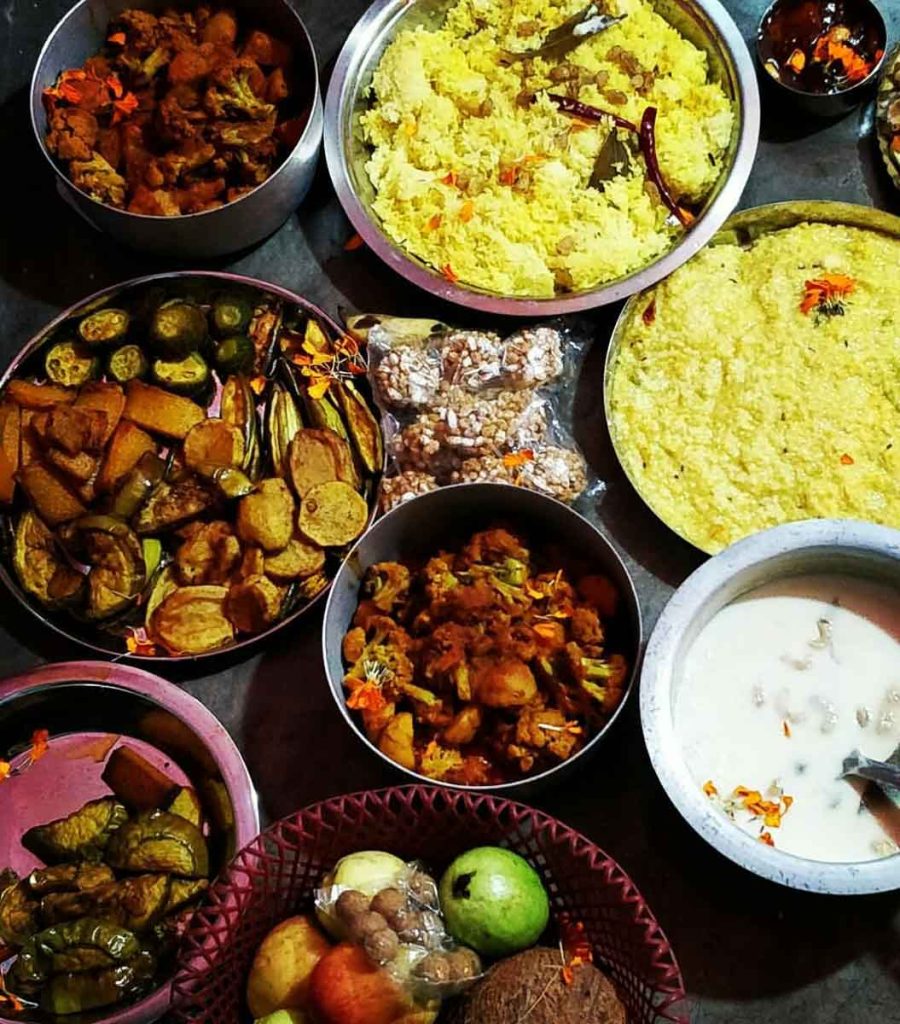 'Bhog' – Lunch meals served to everyone in pandals
Kumari Puja on Maha Ashtami
This is a cute and unique ritual not to be missed on the 8th day 'Maha Ashtami'. Girls aged 7 to 9 are dressed as Goddesses and worshipped. These girls are seen as pure and thus, are ideal for the manifestations of the Divine Mother. You will find tons of colourful flowers in the festival. Some of the girls are also dressed in bold red or yellow colour and are bathed in the Holy Ganga River.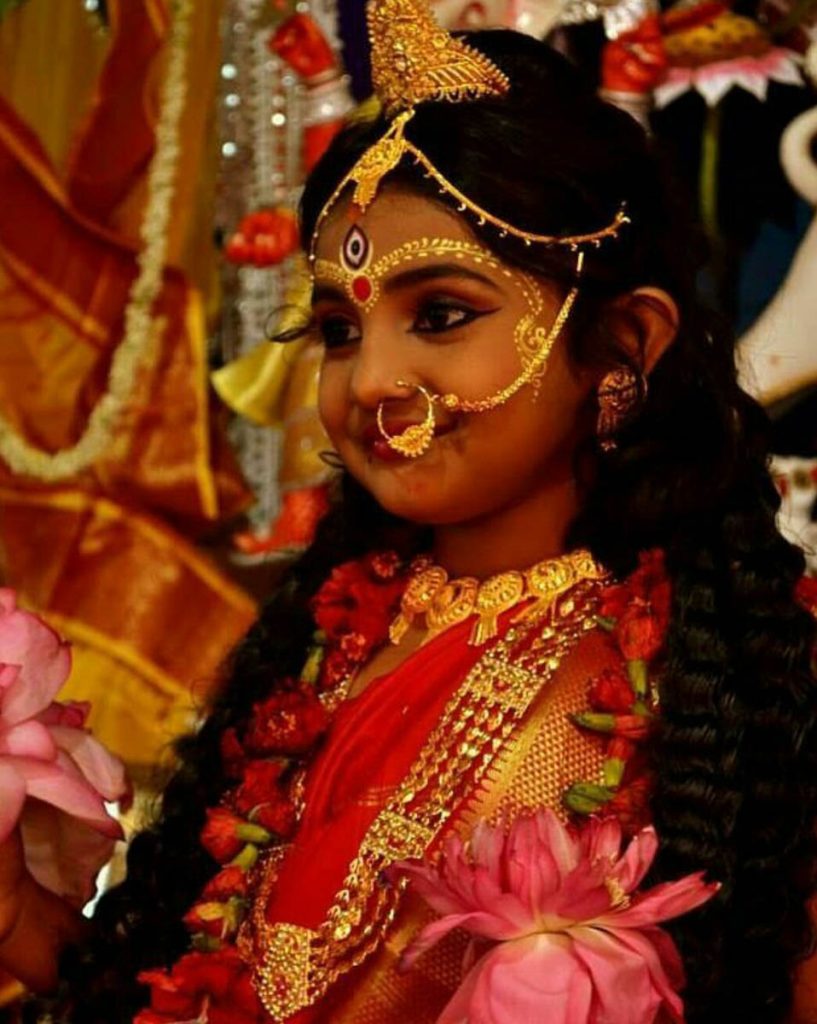 Young girl dressed to be worshipped as a Goddess on Kumari Puja
Family dinner or lunch
Durga Puja is not only about rituals and customs, but also about ten days of feast upon the fantastic local food. After early morning prayers and long hours of pandal-hopping, everyone deserves to skip cooking at home and spend some time with families and friends over meals. There are many great options in town such as Peter-Cat, Oh Calcutta, and 6 Ballygunge Place.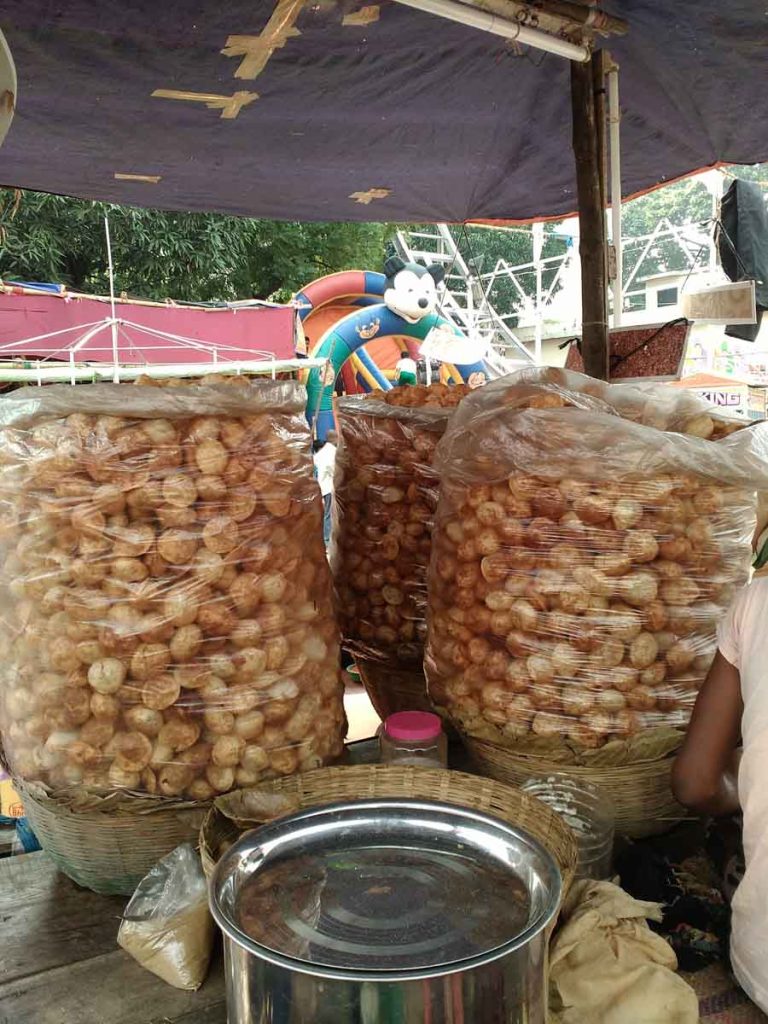 The most famous street food of Kolkata – 'Phuchka' | Photo Credit: Amrita Ghosh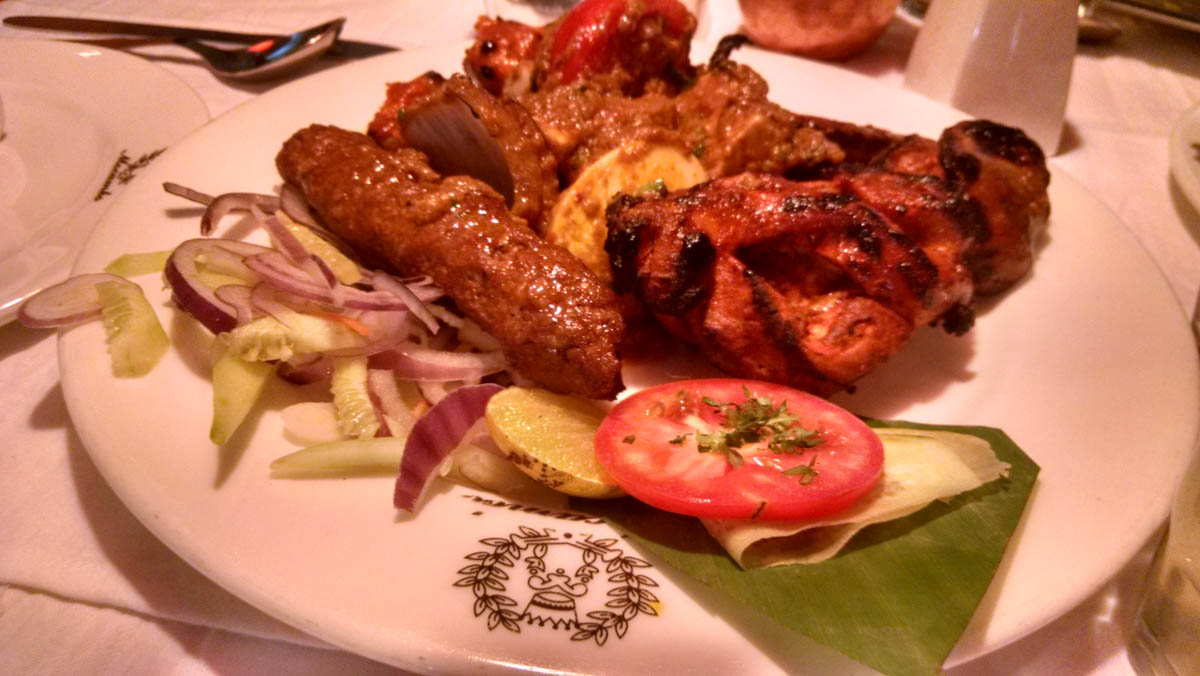 Digging into some delicious kebabs in Mocambo | Photo Credit: Amrita Ghosh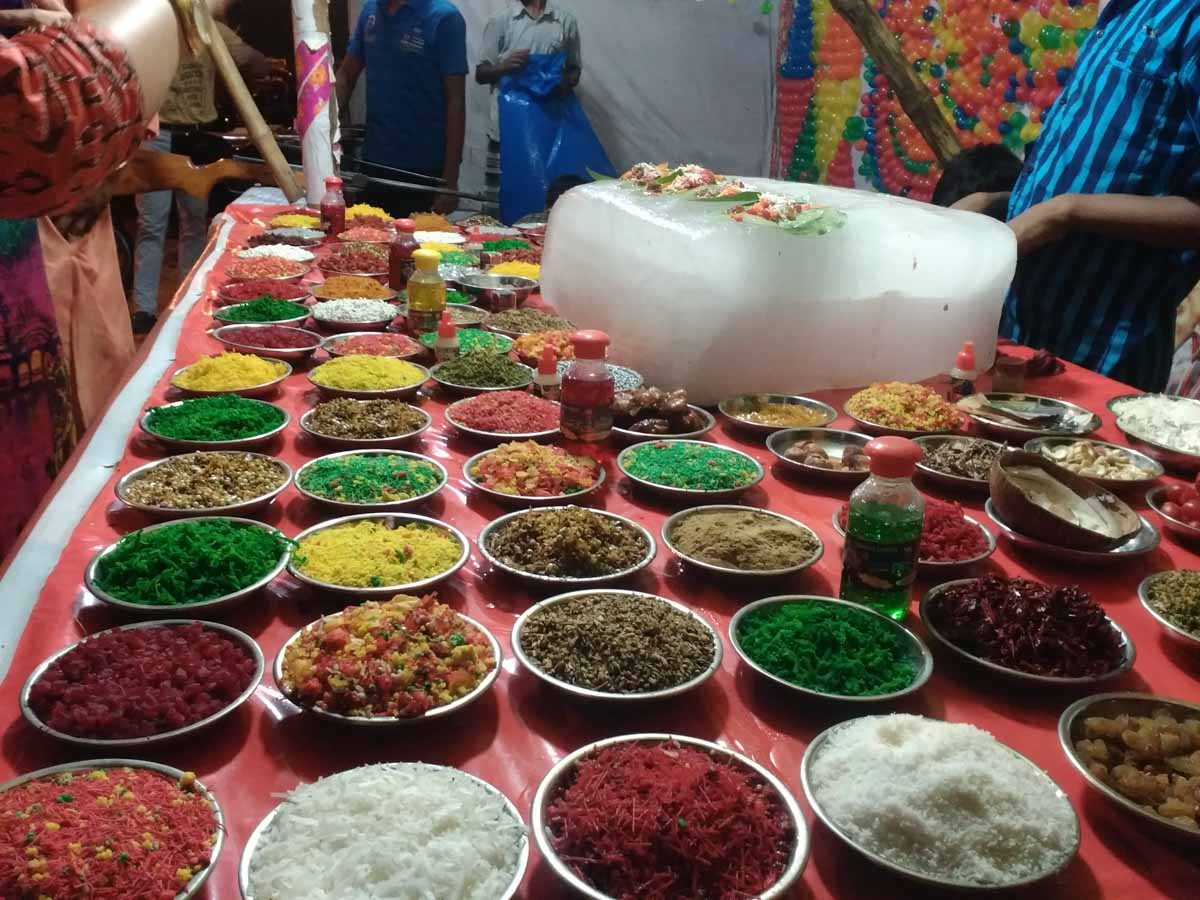 Any meal in Durga Puja is incomplete without having a 'Mishti Paan' stuffed with sweet and colorful fillings. Photo Credit: Amrita Ghosh
Sindoor Khela on Vijayadashmi
9 days of festivity seem to pass by quickly during Durga Puja. After the crazy and endless celebrations comes Vijayadashmi, the last day of Druga Puja. Besides saying farewell to Goddess Durga, there is also another tradition of Sindoor Khela. Married women will apply 'sindoor' or vermilion to Goddess Durga before smearing it on each other's faces. Such a colourful way to end the celebration!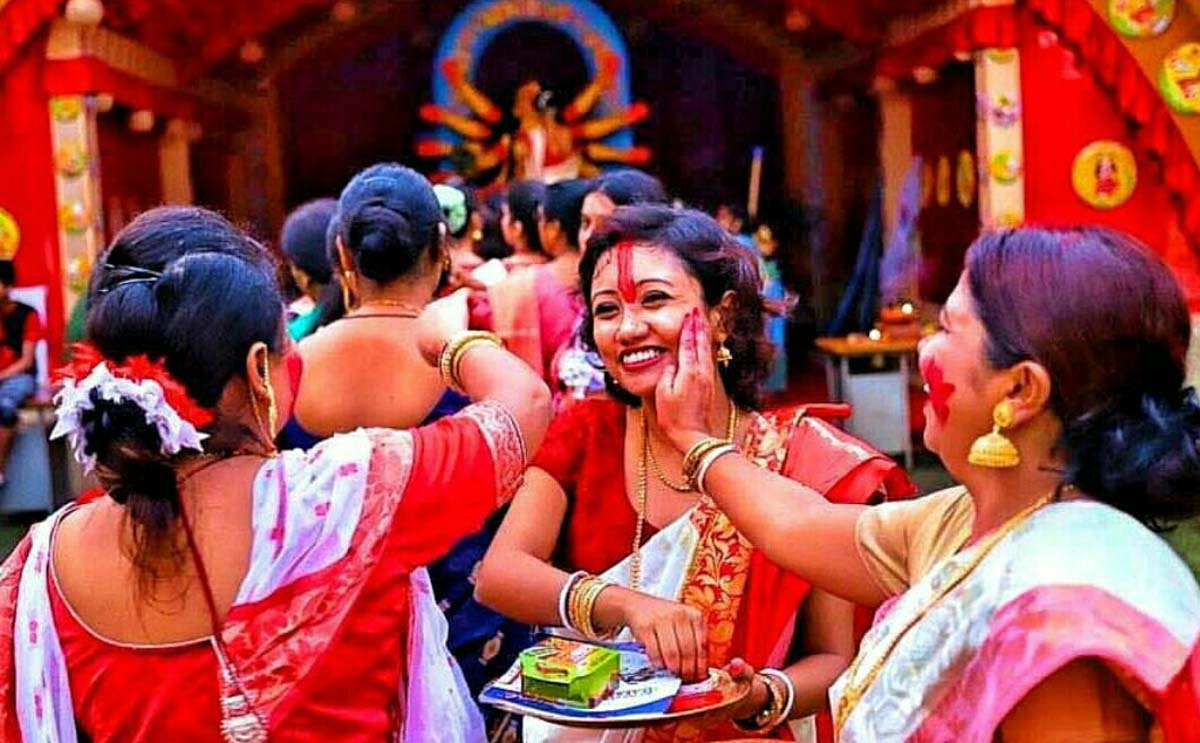 One of the most striking ceremonies of Durga Puja – 'Sindoor Khela' | Photo Credit: Parnashree
The painful 'Goodbye' – Visarjan
It's time to let Goddess Durga and her children return to their places. The farewell ritual is captivating to watch as the idol being immersed into the Holy Ganges water. People dance and sing along with the procession as they move together to the place of Visarjan. We all bid a painful goodbye to the idols of Goddess Durga and her children.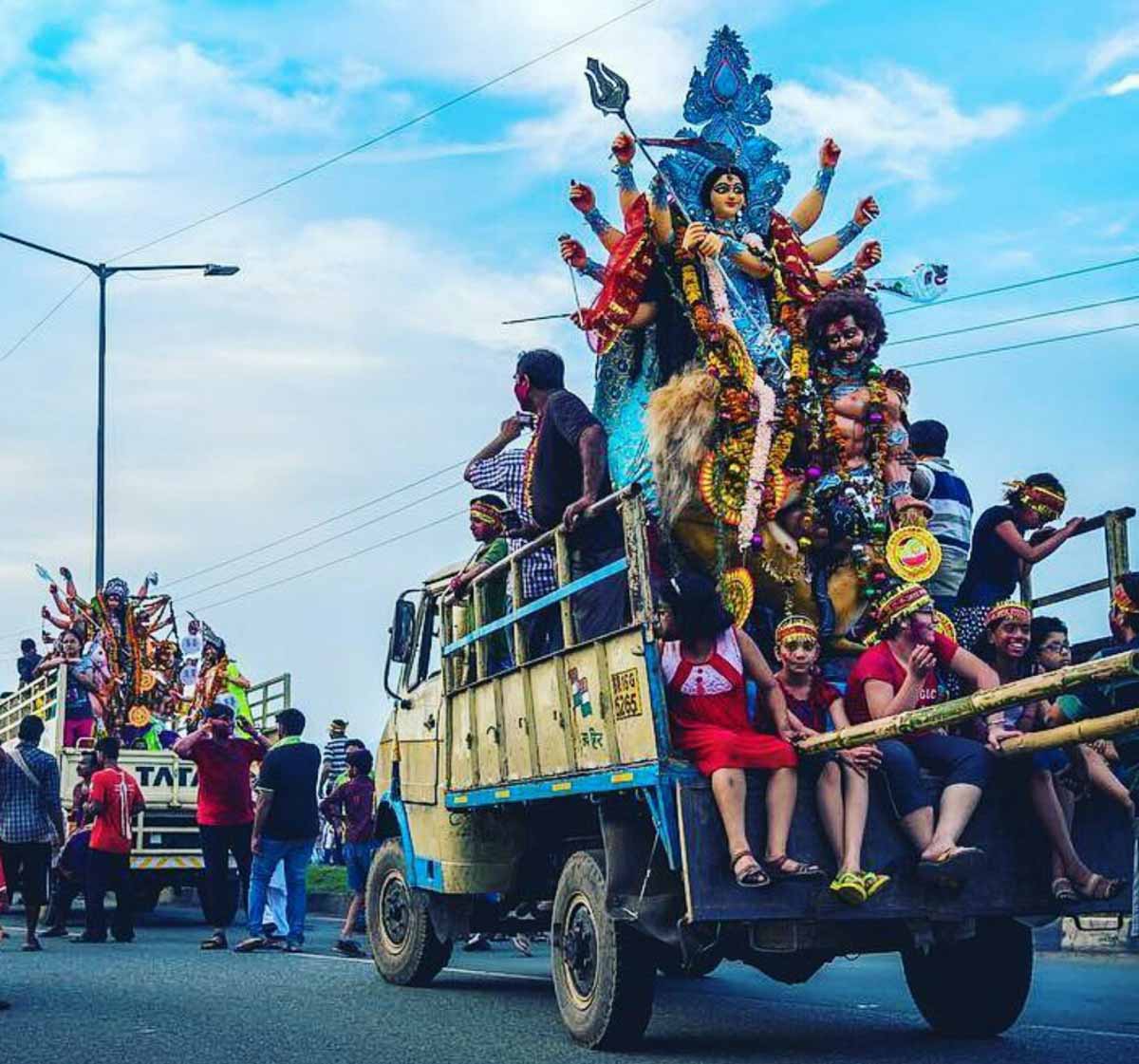 Procession of the idols to the banks for Ganges for immersion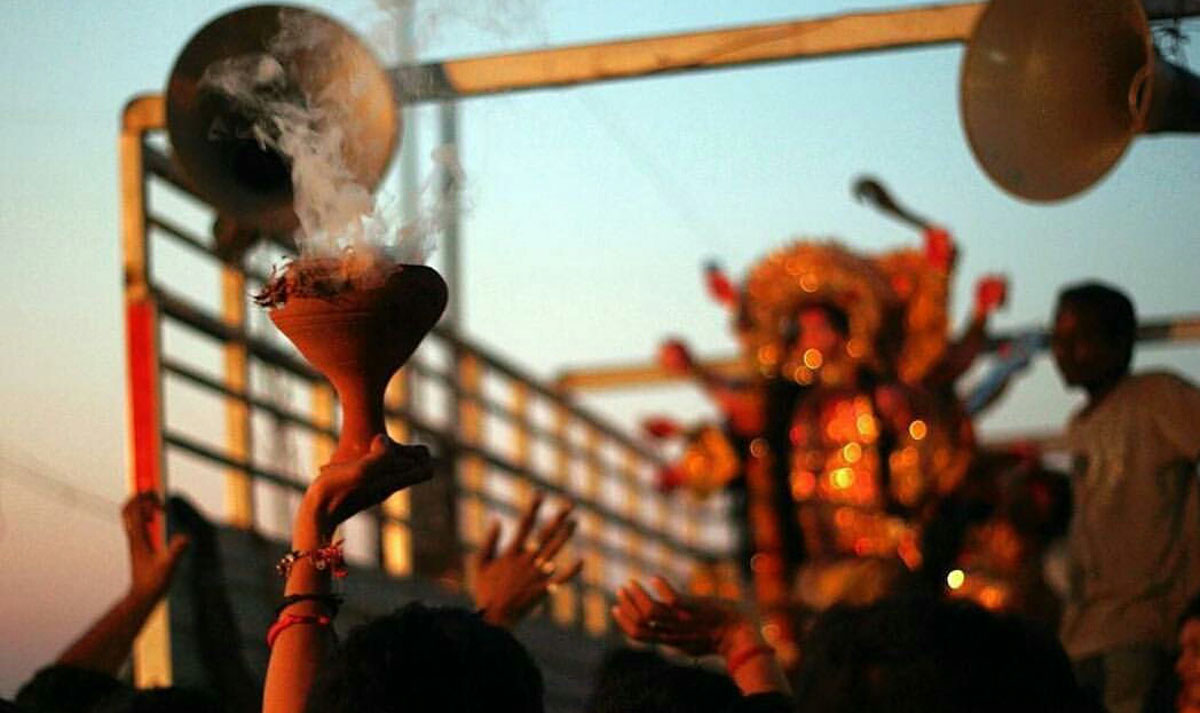 Immersion procession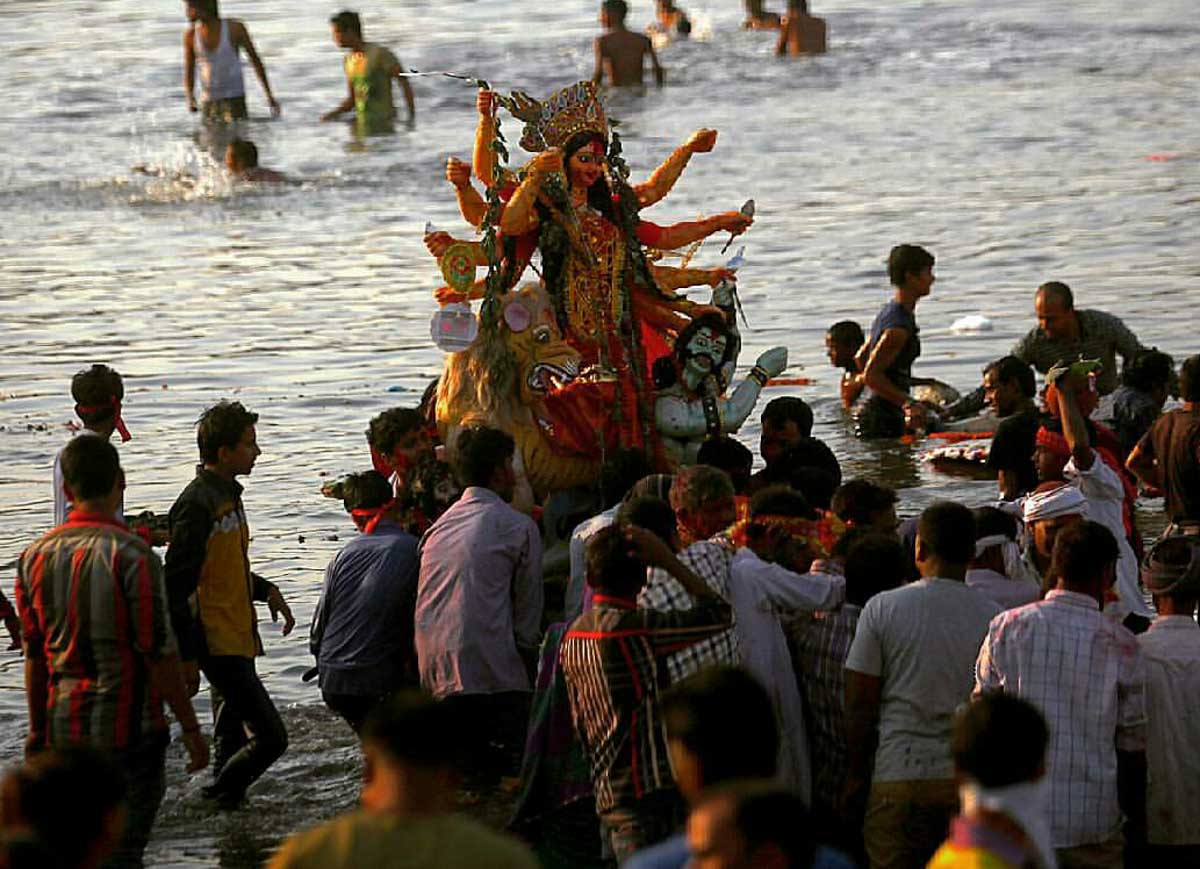 The Goddess is being prepared to be immersed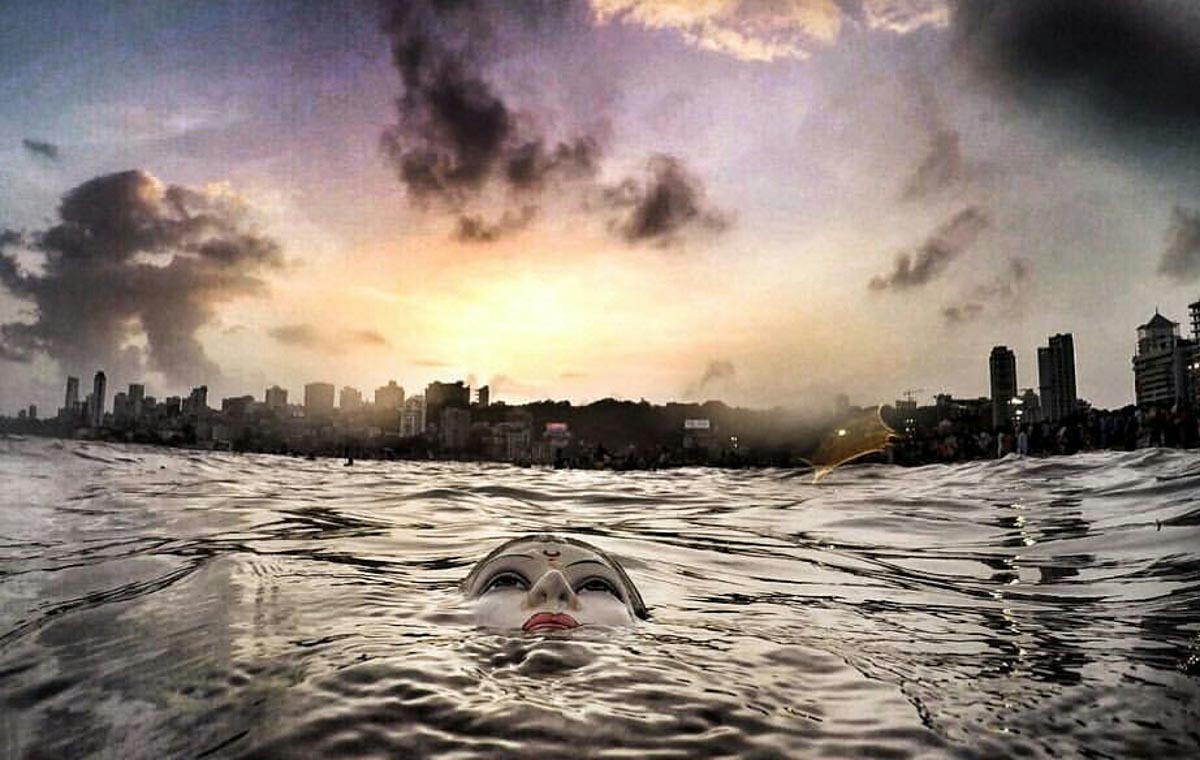 A painful sight to watch the Goddess being immersed into the Ganges | Photo Credit: Flying Paratha
Durga Puja reflects the depth and richness of Indian culture and words cannot justify the grandeur and beauty of this magnificent festival. The best way to understand this festival is to get a hands-on experience in Kolkata in September or October. If there is only one Indian festival that you must see, Durga Puja is definitely my suggestion for you.
[button url='https://www.expedia.co.in/Kolkata-Hotels.d178244.Travel-Guide-Hotels' icon='entypo-suitcase' fullwidth='true']Check out Hotels in Kolkata[/button]